By Shannen Hofheimer | Photography by Asea Tremp Photography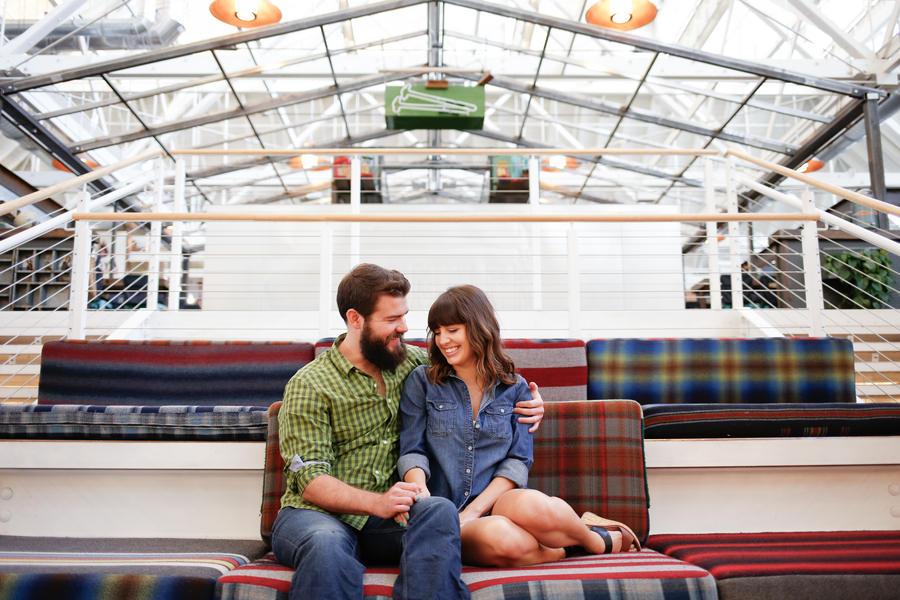 As one of the few remaining packing houses from the agricultural era for which Orange County is named, the historic Anaheim Citrus Packing House is a trendy landmark that Candice and Scott took full advantage of for their incredibly hip engagement photos. We can't stop fawning over everything about this modern, industrial decor from the sun streaming through the skylights and windows to the zany foliage and the rustic packing crates. Not only is the perfect scene set for a talented photographer like Asea Tremp Photography in the early morning tranquility before the coffee shops and gastropubs start bustling with activity, but the pop-up restaurants, microbrews and hidden speakeasy concoct a hipster's dream … and creative engagement shoot perfection.
The Love Story
After a year and a half of dating (and a "cyber wink" from Candice at Scott via Match.com), this beautiful, laid-back couple got engaged on Valentine's Day of 2014. By the end of their first date, Candice knew immediately that Scott was the one. "It took me a little longer, but I knew after our first vacation together," Scott tells us. "We went to Hawaii for a friend's wedding and I knew by the end of the trip that I could do this forever."
The Proposal
Candice and Scott enjoyed a romantic Valentine's Day weekend getaway at Scott's family cabin in Barton Flats: the place he planned to ask Candice to spend the rest of her life with him. "We had a really nice dinner together and watched 'Fiddler on the Roof.' Scott did it right after the movie, comparing our love to the young couple. It was so precious. He had lit candles everywhere and brought little treats for me — I love my Almond Roca! We spent the whole weekend there. By the next day, we were already picking out children's names."
Candice's elation over the proposal may have resulted in some candles ending up on the floor, but no use crying over spilt wax! Nothing could ruin this couple's meant-to-be moment. "I jumped out of the chair with pure joy and knocked over the candles, spilling hot wax everywhere! It was on both recliners and all over the rug. Being that we were at his family's cabin, I freaked out and tried to clean it up before it dried. Even with that, it was a magical weekend."
The Ring
Candice wears what she and Scott call a "ring sandwich". The engagement ring, surrounded by two other diamond-studded wedding bands, is a two-carat princess cut with another carat worth of diamonds on the band. "Scott is an artist and felt it would look more balanced with two bands. I had nothing to do with it … he picked it all out!" Scott wears a handsome band from Etsy that boasts three layers with bronze (the original sculptor's metal) in the middle.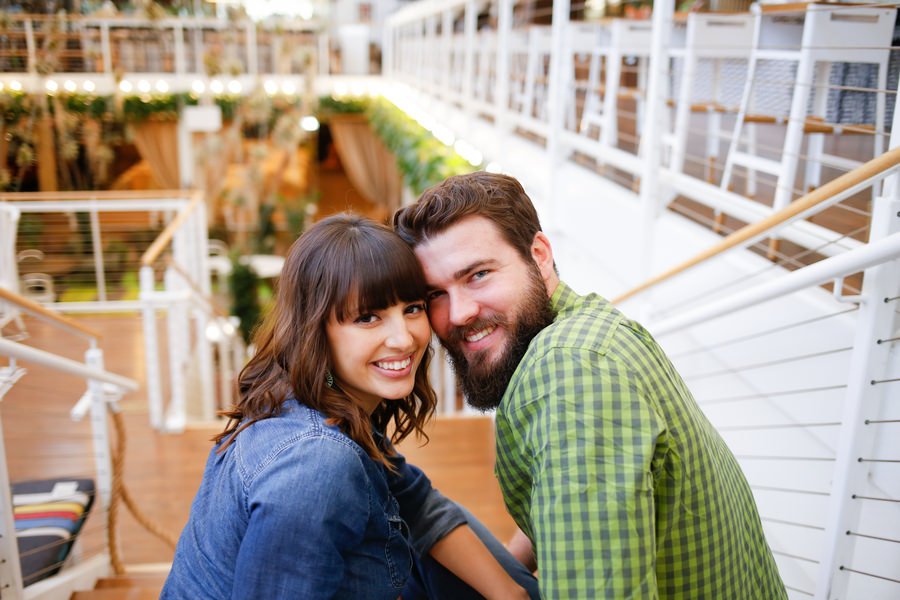 Wedding Date: October 11, 2014