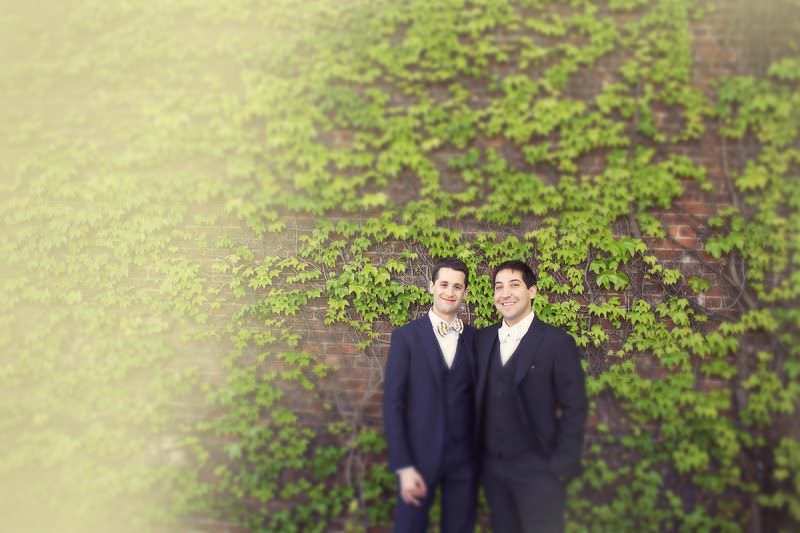 Each love story is filled with all kinds of important characters—acquaintances who introduced you, the bartender who poured whiskey sours on the first date, and loved ones who rooted for your relationship along the way. Abe and Frank's love story was epitomized this past spring thanks to their team of trusted vendors, who played a significant character role in bringing their fairytale to life at The Foundry for 200 of their friends and family.
The industrial chic raw space in New York City forces your personality to shine through because, when it comes to furniture, décor and other party essentials, it's a blank canvas. And the vendors certainly exceeded expectations.
"Our plan was to be very careful in picking the right people for each job, and then set them free to do what they thought was best after giving them an idea of what we were hoping to accomplish," explains Abe. "This ended up working perfectly, and led to the specifics of the event being as much of a surprise for us as for our guests. It truly was more than we could have envisioned or hoped for."
"Being surrounded by such an amazing team was truly the most crucial element in the day coming together as wonderfully as it did," adds Frank.
From a cozy Adirondack retreat lounge space made up of a divan, mismatched coffee tables and a vintage croquet set to a large tented area with farm table food stations and carefully crafted libations, José Rolón Events orchestrated a downright magical evening with some of New York City's finest talents.
The  Engagement
With six years together and a domestic partnership under their fashionable belts, Abe dropped to one knee one unseasonably warm December day on the Brooklyn Promenade and presented matching Cartier engagement watches—and his eternal devotion—to the love of his life, Frank. Afterwards, they enjoyed a beautiful and romantic dinner to celebrate, "The perfect capstone to the evening," reminisces Frank.
The Venue
The dream team set up a white tent in the sun-drenched ivy-covered courtyard where guests danced until the sun dipped behind the overlooking Manhattan skyline.They added splashes of color into the space with centerpieces of peonies, clematis, garden roses and hellebores in mossed terracotta urns topping bookshelves, embellished with vintage bud vases and trophy cups.
The Inspiration
"The feeling we wanted the wedding to capture was of a summer garden party—a little preppy, a little quirky and very lush," says Abe. This was achieved through striped stationery, patterned bow ties, an expertly styled medley of knickknacks and frothy florals.
The Ceremony
Their ceremony was a beautiful fusion of Abe's Jewish heritage and Frank's Catholic background, conducted by interfaith minister Deborah Roth. They also incorporated other symbolic elements, such as a rose gifting ceremony, blessing of the hands, a call to family and friends and two readings—excerpts from The Little Prince and Truman Capote's essay Brooklyn. When Roth spoke those momentous words, "Abe and Frank are now married," the crowd roared with approval.
"The ceremony was a bit of an out-of-body experience, and it didn't really set in until after we had retreated to the grooms' suite to have a glass of Champagne and share some hors d'oeuvres," says Frank. "It was only at that point that the enormity of the day … the culmination of a year and a half of planning and the importance of the event itself truly set in."
The Party
The grooms wanted an organic flow for their guests and it was achieved with a floating cocktail party of heavy passed hors d'oeuvres and food stations and music that helped transition the evening. "The intention, which was completely accomplished, was for people to sit, eat, drink, stand, dance and mingle throughout the evening, as they so desired," says Abe. "Everyone remarked how much they liked the format, as opposed to a more traditional seated dinner." Between noshing on vegan empanadas and seasonal spreads laid out on rustic farm tables, guests came across little alcoves throughout the property that housed a photo booth and seated nooks.
Magic Moments
"Our favorite part of the event was hearing the other read their vows," says Abe. "We each wrote our own, a task which we procrastinated in doing until the night before the wedding. I think given how important we both felt the vows were, it was hard to face the task of putting pen to paper. We were still polishing them the morning of the wedding, much to the chagrin of our officiant, and hadn't shared them with each other so they would be a complete surprise at the event. Actually hearing what the other had written for the first time in front of all of our loved ones was a truly important moment."
Vendors:
Photography: Scott Clark Photo
Venue: The Foundry
Wedding Planner: José Rolón Events
Designer/Florist: Poppies and Posies
Caterer: The Raging Skillet
Cake: Momofuku Milk Bar
Officiant: Deborah Roth
Mixologists: Tom Macy and Ivy Mix of the Clover Club
Second Photographer (Photo Booth): Demetrius Fordham
Music: String Quartet-Julliard; DJ-DJ Marvin
Suits: Custom by Doyle + Mueser
Vintage furniture rental: Patina Vintage Rentals
Calligrapher: Paperfinger