By Brittny Drye | Photography by Drew Newman Photographers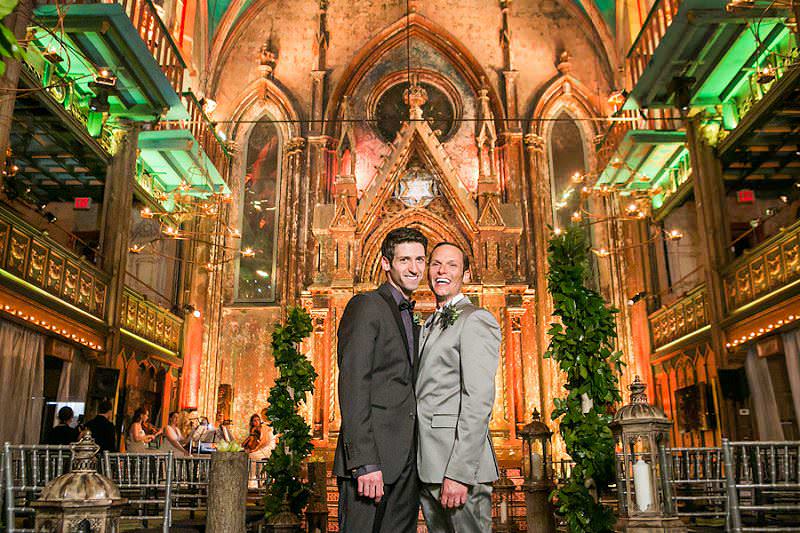 The sweep away of happy tears, the strong can't-live-without-you grasps as they embrace and the kisses that are stolen during intimate moments … the images captured by Drew Newman at Jason and Michael's wedding showcase love in its most pure form.
"We met at a reading of a play Jason wrote, but didn't start dating just then," says Michael. "We connected very quickly but the timing to be in a relationship didn't feel quite right, so we stayed friends. About a year and a half later, Jason wrote me a Facebook message on my birthday and we got together for drinks to reconnect shortly thereafter. We knew right away things were different, and we started dating right then and there."
Set in the dramatic Angel Orensanz Foundation with a modern lighting design that highlighted the venue's breathtakingly historic architecture, Jason and Michael's traditional Jewish ceremony and party-filled reception was the perfect juxtaposition of traditional and contemporary.
The Engagement: It was a love that was clearly worth waiting for and after two years of blissful dating, Michael popped the question in a well-conceived plan that ended with the handsome couple picking out engagement bands together. "We had tickets to see Barbara Cook, who is Michael's favorite cabaret artist. That morning he told me the show wasn't until 8 p.m., but because we didn't have reserved seats, he'd like to get there at 5:30 p.m. and we could enjoy a leisurely dinner beforehand. Michael likes to be early to everything, so I didn't think this was an odd request," reminisces Jason. Before they left their Upper West Side apartment, Michael took their date night to life-altering level, giving Jason a beautiful bouquet and asking those four special words, "Will you marry me?"
"Through my instant tears I got out a 'yes,'" laughs Jason. Following Jason's exuberant acceptance, Michael unveiled another surprise, "We don't have to be at the theater at 5:30 p.m., we have to be at Tiffany's—they're waiting for us to pick out our rings."
The Venue: Drama echoes throughout the Gothic-style windows and arches in the iconic Angel Orensanz Foundation, one of the oldest-standing buildings in Manhattan that was originally a synagogue before it was converted into an arts center in the 1990s. "Jason knew of this venue from being in the events industry and also because it is where Sarah Jessica Parker and Matthew Broderick got married, and we're fans," explains Michael of their venue choice. "In addition to its stunning original architecture and state-of-the-art lighting, we felt a strong connection to the venue as two Jewish men in the arts," says Jason.
The Inspiration: "We wanted everything to be as personal as possible, to really reflect our individual and collective personalities," says Jason. "That included mixing the 'old' of the venue and the 'new' of our taste with decor."
The Ceremony: Their culture-infused Jewish ceremony had custom touches that gave nod to a fusion of past, present and future, such as their chuppah which was designed with two brick columns to represent their home and a roof made of tallit from three generations of their collective families. The ceremony, which was conducted by Jason's sister, also included excerpts from the modern day play "8" which is based off of Prop 8 trial transcripts, and was followed with a traditional exchange of rings and vows. "Ultimately it was about the combination of the traditional and unconventional that really made it unique and special," says Michael.
The Fashion: The designer-clad grooms wore tuxedos in different shades of gray, with Michael wearing fashions from John Varvatos and Jason in Calvin Klein. Their wedding party, which they lovingly dubbed their Best Boys and Grooms' Girls, were asked to simply wear black and white. "We wanted each of them to bring their own style and personality to the mix, but keep the color of the wardrobe consistent," says Michael.
The Party: Guests were beckoned from the cocktail hour into the reception room with a changing of lighting design and their 15-piece band, The Hudson Project, taking the stage. The moment guests stepped into the blue and green-lit space, they were greeted with a festive vibe as Pink's "Get the Party Started" blasted followed by an introduction of the "now legally married Jason and Michael" and a rousing hora. "We wanted an upbeat first dance that everyone could be included in," says Jason. After the formalities, their 192 guests dined on an indulgent multi-course menu by Abigail Kirsch Catering, finishing off with their own version of milk and cookies: espresso martinis topped off with bite-sized sweets. L'Oasis Floral Design created centerpieces featuring green and white blooms, vines and candles that wove down the center of the U-shaped table.
After the grooms cut into their monogrammed red velvet cake, Michael surprised Jason with his own rendition of "The Nearness of You." "I guess he was listening when I said several times during the planning process that I love when couples surprise each other at their wedding!" exclaims Jason.
Guests danced the night away to pop hits as well as songs that had special meaning to the couple, such as "Rainbow Round My Shoulder," as servers passed lime wedges filled with frozen caipirinhas, ending the evening with "The Glory of Love."
When guests exited for the after-party at nearby Thompson LES hotel, they were given personalized cocktail shakers containing a mini bottle of Absolut vodka, Tabasco and can of Bloody Mary mix so they could make Jason and Michael's favorite afternoon cocktail the next day.
Magic Moments:
Michael: "After the last dance, we were completely sweaty and disheveled. We went onto the stage to say thank you and goodnight, and our guests wouldn't stop applauding."
Jason: "At the end of cocktail hour, all of our guests were back downstairs for the reception while just the two of us remained on the balcony. Just before we were introduced I remember standing up there, looking out onto this incredibly beautiful venue and seeing all of our family and friends waiting for us to enter and for the party to kick-off. That was incredible. I also loved when Michael surprised me and sang "The Nearness of You" to me right after we cut the cake."
Vendors:
Venue: Angel Orensanz Foundation
Photographer: Drew Newman Photographers
Florist: L'Oasis Floral Design
Cake Designer: Abigail Kirsch
Catering: Abigail Kirsch
Suits: John Varvatos and Calvin Klein
DJ/Band: Ceremony and Cocktails: Bianchi Musica; Reception: The Hudson Project
Video: Milestone Video Productions