By Brittny Drye | Photography by Annie Tao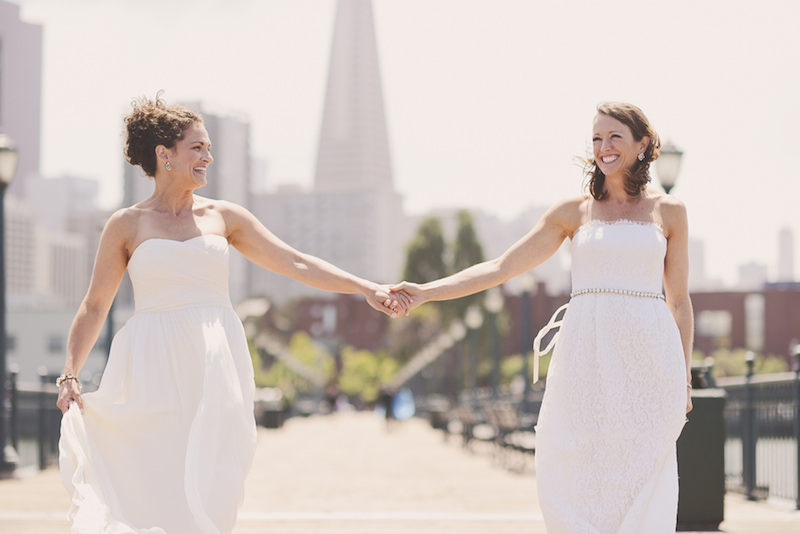 There's something to be said when restaurant owners unexpectedly open their closed doors for a dinner-for-two, gift free Champagne and offer a topnotch meal on the house—Emmy and Brooke's love is nothing short of infectious. So much so that strangers in San Francisco, 2,500 miles away from their hometown in Ohio, wanted to be a part of their special day. "I have lived in San Francisco for 10 years and never witnessed so much human kindness in one day," notes their photographer Annie Tao. "I know for a fact it is because of the joy people see and feel from these two beautiful souls when they are together."
The brides traveled to the West Coast so their commitment would be legal and picked the majestic San Francisco City Hall to exchange vows. "Standing there at the top of the rotunda in City Hall, we held hands through the tears and the most heartfelt and meaningful exchange of vows that either of us could have ever imagined," says Emmy. "To this day, if I think about our exchange of vows, my eyes fill with tears. It was just perfect. I will never forget the feeling."
The talented Tao was there to capture every tear, kiss and smile, capturing their love story from the marriage license signing to portraits on the pier and post-wedding pizza (fitting because their first date was at a pizzeria!).
The Love Story
Brooke and Emmy met through a mutual friend while Emmy was in dental school. "I was so nervous to meet her!" laughs Emmy. "I had only seen pictures of Brooke and I was thinking, 'This girl is out of my league!' After meeting her the first night I remember texting my best friend who was eager to know how the meeting went. I think I replied something to this effect: 'She is awesome. Beautiful, fun, intelligent, funny and definitely not interested in me!' So glad I was wrong!"
After an official first date, they were inseparable. "She saw me through dental school, and is now encouraging me through residency. I respect her, enjoy her and love her more than anyone in the world," notes Emmy.
The Ceremony
Surrounded by beautiful Beaux Arts architecture, the brides, both donning J.Crew gowns, exchanged happy tears and vows in the City Hall rotunda filled with intricate sculpted Greek and Roman figures (one of which symbolizes Equality). "It was so us," exclaims Emmy. "No fancy flowers, no big crowds—just all of the emotions and gratitude that we share together, every single day."
One of the brides' parents was ill and could not make the flight, but thanks to modern Facetime technology, their loved ones were able to witness the ceremony in real-time.
After the ceremony, they headed to a restaurant that happened to be closed but upon hearing the newlyweds' good news, the owner opened up his shop to the brides, where they celebrated with (free!) Champagne and pizza slices.
Memorable Moment
The most memorable moment was walking through the front doors of city hall. The building truly is magnificent. The architecture made it seem like we were walking into a castle. We walked hand-in-hand from the front doors all of the way to the marriage license desk on the opposite side of the building. It was that moment that felt like everything was perfect in life. We forgot about everything else that afternoon, and focused completely on our day. 
Vendors:
Photography: Annie Tao Photography
Venue: San Francisco City Hall
Officiant: Andrea Alban
Wedding dresses: J.Crew
Makeup/Hairstylist: Follicle