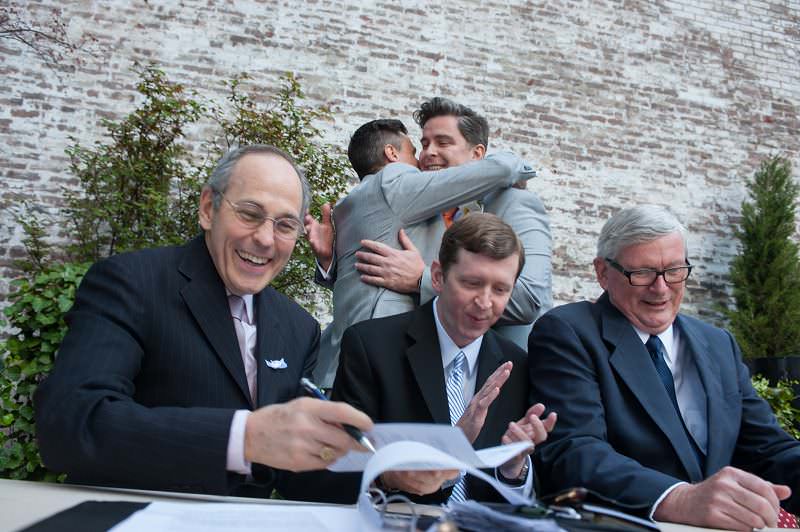 Signing the marriage license is perhaps one of the most significant aspects to getting married, yet it tends to also be the most underrated. This is when you become legally bound with another person … certainly not something to be taken lightly! If you need perspective on the enormity of it, ask any same-sex couple who has had to fight (or still is!) for that right.
And it's because of this fight that I've noticed same-sex couples often go to great lengths to ensure that the signing is special, which it should be, regardless of your orientation. From a state and federal standpoint, this is when you become partners for life … so make the moment count with these three ideas:
Document it: Because it's not a typical wedding moment captured, photographers are often taking detailed shots of the ceremony and reception while the signing takes place (either from the couple and/or the officiant/witnesses). In most states, the couple signs when they apply for it at the county clerk office and then it's made official when the officiant and witnesses sign it after the ceremony. You can document your own signage with a quick snapshot (if the county clerk office allows) and/or have your photographer capture the John Hancock moment day-of. If you have to sign at the county clerk office, you can also opt for a faux signing for you and your new spouse at the wedding when your officiant and witnesses put their pens to paper. Regardless, you can do this part anywhere. It doesn't have to feel sterile like standing in the post office, unless that's your thing.
Include it as part of the ceremony: A common tradition in Canada, set up a table near the ceremony site and have the license signed after the vows and before the final pronouncement to make it an important part of the ceremony. To avoid awkward silence, enlist in a talented friend or family member to sing a special song, or sign it while doing an interactive guest tradition, such as a blessing of the rings.
Decorate the table with photographs of family members on their wedding day: It's a heartfelt nod to the joining of the two families and a beautiful way to remember family members who have passed.
*Each state comes with different laws (some require it to be signed after the ceremony, some require only the officiant to sign) so do research specific to your state beforehand.
Photo by
Kelly Guenther Studio
;
Mikkel Paige Photography