As someone who has been in her fair share of weddings, I have a soft spot for the mismatch bridesmaid dress trend. It's a great way to allow your 'maids to express their individual style while looking cohesive in that perfectly imperfect way. The downside to this trend is that it's really easy to botch it. If you're thinking of going the mismatch 'maid route, read our five tips before your big shopping trip.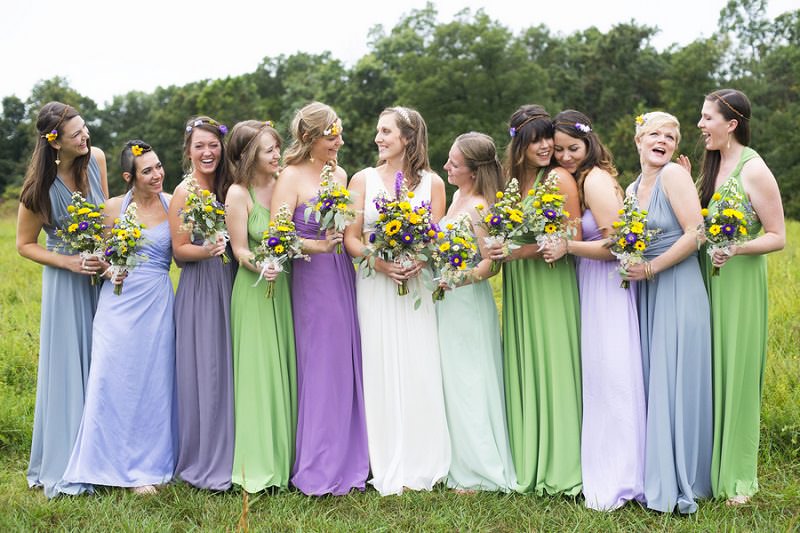 Color block chic. Incorporate your wedding colors into the bridesmaid dresses, with each gal representing a color.
Pick a color, any color. Whatever you decide, there are shades of that color each of your bridesmaids can wear, which go from light to dark. "The secret to mastering this mix-and-match is to keep them all in the same style dress," advises Susan Di Meo, President of Synderela, a fashion company in New York City that specializes in creating custom bridesmaid gowns.
Different silhouettes. If you're nervous about mixing, this is a great way to allow your bridesmaids to select a style that they feel comfortable and confident in without getting too crazy with the mixing. "Your girls can each wear a style that's best for their figure whether it's a one-shoulder, tank, strapless, long skirt or high-lo hem. But keep the color story the same," says Di Meo. See our article on bridesmaid dress collections that allow you to pick the swatch and your wedding party can pick their style.

Tie together with accessories. Have each bridesmaid wear or carry something similar in style and/or color, such as a bouquet, shoes, a clutch or a belt.
Mixing patterns. Different patterns can be tricky to pull off but if done right, it has an oh-so-chic effect. Use patterns that are the same size with the same background color, and a similar hue seen throughout each, for a cohesive look.
Photo by Green Blossom Photography; alfredangelo.com; Mikkel Paige Photography