Wedding party rant: the likelihood of your 'maids shortening and wearing their formal bridesmaid dresses ever again is slim. And that's fine because they love you and are honored to be a part of your day. But let's move past the sugarcoating and state the obvious: they want to wear something they feel good in.
This is why we're loving a growing trend that allows brides or grooms to select a color and the wedding party to pick their own dresses. That way, they get the style that flatters them the most and the brides and grooms maintain their vision. Win-win!
And retailers and brands, both in-store and through the mail, are making it extra easy by offering many styles in the same colors. We did a bit of diggin' to see what each designer brings to the table.
Easy to use website which you can filter by color to see all styles available.
Many different styles available in the same color.
Many sizes available, 0-30w. Also, no extra cost for plus size.
50 different colors available.
All styles are available for rush delivery within 4-9 weeks.
Many bridal stores carry this label and they have their own stores. Store locator on the website.
Prices vary from $99 to $179.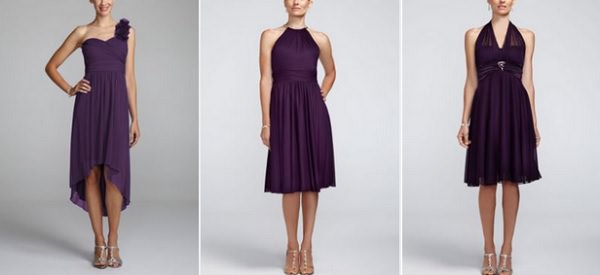 Easy to use website which has a search-by-color function.
The number of styles per color varies for each. Some have two options, while others have several.
More than 100 different colors to choose from.
TWOBIRDS BRIDESMAID

Specializes in dresses that you can wrap in different ways for different looks.
Four different dress options, but for the Classic, Rosette and Chiffon you can wrap them into 15 different styles.
Each dress has a different number of color options.

The Classic has 24 colors.
The Rosette has six colors.
The Chiffon has six colors.
The Hi-Low has 13 colors.

Two different sizes available (sort of a one-size-fits-all kind of sizing).
Customization is available
Only one location in New York, but most orders are online.
Prices vary from $72-$1.375. (Note: the $1,375 looks more like a bridal dress option, most of the others are below $500.)

Website offers a search-by-color family option.
Offers many brands like Alfred Sung, After Six, Lela Rose, Dessy Collection, Social Bridesmaid and 57 Grand.
If you want a perfect color match, we suggest sticking to one label.
Website has a Pantone wedding tool, which allows you to design inspiration boards for your event. You can then share them with your party and vendors to coordinate accordingly.
Offers in-stock dress options for delivery in days not weeks.
Prices vary among each label.

Easy to search by color on website.
More than 30 colors to search.
Maternity options in all colors.
Over 20 styles in each color.
Store locator available in each style.
Available abroad and several locations across the US.

Having your best friends and family beside you on your big day is such a blessing, and having them feel beautiful is a bonus!

*Editor's Note: This post contains affiliate links. Each time you purchase an item via our affiliate links, Love Inc. is receiving a small percentage of the sale, thus you are helping our small, equality-minded business grow and allowing us to provide more content for YOU! Isn't that just fantastic?

Krista Roser is country girl with a city heart who loves all things fashion, especially anything vintage.