It's no secret that COVID-19 has postponed the weddings of countless couples planning to get married in 2020. Even if your wedding has not been postponed, COVID-19 has thrown a huge wrench in the wedding planning timelines of so many couples. Shopping for wedding attire is one of the wedding planning items that's most often associated with being a time-honored tradition of gathering your loved ones and having a dress-up party and the same goes for wedding party dresses. With shops closing due to stay-at-home orders, and social distancing in place, salons are doing everything they can to take the dress-shopping experience online.
Not being able to leave the house to try-on your wedding dress might be leaving you with a lot of questions. Thankfully, bridal shop owners from across the country shared their advice on navigating shopping for your wedding attire in the midst of the pandemic, whether you've just started looking, are in need of alterations or are anywhere in between.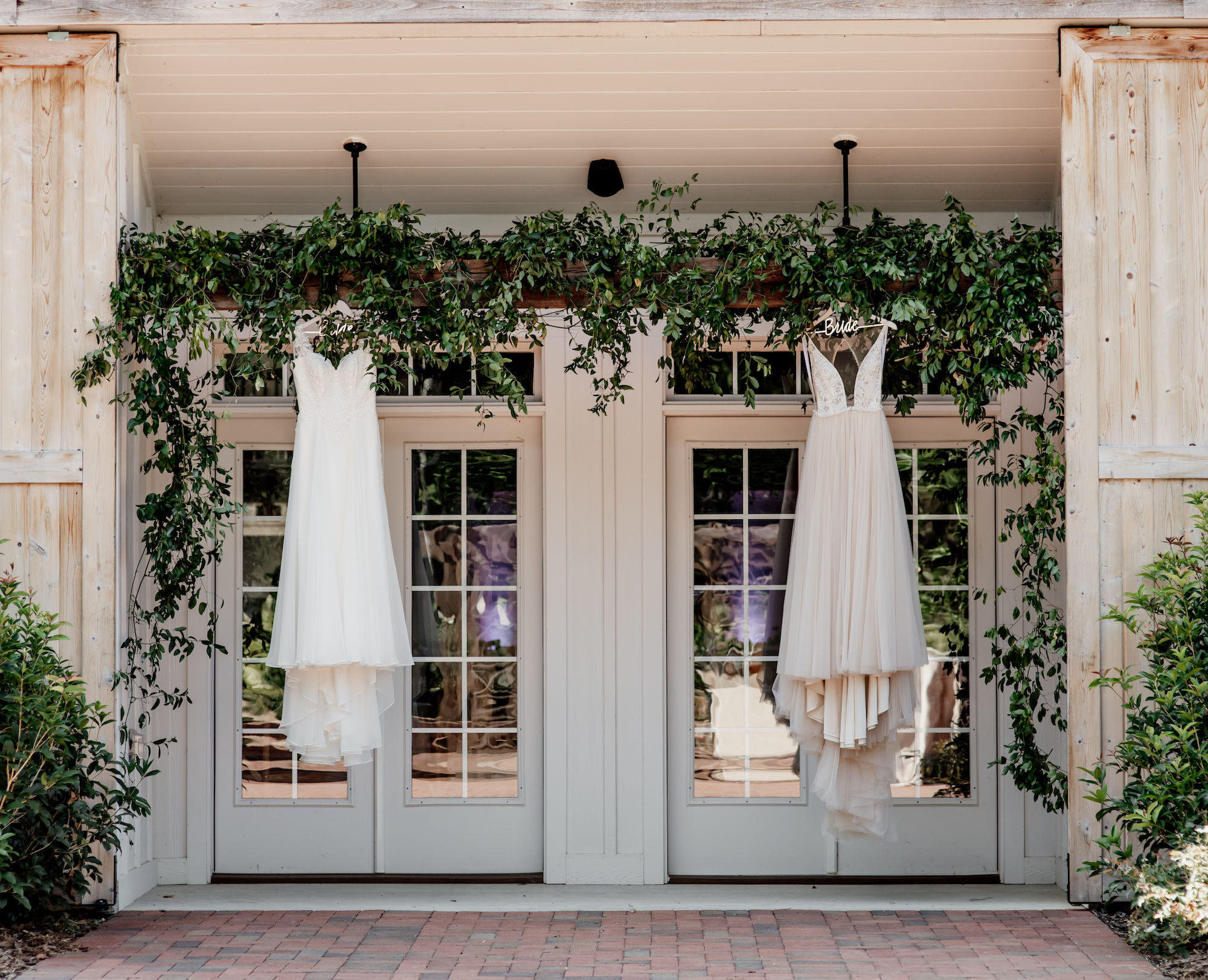 What should I do If I haven't started looking for a dress and I have a fall or winter wedding?
Pre-COVID-19, spring would be the time that dress shopping would be taking place for fall and winter weddings. No one knows what the future looks like for weddings being held in late 2020, but if you wait too long to plan your attire, acquiring your outfit will be increasingly more difficult, if possible at all depending on what designer and style you choose. If the time comes that fall and winter weddings are safe to be held, you may be out of luck when it comes to wearing what you had your eye on if you try to avoid shopping your wedding look online.
"The first step is to begin researching," advises Beth Chapman, owner of The White Dress by the Shore and founder of Beth Chapman Styling. "After booking your venue, think about your wedding day style and research boutiques near you that cater to that aesthetic. Next, reach out to one to two stores that fall within your budget, have the aesthetic that you are looking for and that have the level of service that you value. The boutique can advise what designers may have options that are orderable within your time frame, or they may have gowns in stock, including off-the-rack samples, that you can purchase immediately. Many stores are offering virtual shopping appointments where you can have a Zoom meeting with the store, see the gowns that are options for you based on your timeframe, and potentially have those gowns shipped to your home to try on. Communication with the boutique is key in this process!"
What does a virtual try-on process entail?
Browsing dresses online is probably not what you had in mind, but it doesn't need to stop you from finding the perfect outfit for your wedding. "Just like an in-person appointment, our virtual appointments are unique to each soonlywed and their situation," Kaitlin Nonko, Merchandising Manager of a&bé bridal shop. "For brides who have never shopped before, a virtual appointment can be a great way to gather as much information as possible before an in-person appointment becomes available. In this situation, you will have the opportunity to connect with a stylist who will learn all about your style and what you're looking for in a dress and answer any questions you might have. They will send you a mood board of styles they think you might like, and you can have an open discussion about what the process looks like so that you are prepped and ready to go when an in-person appointment becomes available. For soonlyweds who have shopped before, a virtual styling appointment is the perfect opportunity to revisit the styles that you love, go over current timelines and availability, and answer any final questions you may have before you say yes to your dress. The 'shop from home' experience is different for each city and is dependent on local regulations and restrictions, so we encourage each individual to reach out to their local shop to learn more about what that process will look like for them."
Some shops are able to send dresses home along with clips, measuring tape, and even an "I said yes!" sign for you to feel comfortable wearing the dress before you commit and then send them back.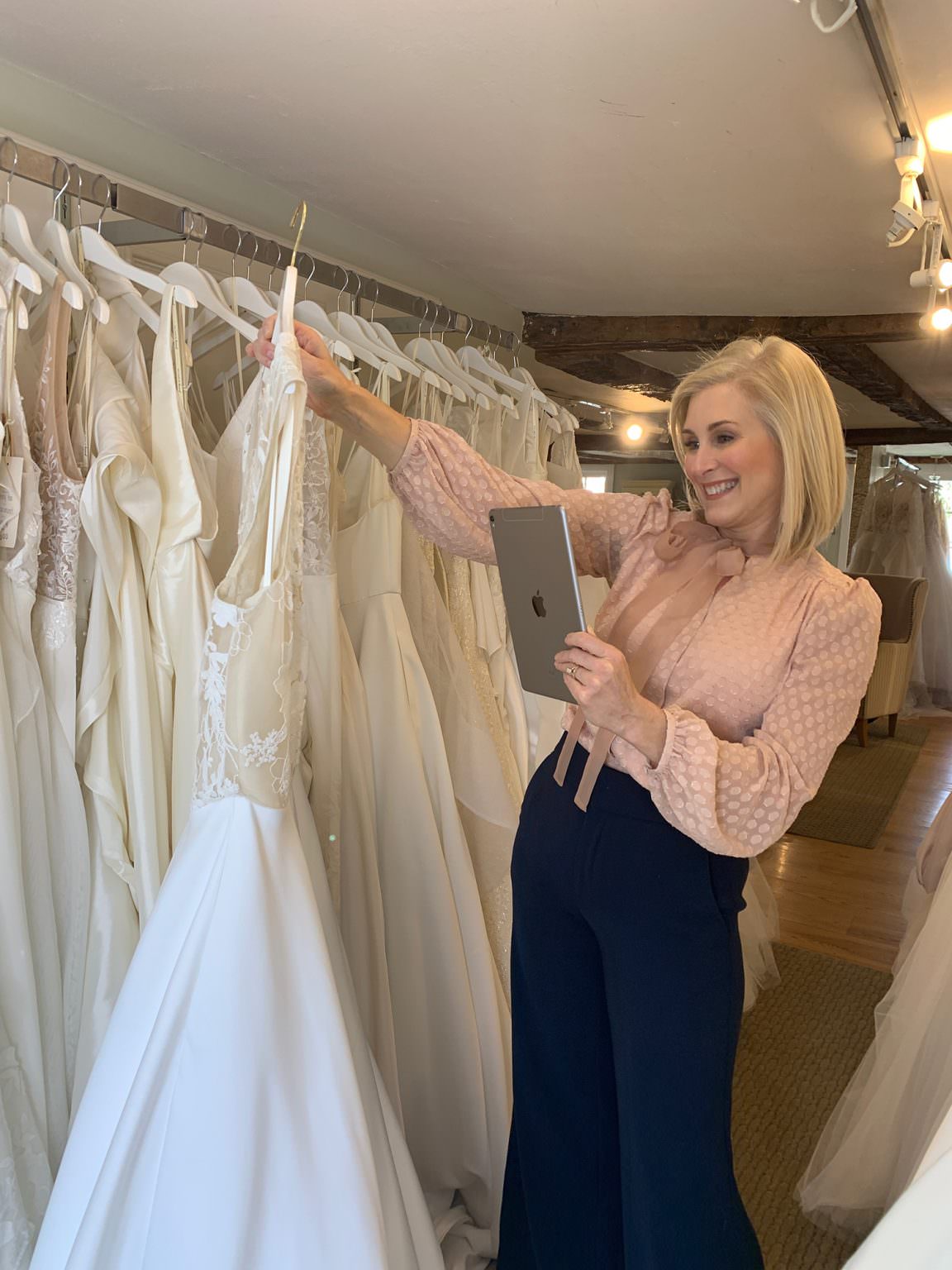 I'm not getting married until 2021, is COVID-19 impacting my shopping timeline?
Without knowing for sure when bridal shops will be able to safely reopen, it's hard to say when shopping for your wedding look will go back to a standard timeline. In order to be as prepared as possible, you'll want to do as much discovery of styles and designers online as you can.
"We are encouraging soonlyweds to do research on what they like and don't like, and then ask salons for suggestions and for information on pricing and delivery time frames for dresses and designers they are interested in," advises Kelly Leggett, Creative Director of the Little White Dress Bridal Shop. "For example, recently a bride reached out on Instagram and let me know she was looking for a fitted gown under $3,000. She showed me a few pictures of what she was liking, and I noticed that they were all fairly unembellished, minimalist looks. Later that day I sent her a 'pre-shopping selection' of six to seven gowns we have in store that I think she will like, that are in her price range and can be delivered in time for her October wedding. She is planning her appointment soon after we re-open and she is excited to start with that focused selection instead of having no idea where to start when she comes in. For the foreseeable future, I think the reality is that soonlyweds will need to plan on shopping more quickly instead of spreading their shopping and appointments over a period of several months. They should be prepared to be focused and decisive when they shop, just given the uncertainty of the months ahead."
If you have a salon you'd like to visit for an in-store experience and you still have a window of time to find your wedding dress, get yourself on a waiting list as soon as possible to schedule an appointment when they are allowed to open again.
For weddings whose shopping timelines are affected by COVID-19, consider visiting a store that sells off-the-rack as soon as they open which will eliminate the process of waiting to order a gown and take it home. "I do not sell anything online, and never have," says Judy Riegelhaupt, owner of The Bridal Secret in Braintree, Massachusetts. "In my salon it's all about the shopping experience that takes place during an appointment! Therefore, I have a huge list waiting to get in my salon once my state mandates expire and I can reopen to serve them!"
I have been looking forward to my "say yes to the dress" moment for a long time, how can I feel like I'm not missing out?
By choosing an outfit for your wedding, you're still having your "say yes" moment, it may just look a little different. To recreate the in-store experience at home, pop the bubbly, set up your squad on video chat and recreate the salon experience at home. Do your hair, skincare, makeup, whatever makes you feel your best and treat your at-home try-on like you're surrounded by friends or family in the boutique.
I ordered my dress prior to the pandemic, can I still expect it on time?
The answer varies depending on a variety of factors. "Each designer's timeframe is different depending on where they manufacturer," explains Chapman. "Bridal is a global industry and the components of the gowns – fabric, trims, etc. are sourced from all over the world, even if the gown is manufactured in the United States. Most of my designers are currently running on time, or are only about a month delayed, mainly because of delays in the shipping pipeline."
Will I be able to pick up my dress when it's available? I'm planning to get married at home.
While this question varies by bridal shop, the answer is typically yes, in some form or another. "We are offering complimentary shipping for brides whose wedding dresses have arrived during our store closures," explains Nonko. "For some of our locations, we can even arrange contactless curbside pick-ups. We will notify you the day your dress arrives so that we can come up with the quickest and safest solution for you to receive your dress."
What does the alteration process look like now that fittings cannot be done in-person?
"Alterations will likely have to be completed on a shortened timeline for those who are still planning to get married this summer, as alteration specialists have been unable to hold fittings while stay-at-home orders are in place," predicts Leggett. "Instead of three fittings spread over a few months, there may need to be three fittings in one month, for example. As many postponed their spring and summer 2020 weddings to the fall, what is typically already a very busy period for alterations will be even busier this year, so you should try to get your fittings scheduled as soon as your dress arrives."
What if I already got my dress but now my wedding is postponed? What can I do to keep it safe?
For anyone who picked up their dress before their wedding was postponed, you'll want to keep it in pristine condition leading up to your big day, especially if you've postponed far into the future. Don't just put it in your closet and forget about it until your wedding day. Look to see if the boutique where you got the dress is offering (or can recommend) gown preservation services to keep the dress in an air-sealed box until you are ready to have your wedding.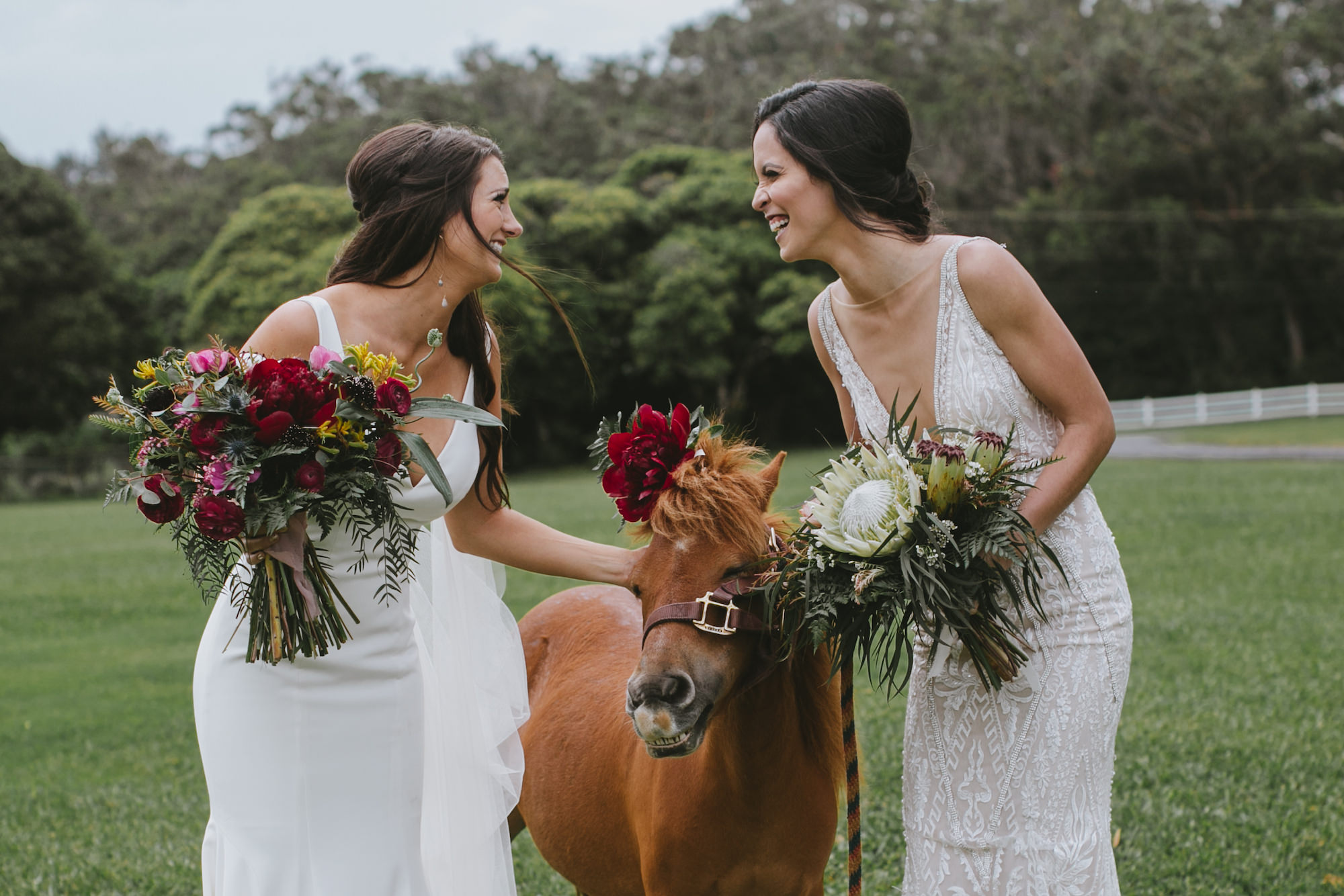 We've decided to get married at-home during quarantine but I don't have a dress yet. Is there a way I can get one quickly?
If fit and alteration are not high on your priority list, try shopping online for a dress that can get to you in a short window. Companies like Azazie will ship a wedding dress straight to your door. This is also a great option for finding wedding party dresses quickly for your post-quarantine wedding. Preowned wedding dress shops are also a great option if you're looking to skip a virtual try-on and have a dress sent directly to you. There are plenty of options to choose from on sites like Nearly Newlywed or Stillwhite, especially with so many people cleaning out their closets during quarantine.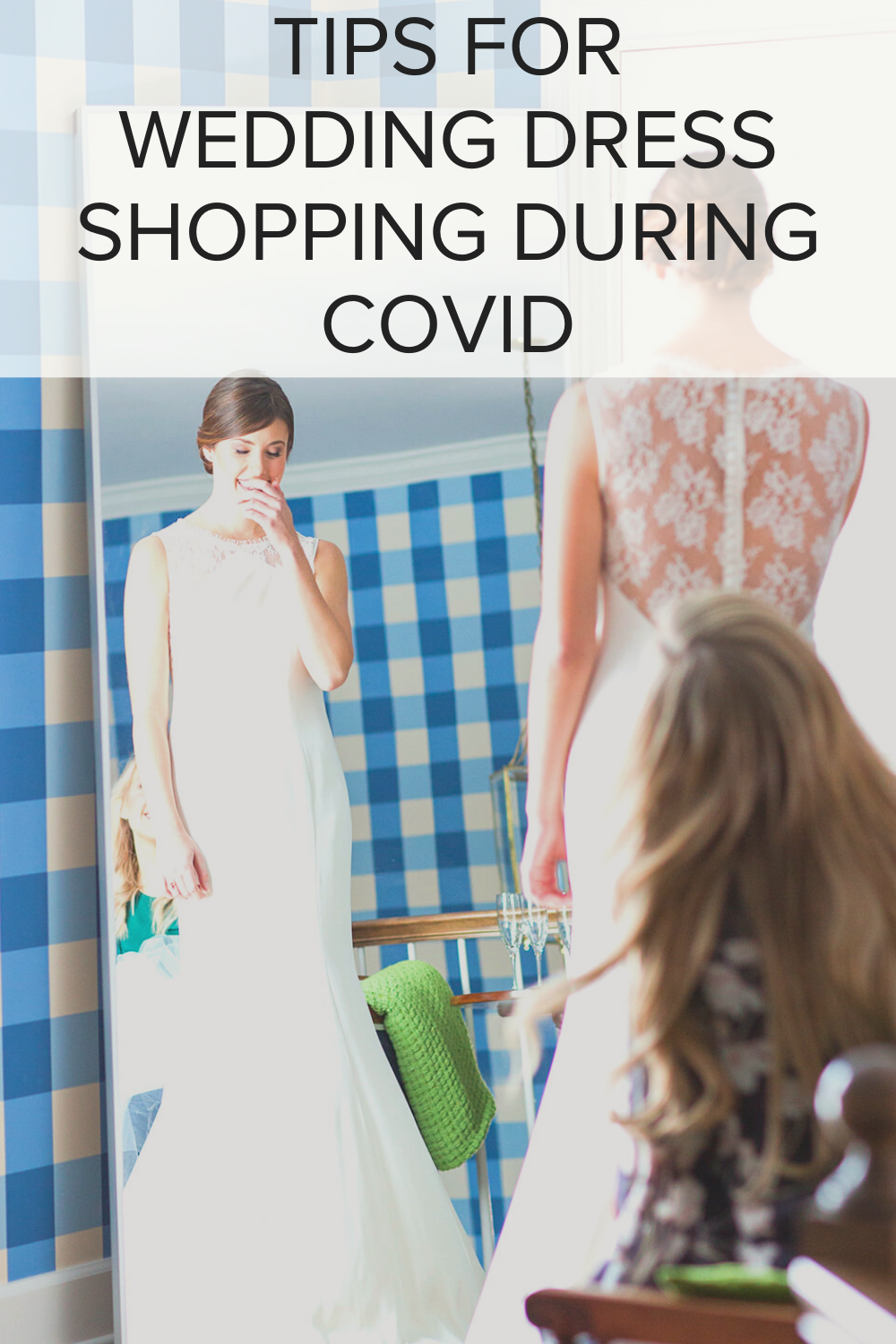 What about my wedding party? What can I do to get their dresses on time?
Much like wedding dresses, wedding party dresses can be shopped virtually or you can wait until stores open back up for an in-person try-on. To help expedite the process, know what colors, general styles and even possible brands you want for your VIPs, whether you plan for them to dress uniformly or have mismatched looks.
What can I do to make the dress shopping process go more smoothly?
Patience and kindness are key for working with all wedding vendors during this time. "Since most boutiques and designers have been closed for several weeks or months, we are all working as hard as we can to accommodate the increased demand that we are seeing upon reopening," shares Nonko. "There are still many who are getting married this year who need to find a dress urgently, so if you are getting married in summer 2021 or later, we kindly ask that you allow us to accommodate all of our 'rush' soonlyweds first."
**Communication is key for anyone currently in the process of buying, picking up or altering their wedding look. Individual businesses have different practices for how they are operating during COVID-19. Be sure to reach out to the bridal shop you are currently, or may be interested in, working with to learn more about their specific procedures.
Photo credits: Header image from The White Dress by the Shore; Photo 1: Morgan Caddell Photography for Charli and Lisa's North Carolina Wedding; Photo 2: The White Dress by the Shore; Photo 3: Jenna Lee Pictures for for Mandy and Kaliko's Boho Tropical Wedding in Hawaii; Photo 4: The White Dress by the Shore
Written by Emily Rochotte