Written by Emily Rochotte
In an unprecedented time for the wedding and event industry, numerous weddings are being postponed each and every day as quarantine regulations continue to change due to COVID-19. It's an uncertain time for everyone and couples and vendors are in uncharted water with mass rescheduling. How does one even go about changing the date and plans for a wedding that was already entirely planned?
We reached out to equality-minded wedding professionals to get the answers to all your questions when it comes to postponing your wedding in the midst of COVID-19.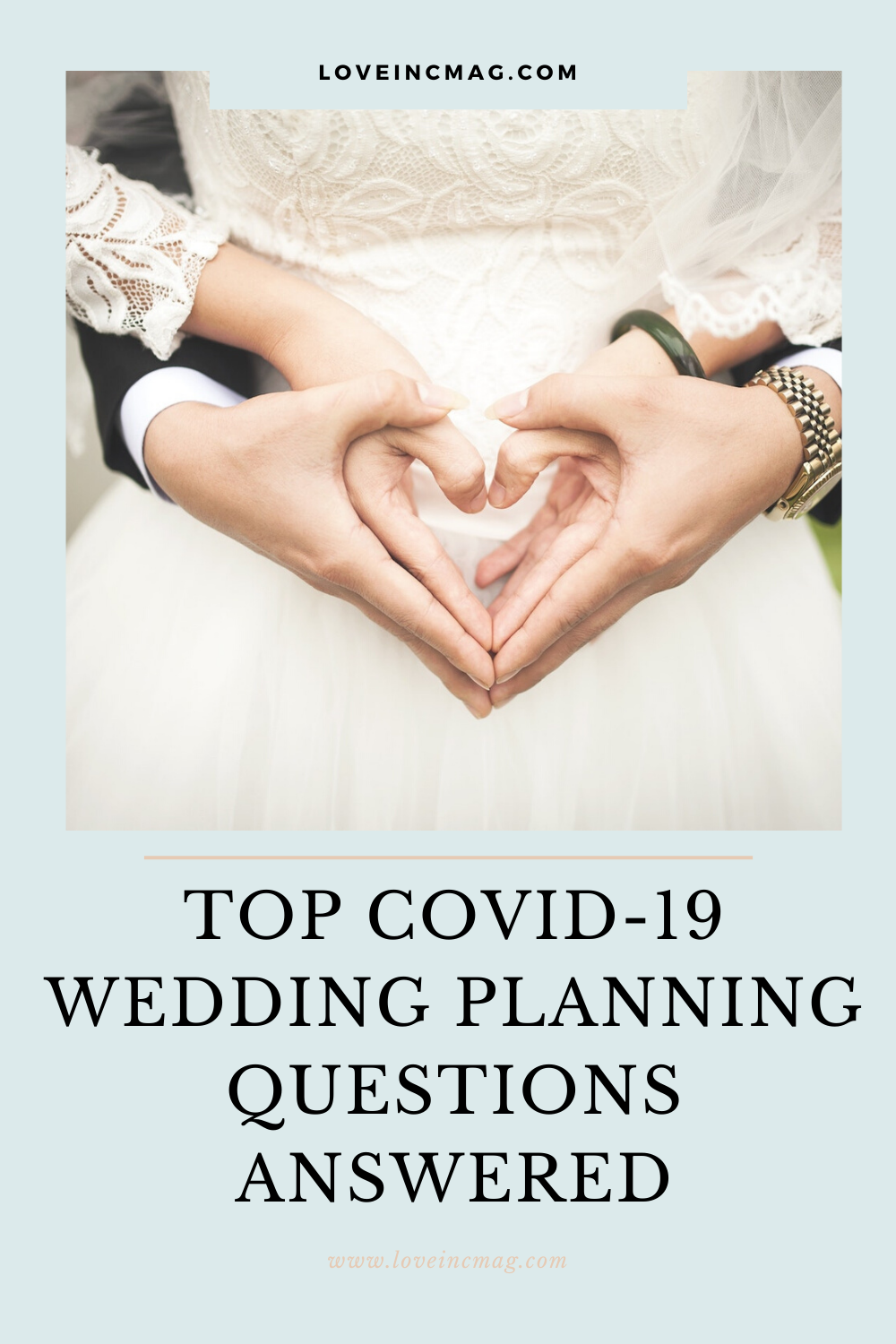 Do I need to reschedule my upcoming wedding?
Depending on where you live, the decision to cancel your wedding may have already been done for you by government mandates for small groups or the overall cancellation of events such as weddings and funerals. If you are weighing whether or not you need to postpone your wedding, ask yourself the following questions.
Is it a destination wedding?
Couples having destination weddings, or those who are scheduled to go on a honeymoon in the coming months, will need to postpone their plans based on The Department of State's Level 4 Travel Advisory to avoid all international travel.
How many people will attend (including the officiant, photographer, or other vendors)?
The Center for Disease Control has said no gatherings more than 50 people, and the White House has advised all Americans to avoid groups of more than 10 people.
If you think that you are above this, know that there are no special exceptions for you or anyone else's wedding. Weddings are currently being broken up by police for violating group numbers.
Even if you are planning to elope with just you, your partner, a witness and an officiant, make sure that you are maintaining proper social distancing of six feet between all people.
Are my vendors/attendees even willing to continue with my original plans?
Check local government regulations for quarantine mandates on who can get together and where. Can you maintain a social distance from your vendors at all times during the ceremony? If not, see if you can video stream in your vendor(s). Couples are starting to tie the knot with their officiant on the other side of a FaceTime call and guests gathered together on Zoom.
Do I have anyone over the age of 60 attending?
Even if you are planning to get married with close friends and family in a group under 10 people, all socially distanced six feet apart, ask yourself if it's worth putting these people (and all the people in their life) at risk. Elderly and the immunocompromised are at very high risk and anyone can carry the virus while being symptom-free and pass it on to others.
What if I already have my marriage license?
If you already acquired your marriage license for the wedding day, don't feel like you're now locked into getting married on your original date. "Hold onto it," suggests Amy Shack Egan, founder/CEO of Modern Rebel. "If you're feeling up for it, do a private ceremony at home with two witnesses at a safe distance! You'll also need a licensed officiant. It may not be what you imagined but at the end of the day, if it's about your partnership and you just want to be married, do it! Now, if you don't have access to an in-building officiant or two witnesses or you don't feel comfortable with this plan, hold off and wait. Your marriage license is valid for 60 days, things may change! If it expires, you can apply for a new one when everything has calmed down. And when the original date rolls around, if it feels right, honor it in some special way with your partner. It's okay to grieve the loss of that imagined reality."
What is the best piece of advice you can give me right now? I'm feeling overwhelmed!!
Be kind! As stressful as this is for you and your partner, it is just as stressful for your vendors. Not only are they concerned about what's happening to your wedding, they also have several other weddings they might be rescheduling at the same time. Everyone is stressed, but being short-tempered, impatient or acting like you're the only couple that is currently being affected will not have positive results nor will it help you plan your wedding any more quickly or easily than anyone else.
When should I think about rescheduling?
Currently, many planners and vendors are rescheduling April and May weddings. Each day is changing with government regulations and guidelines so continue to communicate with your vendors about their availability. Some vendors may be filling up future dates currently from several April and May weddings so know that their future availability will fill up with these couples first. Look toward having a wedding later in 2020 as many vendors who are not already booked for dates later this year would not end up filling them this close to the date, even if COVID-19 was happening as many couples book out a year or so in advance. Once you hit 2021, you're going to find that many of your vendors are already booked with couples who have just recently got engaged are starting the beginning stages of planning their wedding.
How do I go about checking my vendors' availability for future dates?
With the rapidly changing projections of quarantine timelines, be careful not to rebook your wedding too soon into the future. Moving your early May wedding to the end of May runs the risk of not giving enough leeway so consider going into the late summer or early fall for safety reasons. To open up availability even further, discuss the possibility of having your wedding on a Friday or Sunday instead of a Saturday.
What if my one of my vendors isn't available on my new date?
As you begin contacting vendors to check their availability, talk with your partner about which vendors are your must-haves. Is it the venue that you want to stick with the most? Are you willing to change everything else just to have your florist? What if that food truck you love can no longer make it? Be prepared that these situations may arise and discuss together what will be make or breaks, and what you are more focused on – getting a date as quickly as possible, or getting a date when everyone is available? There is no right answer, what matters is what's right for you.
If you have a vendor you just love but they aren't available on your new date, there are a couple of solutions.
Think outside the box
Not being available on your wedding date does not mean that your vendor can't play a part in your wedding day. If you really want someone to be apart of a day they cannot physically attend, brainstorm with them ways you can still include their work into your wedding. "The solution I've found for one of my rescheduled weddings is more on the creative side," shares Christopher Shelley, wedding celebrant and graduate of the Celebrant Foundation. "I can still write the ceremony for you, I can do everything I was going to do for you, and then you put it into the hands of someone I can coach and they can go and be my mouthpiece."
Ask for recommendations
Vendors have a network of people they have worked with along with other industry connections. Your wedding pros already know your wedding vision so they will know who best matches their style and can give you what you're looking for. "In the case that I would not be available due to a prior booking, I would give my couple the option to either have me find an associate photographer who would be the lead photographer on my behalf and I would still handle all of the editing and communication with my couple or, unfortunately, cancel their contract with me, which would truly break my heart," suggests Tori Kelner, Wedding & Portrait Photographer, Owner of Tori Kelner Photography, Inc.
Again, kindness and grace are key. Remember that your vendors are looking to work with you just as much as you are looking to continue working with them, especially the ones you have built personal relationships with.
What if my vendor is no longer available? Do I get my deposit back?
This is a tricky question mainly because vendors are handling this on a case-by-case basis. Visit your contract that you signed with your vendor – did you pay a non-refundable deposit, have you already given them a retainer? Review your contracts and contact a lawyer if you are unsure about any of the wording. Planners are not lawyers and therefore cannot give you legal advice on any of your contracts.
Remember, the wedding and event industry may very well be your vendors' only household income which means that their current livelihood is taking a huge hit. If you are no longer able to use your wedding pro, do not expect to receive your deposit back, especially if they have already put work into your celebration. For example, did your designer already make all of your custom signage with personalized dates? All their time has been spent and materials purchased and used and they deserve to be fairly compensated for their work.
If you had a final balance left to pay your vendors for your upcoming date, many vendors may take that final balance and divide it in half, with half going as a deposit along with your new contract for your new date.
Be sure to review your wedding insurance policy to see what is included and if it will effect vendor purchases. Has your florist already purchased the flowers for your big day and will therefore need to be paid for flowers you aren't using? Wedding insurance may be able to cover that, keeping you from shelling out the cost for those florals twice.
There's wedding insurance?!
Most venues or planners require wedding insurance but if it's not something you currently have for your upcoming wedding, it is definitely something you will want to look into with companies such as Wed Safe. In the midst of COVID-19, some wedding insurance companies are not currently accepting new applications, so if you are in the process of planning your future wedding, keep monitoring the situation for when applications reopen.
What if I don't have a planner?
Many planners are willing and able to help in this time of crisis, whether with free advice or a small retainer. "If you have nowhere to go and you're taking advice from planners on social media, make sure you're looking for planners that have a sizable following that have clearly been in the market for long periods of time," advises Tabitha Roberts, Roberts & Co. owner. "That's not to say don't take advice from new planners, but you want someone that's lived through September 11th, someone who's gone through the recession in 2008 or Snowmaggedon. You want people who have actually pivoted weddings. Take that into consideration when taking advice from people you may or may not know. Where was your source the last three crises and did they have to apply any of this knowledge?"
For couples without a planner, you can do as the planners are doing. Contact each one of your vendors (separately, certainly not in a group email) and say that you are planning to postpone your date and ask what dates they have available in the coming months. List each of your vendors and their future availability in a spreadsheet and assess the overlap in dates, what date works for the majority, etc. Keep open communication with them, and understand that those dates may start to fill up quickly, so you'll want to act in a timely manner when rescheduling with them.
How should I tell my guests my wedding has been postponed?
This depends on the size of your wedding. No matter how many guests, be sure to let each and every person know, even if it seems assumed based on the current events and even if you don't have a new date to tell them. It will also be up to you to let guests who RSVP'd "no" to know of the change, in case your new date may work for their schedule and they are now able to attend.
Bride Rachel Dean was planning to get married on April 14, 2020 in Las Vegas. Currently, Nevada Governor Steve Sisolak has issued closure of casinos, restaurants, bars and other non-essential businesses for 30 days which began on March 18.
"Thankfully, we were able to book a wedding of 50 people so I was able to send mass texts to everyone, and just copy and paste the message," shared Dean. "Because we don't know the final end date of the quarantine, we weren't able to reschedule. So, as of right now, if the quarantine ends, we're looking towards May, that way our family can have time to schedule their hotel and airfare, or if the quarantine goes as long as August, we're looking to October when the temp in Vegas cools down."
If you don't feel like texting all your guests, send an email with a digital save-the-date for your new date or simply an announcement that you have chosen to postpone and that guests will be informed as soon as you know of a new date and be sure to update your wedding website with this new information. Don't assume that everyone will see it if you just put something up on Facebook or Instagram. Aim for individual contact via text, email, or even a phone call.
This is a difficult time for everyone. Our hearts go out to all the couples, vendors and guests effected by COVID-19. No matter what is happening in the world right now, there are a few things you can control. "Protect your partnership," encourages Egan. "This is unlike anything anyone has ever seen and we've got to make sure we're feeling good about our relationships and leaning into love right now. Be patient with each other and take nights off from talking about COVID-19 and wedding plans."
—–
Equality-minded wedding pros, we see you! In the midst of this uncertainty we want you to know we are here for you. Click here to sign up for three free months of advertising with Love Inc. You're all doing amazing, keep up the great work!