When we think of the things that we use most throughout the day, it's possible that the little colorful squares on the screens of our phones that hold everything from games to keep us entertained, exercises to help us stay in shape, or technology with the ability to turn off the lights in our house after we've left are what make the top of the list. We use apps for just about everything these days, and if you're anything like me, the first thing I look at before I decide to tap that download button is what users have to say about it. So when we recently came across a bunch of free wedding planning apps with little to no reviews, we couldn't help but give them a try!
Staying organized during the wedding-planning process is imperative if you also want to stay sane, which is why using an app where everything you need is stored in one place that most people keep within an arm's reach throughout the entire day is a great idea. Wedding gurus such as The Knot and WeddingWire have their own apps, but just as all weddings are different, the means in which you plan them should be, too. While you can find so much inspiration on Instagram (including gifts for the littles), there's a while world out there. So we downloaded a bunch of apps and tested the good, the bad and the ugly of each one so you know what app to trust to help you plan the best day of your life! Here are the five that we found most noteworthy.
Wedding – Planner Complete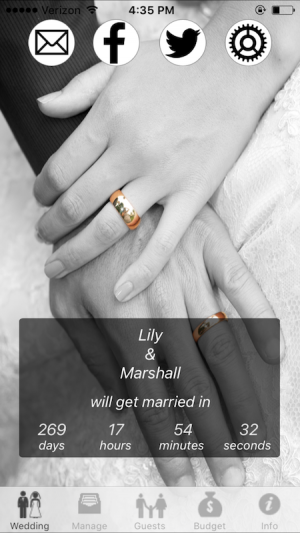 Wedding – Planner Complete has some great features, but we we're sad to see that they are not inclusive. In order to get into the app, you must enter names for a bride and a groom. The bride and groom terminology are prevalent throughout the app in features such as the seating chart, in declaring who's guest is who's, as well as for keeping track of who paid for what. Although the app is not inclusive, it does have some good components. The home screen has a countdown, which tracks the time down to the second until your wedding. And in addition to the option to connect your social media, you can also sync your contacts to input your vendors, compile a guest list and keep track of your RSVP's.
Once your RSVP's start rolling in, the one thing that sets this app apart from the others is that you can organize a seating chart! You can create table names and change the number of seats for each table to match your unique reception space. Although a budget feature is included, it's not the easiest tool to use. Instead of using it to help keep an eye on your overall budget, I think it'd be most helpful just to track what you're spending, a spending log, if you will. If you're concerned about splitting costs evenly with your partner, then the breakdown of who paid for what could be useful. But other than that, it seems like more trouble than help. It wasn't immediately apparent, but under the checklist, you can find a timeline that will help you figure out at what point you need to be ordering flowers and booking a DJ. You can organize them by month or by category, but we're concerned about some of the time frames they've provided. Overall, the design of this app feels a little dated, but there are features that would be helpful in planning the big day.
Borrowed & Blue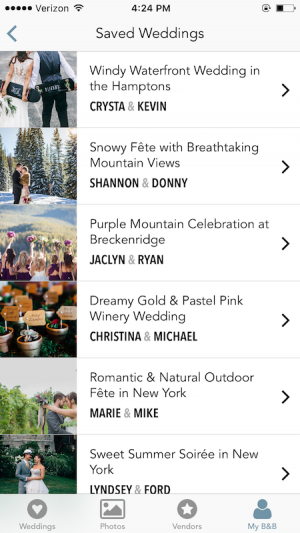 Borrowed & Blue claims to be a planning app, but I'd classify it as more of an inspiration gatherer. It features some incredibly beautiful weddings, all of which list associated vendors where you can easily request a quote, view their portfolio, or read reviews about their services from other users. As we browsed through the gorgeous featured weddings, it became apparent that the app isn't inclusive, as we didn't find one same-sex wedding.
The design of this app is clean and modern, but it is also restrictive in who would best benefit from its features. You can search for vendors, but only within the 50 cities that are already provided. I was confused to find that New York City wasn't even on the list, so I imagine most of the U.S. wouldn't be able to find vendors through this app. If you're looking for new outlets to find wedding ideas and inspiration, I'd definitely give this app a try. But as far as the nitty gritty of planning the event, this won't be much help.
WedHappy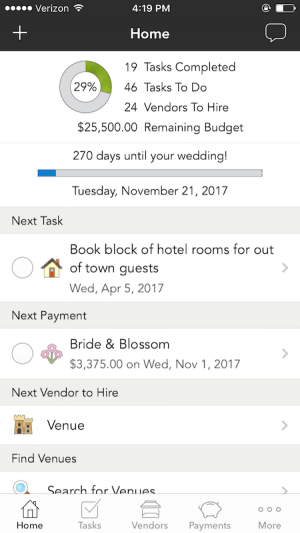 After perusing through a couple discouraging apps, I was extremely excited to come across WedHappy. Upon first opening the app when I was prompted to set up my profile, the options allowed me to select either bride or groom for each partner. We love seeing inclusivity in the industry, but that was only the beginning of the good attributes of this app. It became apparent quickly that the app was not only clean, organized and user-friendly but also comprehensive and detailed.
After inputting your details, a customized timeline is created and outlined on the front page. When you open the app, you'll first see a countdown to your wedding, the tasks you've completed and those that still need completing, your remaining budget, the due date and amount of your next payment, and the next vendor you need to hire to stay on track. When you go about completing a task, the app is armed with advice and supplies questions to ask vendors or to ask yourself as you think about what kind of wedding you're looking to plan. Everything within this app is completely customizable. If you want to skip a wedding cake or you don't need to hire an officiant, you can simply delete the task. You can even search for local vendors and read reviews via Yelp.
With the free version of WedHappy, you can also invite one person to plan with you. Whether that's your partner, a family member or your wedding planner, you're even able to determine whether or not they can access the details of your budget. One of my favorite things about this app is that it blocks out space in the timeline for you to brainstorm and research. Instead of a task popping up on the same day it needs to be completed, WedHappy makes reminders to research vendors, venues and caterers well before you need to come to a decision. It's realistic, and it's going to keep you from feeling overwhelmed as you tackle the daunting task of wedding planning. If you're looking for a tool to help you plan your own wedding, I highly suggest this app!
LadyMarry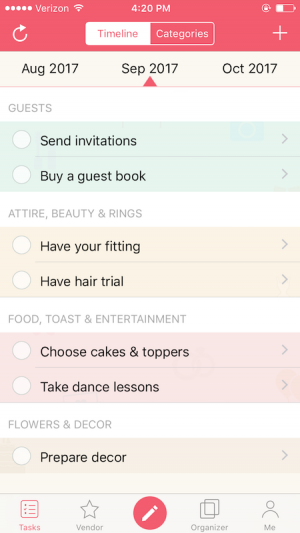 LadyMarry is another app that gives you a customized wedding plan based on the date of your wedding, which is something that we think is extremely helpful. As you dive into planning, it will feel less overwhelming if there is a structure to the way you set out tackling tasks. Therefore, my favorite part of this app is the month-by-month timeline. It's easy to scroll through, it has good clarity and is completely customizable. However, the specific suggested due dates are only visible once you click on a task. Under each task to complete, there are links to articles from popular wedding websites and blogs for advice as well as posts from the app's Tumblr, covering topics on everything from things to consider before booking your venue to a helpful guide on how to assemble wedding invitations.
As you're looking for vendors, we know it can be hard to narrow down your search when it feels like there are a million options to pick from. Thumbtack, an online service that connects customers with local professionals, powers LadyMarry's vendor search, and after answering a series of questions about photography styles, pricing and the number of guests at your wedding, they'll send a list of quotes from local photographers — and other vendors, of course — to your email. This app is also equipped with a budget organizer, albiet a slightly confusing budget organizer, but once you get the hang of it, it's actually extremely helpful. You can organize your costs and associate them with each vendor, and you can keep track of what has been paid and what hasn't. Overall, LadyMarry is a thorough planning application that would be helpful in planning your own wedding or keeping track of the process as you prepare for your big day!
The Wedding Planner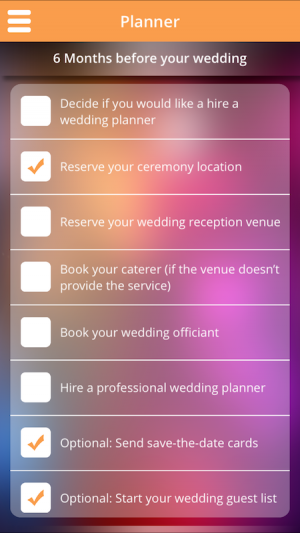 This app is more like a checklist than a guided wedding planner. When you open the app for the first time, it does not ask for any information, which means you don't get a customized timeline. However, tasks to complete are broken down by month that include things such as reserving your venue, booking a caterer or hiring a wedding planner, starting with six months out. Considering most allocate 10 months or more to plan a wedding, this wouldn't be the greatest guideline for spacing out your planning. Overall, this app, which does have advertisements, is a bit amateur and simplistic. It's not the easiest to use and many of the features feel incomplete. There are places to enter a guest list as well as the wedding party, and you can add appointments through the app, which syncs with your phone's calendar. But quite frankly, using the calendar on your phone might be easier. It also has a space to keep track of the gifts you receive, which I think is a great addition.
Although I wouldn't recommend this app as the sole guide to use while planning your wedding, I think the checklist feature would be a great additional tool to help you keep track of the things you've done and still need to do, especially if you're an avid to-do lister, like me!