Show off your true colors with these dazzling rainbow wedding dresses, perfect for the modern soonlywed! From subtle hints of color to full-on rainbows, find the perfect dress to make a statement at your wedding.
I love seeing more and more soonlyweds opt for colorful wedding dresses, like Melanie's ombre pink and orange dress, Elaine's rose-covered dress, and Jill's bright pink wedding dress. The age-old "rule" about having to wear white only applies if you want it to, and if you're looking to make a statement, rainbow wedding dresses will certainly add a wow factor to any celebration.
Whether your style is bohemian, decadent glam , or a classic romantic, there's a rainbow dress out there that's perfect for you. Not only are rainbow dresses visually stunning, but they also carry a deeper meaning with a nod to Pride. And what better time to celebrate #loveislove than at your wedding?!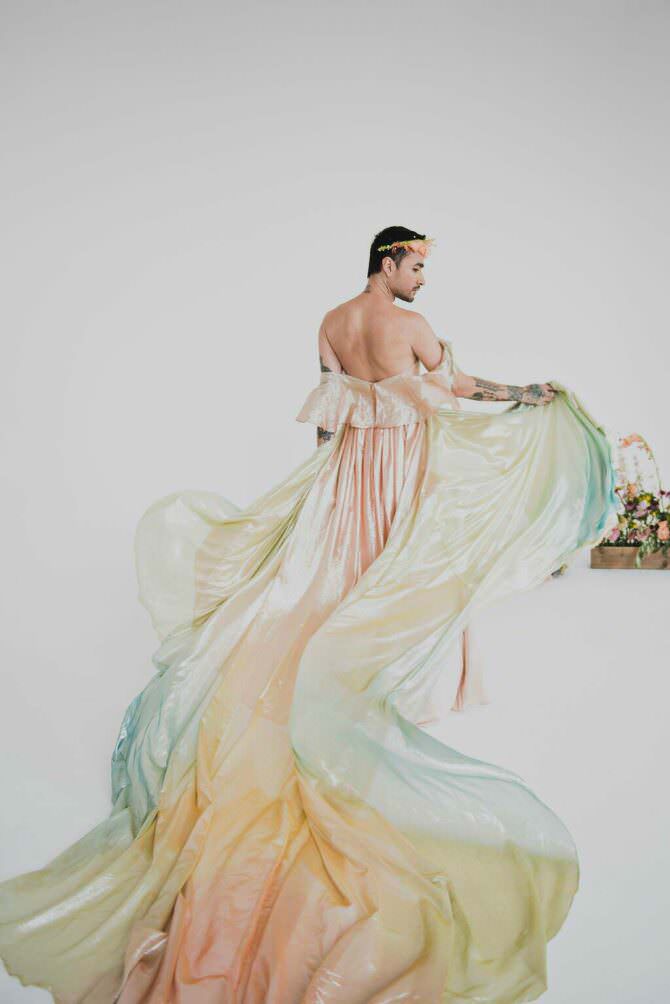 Named after the fearless and fabulous activist Marsha P. Johnson, Loulette Bride's 'Marsha' gown is created with rainbow, hand-dyed ombré and metallic silk chiffon, with a strapless, structured bodice, ruffle neckline with off-the-shoulder sleeves, and a ruffle skirt and train for days. Available at Loulette Bride, $4,000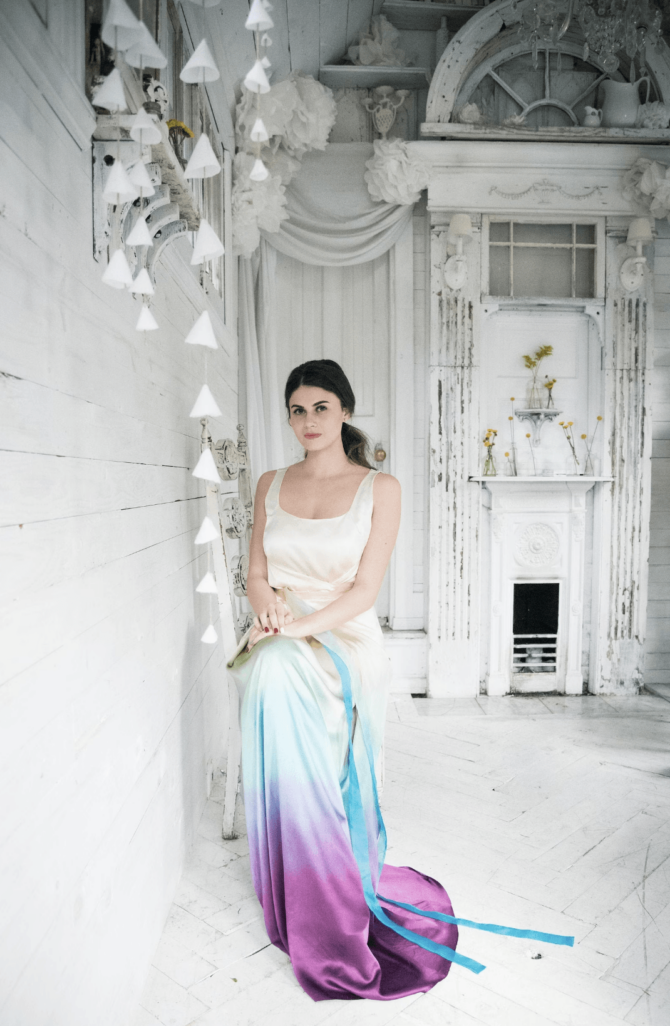 Buttery stretch silk and a dramatic sunset ombre make this wrap dress truly unforgettable. An easy fit with comfortable tank straps, this gown is perfect for an outdoor wedding. Available at ChrissyWaiChing Etsy shop, $790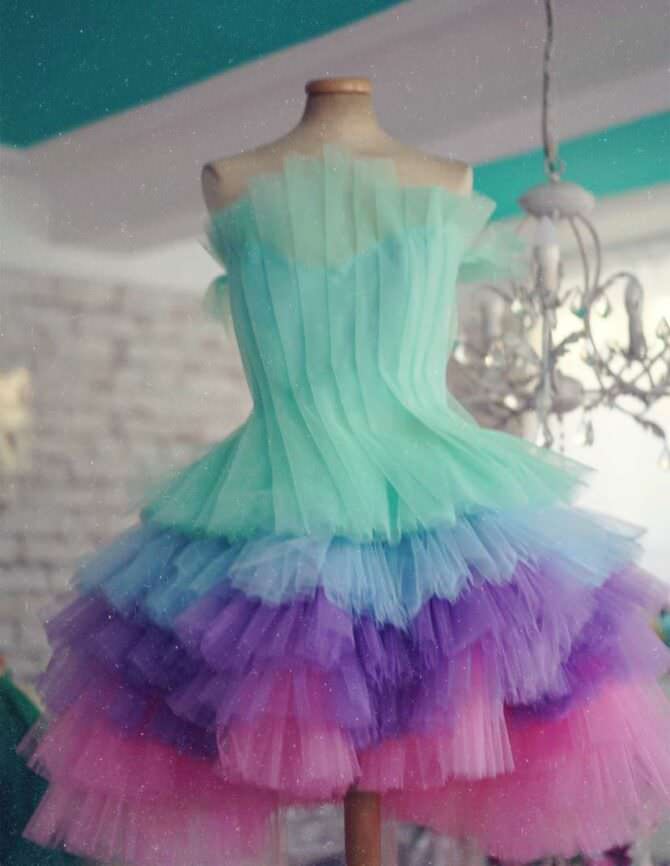 Chotronette's "Rainbow Milkshake" minidress is a vibe, and would be a perfect second dress to change into to kickstart the party. It's made with tiers of ruffled tulle that feature just a kiss of sparkle. Available at Chotronette Etsy Shop, $600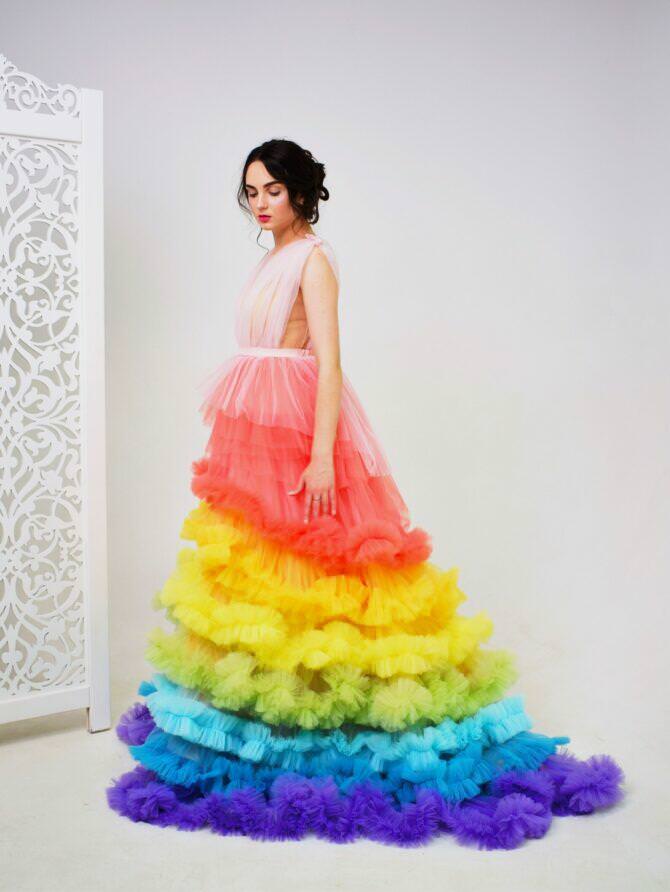 It doesn't get much bolder than this stunner, featuring bright, fluffy layers of rainbow tulle. It will certainly brighten up anyone's day who sees it! Available at DreamsDresses Etsy Shop, $247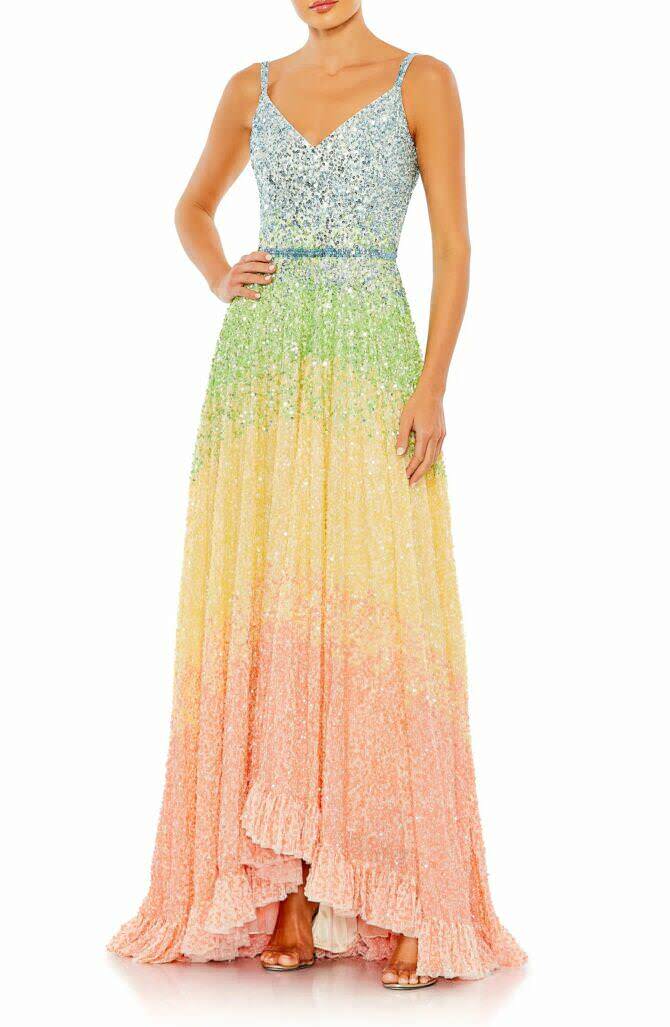 This rainbow sequin mesh A-line gown is adorned with dazzling sequins in a rainbow of colors, which shimmer and sparkle in the light. The mesh overlay adds an ethereal and romantic touch to the dress, while the high neckline and long sleeves give it a sophisticated and elegant feel. The back of the dress features a dramatic keyhole cutout, which adds a modern and unexpected twist. Available at Nordstrom, $798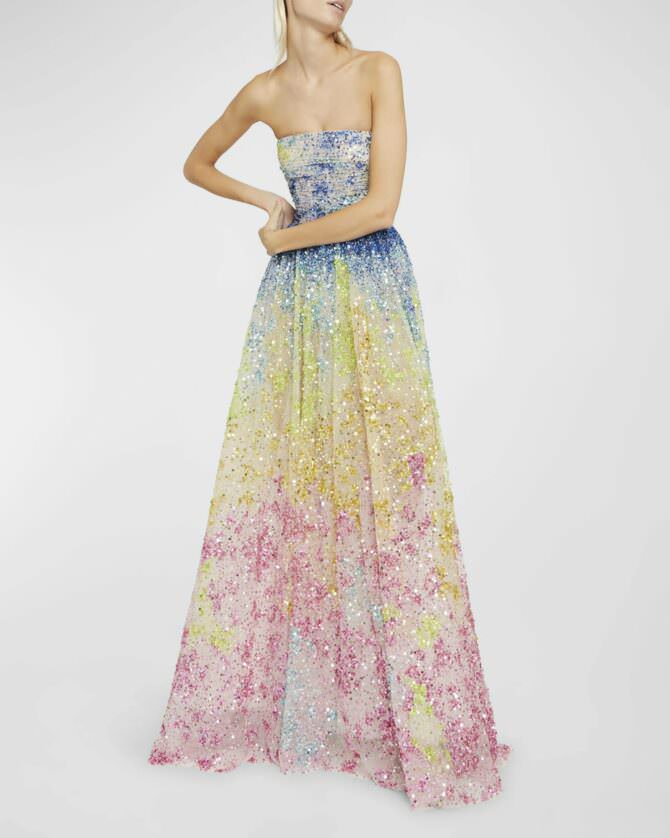 This stunning dress is expertly crafted by the renowned designer Georges Hobeika, whose intricate and couture-inspired designs have made him a favorite among celebrities. The delicate rainbow-design beading is pure *chef's kiss*. Available at Neiman Marcus, $11,350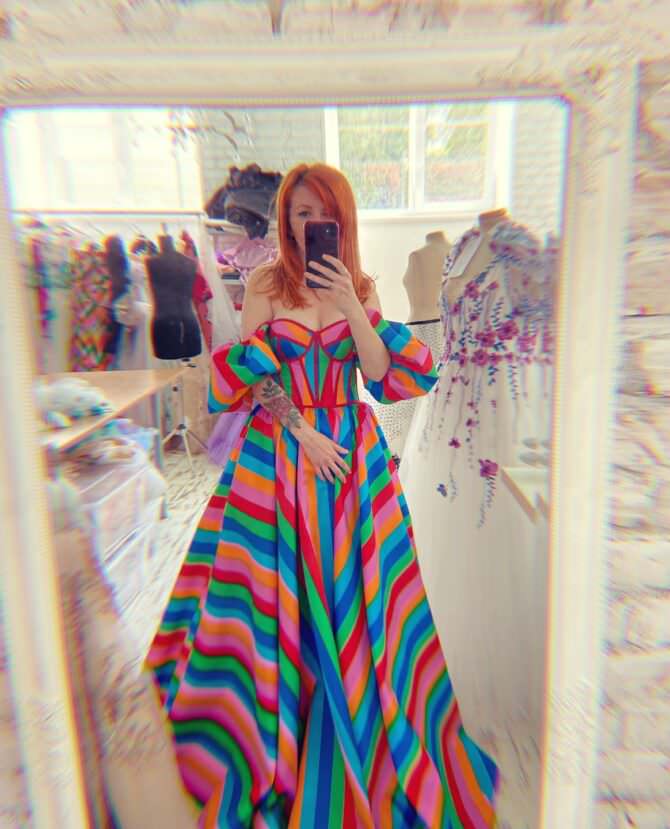 Right out of a 1970s pop-art painting, this fun design 'Popsugar Dessert' dress by Chotronette is bold and fun, while still elegant thanks to the off-the-shoulder neckline and ball gown silhouette. Available at Chotronette Etsy Shop, $1,100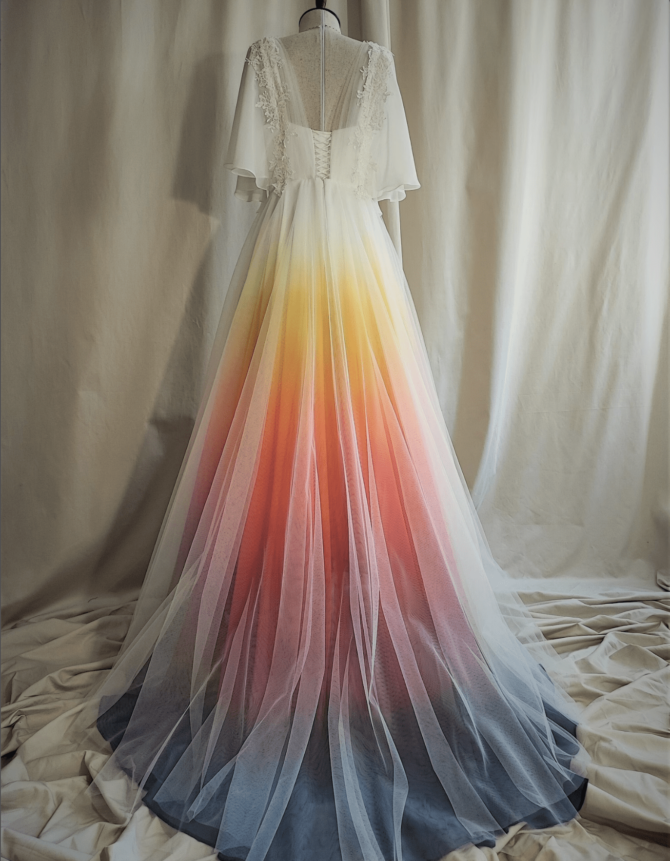 Dreamy and ethereal, this hand-painted rainbow wedding dress features a soft and romantic ombre effect, with delicate brushstrokes of color that transition from one shade to the next. The flowing skirt and tulle overlay add movement and drama. . Available at NArt Bridal Etsy Shop, $575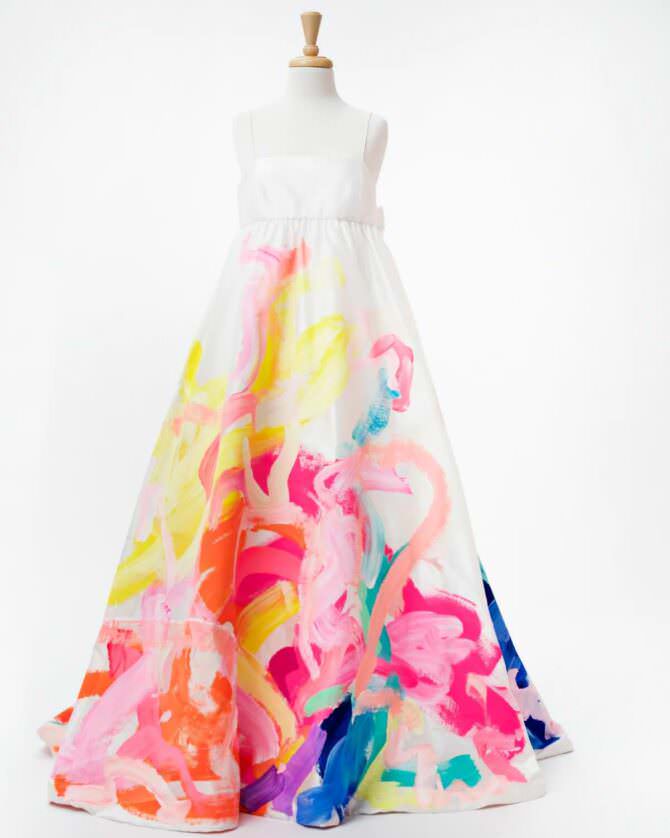 After long obsessing over her brightly hued handbags, we were thrilled when artist Tiff Manuell announced last year that she was going to dive into bridal. Each piece is hand-painted on 100 percent silk, and is, quite literally, a work of art. We are swooning particularly for her 'Magnolia' Dress featuring swooshes of fluorescent yellows, pinks and oranges paired with divine baby blues, turquoise and cobalt. An abstract composition that tells a story as you twirl. Available at TiffManuell.com, $3,048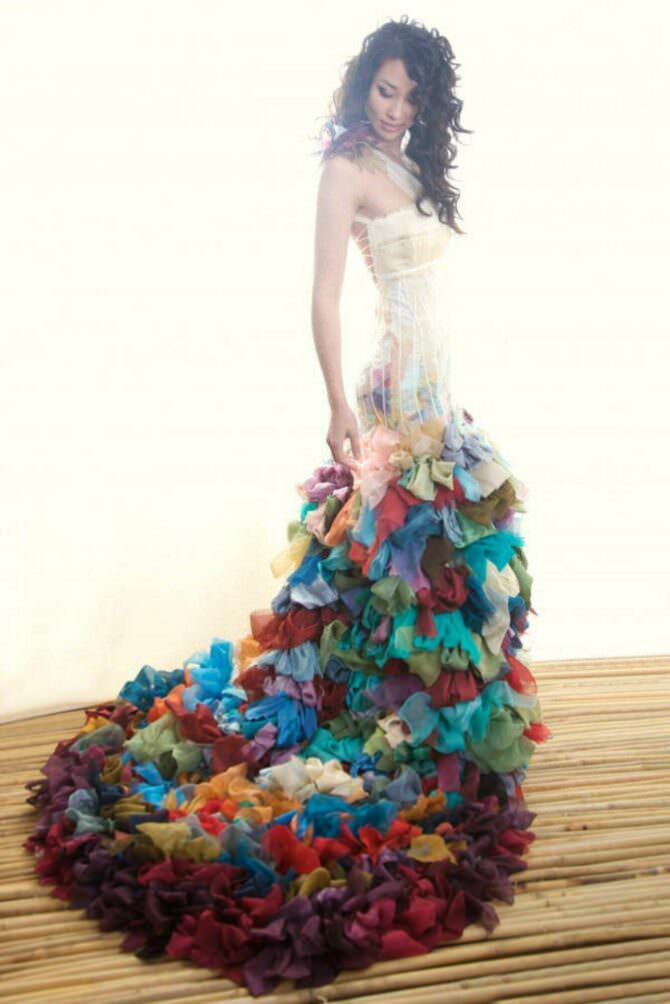 This gorgeous fit-and-flare wedding dress is perfect for the modern soonlywed, featuring hand-pierced, 3D silk collaging throughout the skirt, silk rope detailing throughout and a dramatic open lace up back. Available at ChrissyWaiChing Etsy Shop, $2,019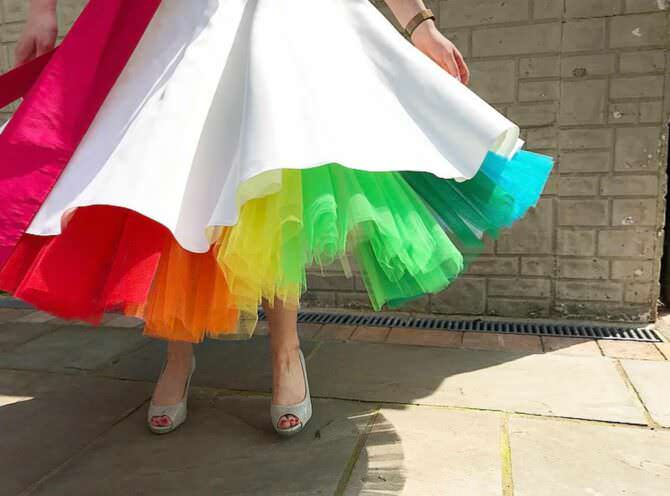 If you're not ready to make the plunge for full rainbow, this petticoat option is the perfect solution. Available at DuskBridal Etsy Shop, $227.65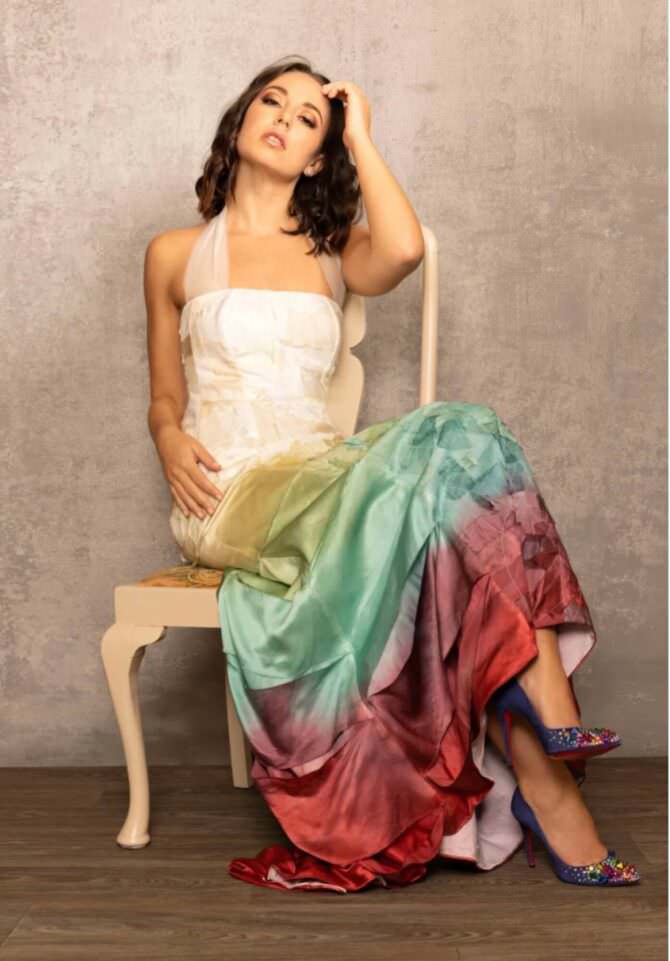 This incredible sheath dress features layers of colored pleats and draped silk charmeuse, while the silk collaging gives it a delicious texture. Available at ChrissyWaiChing Etsy Shop, $1,215
Editor's note: Some of these links are affiliate-based, which means we earn a small commission when you purchase from these links (and helps our small business keep providing free equality-minded® wedding content to you!)