Some soonlyweds shudder at the thought of planning a wedding in less than a year, but for Ashley and Michael, they simply couldn't wait that long. "I knew I wanted a fall wedding, so when we got engaged in March, I told Michael I didn't want to wait until the next year to get married."
They were in luck — their dream venue, Paradise Cove, had an opening in the fall, and they jumped at the opportunity. Soon after, everything fell perfectly into place, and it wasn't long before Ashley was living out her fairy tale and walking down the aisle while Rudy & Marta Photography was there to capture all the magical moments.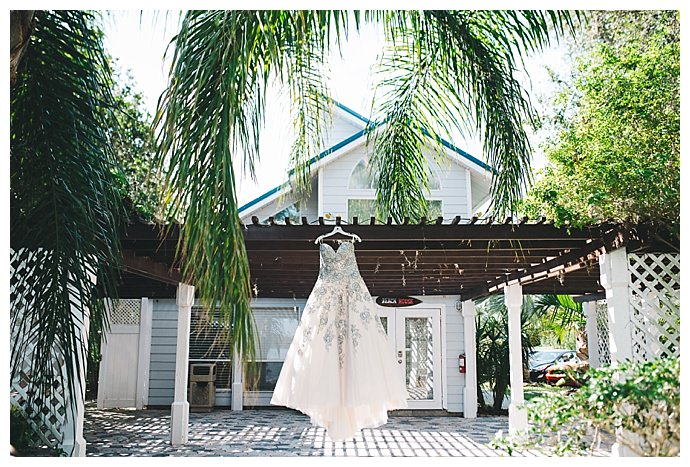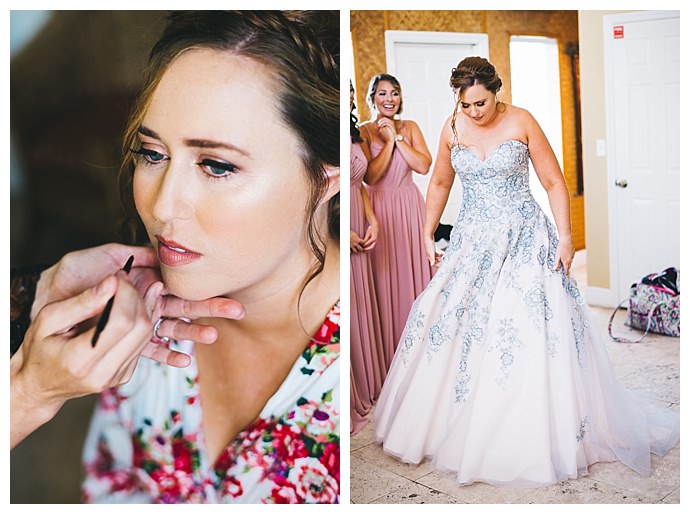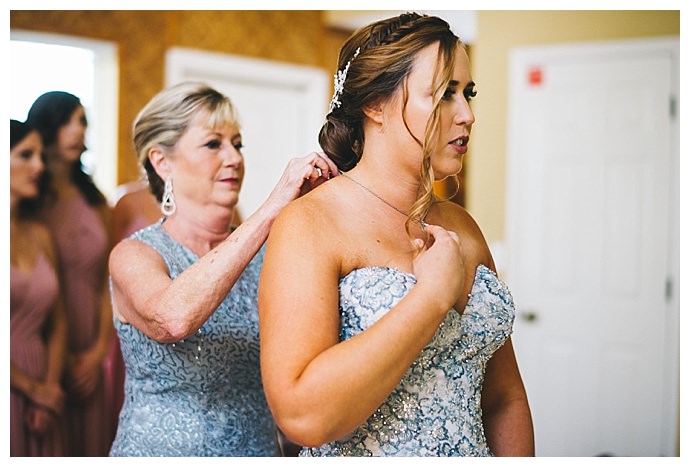 The Love Story
It was Memorial Day weekend, and Michael had just moved to Orlando. While his friends were convincing him to join them for a night out on the town, Michael's brother-in-law said to him: "It's not like you're going to meet your future wife tonight." Meanwhile, one of Ashley's best friends was in town, and they were getting ready for a girl's night in downtown Orlando. "We went to Courtesy Bar first where we saw a group of guys walk in," Ashley says. "One of them was very tall, and I couldn't stop glancing over at him while they were ordering drinks at the bar." Michael caught Ashley's gaze and walked over to strike up a conversation. "Michael came up and asked me what I was drinking, and we started talking from there and didn't stop," Ashley says. The stars were aligning, and when one of Michael's friends found out about Ashley's love for comic books, he jokingly told Michael he needed to marry her.
Three years later, Michael had been trying to plan a time to propose, but Ashley's work schedule kept getting in the way. "I told my boss he was engagement blocking me because he kept changing my schedule," Ashley says. Finally, Ashley's birthday weekend arrived along with a weekend free from work. "The day before my birthday it was just the two of us and Michael asked me if I wanted to open one of my birthday gifts early," Ashley says, remembering she asked him whether or not it was a good gift. "I opened the gift and saw it was a handmade Adventure Book from the movie 'Up.' Michael told me to open it, and when I did, all I could see was the cut-out area with a ring inside, and I said, 'Oh my God is this happening?'"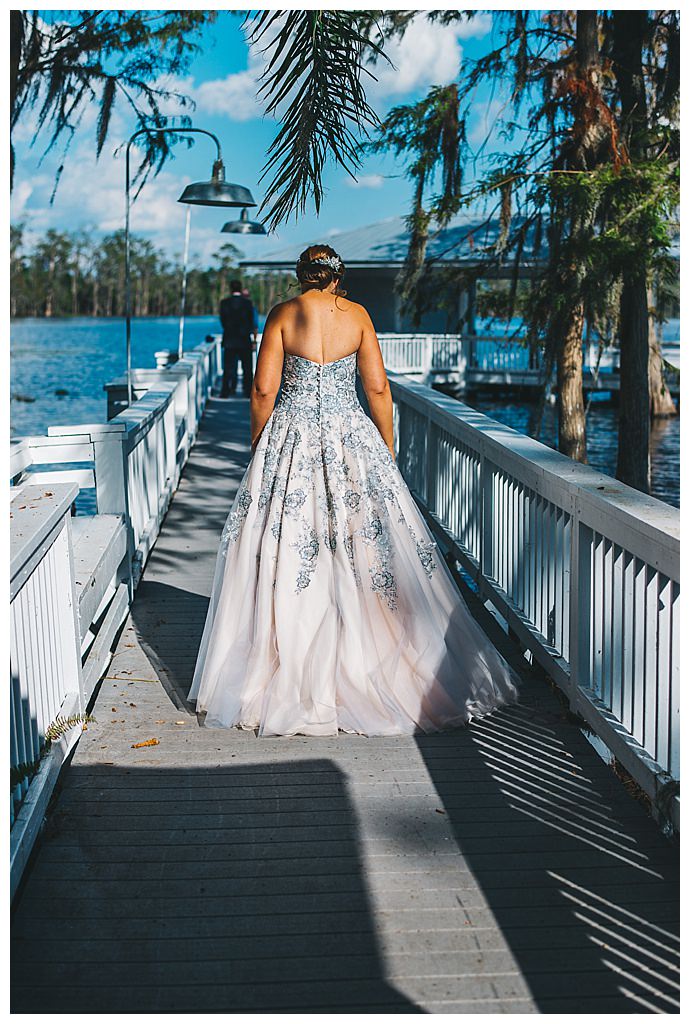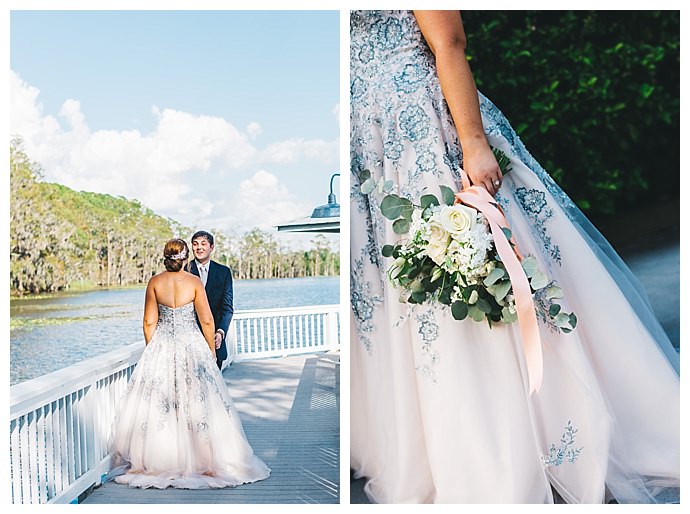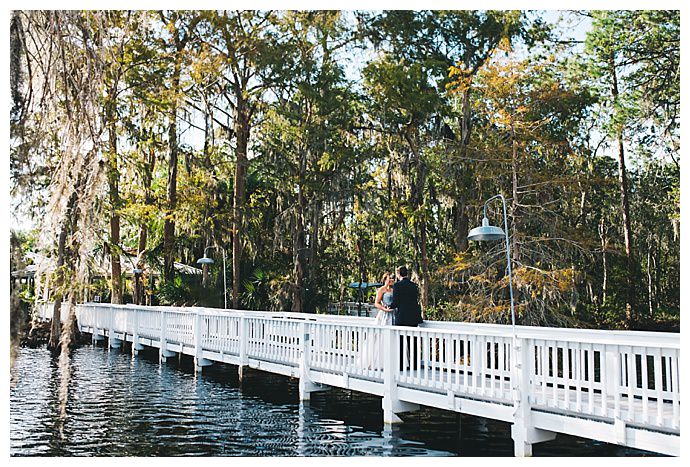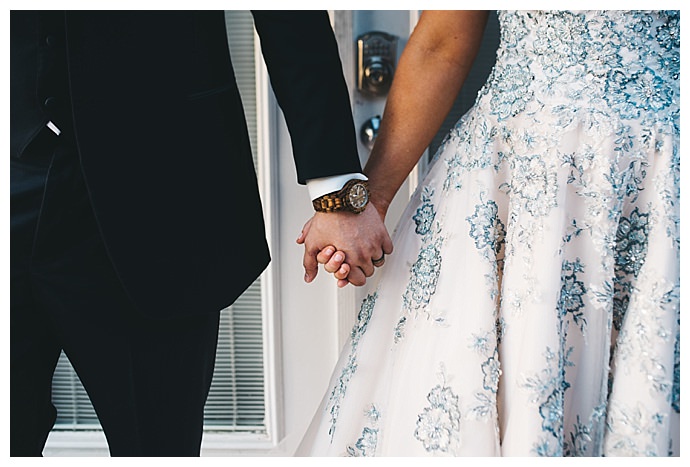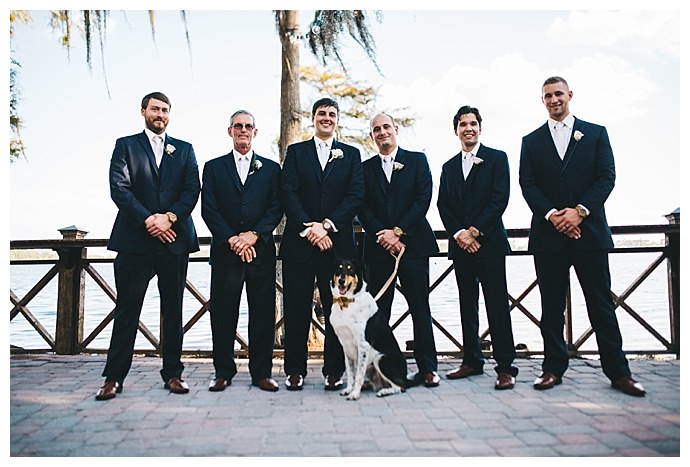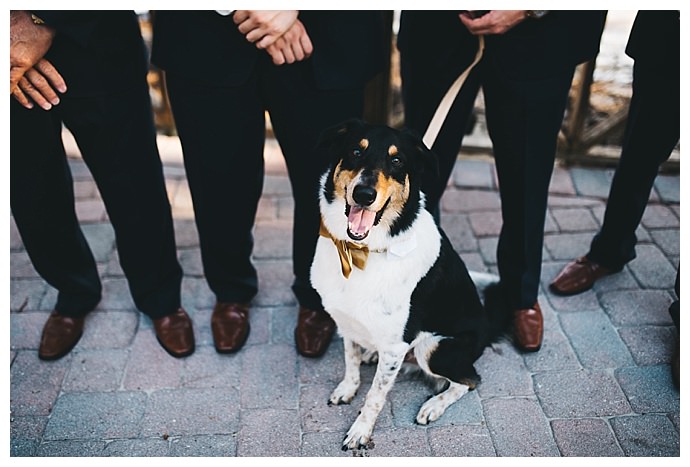 The Fashion
When Ashley first went dress shopping, she was excited to find a dress that she not only loved, but that also was created after her favorite Disney character. "Rapunzel is my favorite princess, and my desk at work is decorated with Rapunzel items," Ashley says. "I knew I wanted a fairy tale-type dress to wear on my wedding day since I was living my real life fairy tale, so my mom and I made an appointment with Alfred Angelo to try on some of the Disney dresses, and I had my eye set on the Rapunzel dress." She fell in love with the design and placed the order that day, only to find out a month before her wedding that Alfred Angelo was going out of business and she would not receive her dress.
"I was heartbroken," Ashley says. "That weekend my mom and I went shopping for a new dress — we knew we were going to be limited to only dresses that we could take with us that day and that didn't need major alterations because we were so short on time." After no luck with the first 10 dresses she tried on, the associate remembered a dress they had just gotten in the day before. "She brought it out, and I fell in love immediately," Ashley says. "I tried it on and it fit almost perfectly, and I loved it even more than the Rapunzel dress."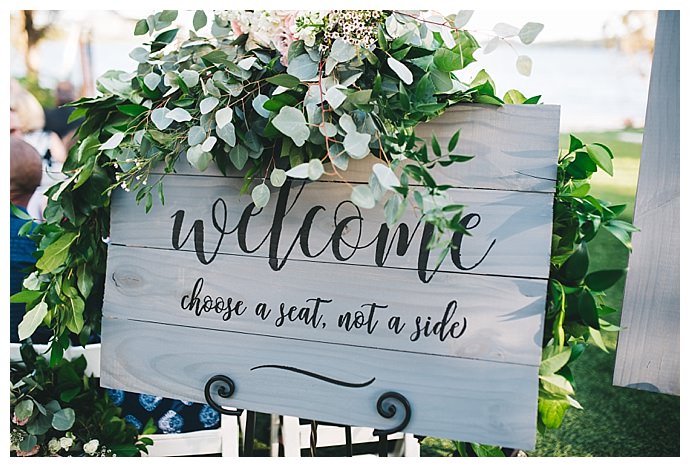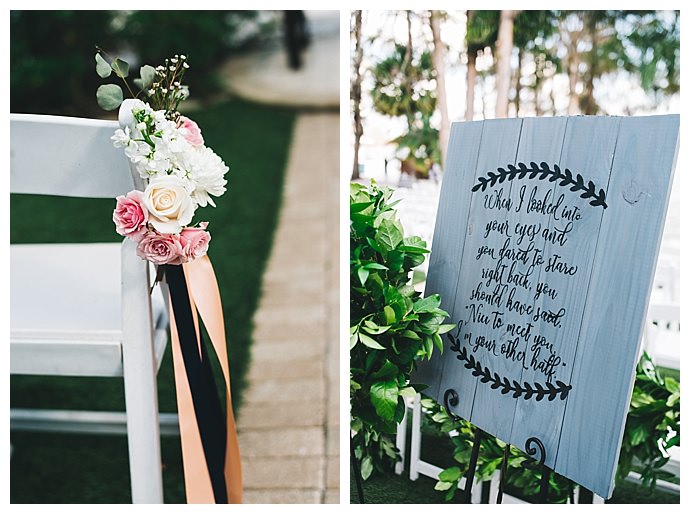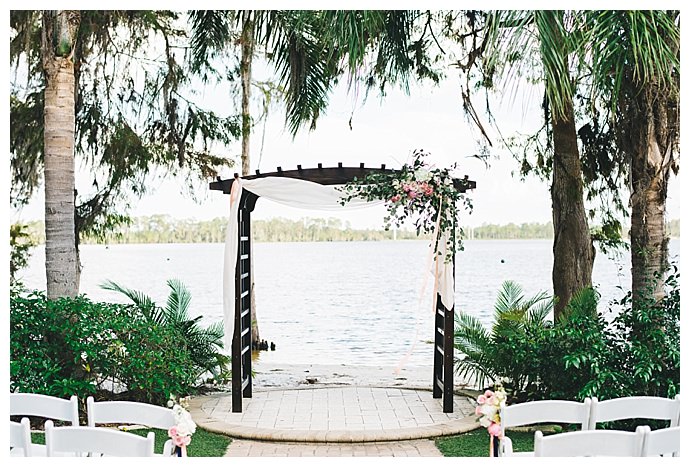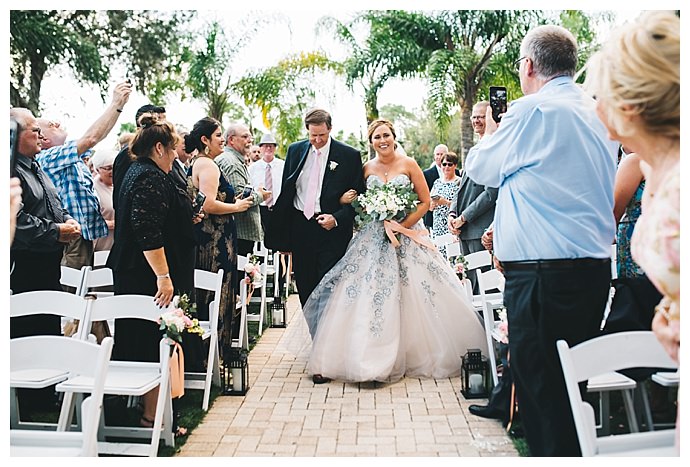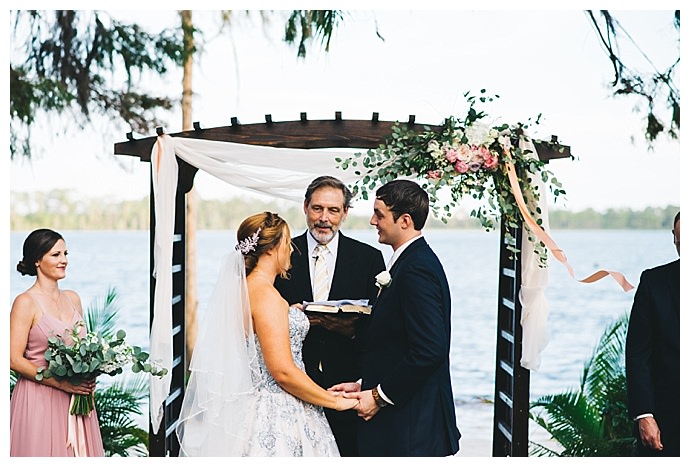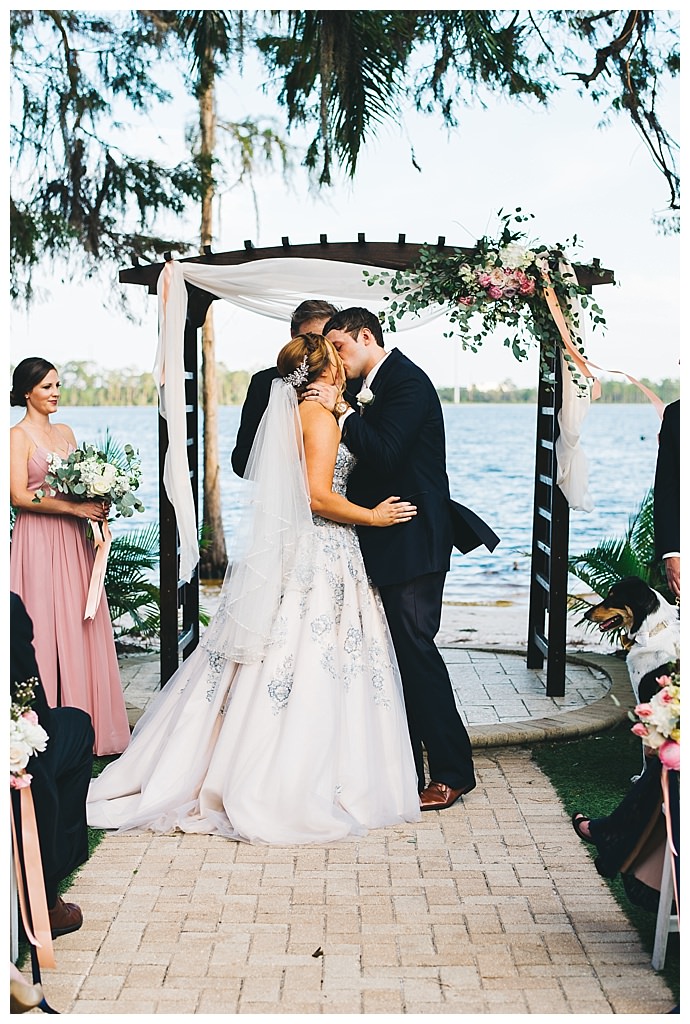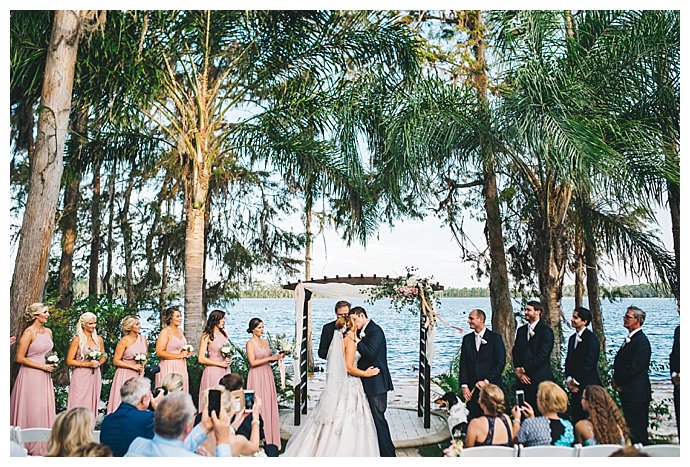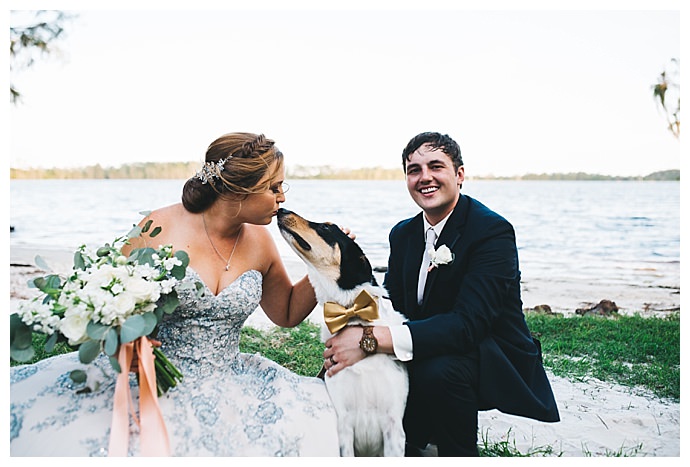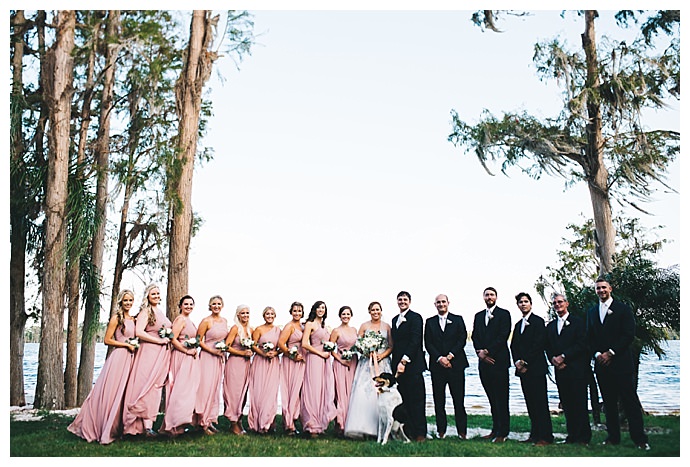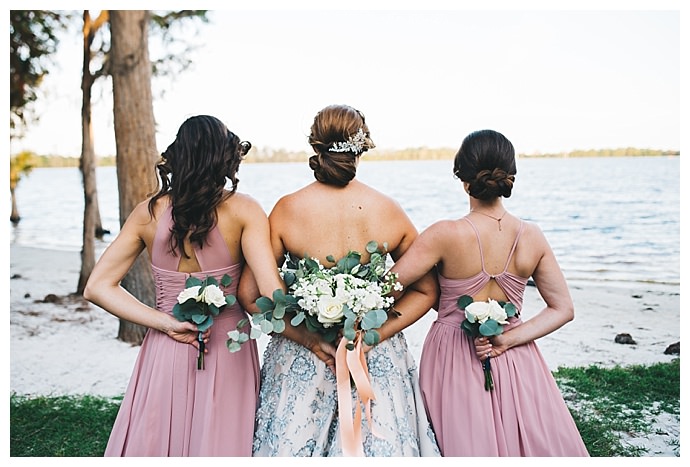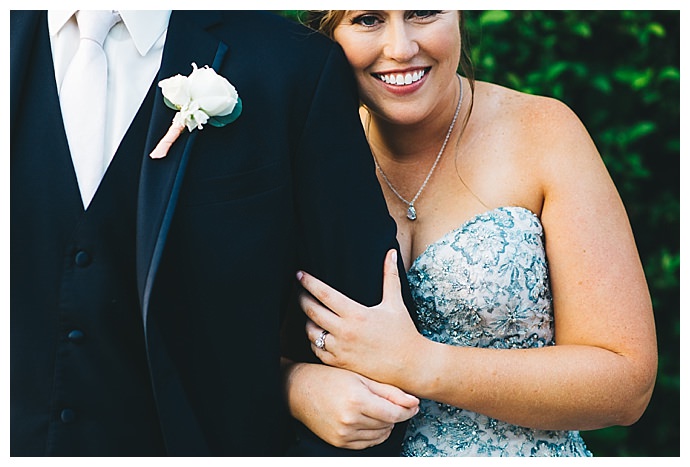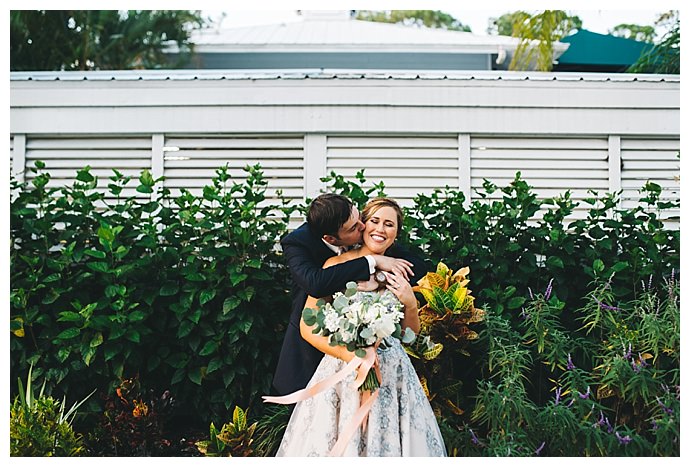 The Party
As soon as they were engaged, Ashley knew she wanted to marry Michael at Paradise Cove. The lovely lakeside venue provided a charming rustic setting for their reception, which they filled with beautiful blush and navy details, some of which they even made themselves! "I told Michael I wanted a donut wall and he, of course, said he would build me one," she says. In addition to the donut wall, Ashley created the signs for the ceremony, and for their signature cocktails, they chose the drinks they first shared together as a nod to the night they met. Ashley and Michael also personalized the menu for the reception, filling it with all of their favorite foods. "We really enjoyed choosing the menu for our wedding," Ashley says. "We told Arthur's Catering about a dish we fell in love with when we were on a trip in New York City — garlic knot eggplant parmesan sliders. It was heavenly, and Arthur's was able to recreate that for us!"
In keeping with how they got engaged, Ashley and Michael cut into a one-tier cake topped with a quote from "Up:" You're My Greatest Adventure. And the newlyweds sent all their guests home with something special to remember their perfect day. "At each person's place setting at the tables, we had these cards tucked into the napkins that had a removable heart on them," Ashley says. "If you take the heart off the card and plant it, it will grow herbs like basil and oregano. I knew instantly when I saw those online that I was going to get them, I love stuff like that!"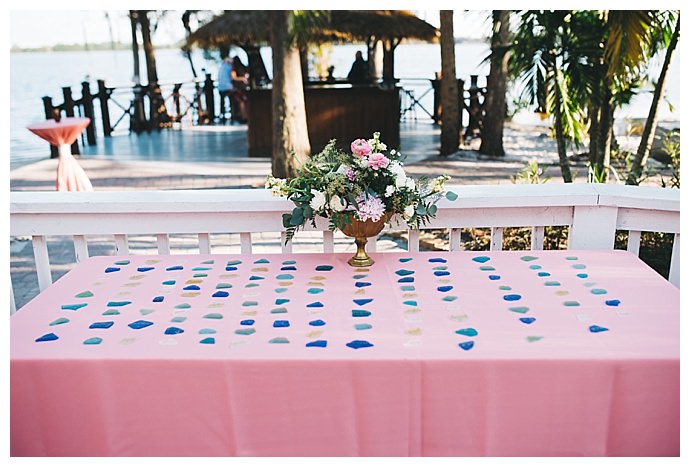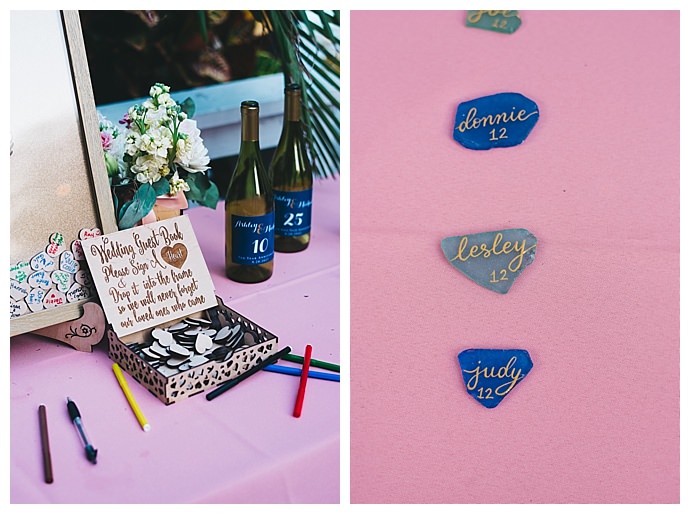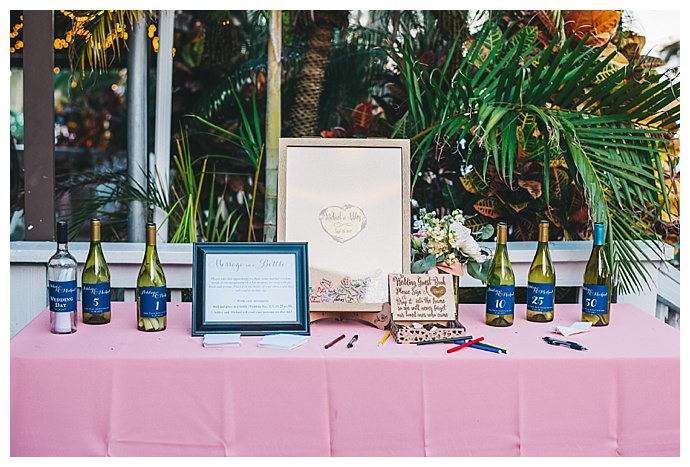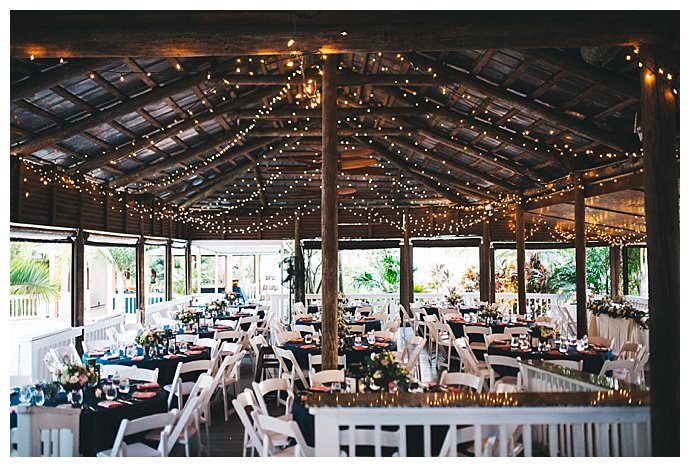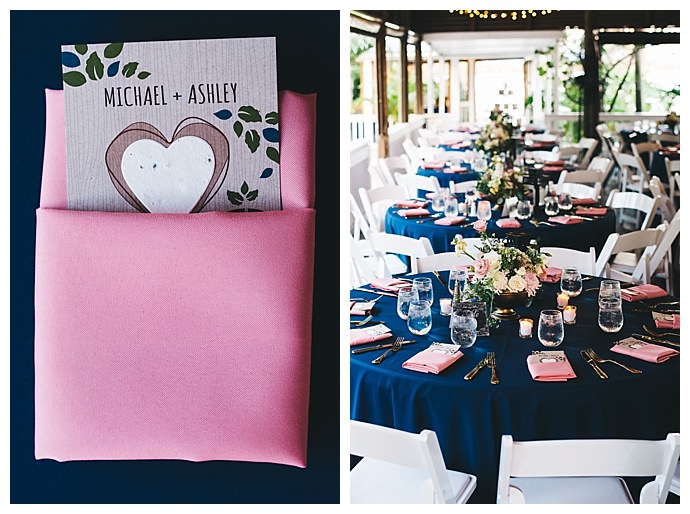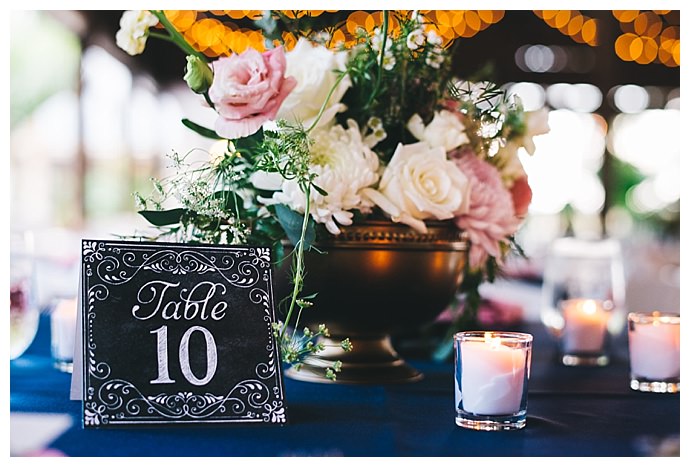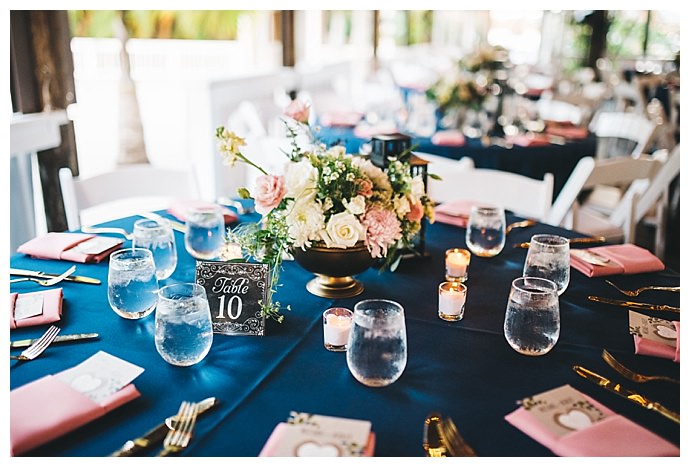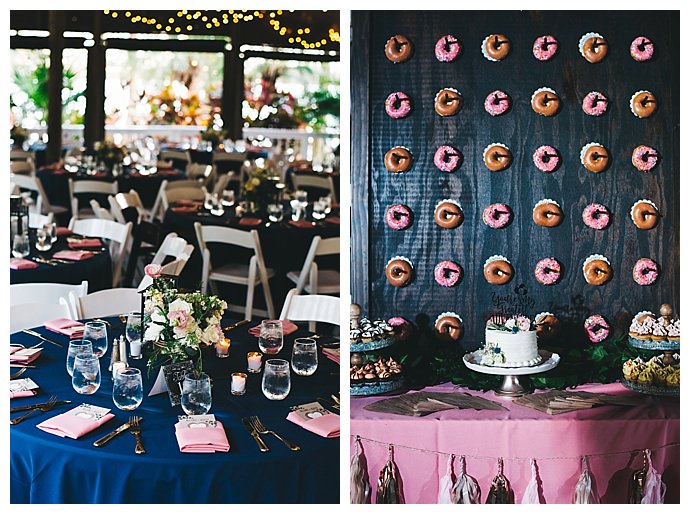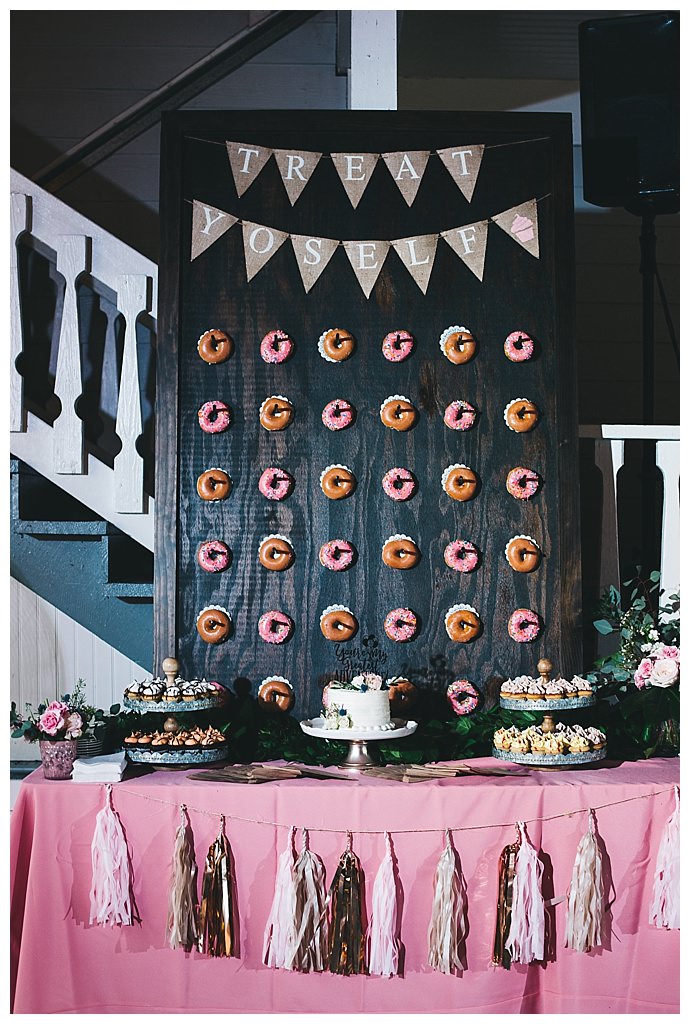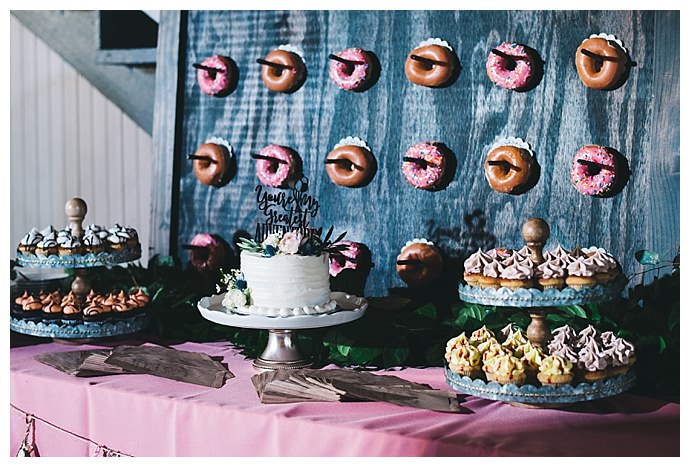 Memorable Moment
"One of my favorite parts was watching Michael from inside the bridal suite practicing getting our dog, Gambit, to walk down the aisle as the ring bearer and seeing Gambit run straight to the lake behind them and then the groomsmen running after him to try and stop him from going into the water," Ashley says. "I also really loved the maids of honor and best man speeches. They were super cute and funny and played off each other really well!"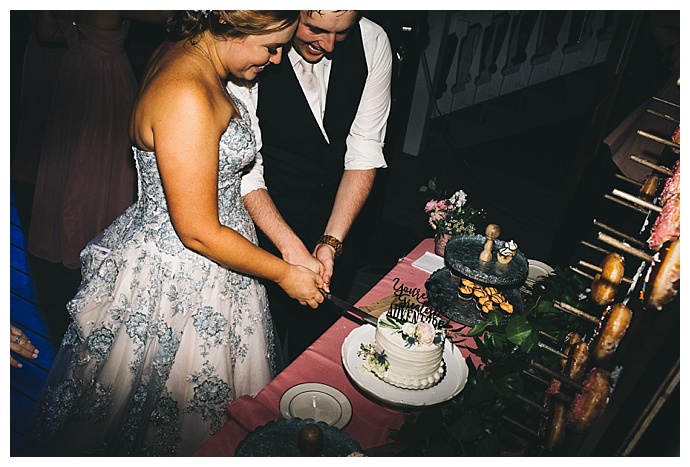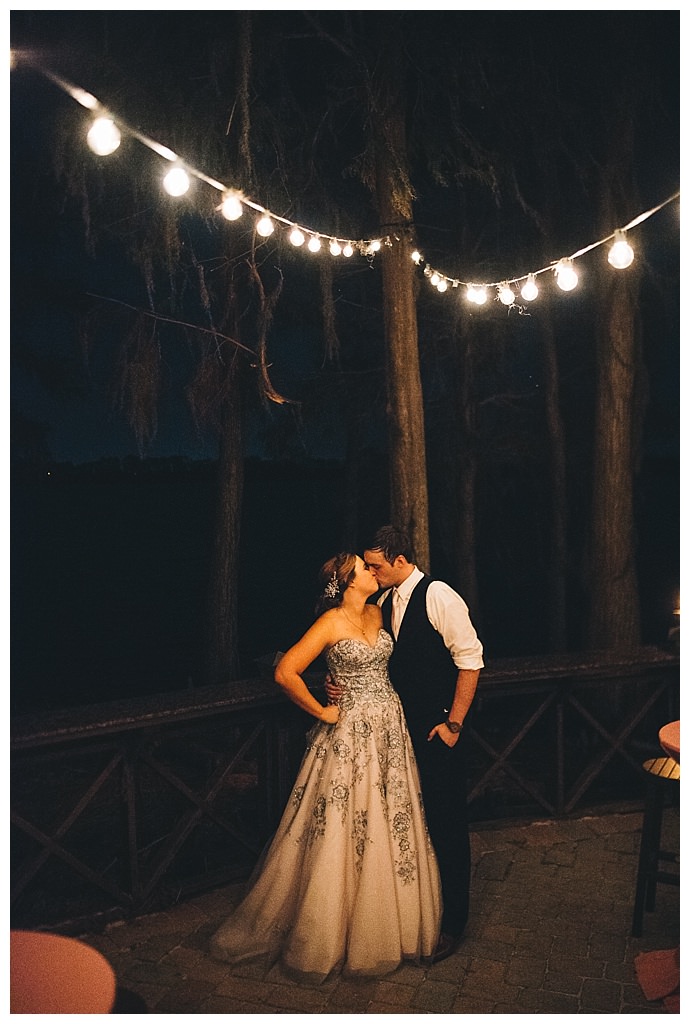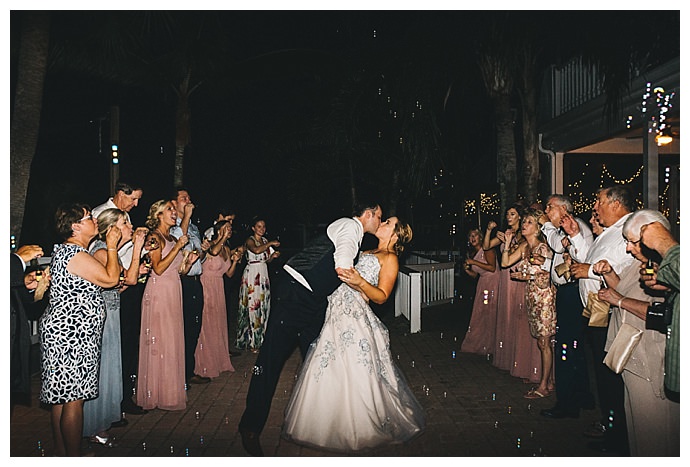 Submitted via Matchology
*Editor's Note: This post contains affiliate links. Each time you purchase an item via our affiliate links, Love Inc. is receiving a small percentage of the sale, thus you are helping our small, equality-minded business grow and allowing us to provide more content for YOU! Isn't that just fantastic?
Written by: