Laura Denise Photography's pictures of this ocean blue, beach-themed wedding showcase the joy these two women feel about spending the rest of their lives together. When Rosemary and Karen were choosing a venue for their wedding, the beach was the only place that made sense. "We are lucky enough to have a condo at the beach, and we both love the beach," they say. "So we thought it would best represent us to have the ceremony and celebration at our condo."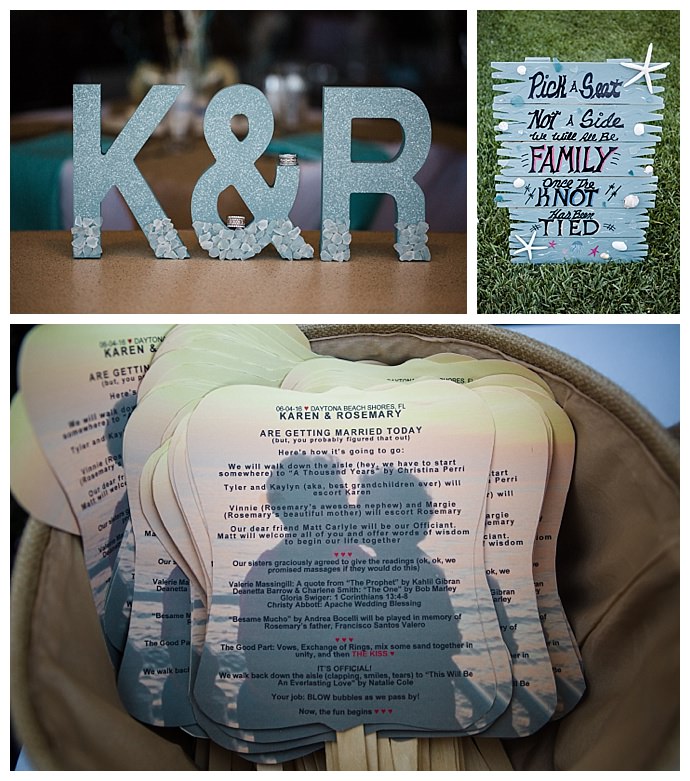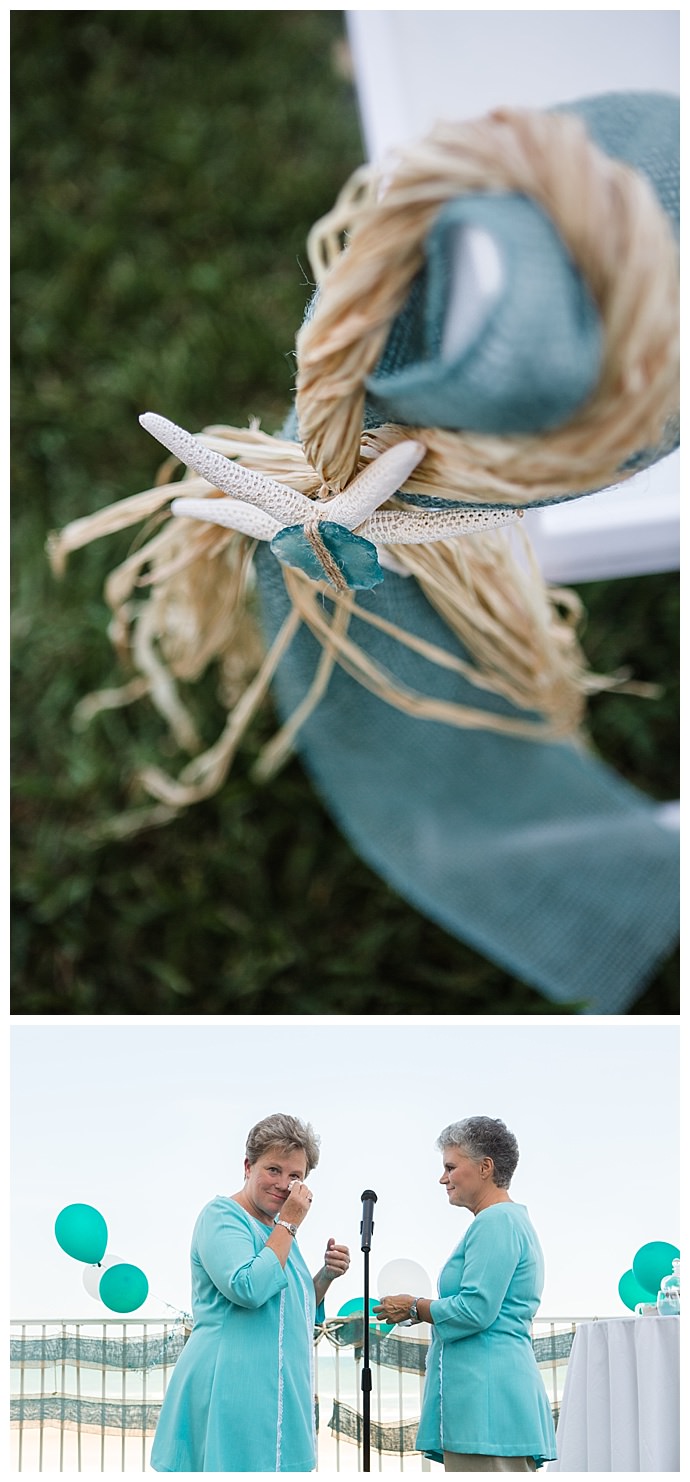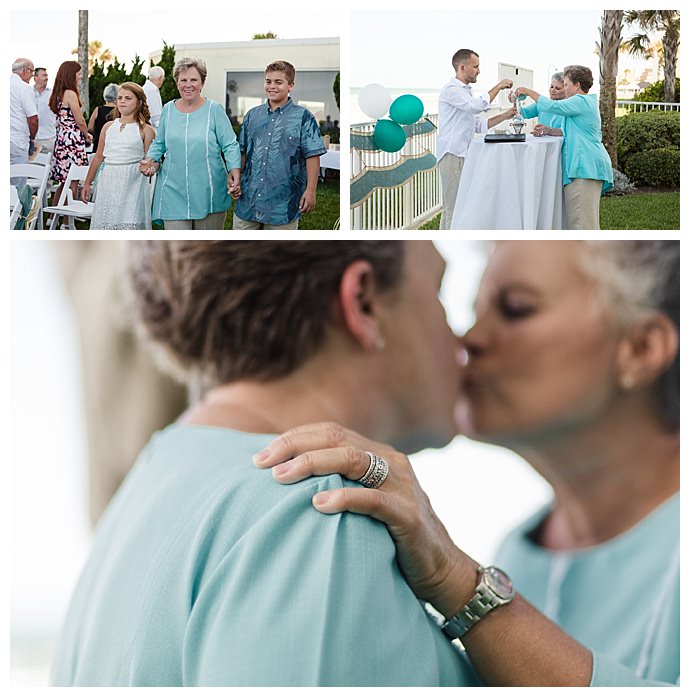 The Love Story
Rosemary and Karen found each other online, which sparked a relationship they both knew would last forever. Before their wedding, and before same-sex marriage was legal, Rosemary and Karen dedicated their lives to each other at a commitment ceremony. On that two-year anniversary of their commitment, Rosemary and Karen were in Vegas when Rosemary popped the question. "Once same-sex marriage became legal in Florida, we saw it as a wonderful opportunity to legalize our relationship so we could always be the other's advocate and protector," Karen says. "We were in Vegas and briefly discussed tying the knot in the elopement capital of the world. But once we starting to think of our family and friends, we knew we wanted a celebration that included everyone we hold near and dear in our lives."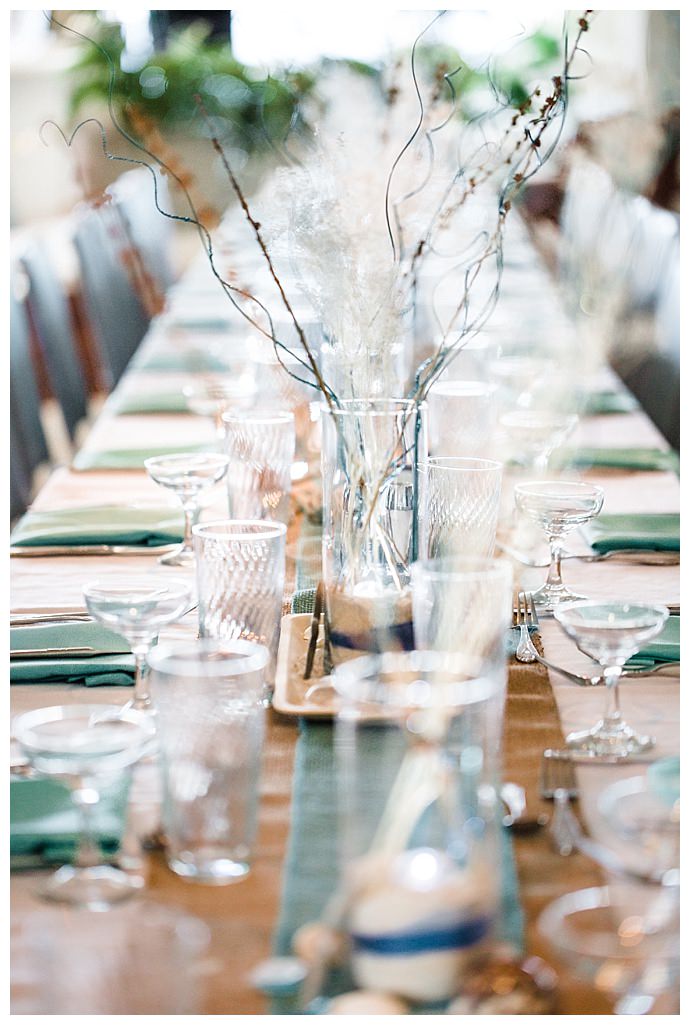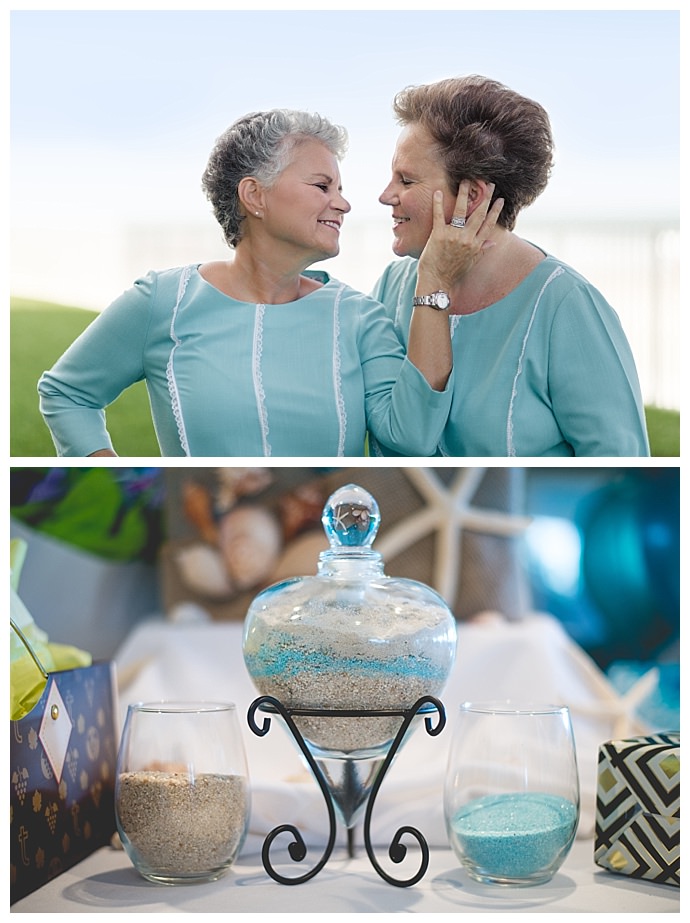 The Ceremony
Rosemary linked arms with her mom as she walked down the aisle in an outfit that matched her very-soon-to-be wife, Karen, whose grandchildren accompanied her walk down the aisle. "We wore matching outfits lovingly made by Rosemary's sister," Karen says. "The material was linen, and the tops were teal blue tunics accessorized with thin lace with pearls — our version of a wedding dress. The pants were tan linen — very free-flowing and lightweight, the perfect outfit for the beach."
With the ocean serving as a serene backdrop, a loving tribute was paid to Rosemary's father as "Besame Mucho" by Andrea Bocelli played. The brides then exchanged self-written vows before a unity ceremony with blue- and white-colored sand. A gust of wind snuck up on Rosemary and Karen as they were pouring the sand, causing their guests to ring out in laughter, but the seriousness of their differences and their souls uniting as they became one was not lost.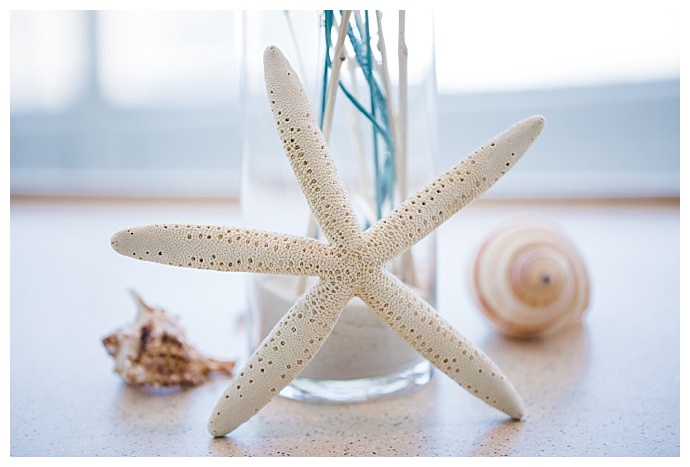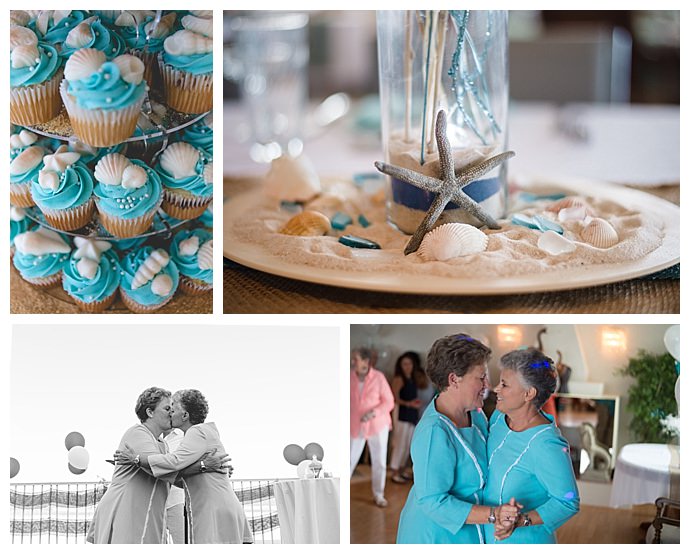 The Reception
Rosemary and Karen wanted every detail for their wedding to be personal and meaningful, and it was, especially because they did most of the work for their big day themselves. "Our wedding ceremony and celebration was a labor of love by our families," Karen says. "Our sisters pitched in so often to make our outfits, plan, make the decorations, coordinate the day of, etc. We could not have done this on the budget we set without the help and support of our families."
Seashells, starfish, hues of ocean-colored blue and burlap were present in every detail of their wedding. Their initials were even written in a handmade, edible sand created by crushed up graham crackers that held a stacked display of cupcakes with white chocolate seashells. There were white and blue balloons hanging in the air, carefully positioned to not block out the breathtaking views of the ocean from the penthouse where their reception took place 23 floors high in the sky. Sea glass was placed among vases of greenery that you'd easily find lying on a sandy beach. "The goal was to have a simple but tasteful reception," Karen says. "And the guests complimented us on how the decorations fit the theme."
Served on the white linen tablecloths adorned with teal napkins, guests enjoyed carved tenderloin, salmon with dill sauce and baked chicken along with vegetables, potatoes and salad before digging into the cupcakes, which were key-lime flavored. "Everyone raved about the cupcakes!" Karen says. 
Team of Talents
Photography: Laura Denise Photography
Catering: Aunt Catfish on the River
DJ: Pyramid Disc Jokeys
Jewelry: Jared
Photo Booth: Daytona Photo Booth
Cake Design: Treats and Sweets Cakery
*Editor's Note: This post contains affiliate links. Each time you purchase an item via our affiliate links, Love Inc. is receiving a small percentage of the sale, thus you are helping our small, equality-minded business grow and allowing us to provide more content for YOU! Isn't that just fantastic?