The Bloody Mary cocktail has starred in many brunch celebrations or, you know, just your average Saturday morning. At its core, it's made of tomato juice and vodka, but what's special about this hearty tipple is that it can be embellished by all sorts of garnishes, twists and flavors, customizing it to your specific taste preferences or as a reflection of the locale. We've rounded up recipes for seven different varieties, from seafood sips to smoky-flavored libations, that are sure to wow guests at your brunch wedding.
The Kraken Cocktail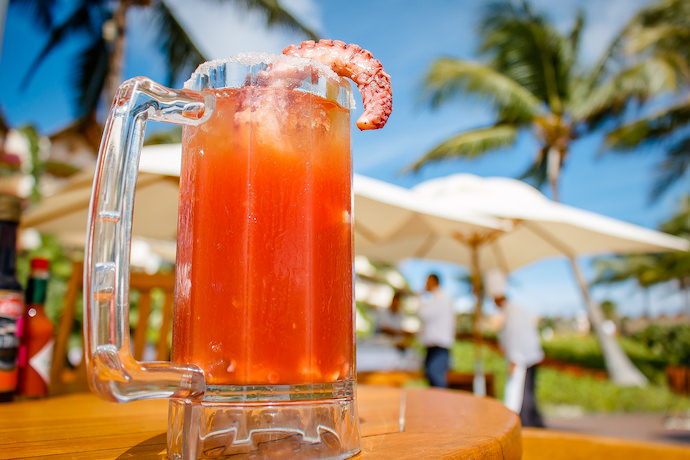 For those who are having a coastal wedding, this recipe from the Grand Velas Riviera Maya brings a taste of the sea into your Bloody Mary.
Ingredients
1 ½ ounces Joven Mezcal
½  teaspoon Maggi Sauce
½  teaspoon Worcestershire Sauce
2 dashes Tabasco
2 teaspoons Octopus, cooked and diced
5 ounces amber beer
5 ounces clamato juice
1 octopus tentacle, cooked
1  stalk celery
½ lime, juice only
Salt for rim
Directions: First, rim a beer mug with lime and salt. Next, pour mezcal, lime juice, Worcestershire, Tabasco and Maggi sauce in the mug. Then, add the diced octopus. Fill half the mug with beer and the rest with clamato. Finally garnish with a celery stick and the tentacle. Enjoy!
Double Spicy Mary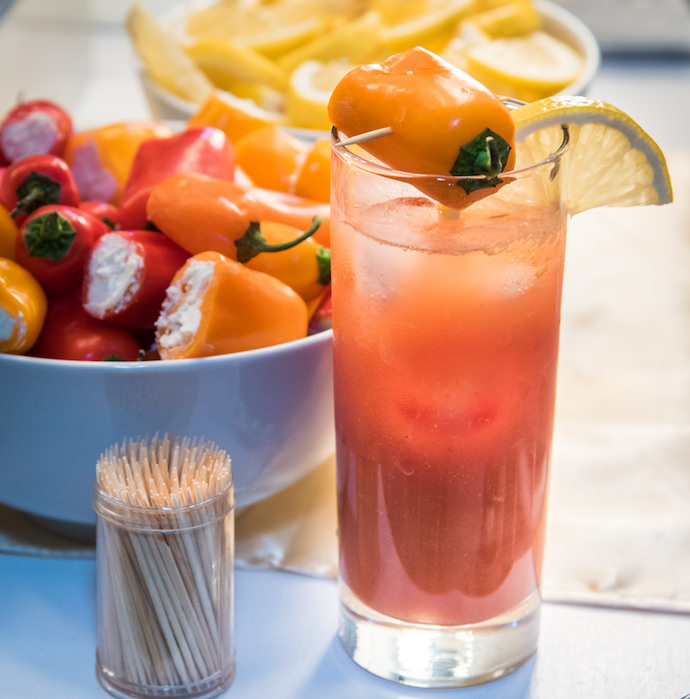 For those who like an extra spicy kick, Pinnacle Vodka's version, created by mixologist Niccole Trzaska, is sure to satisfy.
Ingredients
1 part Pinnacle® Habanero Vodka
½ part fresh lime juice
½ part softened herbed goat cheese
¼ part Sriracha sauce
1 ¾ parts bloody mary mixture (add a pinch of sugar and sea salt)
Directions: Pour all ingredients into a mixing glass and stir at room temperature until mixed evenly. Then, over ice, roll back and forth. Strain over fresh ice in a tall glass. Garnish with lemon wedge and a stuffed pepper.
Turn Up the Beet Bloody Mary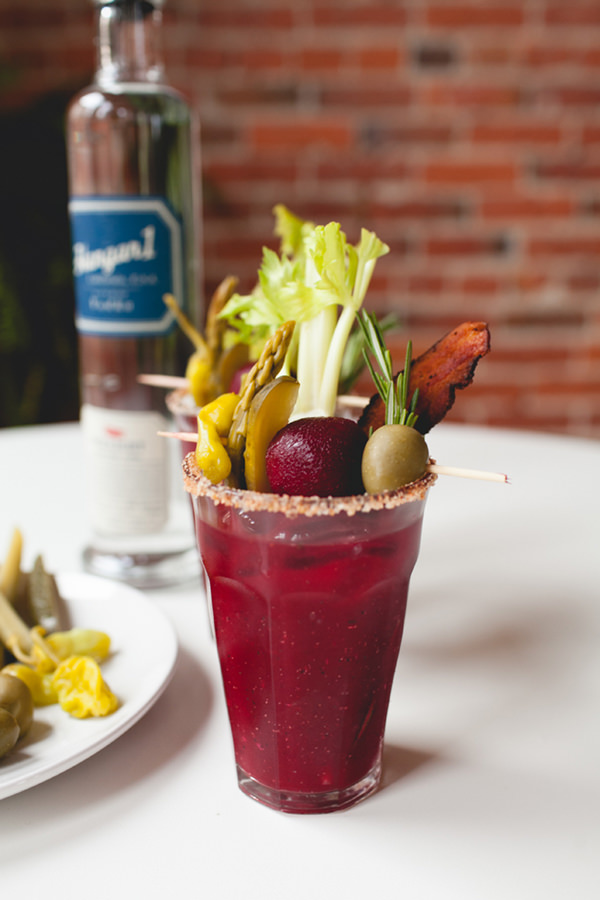 Get your veggie fix with Hangarone Vodka's Turn Up the Beet Bloody Mary recipe, created by Coco + Kelley.
Ingredients
4 oz chilled Hangar 1 Straight Vodka
1 ½ cups spicy tomato juice
½ cup pure beet juice
1 tablespoon pepperoncini juice
½ small lemon (squeezed for juice)
1½ teaspoon freshly ground pepper
½ teaspoon horseradish
1 teaspoon Worcestershire sauce
¼ teaspoon ground garlic
Your preference for hot sauce (to taste)
Bacon salt and smoked paprika for rim
Directions: Mix everything – minus the vodka and hot sauce – into a large pitcher, and stir really well. This is a great way to make a larger batch. Then, make each cocktail individually by adding 2 ounces of Hangar 1 Vodka to a shaker, topping it off with the half of the juice mixture and adding a dash a of hot sauce over minimal ice. Rim the glass, shake and pour.
Casa Maria with Chipotle- and Hibiscus-Infused Tequila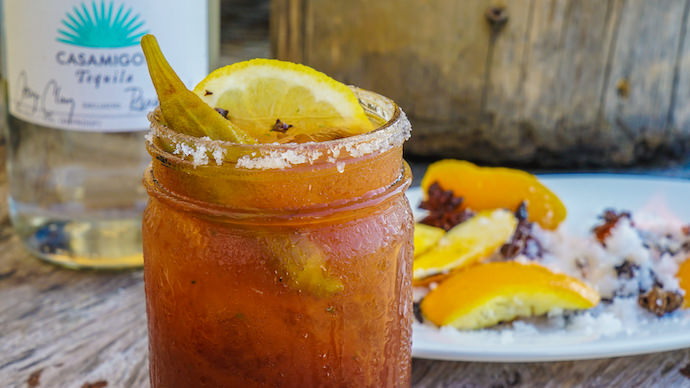 Max Moore of Two Parts Spirit created a version of the Bloody Maria — the Mary's tequila counterpart — and infused the tequila with hibiscus and chipotle pepper. "The chipotle peppers add a nice, smoky element without overriding the rest of the ingredients and the hibiscus adds a floral sublayer to give the cocktail depth," he says. For garnishes, Max recommends going the classic route and opt for pickled veggies such as smoked okra, habanero pickles and spicy green beans.
Ingredients for Infused Tequila
1 750ml bottle of your favorite blanco tequila
6-7 whole chipotle peppers, crushed
1 cup dried hibiscus flowers
5-6 pieces star anise
1 table spoon whole cloves
Directions: Let all ingredients infuse for 24 hours in a glass container. Taste periodically during this process and continue to infuse as desired. Once you are happy with the infusion, strain ingredients out using a fine mesh strainer.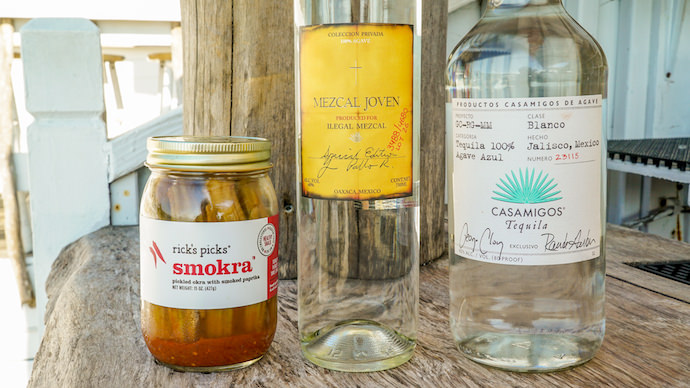 Ingredients for Casa Maria 
2 ounces of hibiscus- and chipotle-infused tequila
1 bar spoon horseradish
1-2 heavy dashes Worcestershire
3-4 dashes green Tobasco to taste
Fresh ground salt and pepper (2-3 turns on a grinder)
1 lemon wedge squeezed in
Tomato juice
Directions: Once all ingredients are added, fill the remainder of the glass with tomato juice. Toss the ingredients back and forth between the glass and a metal shaker tin to thoroughly combine all ingredients.
Directions for housemade mezcal salt: Put desired amount of fine salt into a deep nonstick pan with 5-6 pieces of star anise, a handful of cloves and orange peels from one orange. Add 2-3 ounces of mezcal. Light on fire and carefully mix with a long spoon until the fire goes out. Taste the salt and repeat process until desired smokiness is reached. Allow salt to dry for a couple of hours before using.
Asian Mary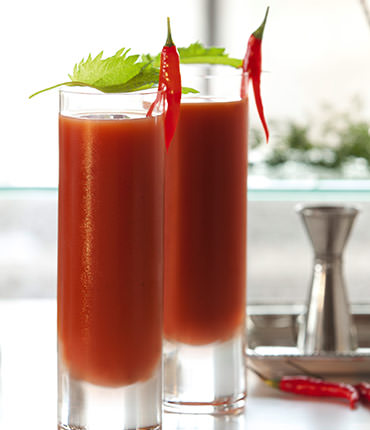 The addition of wasabi, dried ginger, soy sauce, sake and Grey Goose's Le Citron Vodka make this an exotic variation on the Bloody Mary.
Ingredients
1 1/2 parts GREY GOOSE® Le Citron
1 part sake
3 parts Asian Mary Mix
Ingredients for Asian Mary Mix
32 ounces tomato juice
3 teaspoons wasabi powder
3 teaspoons dried ginger powder
3 teaspoons soy sauce
3 ounces lime juice
Directions: Add all ingredients to a cocktail shaker filled with ice and roll. Strain into a large tumbler filled with ice, and present with shiso leaves or cilantro leaves.
Southwest Bloody Mary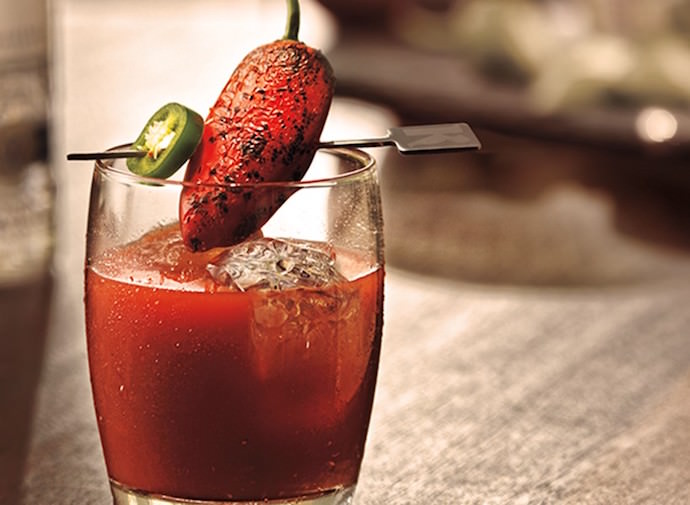 Charred peppers, salsa and smoky mezcal are just a few of the ingredients that turn the delicious flavors of the southwest region into this epic cocktail.
Ingredients
1 ounce Ketel One® Vodka
0.5 ounce mezcal
3 oz. Ketel One Southwest Bloody Mary Base*
charred bell pepper
jalapeno slice for garnish
12 ounces tomato juice
5 dashes Worcestershire sauce
3 pinches salt
1 tablespon horseradish
3 pinches black pepper
1 ounce fresh lemon juice
8 ounces salsa
Directions: Add ice and roll ingredients from shaker into a rocks glass. Garnish with a charred bell pepper and jalapeno.
Crabby Mary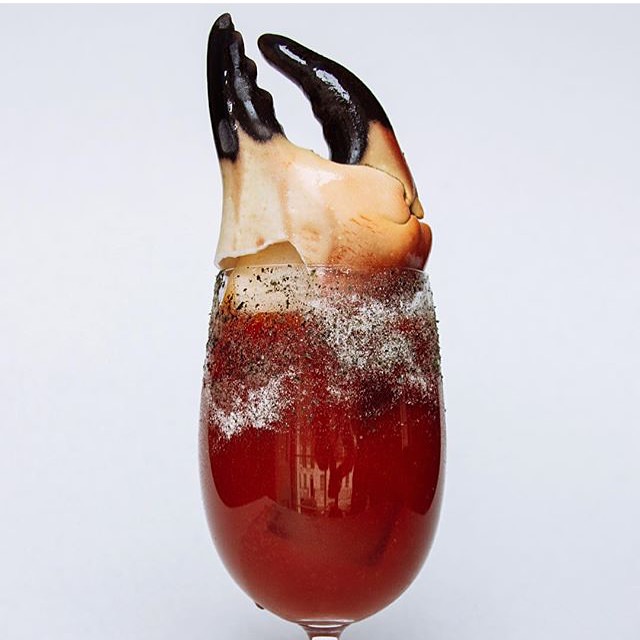 Marylanders, we're looking at you.
Ingredients
50ml Chase Smoked Vodka
50ml crab bisque
Tomato Juice (we like The Tomato Stall)
Seaweed salt
Directions: Before beginning to construct the Crabby Mary, coat the outside of the glass with seaweed salt. Build all ingredients over ice and gently stir. To finish, garnish with a crab's claw.
Credits: photo 2 by Russ Rowland; photo 4 and 5 by Dain Ning