If you've started researching wedding invitations, you may have come across the term "hand-canceling." This is a fancy word for that little black mark that gets stamped onto the envelope to keep people from reusing postage. Normally, this process is done through a machine, and said machine isn't too gentle with the paper goods or larger objects like ring boxes. Seeing as how you wouldn't want to run the risk of your beautiful envelopes (which you likely spent an unexpectedly obscene amount of time choosing) to be bent or ripped, hand-canceling is a way to leave the mark, well, by hand. You particularly want to go this route if your invites have wax seals, calligraphy or ribbon/bows/twine as those will almost definitely get stuck in the machine and arrive in battered condition. Not exactly the first impression you were hoping for.
In order to hand-cancel, you must take your envelopes to a post office. But before you visit your neighborhood mail team, be sure to read these tips (plus we've got a discount code on your wedding stationery for you!):
Try, try again: One post office employee may quote you something like five cents a pop but the next day, another will say it's complimentary. Takeaway: don't take the first answer (unless it's the one you want to hear, of course). If there are multiple post offices in your town, call ahead to each one. If there's only one, attempt at different times of the day. For mine, I was quoted 20 cents a letter at one post office so I tried a different one that ended up doing it au gratis. P.S. be polite and it always helps to mention that it's for your wedding invitations.
The 50 or less rule: You may come across post offices that will tell you the first 50 are free. If that's the case, well, just come back with the rest another day.
Self stamp: If they try to quote you a price, offer to DIY to cut costs. Many will let you stand at a nearby counter and hand-cancel your own invites to avoid the charge.
In denial: You may receive an abrupt "There's no such thing as hand-canceling anymore." Trust me, there is … you just asked a very grumpy postal service employee. While that particular location may not offer it, others in the area likely do. This service is far from extinct. (But be sure to try tip #1 first!).
And who doesn't love a discount code? If you're planning on using Minted for your wedding stationery or decor, head to loveincmag.com/minted-weddings and plug in LOVEINC20 at checkout. All first-time shoppers get 20% off!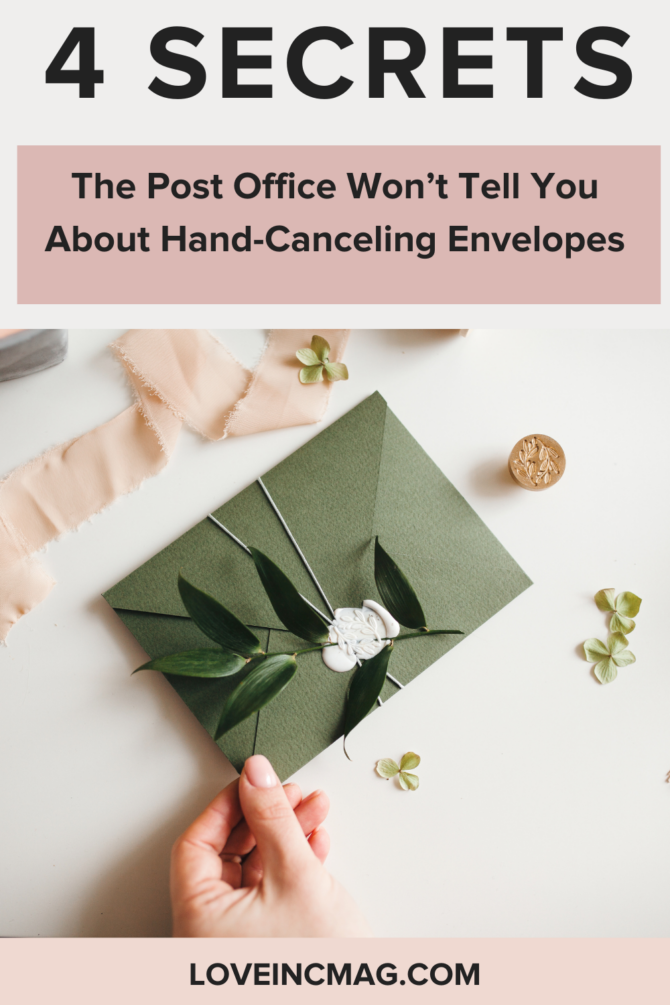 Browse more wedding stationery advice, ideas and inspiration.
Photo from Erica and Bryan's classic chateau wedding, photography by Casey Fatchett
---
Frequently Asked Questions About Hand-Canceling Envelopes
What is hand-canceling, and why is it important for wedding invitations?
Hand-canceling is a process where a postal worker stamps your envelope by hand instead of running it through a machine. It's important for wedding invitations because it helps ensure that the envelopes don't get damaged or smudged during processing. Additionally, hand-canceling can help prevent the envelopes from being bent, which can ruin the appearance of the invitation.
Can I request hand-canceling for my wedding invitations?
Yes, you can request hand-canceling for your wedding invitations at your local post office. However, not all post offices offer this service, so you may need to call ahead to find out which locations near you do. Additionally, you may need to pay an additional fee for this service.
How far in advance should I request hand-canceling for my wedding invitations?
It's a good idea to request hand-canceling for your wedding invitations at least two weeks before you plan to mail them. This will give you enough time to drop them off at the post office, wait for them to be processed, and pick them up. Additionally, if there are any issues with your envelopes, you'll have time to correct them before sending them out.
Are there any restrictions on what types of envelopes can be hand-canceled?
Most envelopes can be hand-canceled, but there are a few restrictions. For example, envelopes that are too thick or too large may not fit through the hand-canceling machine. Additionally, envelopes with heavy embellishments or decorations may not be able to be hand-canceled because they could get caught in the machine.
What are some tips for mailing wedding invitations?
In addition to hand-canceling your envelopes, there are a few other tips that can help ensure that your wedding invitations arrive safely and on time. For example, it's a good idea to use a high-quality envelope that's sturdy enough to withstand processing. Additionally, make sure to use the correct postage and to include a return address in case any invitations get lost in the mail. Finally, consider mailing your invitations a little earlier than necessary to give your guests plenty of time to RSVP.
*Editor's Note: This post contains affiliate links. Each time you purchase an item via our affiliate links, Love Inc. is receiving a small percentage of the sale, thus you are helping our small, equality-minded business grow and allowing us to provide more content for YOU! Isn't that just fantastic?