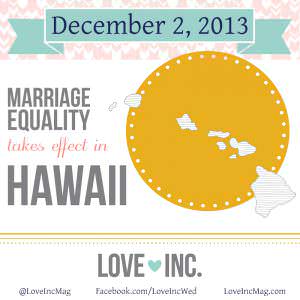 Perhaps one of the longest battles for marriage equality in the country officially ended today as Hawaii Gov. Neil Abercrombie signed the bill into law.
"After 20 years of work to win the state where it all started, the Hawaii freedom to marry victory today is especially sweet," said Evan Wolfson, founder and president of Freedom to Marry, which grew out of a 1990s lawsuit in the Aloha State.
The state's House passed the bill last Friday (watch the video here), sending it back to the Senate where it had been sent through earlier to approve a minor change. On Tuesday, the Senate voted 19-4 to pass the amended version, which the governor signed into law on Wednesday.
The law will go into effect on December 2 and couples who have already entered into a civil union in the state can convert their status to marriage through an online procedure.