By Shannen Hofheimer | Photography by Lovebird Studios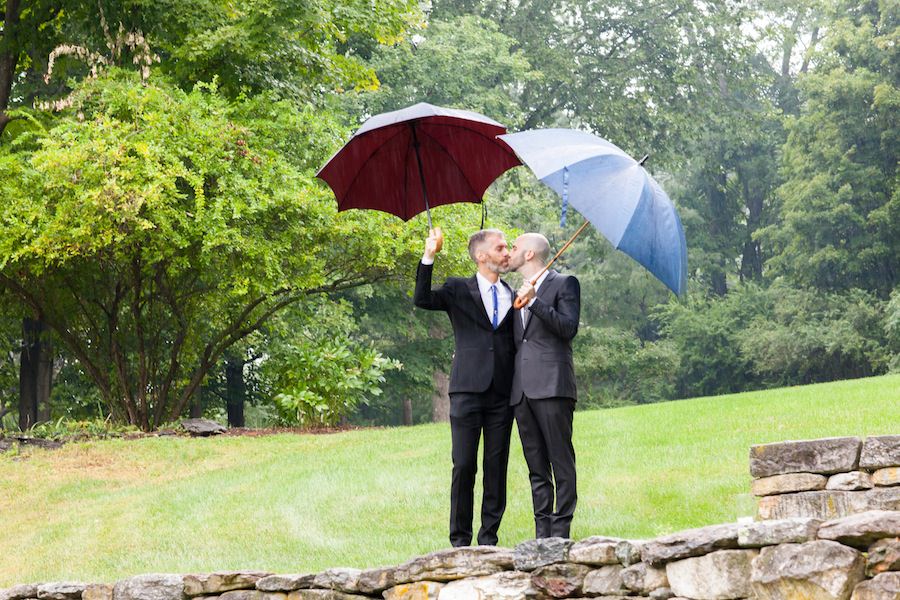 On Sean and Bernhard's special day, the pouring rain did not wash out the festivities — it actually made their wedding the incredible event that it was! At the private residence of their close friends in Litchfield County, Conn., the glow of the candlelit barn paled in comparison to the glow surrounding this couple, beautifully caught on film by Lovebird Studios. Incorporating the culturally diverse wedding traditions of their guests, Sean and Bernhard performed a slew of wedding customs from breaking glass to sawing logs to doing money dances with foreign currency. Sean and Bernhard's wedding day reinforces a valuable lesson: regardless of how you celebrate it, love is love.
The Love Story
On one Fourth of July evening, the fireworks in the sky weren't the only ones being set off. Sean and Bernhard met in a bar in the East Village in New York City and instantly knew that they had a connection. Who needs sparklers for Independence Day when you're experiencing sparks with your (unbeknownst to you) future husband? At the time, Bernhard was a management consultant in London, only visiting the city for a few months on a work assignment. However, his plans quickly changed once he met his soul mate. Nine months later, Sean and Bernhard moved in together into an apartment in Hell's Kitchen. "Only a short 14 years later, after some key pieces of legislation had been put in place to make marriage possible for us, we decided that we would get married."
The Venue
Despite living in New York City and attending many metropolitan weddings, Sean and Bernhard are country boys and we all know you can take the boys out of the country, but it's impossible to take the country out of the boys. Sean grew up in Pennsylvania and Bernhard grew up in the countryside in Germany, so a natural, rustic setting was what really appealed to these handsome grooms. "Our friends' home is in picturesque Litchfield County. It has a quintessential New England country vibe, complete with its own barn overlooking a lake. The barn itself is what really made us want to get married there – it had only ever really been used as a barn –back when the property was a farm — and it is just this authentic, rustic, well-preserved building."
The Ceremony
Sean and Bernhard had a planned for an outdoor ceremony, but just a few hours before the ceremony was to take place, the skies opened up forcing Sean and Bernhard to spring their backup plan into action. Their wedding planning team of Amy Champagne Events quickly (and brilliantly) orchestrated their Plan B. "The best part was that somehow — with the rain coming down outside, all the candles lit in the barn, white cotton curtains billowing at the barn door opening, the faux sheepskin rugs covering the wooden dinner benches that were repurposed for ceremony seating, and beautiful Spanish music being played by our guitarist — it made the ceremony even cozier and more romantic than if it had been outside. We heard from so many wedding guests later on that they never knew the barn was not the original ceremony location. They all thought the barn was Plan A!"
Sean and Bernhard actually had a civil partnership ceremony back in December 2013 which took place in Austria. One flower girl carried the candle they had lit during that ceremony down the aisle, while the other flower girl carried the lapel pins they had exchanged instead of the traditional wedding rings, both precious girls adorned in blue dirndls to pay homage to Bernhard's German heritage. (Yes, there were two flower girls! Sean and Bernhard inform us there would have been three…but cold feet kicked in!) The procession of the flower girls was followed by their niece who walked their beloved beagle, Charlie, down the aisle. Sean and Bernhard then walked into the barn, making their grand entrances escorted by their mothers. "Our officiant, Joe Mustich, is a Connecticut Justice of the Peace, and has been performing gay weddings (and civil partnerships, before gay marriage was legal in Connecticut) for a long time. He was great about working with us to come up with a ceremony that really reflected who we are as a couple. We decided to incorporate Buddhist wedding vows into our ceremony, which were really meaningful to us. We also re-lit the candle from our Austrian civil partnership ceremony."
The Fashion
"Early on, I found the perfect black Saint Laurent suit. It was super skinny and had a 50s-style sheen that I loved," Sean tells us. Bernhard, on the other hand, had to search a little harder (amidst some discouragement) before he found the perfect suit but that just makes his find all the more rewarding, doesn't it? "It took me a while to find a suit that was festive and I felt comfortable in. Since Sean had bought a black suit, I wanted to go with a different color. I had been looking for a while when we decided to reserve a full Saturday — minus an elaborate lunch that we utterly deserved — to get one. We went to every store in downtown New York that we thought would have suits for a wedding. Toward the end of the day, we had a few options I liked, but nothing I loved. We went to Bleecker Street to go to the last four stores on our list, Sandro being the second to last for the day. When I tried a black tuxedo suit on, it fit well and was 'me.' This was the suit I wanted to wear on my wedding day."
The Inspiration
If there is one way to describe Sean and Bernhard's special day, it has to be "international." Not only did Bernhard's mother, brother and two close friends travel from Germany for the wedding, but wedding guests came to celebrate with Sean and Bernhard from France, Norway, the Netherlands, India, the Philippines and Panama. Being that there were so many different cultures represented at their wedding, Sean and Bernhard encouraged their guests to share their wedding traditions with them, allowing them to immerse themselves and their love in the many different cultures of their loved ones. "Our German friends brought a log and a saw, and right after the ceremony, we sawed it in half on the lawn while everyone watched and cheered. After dinner, a friend who is Jewish gave a toast and had us both step on glasses while the entire barn shouted 'Mazel Tov!' A cousin, who is part Native American, gave a Wyandotte tribe blessing to the four winds, complete with burning sage. A Filipina friend had us do a version of the Filipino 'money dance' … the real dance apparently involves pinning real money to the married couple's clothing and then dancing with them. Our friend had us do a modified version: she made pretend money from countries around the world, and had wedding guests write good wishes for us on the back before they pinned them on us. In one of the funnier traditions, a French couple had us do what they assured us was a very old French wedding custom – drinking Champagne from a porcelain chamber pot, which sounds gross but was hilarious, especially when Sean's 70-something-year-old aunt took a drink from it."
While Sean and Bernhard's friends were busy cleaning and rummaging through the barn to make it perfect for the big day, they actually found some diamonds in the rough which were beautifully infused into the wedding. "All kinds of curious things came out of it, including a door for an old chicken coop — chicken wire and all. Our friend Barrie thought it would work really well as something to hold the escort cards which were vintage French label tags that she bought on Etsy, hand-stamped and clipped to the coop door with tiny clothespins. Barrie also made the place cards out of used wine corks and chalkboard paper, which she hand-lettered. One of our favorite décor items in the barn was a wall of shelves that she filled with interesting and meaningful objects and antiques, including old books that she picked up at library sales, lanterns and candles, apothecary bottles, pictures of us as kids and as a couple, and some cool prints she bought on Etsy and framed with inexpensive Ikea picture frames. The shelves ended up being the backdrop for our wedding ceremony when it got moved inside and it was really just perfect for that."
Sean and Bernhard created a beautiful ambiance for their barn ceremony with all the effort and thought they put into the lighting. "There were candles absolutely everywhere, which really warmed up the wooden barn interior and made it very cozy. The tops of the dinner tables were made of copper, and the effect of all the lights bouncing off the copper was a beautiful glow."
The Party
Sean and Bernhard's caterers cooked outdoors over an open fire, not only providing incredible, delectable food, but another form of entertainment, being that the guests got to observe everything being made on the spot. "For the cocktail hour, we had a mix of stationary and passed hors d'oeuvres, along with a signature cocktail: the Bauer-Kelly Crush! It was made with apple cider that was hand-pressed by the bartenders at the bar, raspberry vodka and raspberry syrup, it was crazy delicious."
Not only did Sean and Bernhard's wedding guests infuse their special day with their own personal, cultural touches, but the happy couple reciprocated by taking the time to create personalized gift bags for each guest (which they received when they checked into their inns). The bags were comprised of different treats and knick-knacks, including handmade chocolate by Sean's family friend, a tiny bottle of Jagermeister (for Bernhard's German pride!), and the most sentimental goody, personalized, hand-written note to each guest.
Memorable Moment
"The ceremony was the emotional core. It was such a joyful moment when we talked about what we love about each other and what we are committing to. It was exhilarating to make ourselves vulnerable in that way and 'confess' to these very personal feelings and hopes in front of our family and friends."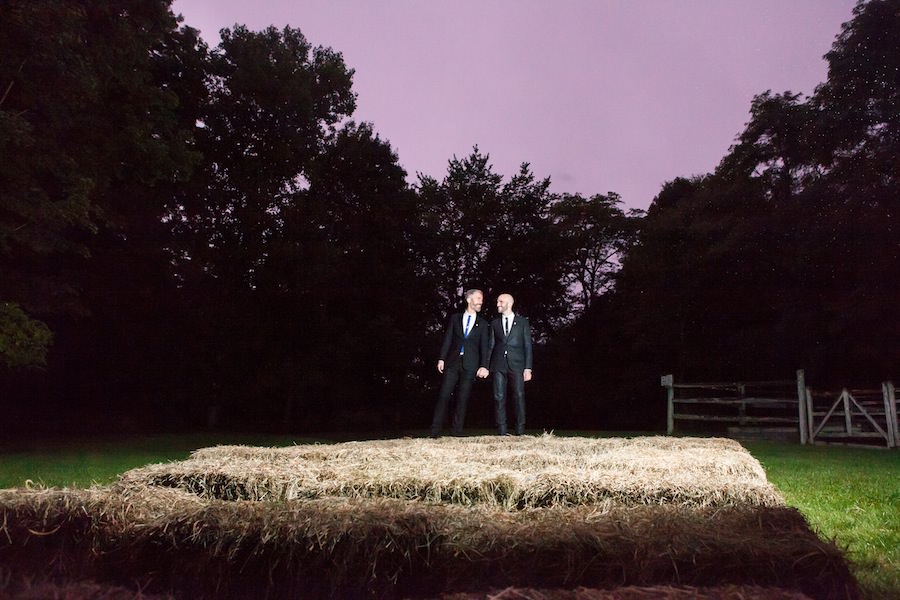 Vendors:
Event coordinator: Amy Champagne Events
Photographer: Lovebird Studios
Officiant: Joseph Mustich, J.P.
DJ/Band: Classical guitarist Michael Sheridan, JTD Productions, James Mongan
Party rentals: Classical Tents