By Shannen Hofheimer | Photography by Urban Safari Photography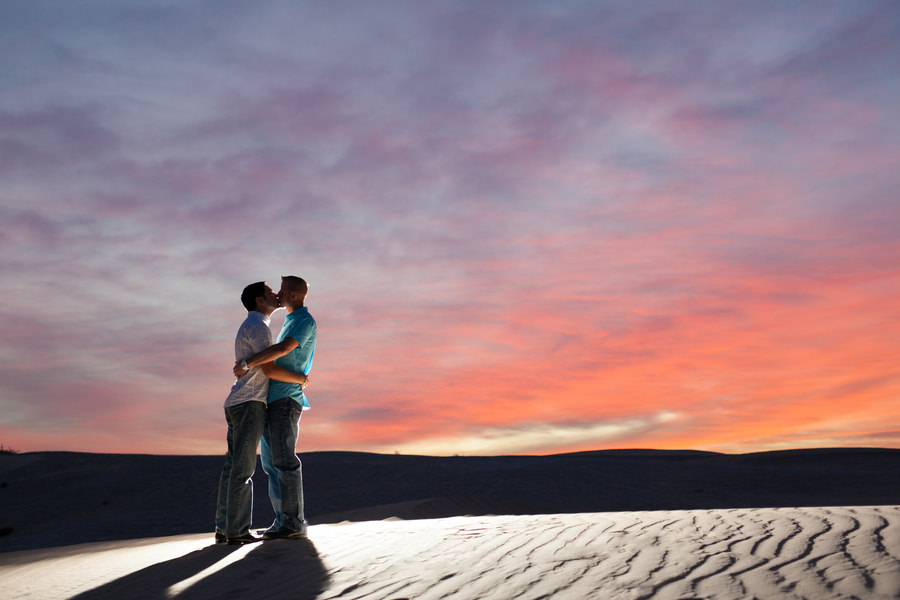 After getting married at the Orange County Courthouse in June, Jesse and Nick wanted to celebrate their union with a post-wedding photo shoot. The colors of the skies over the Apex Sand Dunes, stunningly captured by Urban Safari Photography, are breathtakingly unreal, serving as a vivid, fantastical backdrop for this happy couple. As if a glorious sunrise wasn't incredible enough, the couple and Urban Safari made their way over to Fremont Street later that evening to capture some of the colorful casinos, bright lights and architecture of downtown Las Vegas. Although, we have to say, all those bold colors and neon lights pale in comparison to the electric love between Jesse and Nick.
The Love Story
After a meeting of fate through mutual friends, Jesse and Nick dated for three years before getting engaged on May 22, 2014. Nick immediately knew this was forever as soon as Jesse left his house after their first date. The two lovestruck hubbies live in Las Vegas with their dog, Bailey, and being that they are so incredibly happy together, it's pretty safe to say that this relationship is no gamble.
The Proposal
What's better than being at the Happiest Place on Earth? Being the happiest man at the Happiest Place on Earth … which Nick definitely was after Jesse proposed to him at Disneyland. "We had just finished having dinner at Steakhouse 55 inside the Disneyland Hotel. The park closed in 30 minutes, but Jesse insisted that we go back and ride one more ride. We were making our way through the park, but stopped to get a picture of the castle. When I turned around, there was Jesse down on one knee with a big smile on his face, holding the ring in his hand and asking if I would marry him." On that warm day in May, Jesse and Nick infused Disneyland with a little magic of their own.