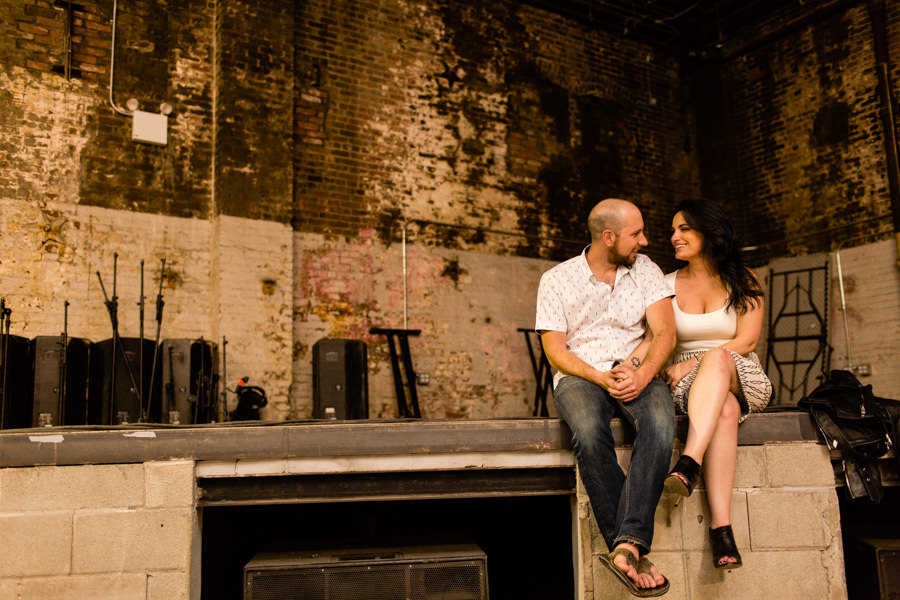 This isn't your average engagement shoot. Casey Fatchett Photography captured Chiara and Andrew as they spent a typical night out, which for them involved jamming to their favorite music (air-guitar in tow), a competitive game of skee ball, craft beer drinking and going under the needle for matching tattoos.
"We picked places that were special to us and other new places that we might encounter during a random night out," they say. Not everyone can include skee ball in their list of typical going-out activities, but it's not unusual for this vivacious couple who owes it all to the game.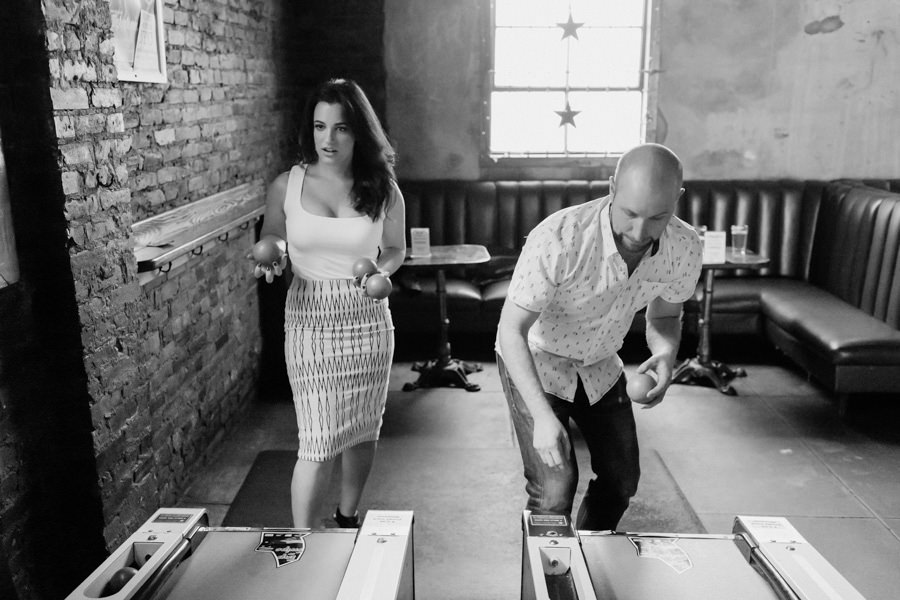 THE LOVE STORY
Chiara and Andrew first exchanged pleasantries over fist-sized balls and an inclined lane where they fought to achieve a higher score in a competitive skee ball league at Ace Bar in Manhattan's East Village.
"We were two of the best rollers in the league," they say. "We bonded easily over high scores, advanced skee-ball strategy and music. We would often stay after our matches, drink Miller High Life and play songs for each other off the jukebox."
Andrew and Chiara would date for the next six years and a Christmas-Eve surprise confirmed that she was the one for Andrew. "Chiara planned a secret trip to Ohio to surprise my family and me during the holidays," Andrew says. "I remember missing her so much and wanting her to be there but thinking it might be too early to introduce her to my extended family." On Christmas Eve, Andrew got a text message from Chiara with a picture of the outside of his aunt and uncle's house where his family was gathered, celebrating the holiday. "I ran out of the house, saw her and hugged her so tight," he says. "I'd never been happier to see anybody."
THE PROPOSAL
After six years of dating, Andrew planned an elaborate surprise for Chiara. To celebrate her recent graduation from the School of Visual Arts, Andrew brought their closest family and friends together for dinner at Le Barricou, a French restaurant located in Brooklyn. After they ate a delicious meal and drank shooters of Jack Daniel's over a long table decorated with flowers, the festivities continued with dessert and drinks while the guests were serenaded by surprise number one: a band that Andrew invited to play a few of the couple's favorite songs, including tunes by David Bowie, Stevie Wonder and Neil Young.
Then it was Andrew's turn. He got up to give a toast, dishing about their first make-out session and sharing memories of a risky Vegas bet where they came out on top before getting down on two knees and asking Chiara to spend the rest of her life with him. Chiara's response? "Sure." With that one word, Chiara and Andrew's closest friends and family erupted in cheers.
THE RING
The ring that Andrew picked for Chiara has a center stone with a surrounding octagon halo. Constructed of black gold, the band is engraved with the word "bubb," their endearing nickname for each other, in the same font that Chiara used for her thesis. After the engagement, Chiara posted a picture of the ring on her Instagram, captioning: "We never even discussed what I'd want," she wrote. "All I knew for sure was I wanted it to be equal parts elegant and bad-ass, different and deco. He freaking NAILED. IT."