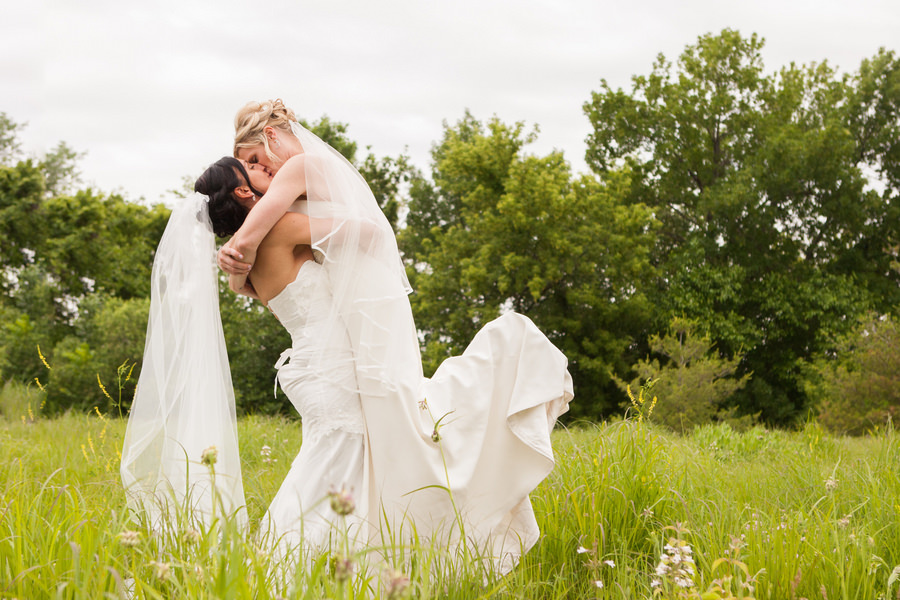 Sports bring people together, and in this case, together forever. Trisha and Giovana met when one of the college volleyball players that Giovana coached suffered an injury, requiring physical therapy at the office where Trisha worked as an orthopedic physician's assistant.
In the small Nebraska town where they both lived, these two beautiful brides fell in love. And four years later, they wanted to celebrate their relationship and commitment to each other. But, at the time of their ceremony, getting married was still illegal in Nebraska. They turned to their neighboring state of Iowa — the fourth state to legalize same-sex marriage — and set their eyes on the gorgeous Jasper Winery in Des Moines, Iowa. Andrea Bibeault: A Wedding Photojournalist snapped pictures of the radiant brides as they began the next journey of their lives together surrounded by the people they love.
"What made our day so special is the number of family and friends that traveled to Iowa to support us," the brides say. The joy in their pictures says it all.
Team of Talents
Photography: Andrea Bibeault: A Wedding Photojournalist
Caterer: B-Fab BBQ
Bakery: Cache Bake Shoppe
Dress Store: Emma & Grace Bridal Studio
Design and Decor: Eventfully Yours
Event Planner: Iowa's Gay Wedding Planner
Venue: Jasper Winery