By Meghan Kennedy | Photography by Krista Photography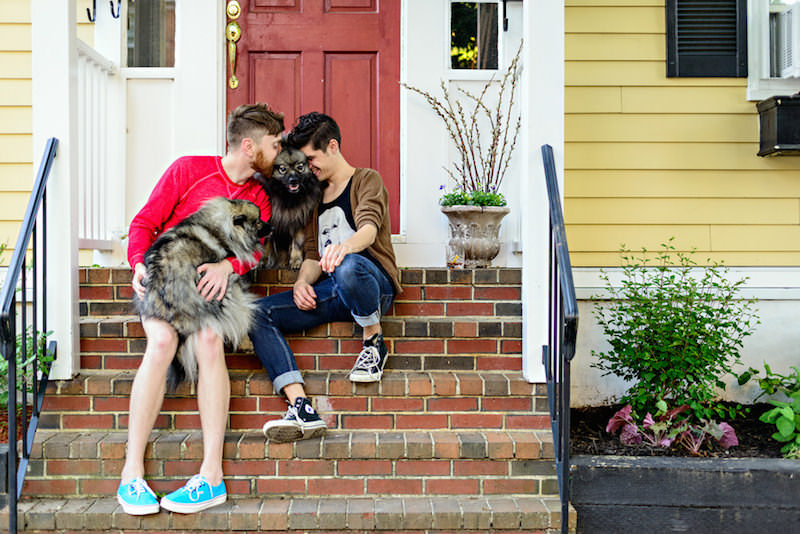 Ten years is a long time to date someone, but when it's the love of your life, it flies by fast. Kirk and Ryan met as students on a study abroad trip in Spain, and then again back at school in Ann Arbor, Mich.; after ten years, buying a house and becoming the proud parents of two very adorable dogs, the two decided to make things official and tie the knot this past summer. Their engagement session by Krista Photography, sentimental and homey, showcases the things the couple values the most: family, friends and each other.
The Love Story
Kirk and Ryan were both abroad in Spain at the same time, and met by chance through totally different adventures: Ryan was studying in Seville, while Kirk was spending spring break there with friends. At the Plaza del Salvador, the two met for a botellón, a tradition where young Spaniards spend the night partying in the street. The two didn't do much partying, as they spent the entire night talking about anything and everything they possibly could.
Their paths didn't converge again until two years later, at a bar in Michigan, where they reconnected — as a mutual friend introduced them, Kirk's "puzzled look turned into detection," realized who exactly Ryan was, and exclaimed, "You're my Spanish boyfriend!"
The Proposal
While spending time with Ryan's family in Michigan, Kirk planned on proposing — he was so anxious about it, he says the ring was burning a hole in his pocket the entire day. Kirk wanted Ryan's parents to be there for it, so he waited until the time was right when they were all sitting in the family room together. Ryan picked up on how weird Kirk was acting. "I really had no clue it was going to happen. I'm so nosy and totally up in his business all the time. Completely shocked." That's when Kirk dropped to one knee and proposed. The couple still has no idea what exact words were exchanged, as they like to joke they suffered from "presentation blackout — the feeling you get when you're speaking in front of a room and don't know what you're saying, even though you know you're talking."
The Ring
Kirk worked in secret with Ryan's aunt, who's a jewelry designer, to dream up the perfect ring for Ryan. The ring features "an emerald gemstone set in an Art Deco style platinum band with tiered steps to the top of the stone" — it's a one-of-a-kind ring for a one-of-a-kind couple.
The Location
Ryan and Kirk's engagement session was appropriately set in their home, which they had just purchased together in Newburyport, Mass. Purchasing a home is one of the most grounding and stabilizing things a couple can do together, and the couple loved the idea of their engagement session focus being a day in their life. Their photos are simple and sweet, featuring the soonlyweds spending a typical day at their house fooling around and playing with their two dogs. The most important part, though, was that the artwork in their house is either friends' artwork or painted by Ryan's 91-year-old grandmother: having that element in their snapshots made it even more personalized and sentimental.
Wedding Date: August 23, 2014