There's something about winter weddings that makes the nuptials all the more enchanting and elegant. The only downside to ceremonies in the colder season is Jack Frost and the lower temperatures, but you can easily prepare for that with extra layers and cozy accessories. An easy way to keep out the chill is by switching your footwear. Thin flats and high heels just don't provide the warmth you can get from a boot, especially if you can wear them with thick socks.
So you don't get cold feet on your wedding day, shop our favorite picks of stylish wedding-worthy boots below.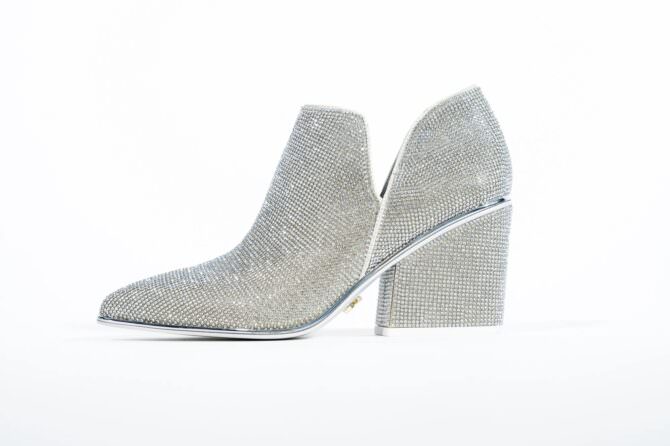 Sparkle and shine
All eyes will be on you and your boots as you walk down the aisle in this shimmering option covered in silver rhinestones. If you want to switch it up or aren't planning on wearing white, they also have black and rose gold rhinestone color options.
Le Tigre Dynamite by She is Cheval, $375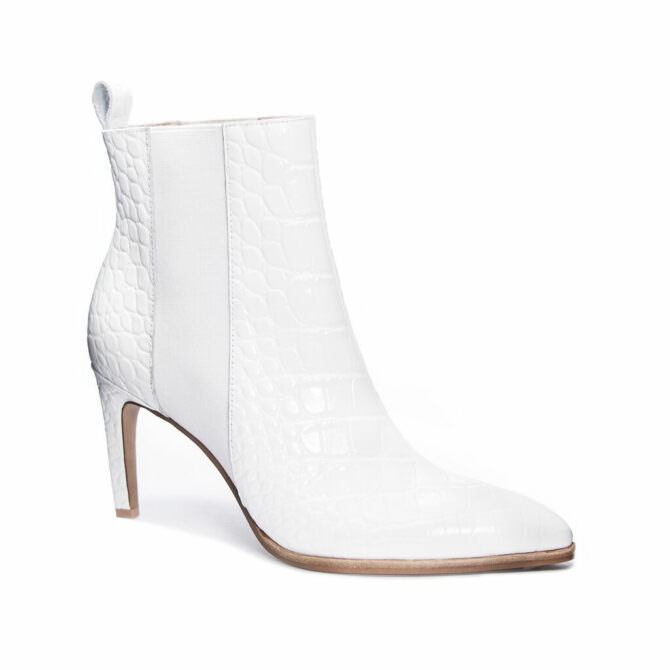 In a while, crocodile
The crocodile print on this all-white boot adds a unique twist to your standard high-heel bootie. It has a pull tab on the back, so you can easily take them on or off if you have a wardrobe change.
Kensington Leather Croc Bootie by 42Gold, $159.95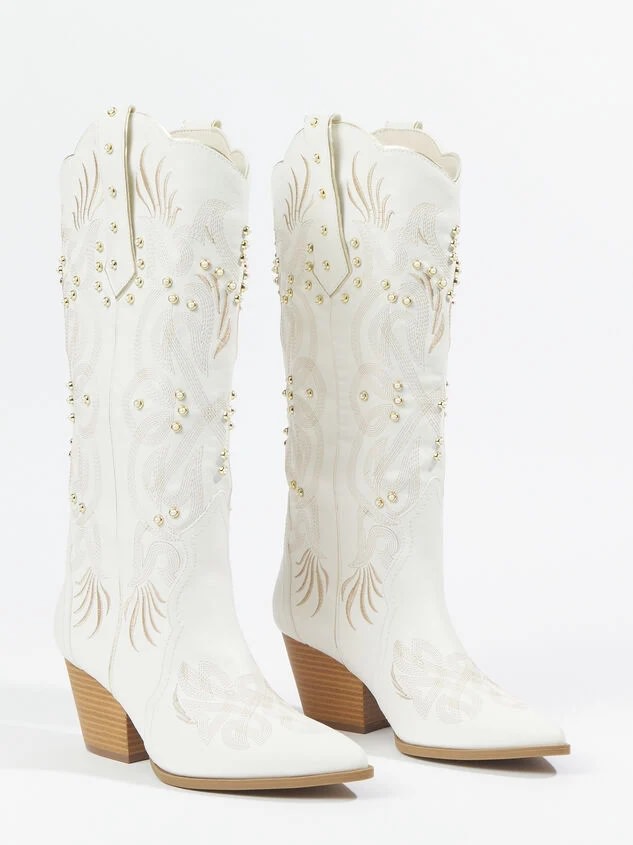 Boots are made for walking
Made from vegan leather, these white cowboy boots will fit perfectly in any country-themed wedding. In addition to the intricate stitching, it has pearl studs to make them really stand out.
Vela Boots by Altar'd State, $109.95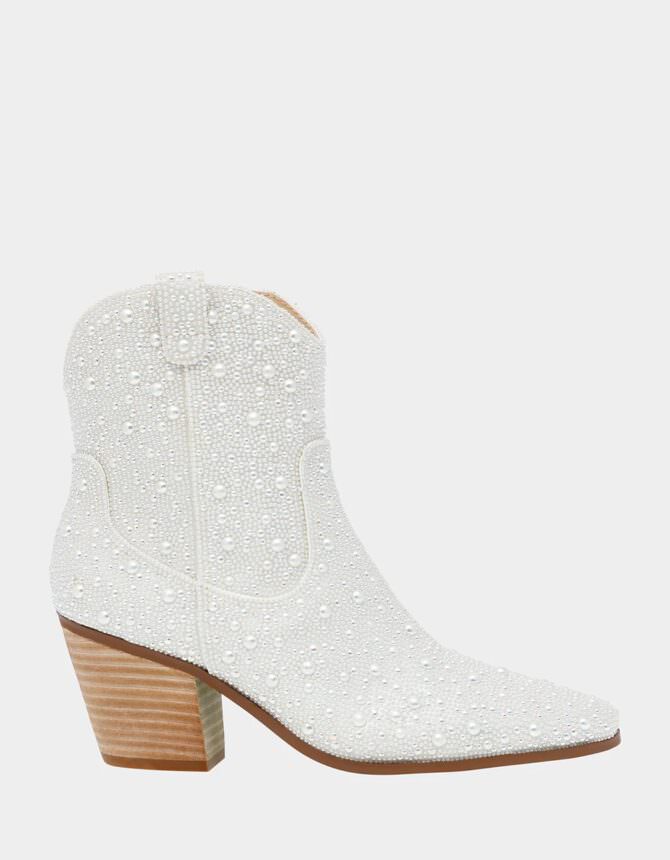 Pretty in pearl
Covered in pearls and rhinestones, these western-inspired booties from Betsey Johnson are stunning. They sell seven colors of these glitzy boots, so you're sure to find one to match your color palette.
SB-Diva Pearl Cowboy Boot by Betsey Johnson, $179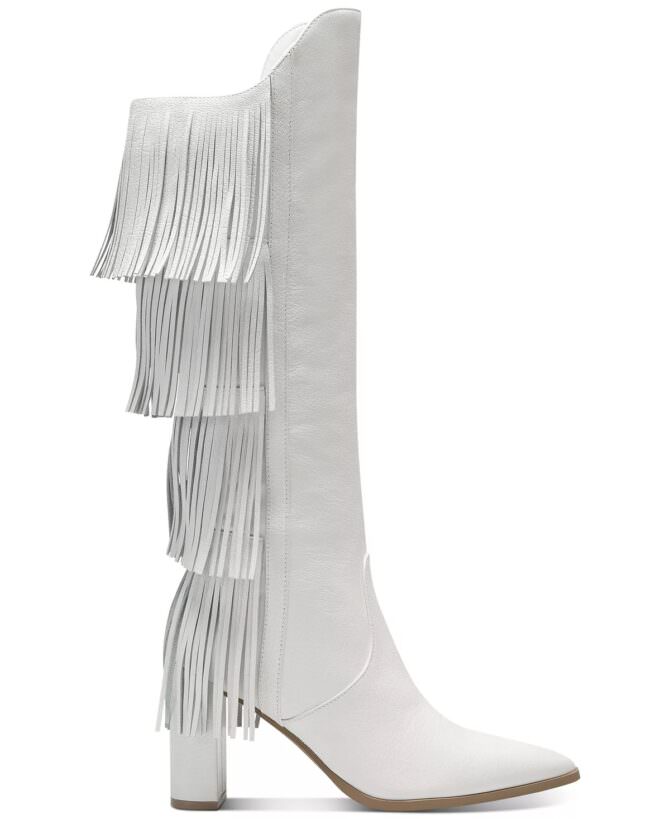 Wear some fringe
These tall fringe boots are not only fun but also trendy. You wouldn't know it looking at them, but they have arch support and memory foam to wear them all day comfortably.
Yomesa Fringe Boots by INC Internation Concepts, $125.65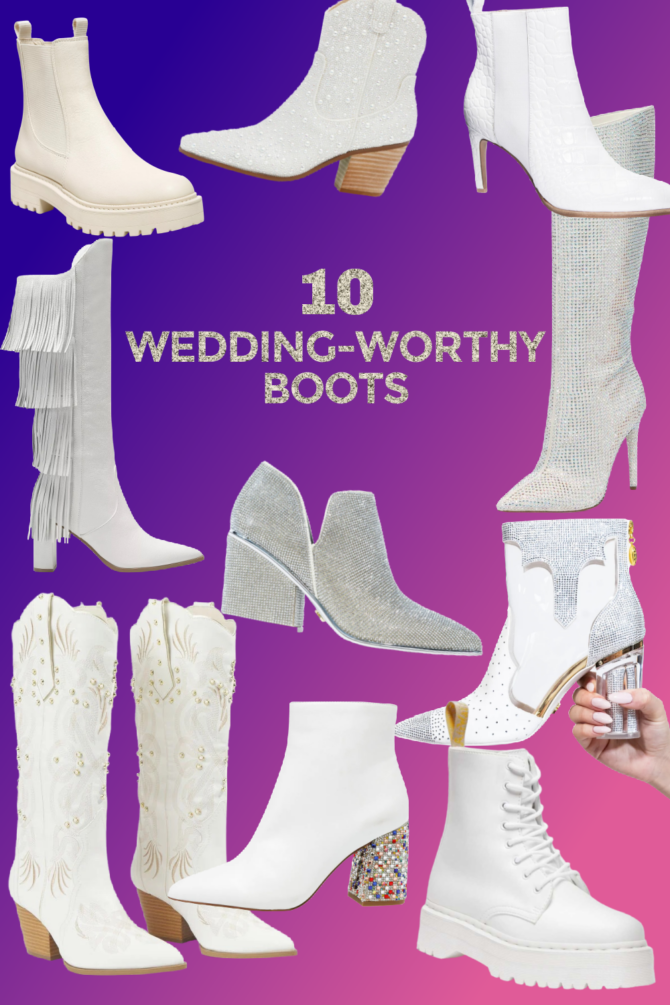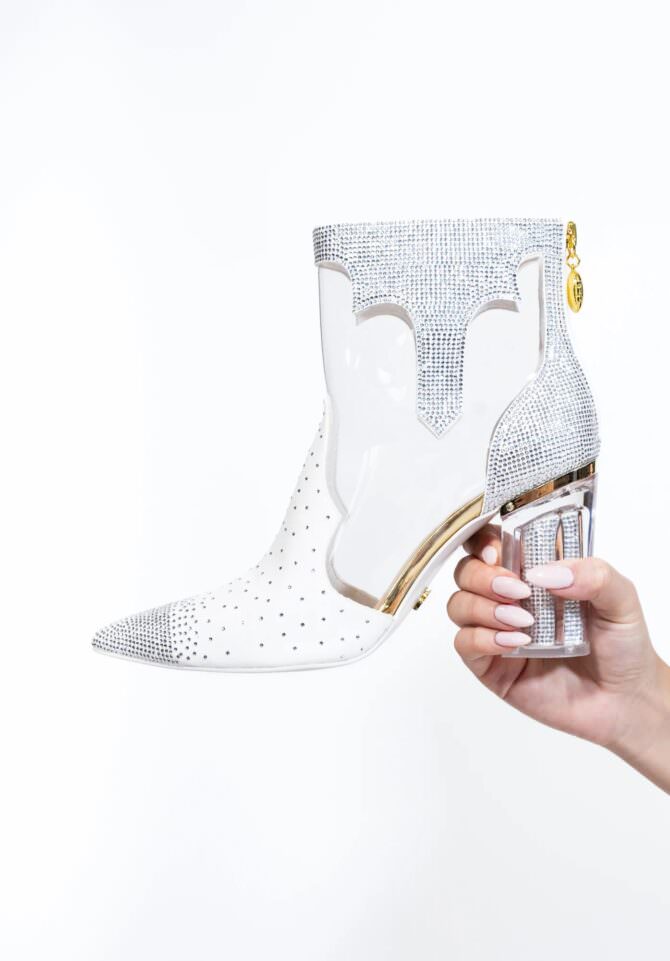 A high-class hoedown
Inspired by the Queen of Country herself, Dolly Parton, these rhinestone cowboy boots make a statement. They're country chic kicked up to an entirely new avant-garde level. You'll want to find an excuse to wear these even after the wedding day.
Twinkle Twinkle Two Step by She is Cheval, $375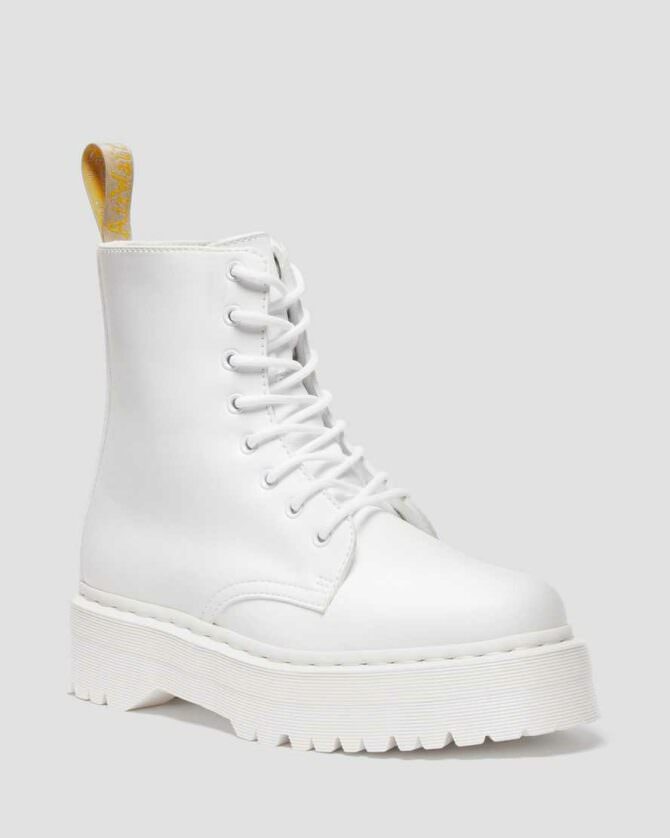 Lace it up
Using a matte and vegan material, these Dr. Martens are an upgrade from the classic. The chunky sole has a platform of two inches, but within that base is an air-cushioned sole for added comfort.
Vegan Jadon II Kemble Mono Platform Boots by Dr. Martens, $200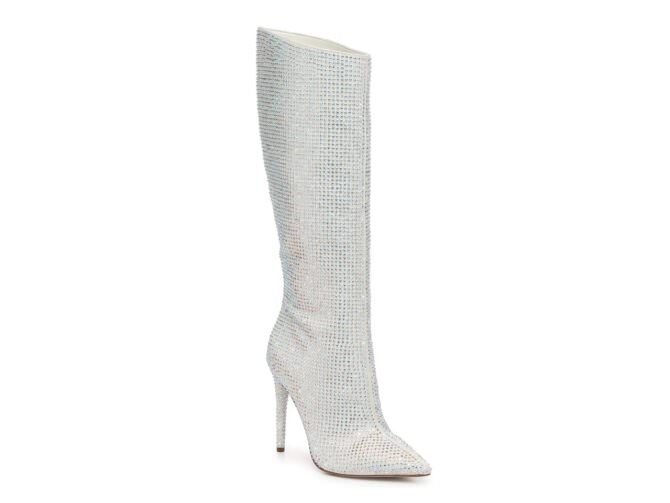 Add some height
If you want to wear a boot with a heel that's also extremely glam, check out these rhinestone boots by JLO. Grab these quick because right now they're discounted by over 50%.
Adalynn Boot by JLO Jennifer Lopez, $49.98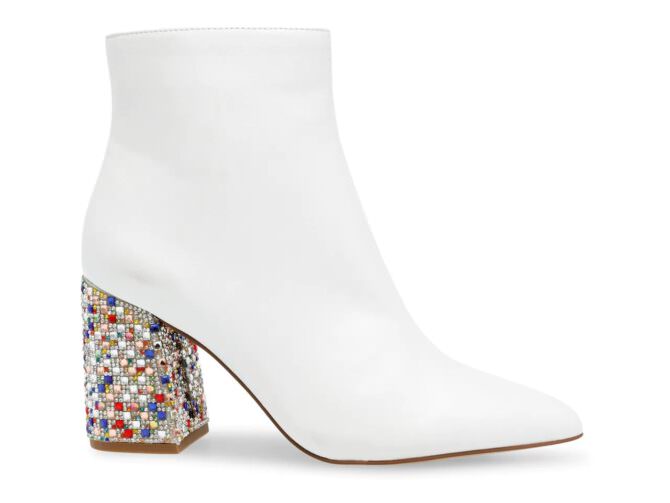 White boots with a twist
Here's another fun option by Betsy Johnson. This all-white boot has a heel covered in silver and colored jewels, while not all colors of the rainbow are present, it could easily work as a small nod to the pride flag.
Kassie Bootie by Betsey Johnson, $98.99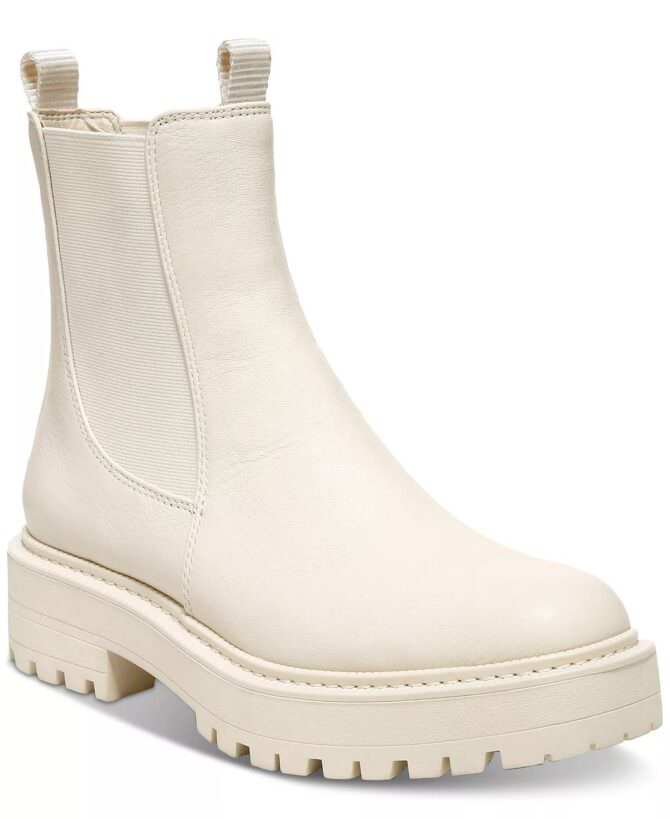 Go for a chunky sole
It's not your traditional wedding boot, but chunky soles are all the rage right now, so you'll be fashion-forward on your big day wearing these. Many reviewers have said they're comfy, so you can wear them all day without any problems.
Laguna Lug-Sole Chelsea Booties by Sam Edelman, $170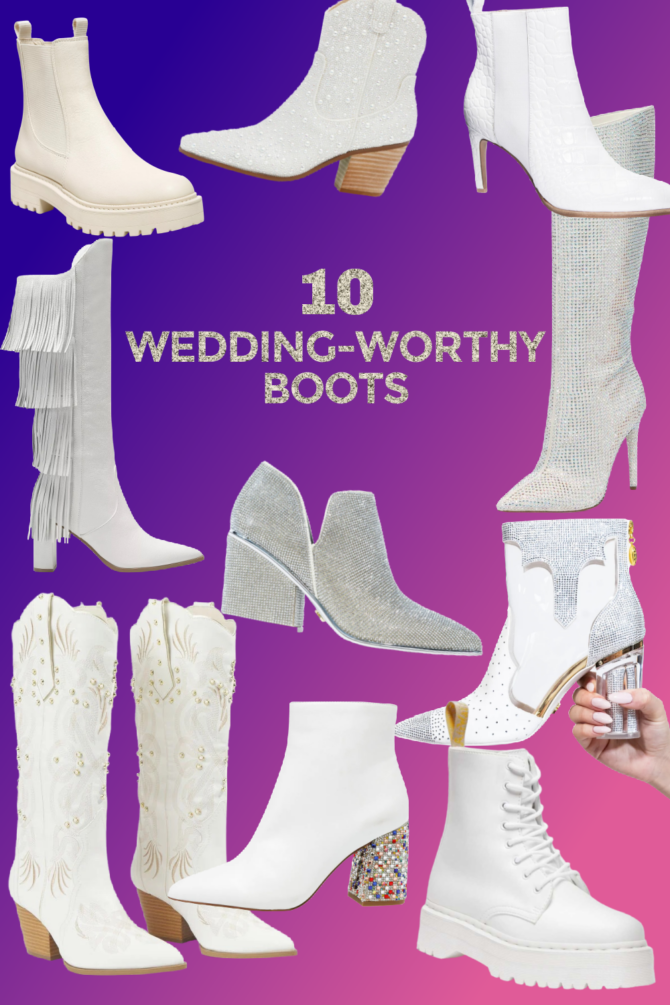 Editor's note: Some of these links are affiliate-based, which means we earn a small commission when you purchase from these links (and helps our small business keep providing free equality-minded® wedding content to you!)
Written by Rebecca Rovenstine | Cover photo by Mark Horton Photos from Brittany and Terriann's London Elopement