Tis the season … and in our wedding world, that means Engagement Season! November through February is prime time to pop the question, and if you have a friend who's recently engaged, we have got the perfect gifts for you to give this holiday season. Here are seven gift ideas for the soonlyweds in your life!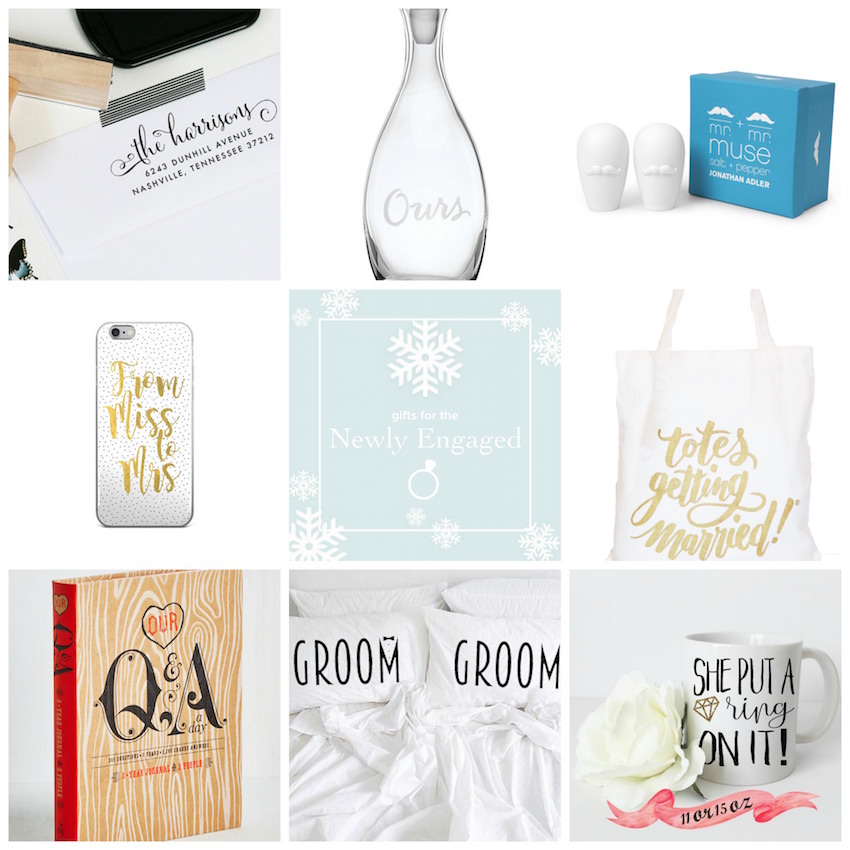 Calligraphy Address Stamp: Between engagement announcements, save-the-dates, invitations and thank you cards, now that they're engaged, your soonlyweds have a lot of mail to send! So if you want to give a gift that you know will be used and will help make the daunting task more fun, this customizable address stamp with beautiful calligraphy in 26 different color options is the perfect choice.
Ours Decanter: We love this gift because when things are so often separated as his and his or his and hers, it can be one of the first things that a couple can put in their home that is theirs. This crystal decanter is perfect for holding a celebratory velvety red wine or a perfectly aged whiskey, and with a super sleek design, it's begging to be put on display.
Mr. and Mr. Salt and Pepper Shakers: Add a little spice to your grooms-to-be kitchen table with these adorable salt and pepper shakers by Jonathan Adler. The modern design of these shakers will fit perfectly with any grooms' style and will be an excellent addition to their new home.
Totes Getting Married Tote: We love a cute tote bag, and this totes getting married tote takes the cake! Your friends will love to keep this large tote on hand as they rush around running errands for their big day, and even after the knot is tied, its handiness will never go out of style.
She Put a Ring on It Mug: She liked it, so she put a ring on it! We love this mug because it shatters gender roles and shows some love for our gals who get down on one knee. You can even choose which side you want the mug handle to be on, which is important if you want your morning cup of joe selfie to feature your new sparkling bling!
Grooms Pillowcases: Hubbies-to-be will be dreaming extra sweet dreams with these fun groom-and-groom pillow cases. Whether they want to decorate their bed with them for years to come or have them on hand as a fun keepsake to remember an incredibly special time in their lives, this one-of-a-kind gift is sure to bring a smile to your newly engaged friends' faces.
Three-Year Journal for Two: There are some gifts that truly keep on giving, and this is certainly one of them. This question and answer three-year journal will gift a newly engaged couple with an experience, a connection and memories that will last a lifetime. With a new question for each day of the year, couples will have a chance to learn new things about each other and look back on years past to see how they've grown.
iPhone Case: When they're in the throes of wedding planning, calling caterers and scheduling appointments, this chic iPhone case will remind your newly engaged gal why it's all worth it. There's no better way to flaunt a soonlywed status than with a fun phone case that will bring a smile to their face every time they pull it out. And most importantly, it will help protect all those pictures they have saved of the perfect wedding dress or dream decor for the big day.
*Editor's Note: This post contains affiliate links. Each time you purchase an item via our affiliate links, Love Inc. is receiving a small percentage of the sale, thus you are helping our small, equality-minded business grow and allowing us to provide more content for YOU! Isn't that just fantastic?