Whether you prefer the quintessential traditional look when it comes to opting for wedding jewelry, or whether you're an eccentric being who likes to experiment to bring out your authentic personality, it's important to ensure your values go into where you spend your dollars (especially for a day as important as your wedding!).
We bring you 8 amazing minority-owned jewelry brands (Black, POC, and/or LGBTQ+) that are perfect for any kind of style you decide to wear at your wedding, plus our picks on what we particularly love from their collections!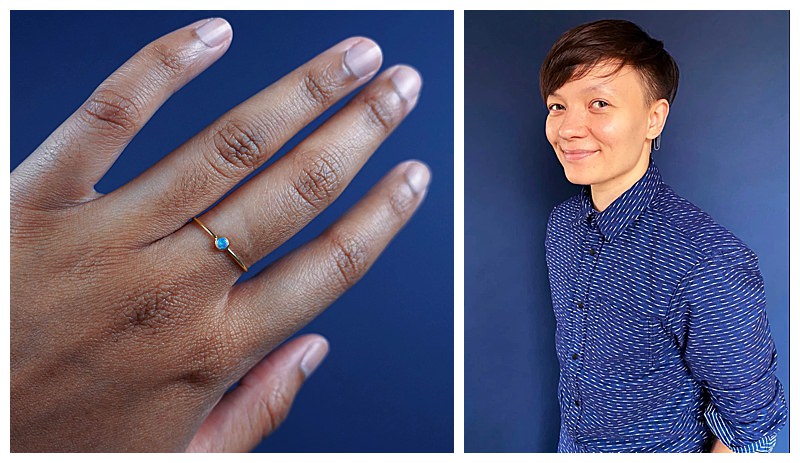 Automic Gold
Are you a fan of dainty rings? Then this small 3mm natural Australian 14k gold Opal ring will steal your heart away. It's not only minimal but the bezel is designed to feel smooth and featherlike on your fingers. The center stone "shines bright like a diamond" but with colors. So if you're looking for an inclusive, sustainable, and affordable brand, we recommend Automic Gold.
About the designer: AL Sandimirova is an indigenous, queer, trans person, whose pronouns are they/them. They have been working in the fine jewelry industry since 2009 and love detailed and precise parts of the jewelry design. They love mixing feminine and masculine in their work and giving a new life to old pieces or stones. Their other passions include: their dog, human rights, class liberation, queer theory. In their free time, they are into gardening, home decor and they play a violin.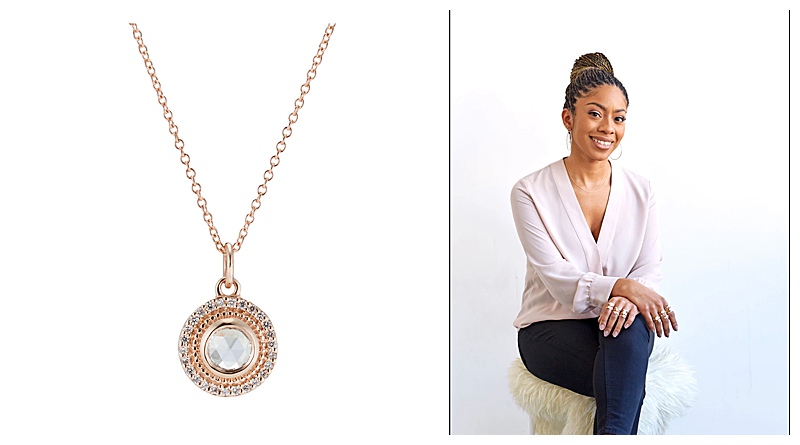 Valerie Madison
The Selena pendant necklace is the epitome of luxury and elegance, boasting a striking halo of diamonds around a center stone.
About the designer: Armed with an environmental science degree, Valerie Madison merged her passion for alternative jewelry design with her love for the natural world. This unique blend of backgrounds lended itself well to create detailed designs that celebrate not only the beauty of life and love, but also the natural world and the stunning gemstones that come from it.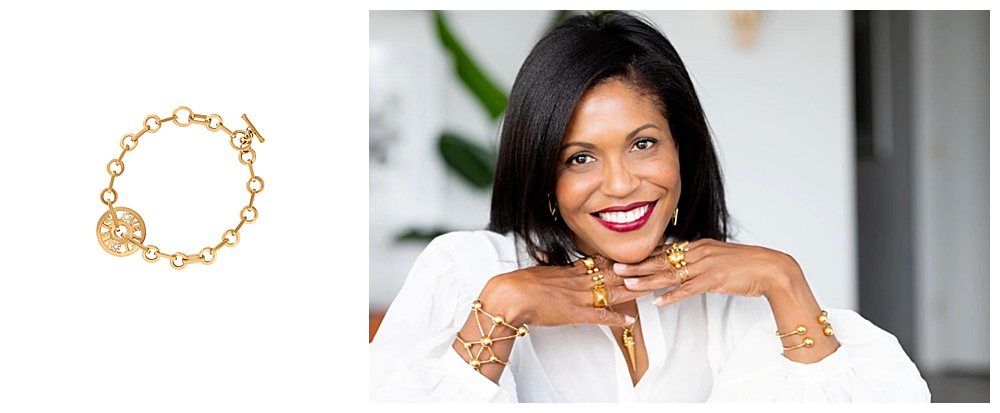 Auvere
If you want to make a chunky gold statement, then make an intelligent investment in the Love Is Love bracelet by Auvere. The inspiration behind the collection is to emphasize the power of spoken words. And when spoken words are brought to life by creative handcrafted jewelry, you get this bracelet. The word highlighted for the collection is Love, and truly, there's no other powerful word than Love. So why not solidify your wedding vows with this solid 22 karat gold beauty?
About the designer: While working as a real estate lawyer, Gina Feldman took night and weekend classes at Parsons, studying handbag design and branding, and eventually launching her own leather goods brand, Peryton. Her jewelry brand soon followed, focusing on the high quality of 22- and 24-karat gold, and pursuing symmetry and harmony with an "off-kilter" flair that results in a more minimalist, architectural design.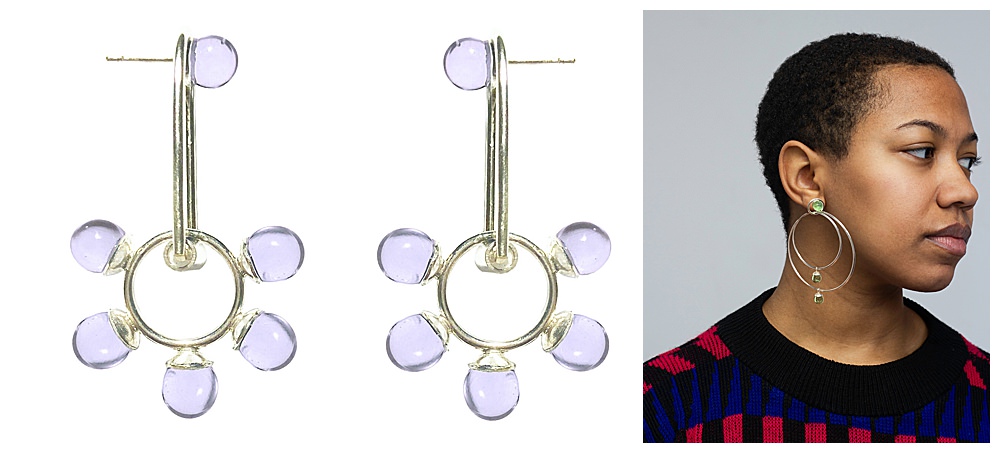 Aur Jewelry
If you don't love dangling earrings already, then you will now after seeing this perfect pair of pendulum statement earrings by Aur Jewelry. Turning all the heads to your face is an easily achievable job as they swing and reflect the light magnificently. This minimal yet unconventional piece of jewelry is versatile and can be paired with a variety of styles. The handmade pair of beauties with glass and metal fabrication offer the perfect pendulum effect like no other.
About the designer: Designer Bianca Abreu's unique artistic flair is inspired by optics, light and color play. By way of lampworking, she shapes each glass piece over a 2000 degree flame where all parts are then hand-cut, cold-worked and set into pieces that highlight their intense optic qualities.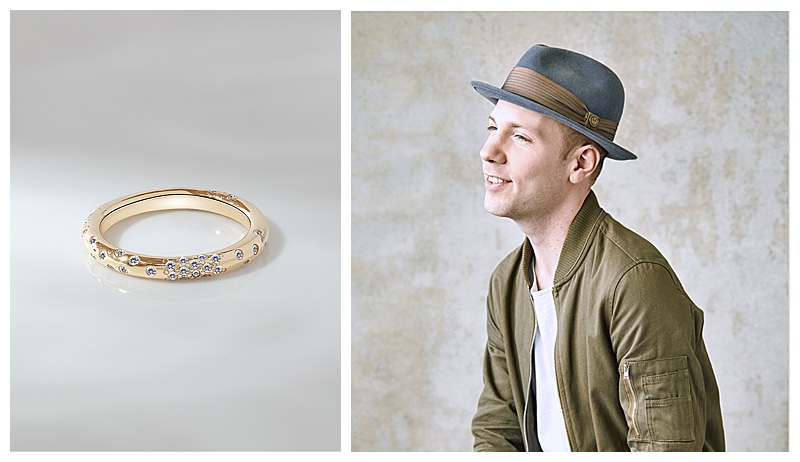 Rosey West
The sprinkling of diamonds embedded throughout Rosey West's Dew Drop Eternity Ring creates a touch of playful whimsy. Worn solo or stacked, this ring is designed for continuous wear, no matter the occasion.
About the designer: With a background in evening and wedding wear at Parsons School for Design, designer and founder Michael Dougherty has had the opportunity to support a diverse portfolio of fashion designers and prestige beauty brands, most notably at Amsale and Bumble and bumble, before turning his attention to fine jewelry that is inspired by subtle unusualness and classic minimalism. Rosey West is founded (and led) by members of the LGBTQIA+ community, acknowledging intersectionality, where social identities are fully and equally represented. "The stability of our basic civil rights and liberties are in a constant state of being threatened," says Michael. "And before anything else, it's our responsibility as a brand to allow everyone the opportunity to express love without ridicule or restriction."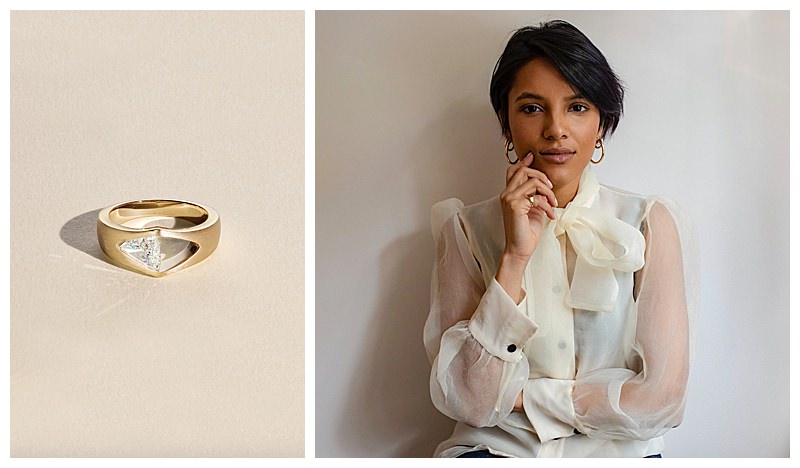 AARYAH
Love a classic diamond ring but with a twist? Then this TRIKONA Diamond ring can be the one you are looking for. A conventional piece of wedding jewelry with a non-conventional style is an ideal blend of elegance and artistry. This 18KT intentionally made yellow gold ring with a Canadamark™ Triangle Diamond is a dream come true. The negative space mirroring the diamond is to remind us that one cannot be a whole without other.
About the designer: Born into a family of designers, creativity clearly runs deep in Megan Kothari's blood. Even though she was born in the U.S., her India heritage plays a strong role in her work, and her goal is to create a deeper meaning for the jewelry we wear every day — each piece a modern heirloom to cherish for generations.

Lorraine West Jewelry
This delicate heart-shaped bauble features hammered detailing and comes in brass, silver and 14K gold. Perfect for the soonlywed who prefers subtle. Each ring is handmade through manipulating the metal, so no two are exactly alike.
About the designer: While studying illustration at Fashion Institute of Technology, Lorraine began teaching herself how to work with various metals to create beautiful original pieces. Coaxed by the demand of family and friends for custom designs, she launched her own brand, inspired by symbology and geometric shapes.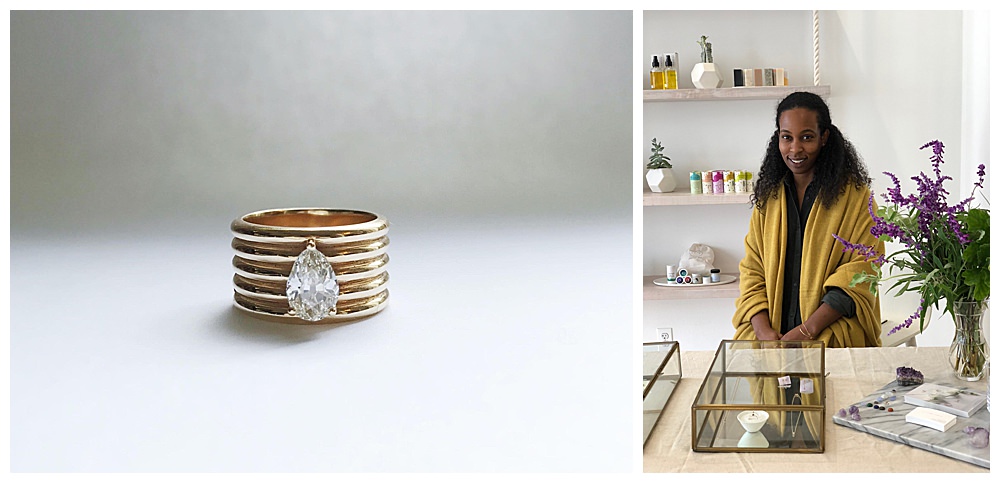 A.M. Thorne
A crown but for finger? Then say yes to A.M. Thorne's Carleen ring with stunning European cut pear diamond. The lovely 9mm 14k yellow gold piece is perfect to adorn yourself and click some #instaworthy pictures. Show your commitment by flaunting this alternative and elegant ring and step into the new chapter of your life with vibrant energy.
The line, founded by Ashley Thorne, specializes in simplicity and wearability.
It is a delicate yet strong collection of minimalist pieces, influenced by architecture, art, femininity, and light.
About the designer: Ashley Thorne's jewelry journey began shortly after she graduated in 2009 from Pratt Institute in Brooklyn, where she studied communications and graphic design. Dissatisfied with the lack of creativity in her corporate work environment, she started making jewelry with silk cord as a hobby. After attending the esteemed Jewelry Arts Institute, she launched her own brand. Based in Washington D.C. and New York City, Ashley draws influence from natural beauty, ancient techniques, femininity and light. She has a strong focus and appreciation for detail and loves to let the natural characteristics of a gemstone shine.
Written by Vartika Puranik