There's something so special about getting ready for a big event with your best friends — asking them to weigh in on how your final makeup look turned out, getting a little help tying your bow tie so it looks just right or just having some company to keep the jitters at bay. Having your friends by your side from the moments you send out the first invitations in the mail to when you first start getting ready until the last dance on the dance floor is the whole reason you asked them to join your wedding party in the first place!
While most of the focus on the wedding day revolves around the ceremony and reception, don't forget to pay a little extra attention to those moments beforehand. In order to create the ultimate getting ready experience for you and your wedding party, we've rounded up six fun and relaxing ideas that will make the time in between getting dressed and walking down the aisle oh, so memorable. 
Build a Mimosa Bar
The best part of waking up on wedding day isn't coffee — it's bubbly! Mimosas are a great getting ready treat at any time of the day, whether you're having an afternoon or an evening wedding. Create a mimosa bar for you and your friends to indulge in in between hair, makeup and last-minute wedding decisions, and focus on a relaxing experience rather than feeling hectic or rushed before you walk down the aisle. Snag a cute sign from Etsy, grab some bottles of champagne and personalized champagne flutes for the wedding party, and with a variety of fruit for a refreshing garnish, you've got a sweet delicacy to enjoy as you get pampered!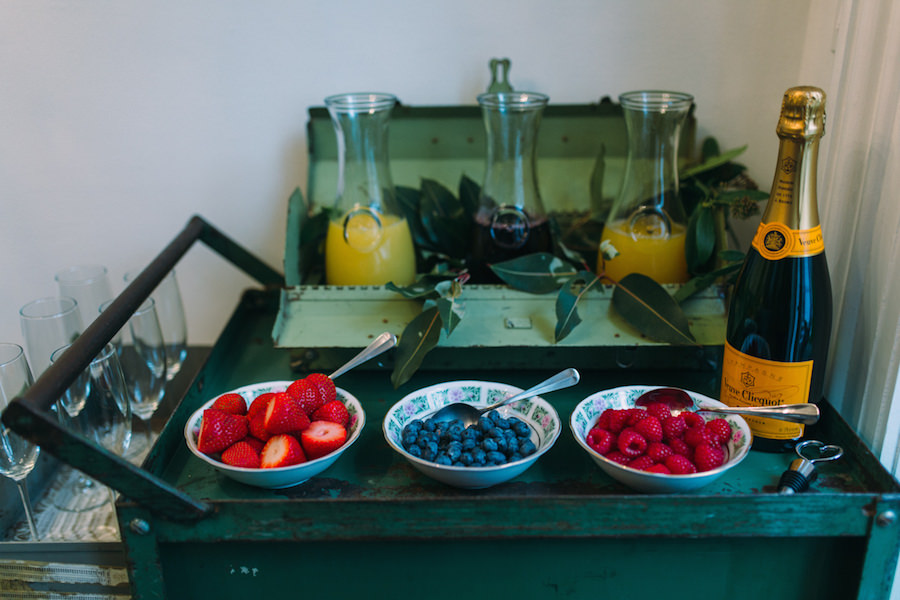 Play That Funky Music
You can't get ready for an exciting event without some upbeat music to set the mood! If your DJ isn't on duty yet, have your wedding party create a playlist of their favorite songs to play over a portable speaker for some epic, stress-free entertainment as you wait for the ceremony to roll around. And if you're extra quick at getting ready, you can practice your moves before you hit the dance floor at the reception!
Hire Grooming Services
Groomsmen deserve a little pampering, too! Surprise your wedding party with some grooming services or products to help them get ready for the big day. Check out companies like Doorbell Barbers, which offers everything from a straight razor shave and manicure to haircuts and spray tans! For a hassle-free experience, find someone who will come to you, so all your friends have to do is show up and get dressed. It'll provide a fun experience and ensure those beards are trimmed and everyone's hair is picture-ready!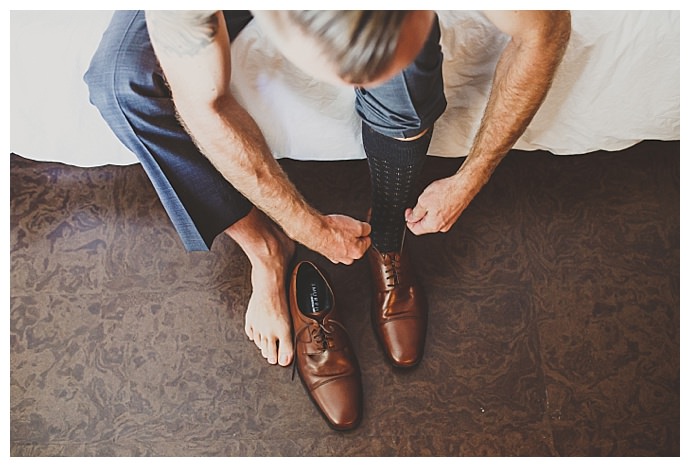 Get Matching Robes
There's nothing we love more than getting ready photos with a wedding party in pretty bridesmaids robes. But matching robes aren't just picturesque – they're practical too! When the hairspray, lipstick, eyeshadow and nail polish are out, make sure those bridesmaids dresses are far, far away. Sure, getting ready in your own clothes is fine, too, but wearing matching robes adds just the right amount of luxury. We love Plum Pretty Sugar's bridesmaids robes that come in solid colors with lace detailing or patterned florals. And after the wedding, your girls can keep them as a memory of that precious morning together, sipping mimosas and cherishing the time before a life-changing moment.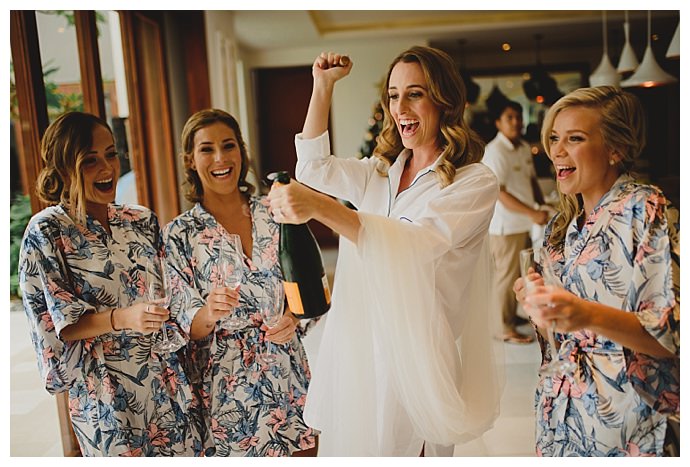 Don't Forget the Snacks
The wedding day can go by within the blink of an eye, and it's not surprising when some couples get to the reception and realize they haven't eaten anything all day. Having some bite-sized snacks to munch on while getting ready will help ensure you and your wedding party aren't ravenous by the time the night is over. Just look for finger foods that aren't prone to messes — you'll want to avoid greasy foods and things like chips or popcorn that stain your fingers. Instead, spring for grapes, nuts, cheese and crackers or protein bars that everyone can enjoy!
Fun Flasks for the Wedding Party
If you're looking for a fun gift for the groomsmen, why not get them something they can use? We love the idea of personalized or engraved flasks as a thank you for being a part of the wedding. And what better time to use them than the day of? Instead of mimosas, bring some spirits for the guys to sip from their flasks to relax and celebrate before stepping into those tuxes. 
Photo credits: Photo 1 by Amber Gress via Nab Inspiration and Ideas from my Bridesmaid Brunch!; Photo 2 by Ryan Horban Photography via Trevor and Amanda's Relaxed and Rustic Backyard Reception; Photo 3 by Terralogical via Casey and Matt's Dreamy Destination Wedding in Bali 
*Editor's Note: This post contains affiliate links. Each time you purchase an item via our affiliate links, Love Inc. is receiving a small percentage of the sale, thus you are helping our small, equality-minded business grow and allowing us to provide more content for YOU! Isn't that just fantastic?