Ryan Horban Photography's images of Trevor and Amanda's wedding day paint a beautiful picture of true love, sheer joy and the amazing results of what can happen when you enlist your friends and family to help you plan one of the biggest and best days of your life. These glowing newlyweds said "I do" at a Catholic church before heading to the groom's parents' backyard for a celebration that was overflowing with rustic decor and personalized details, including a table they dubbed "Our Inspiration," which was filled with framed wedding pictures of their family members. From the shot of Amanda's wedding dress hanging on a surfboard to the breathtaking portraits with the ocean in the background, there's so much to love about this dreamy California wedding.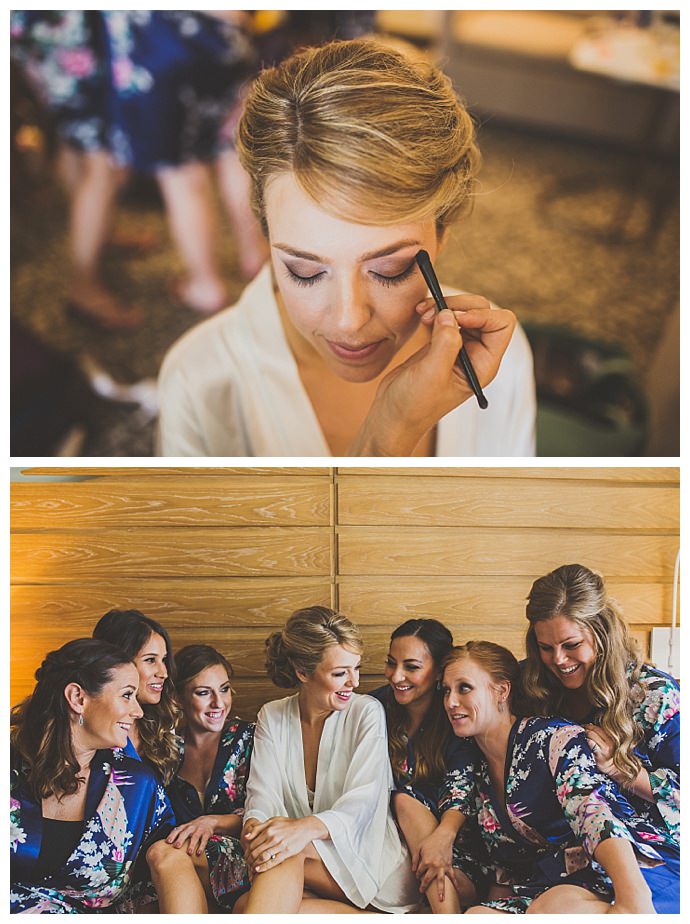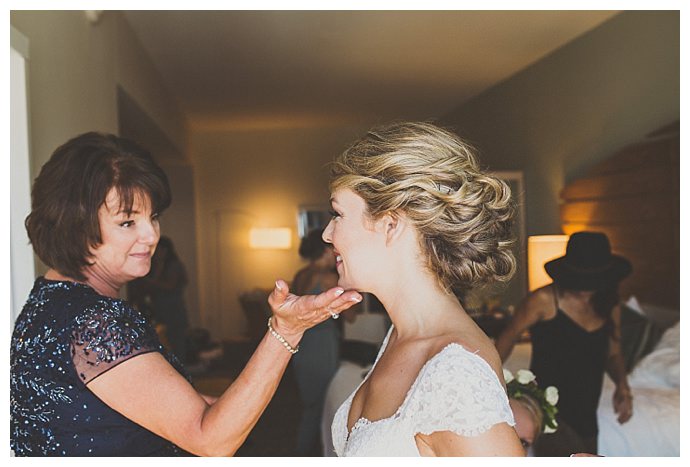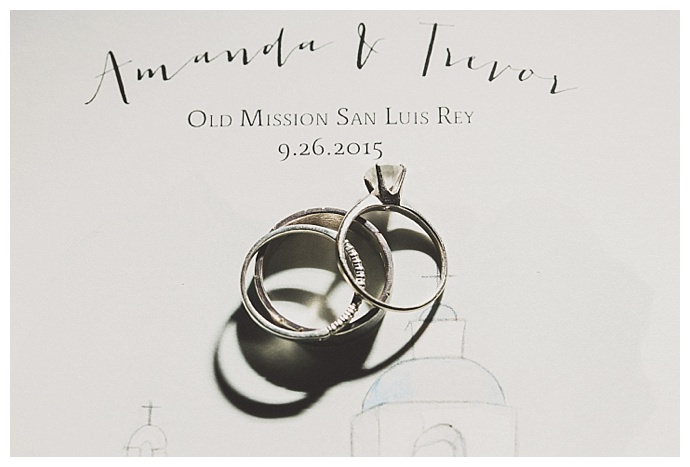 The Love Story
There are some places, such as a crowded music festival, where you don't expect to stand out, to meet anyone or to walk away having met a person who will change your life. But in Trevor and Amanda's case, the stars aligned when their shared love for electronic music landed them at EDC — or Electric Daisy Carnival, the world's largest electronic music festival. A friend introduced them, and they immediately hit it off, quickly bonding over everything they had in common. "We were both attending Cal State Long Beach, both grew up playing soccer, loved to travel and loved electronic music," Amanda says. "We still joke today about meeting in a crowd of 100,000 people and how lucky we are to have found each other."
After three years together and a couple of diplomas later, Trevor and Amanda packed up and moved to Spain to teach English for a year. "We had the time of our lives," Amanda says. "And after that, we knew we were meant to be together forever." Once they arrived back on the West Coast from Spain, Trevor surprised Amanda with a weekend getaway to Catalina Island for a romantic kayaking trip that ended with a ring and Amanda saying yes.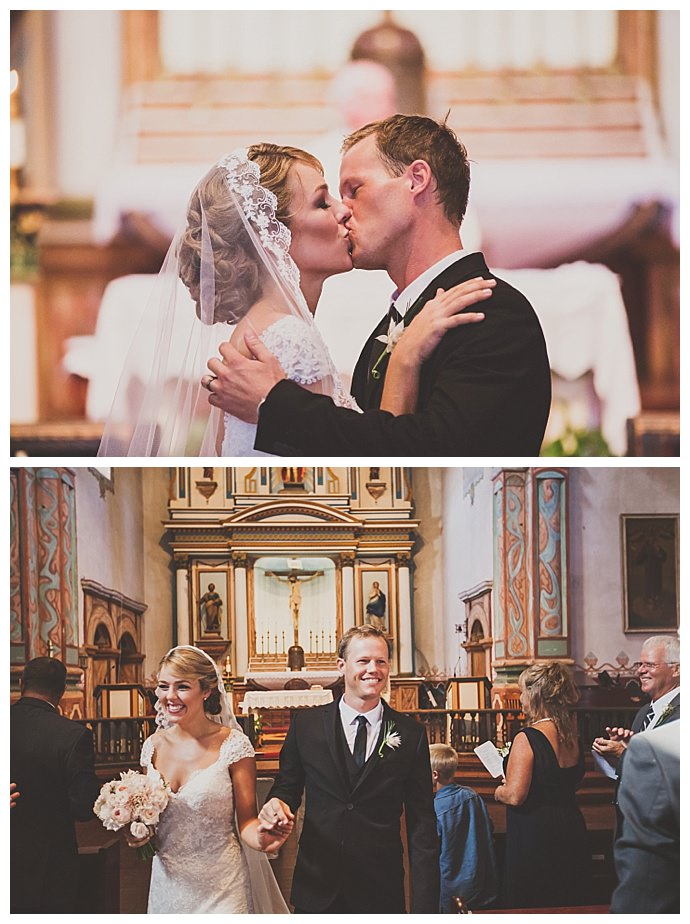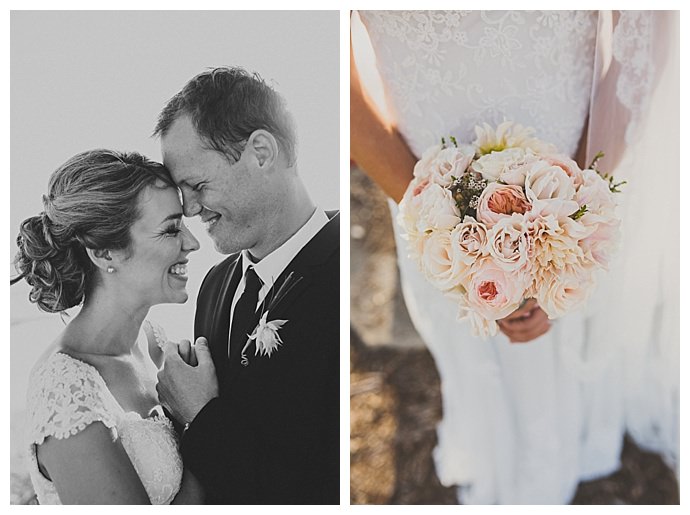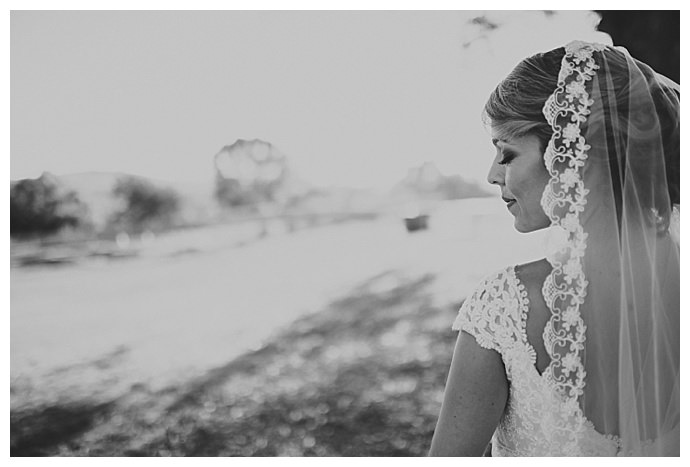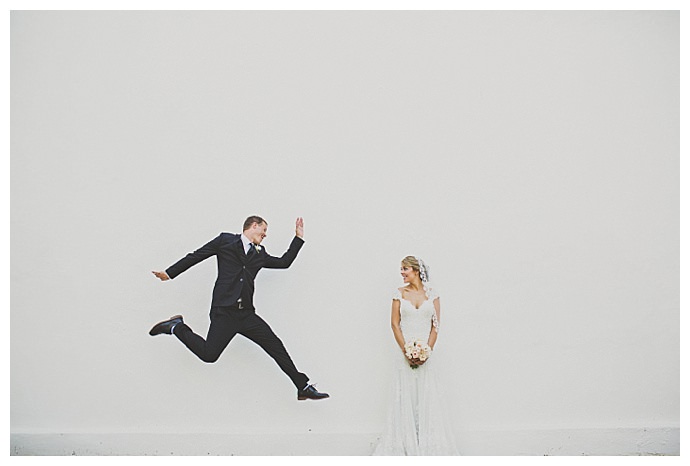 The Ceremony
On their wedding day, Trevor and Amanda wanted to surround themselves with the most important people in their lives and involved them in everything from welcoming guests at the ceremony and sharing readings during their traditional Catholic service to baking delicious desserts and helping with the decor for their reception. "Something very memorable from our ceremony was having our family and friends contribute during each part of the ceremony," Amanda says. "We tried to include as many people as possible, and it felt like we were surrounded by our entire community."
Amanda walked down the aisle in a cap-sleeve wedding dress, which she had dreamed of wearing ever since she was a little girl. And she paired it with a gorgeous cathedral-style veil that she found in the Fashion District of Los Angeles while out shopping with her sister. And Trevor wore a dapper fitted black suit from H&M, a perfect look for their goal of traditional yet simple attire.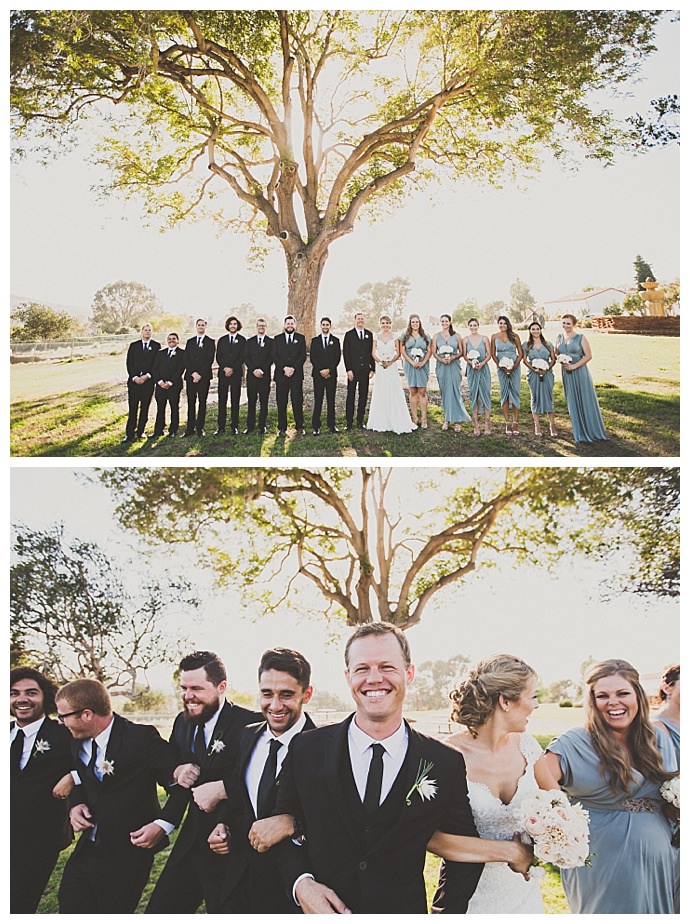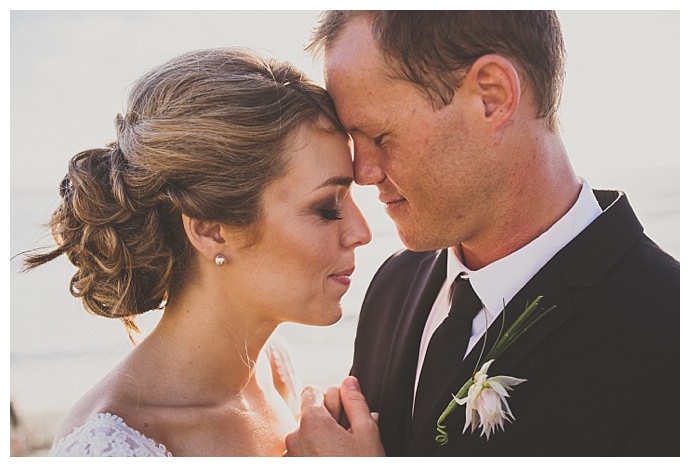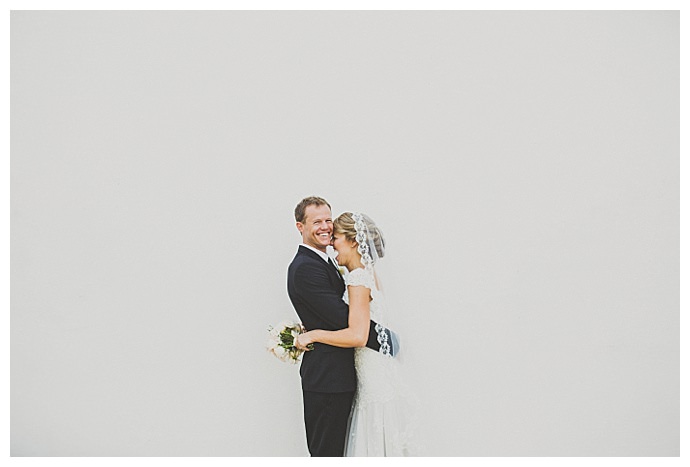 The Party
For their rustic backyard reception, Amanda and Trevor got their hands dirty and crafted much of the gorgeous decor. "Trevor built a beautiful bar from old pallet wood, and we hung a large chalkboard sign above the bar listing our signature drinks," Amanda says. Amanda used her calligraphy skills to label the place cards, an old desk was repurposed for the sign-in table and Trevor's dad built a table out of an old door to hold the appetizers, which consisted of a variety of cheeses, olives, spreads, crackers and bread. A dinner of salmon served with sweet pineapple salsa and tri-tip served with whiskey sauce was offered buffet-style alongside garden salad, grilled veggies, mashed potatoes and a chilled pesto orzo salad. For dessert, a close friend baked mini bundt cakes and brightly colored French macarons for the newlyweds who had fallen in love with the sweet treats while living in Europe.
Market lights were strung across the yard, softly illuminating the lawn as dusk drew near, and Trevor's old soccer coach DJ'd and kept the night alive playing a mix of Trevor and Amanda's favorite songs. The happy couple shared their first dance to Etta James' "At Last," surrounded by their wedding party where they showed off the moves they learned while taking dance lessons, an unexpected delight that Amanda says ended up being a great bonding experience and de-stresser from wedding planning mayhem. And because Amanda endearingly calls Trevor the Cookie Monster, they sent their guests home with freshly baked cookies and wrapped them with a tag saying, Love is Sweet.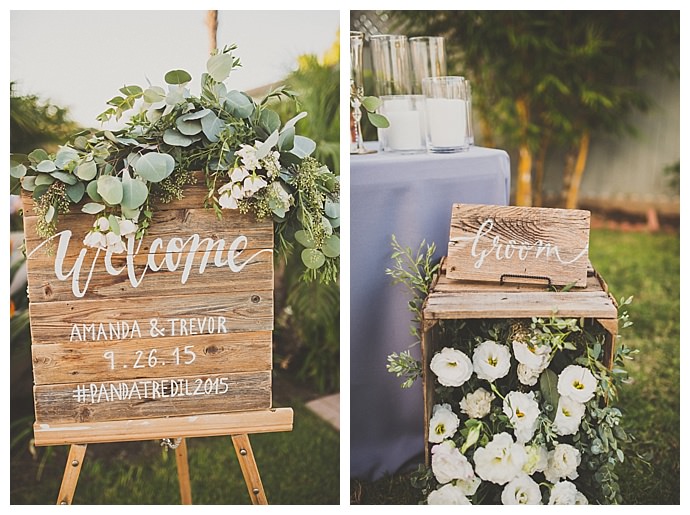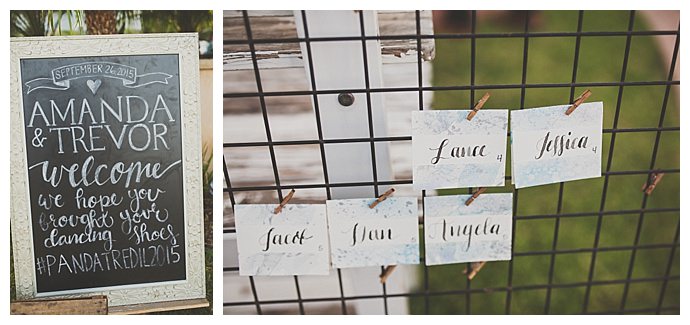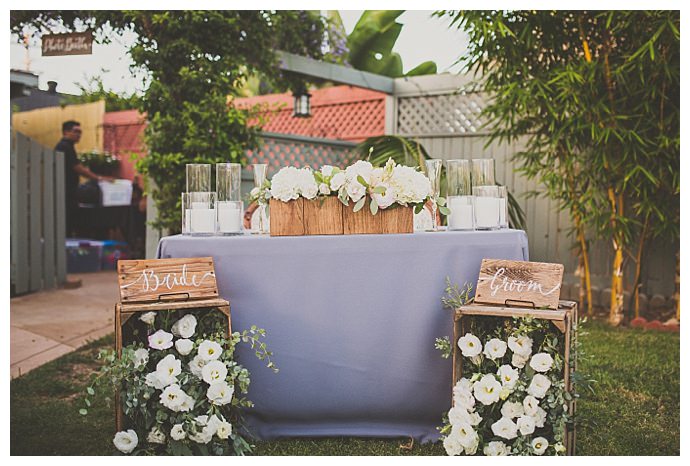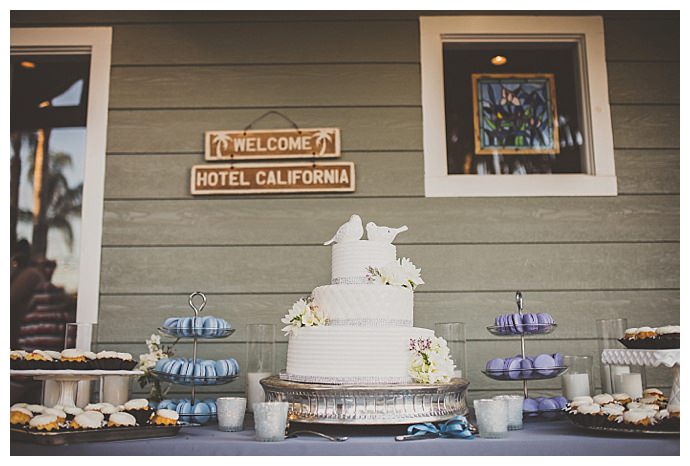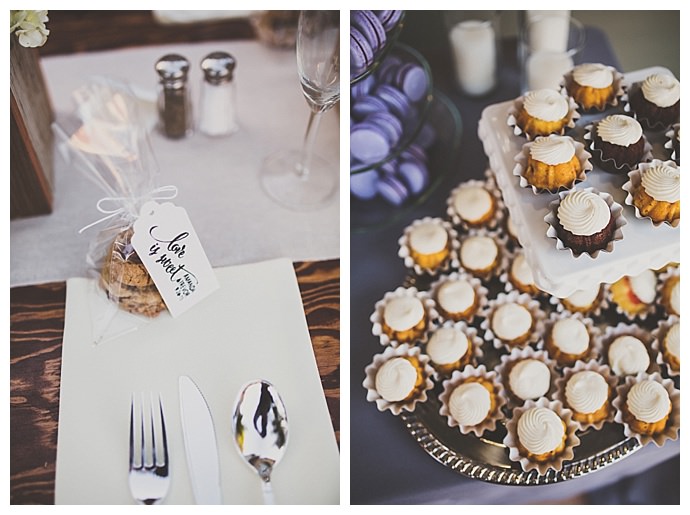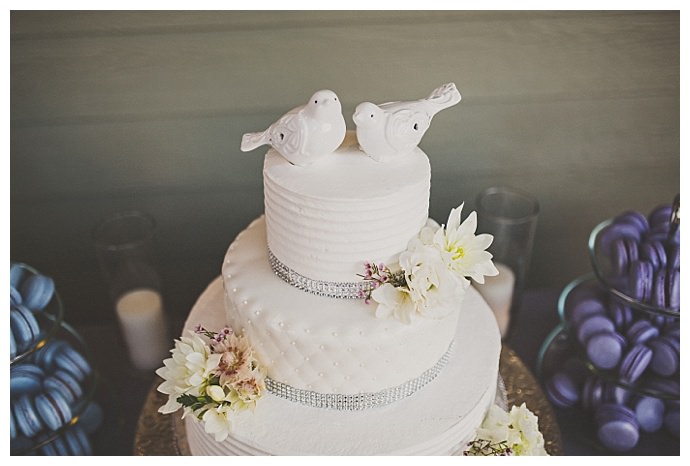 Memorable Moment
"The most memorable moment I have from our wedding day is sitting up at the altar after being walked down the aisle, beginning our ceremony and holding hands with my soon-to-be husband," Amanda says. "A few of the readings had been done, and the priest was talking about the history of the mission and how many people have been through this same ceremony since it opened. I remember thinking about all our friends and family sitting behind us and realizing how much love in the world we have. Everyone that was important in our lives was there to support us and stand by our side to celebrate this big day. It was truly magical."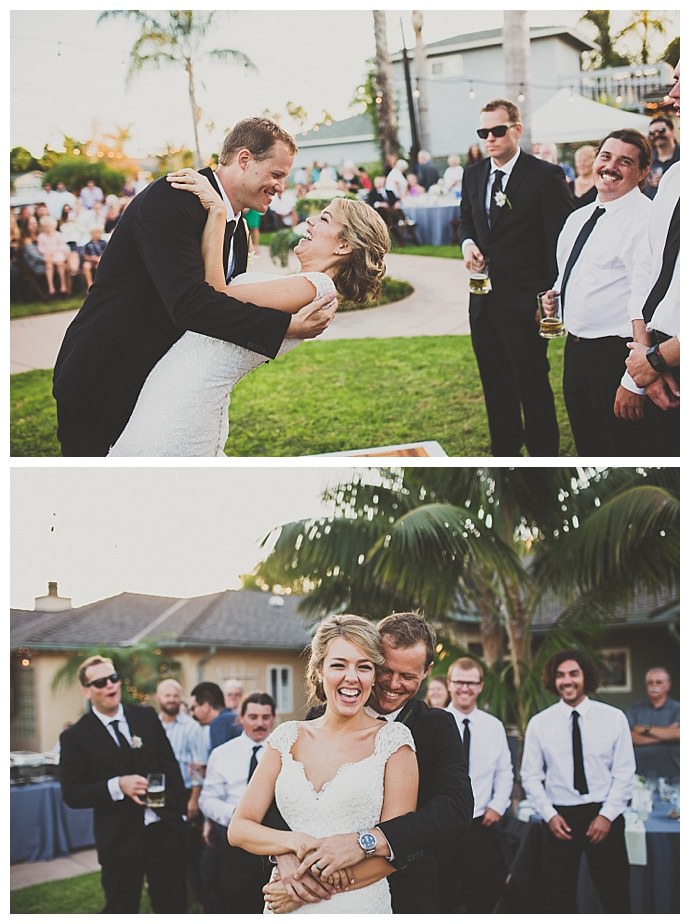 Team of Talents
Photography: Ryan Horban Photography
Floral Design: Flowers by Terrie
Wedding Suit: H&M
Wedding Dress: Glamour Closet
Makeup: Makeup by Julia Hill
*Editor's Note: This post contains affiliate links. Each time you purchase an item via our affiliate links, Love Inc. is receiving a small percentage of the sale, thus you are helping our small, equality-minded business grow and allowing us to provide more content for YOU! Isn't that just fantastic?