Photography by Love + Perry Photography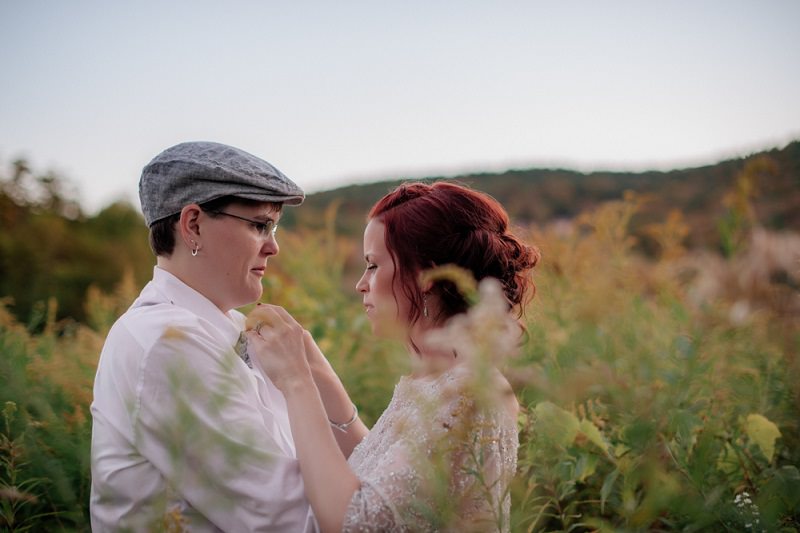 Straight out of the pages from a fairytale, Amanda and Christina's wedding at Santarella in the Berkshires was nothing short of magical. Amanda tapped into her artist background to create a DIY-driven day that was truly their own, from the ceremony that tugged at the heartstrings to a glorified cocktail party reception featuring an old-fashioned popcorn machine, a caricature artist and a s'mores bar bonfire.
[raw]
[/raw]
The Engagement: Christina and Amanda's first date was spent watching "Gnomeo and Juliet" ("even more fun that our wedding venue looked like a gnome home!" Amanda adds laughing) and they've been inseparable ever since. Christina made their future official during a girls shopping trip to New York City with her aunt, sister and sister-in-law. "The whole train ride there we were talking about marriage and engagement rings and in hindsight, I should have known. As soon as we got to New York, all the girls were racing to see the Rockefeller Center tree," says Amanda. "I kept thinking to myself, why do they want to see it during the day? It's so much prettier at night!"
The reason soon became obvious when Christina got down on one knee and asked Amanda to marry her. "Of course I said yes with tears running down my face and then she pulled out a Christmas ornament that was shaped like a ring and inscribed with 'Engaged Rockefeller Center, December 8, 2012.' It was perfect!"
"Christina had been sick for a few days before, I even told her to skip New York but she insisted on going. I knew why after all that. Believe it or not, we ended up in the emergency room that night as she had pneumonia. She was a trooper; nothing stopped her from making our engagement one of the best days of my life!" says Amanda of the unexpected turn of events. "I took a picture that night in the emergency room, of my ring next to her hospital bracelet. In sickness and in health, right?"
[raw]
[/raw]
The Venue: Affectionately known as the Tyringham Gingerbread House, this Berkshire gem's grounds are filled with steepled silos, cottages fit for Hobbit and a stunning lily pond. "Santarella was magical to me even when we went to tour it in January," says Amanda. "Being an artist, I had heard about the location for quite some time as it was created by Sir Henry Hudson, an English sculptor who lived on the property and turned the gingerbread house into his sculpting studio. The history behind it intrigued me."
[raw]
[/raw]
The Fashion: Amanda wore a trumpet Oleg Cassini gown with a beaded jacket overlay. "I called myself 'modern modest' all night!" says Amanda. Christina created her own unique look using stylish thrift store finds. "She is not a suit person and most definitely not a dress one either. My favorite elements of her outfit were the Adidas sneakers, bowtie, suspenders and newsboy cap. Her look was so fun and Great Gatsby like."
The Inspiration: Using a gray-and-white chevron pattern to tie elements together, everything was either rehabbed from flea markets and tag sales or handmade. "I am an avid crafter, so I truly enjoyed the whole process of creating the vintage chic look," says Amanda. The light and airy atmosphere gave way to a day that was fun, relaxed and celebrated love. "I tried my best to create a comfortable atmosphere where it felt like it wasn't just a 'gay wedding' … I wanted it to be 'Christina and Amanda's wedding.'"
[raw]
[/raw]
The Ceremony: Escorted by their fathers, Christina came down the aisle first, followed by an adorable ring bearer wearing a heart that said "Chrissy, here comes your girl!" and then her bride. "One of my favorite parts of the ceremony was walking down the aisle to the song 'Living in the Moment' by Jason Mraz. When I got to the top of the aisle, I sang to Christina the lyrics 'I'm living in the moment, living my life. Easy and breezy, with peace in my mind. Peace in my heart, peace in my soul, wherever I'm going, I'm already home,'" explains Amanda. "It's so true, her heart is my home."
The justice of the peace performed a heartfelt ceremony, reading a paragraph of their journey together that Amanda had written as well as EE Cummings' famous "I Carry You in My Heart." She also acknowledged Amanda's grandfather who celebrated his 90th birthday the day before and, when pressured as to whether or not he would attend, said "Of course. I'm not one of those old prudes or nothing!" "I was tickled to death when she added that as a part of the opening," laughs Amanda.
[raw]
[/raw]
The Party: After the tear-filled ceremony, their 75 guests headed into inside where a charming cocktail reception awaited. White-washed books wrapped in twine and candle holders covered in book pages and chevron runners adorned each table. Window sills were loaded with vintage glass, cameras, old telephones and hand-cut silhouettes that Amanda had found in her attic. In lieu of a sit-down dinner, they chose to have food stations such as a popcorn bar with 10 different seasonings and an old-fashioned popcorn machine, a mashed potato bar serving up the comfort food in martini glasses and a s'mores bar outside by the fire.
For their first dance, they swayed to "All of Me" by John Legend. "I just remember thinking, this is our moment. I did not take my eyes off of Christina the entire time. To me, it felt like there was no one else in the room," reminisces Amanda. "We sang the lyrics to each other, and before I knew it the song was over. I have received so many compliments on what an emotional moment that was to witness." With barely a dry eye in the house, they then held the father-daughter dances, swapping halfway through so each bride could dance with her new father-in-law then switching back to their own dads.
[raw]
[/raw]
Later in the night, they celebrated Amanda's grandpa's birthday with a cake, "The look on his face was priceless. The pictures of him holding the cake are some of my favorite!," and guests enjoyed posing for a caricature artist that they had hired for the evening. For favors, they gave cookies from Baking for Good, which gives 15 percent of proceeds from every cookie to the charity of your choice with Amanda and Christina choosing to donate to the Human Rights Campaign.
"I think the most difficult thing during the planning was realizing that not everyone is okay with gay weddings. I found, that even though they loved us a couple, the whole idea of marriage was uncomfortable for a lot of people. It was the first time I felt different, you know? That is why I made such an effort to make our wedding personalized, about us, not just a gay wedding," says Amanda. "I had quite a few guests come up to me that day and say 'You know, I didn't know what to expect coming to a gay wedding. But it was beautiful; it was no different than any other wedding. I'm glad I decided to come.' At the end of the day, I realized that their presence was enough support for me, whether they believed in it or not. They were there, and that was enough."
[raw]
[/raw]
Vendors
Photography: Love + Perry Photography
Venue: Santarella
Catering: Navin Brothers Food
Wedding Gown: Oleg Cassini
Favors: Baking for Good
Makeup/Hair: Keoho Salon
DJ/Band: John Arthurs
Officiant: J.M. Sorrell