Photography by Milton Photography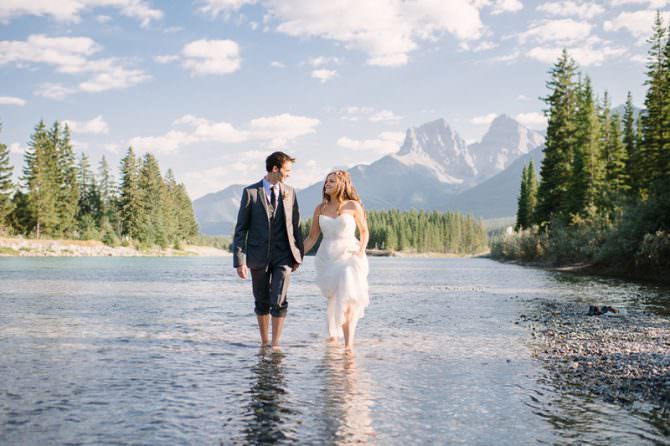 Kayle and Dusty's fall wedding in Canmore, Alberta, Canada was truly handmade with love and set in a backdrop that takes our breath away.
[raw]
[/raw]
The couple worked hard to create a day that represented them, and enlisted the bride's very talented parents to help them pull it off. "My parents were amazing. My mom cut and sewed table runners, made kraft paper banners, and put together fabric-and-paper bunting. My dad cut out stumps for our aisle, cut out wood slices for our centerpieces, and even made us a huge wooden archway for the ceremony, which was taken apart and put behind the head table in the hall," says Kayle. "It was absolutely awesome."
[raw]
[/raw]
The Engagement: "The proposal was a complete surprise. We were running a business in Red Deer, AB and Dusty said he was going out for a run that morning and asked if I could come pick him up later. I agreed and fell back asleep. He called me to come pick him up and I rolled out of bed in my pajamas and headed over to our business location where he was. There was a note on the door saying everything would be okay—I was stressed about the business—and to come upstairs. I still had not clued in. Upstairs he had our teddy bears that we each had since we were babies. My teddy had a note around his neck basically saying I should say yes and a ring. I was in shock. It was so cute."
[raw]
[/raw]
The Venue: The small town of Canmore's undeniable charm paired with the natural beauty of a small lake, meadow and mountain views made it a perfect fit for the couple's vision of a cozy, intimate celebration. They had the ceremony in the middle of the meadow and then headed to Miners' Union Hall for the reception.
[raw]
[/raw]
The Fashion: "My favorite moment was seeing Kayle walking down the aisle to me," says Dusty of his bride who wore a flowy, ethereal floor length dress accented with a romantic hairstyle of loose waves and a floral headband. She and her bridesmaids created their own bouquets using an assortment of artificial blooms: daisy, ranunculus, petunia and hydrangea with the bride adding orange poppies to hers. Dusty looked handsome in a custom-made suit from Indochino and he and his groomsmen wore bouts made of artificial berry spray stems.
[raw]
[/raw]
The Ceremony: With mountains rising in the background, Kayle and Dusty said "I do" underneath an arbor made by Kayle's father. They personalized their standard marriage vows with a reading from "The Amber Spyglass" Philip Pullman. "It was a beautiful passage and even our photographer Justine was tearing up!" laughs Kayle. They also exchanged self-written vows. "I have never been so in the moment for anything. It was pretty special."
The Party: After the ceremony, their 50 guests walked into a decorated room filled with handmade, rustic elements such as lanterns, checkered table runners, wood stands and chalkboard signs. Childhood photos of the couple were strung alongside bunting and their card box was an old sewing basket that her mom lined with fabric. "Our guest book was a picture of a bike with strings coming up and people could press their thumbs into an ink pad and make 'balloons' on the ends of the strings," says Kayle. "We also put questions on all the tables that people could answer and sign … things like 'What should we name our kids?' and 'What should we do in our first year of marriage?' It all came together so well." "I loved how the hall looked when it was all decorated and everyone was there with us," adds Dusty.
[raw]
[/raw]
Guests enjoyed a buffet dinner featuring a delicious menu of mixed green salad with French Camembert, toasted walnuts, cucumbers and pear vinaigrette, followed with rosemary roasted potatoes, wild mushrooms and summer corn succotash with applewood bacon. Guests were able to choose between two locally sourced entrées: roasted Alberta pork loin with wild mushroom sauce and free-range lemon-rosemary Alberta chicken. "It was so delicious and we got so many compliments about it!" exclaims Kayle. For dessert, they had a medley of cupcakes in flavors of vanilla-chocolate collision and red velvet made by The Sweet Side, as well as assorted squares made by Dusty's mom and cheesecake bites.
[raw]
[/raw]
The couple kept guests on the dance floor using an iPod Wedding DJ app ("that thing worked so well!"), the Shoe Game and garter and bouquet tosses.
It's hard to imagine a couple being able to pull of such a perfect day but Kayle has words of wisdom for those going the DIY route: "Don't try to take on everything yourself. Release the reigns a little and let all the loving, helpful people in your life be there for you."
[raw]
[/raw]
Vendors:
Photography: Milton Photography
Venue: Ceremony held at Quarry Lake Park; Reception held at Miners' Union Hall
Cupcakes: The Sweet Side
Catering: Bow Valley Gourmet
Attire: Dress by Pallas Athena; Suit was custom-made from Indochino
Makeup by Maisie McClure; Hair by JK Hair Designs