Pili and Sienna found their dream venue in an unexpected place — on Airbnb. They fell in love with the charming and classic New Mexico feel and the vineyard in the backyard, and when the host agreed to let them have their wedding there, they couldn't wait to celebrate with 90 of their closest friends and family members. They sent out the invites right away and prepared for the big day. Love was in the air from the moment the brides started getting ready together to their last spin on the dance floor, and Chrisi K Photography was there to capture all the magic of Pili and Sienna's sunny Albuquerque wedding.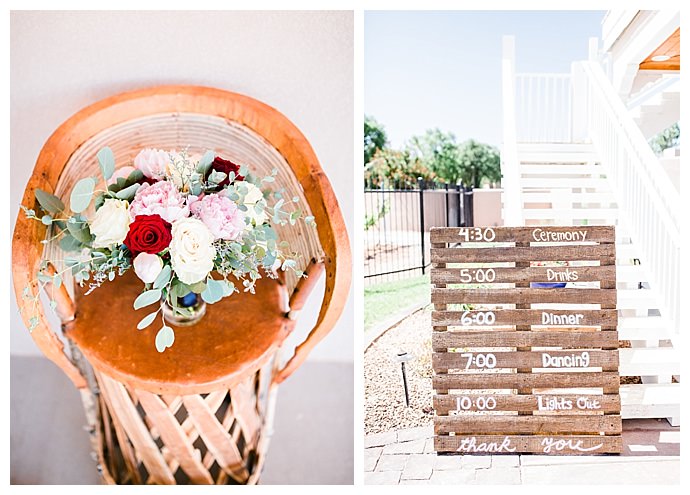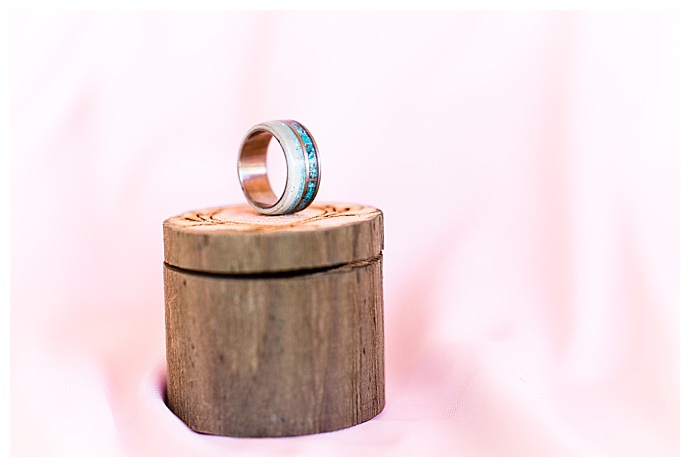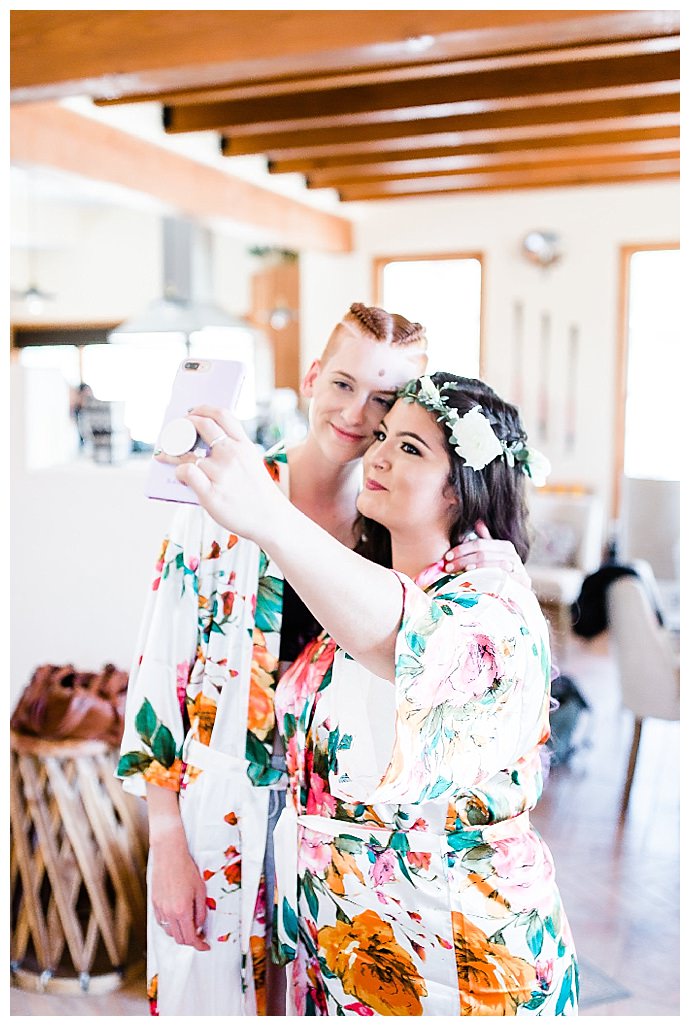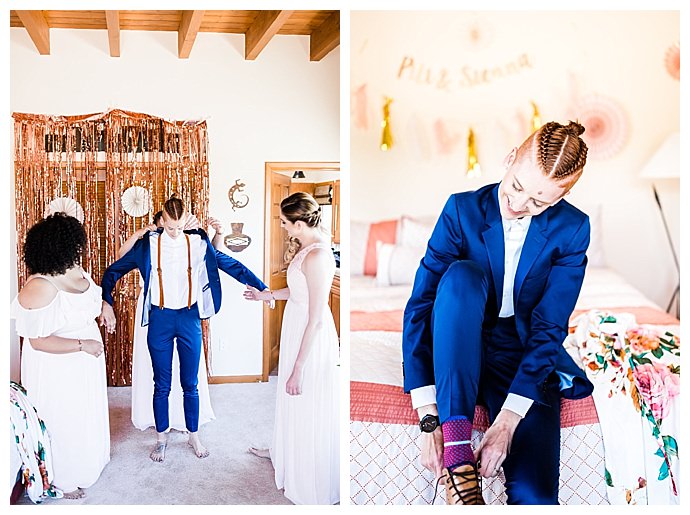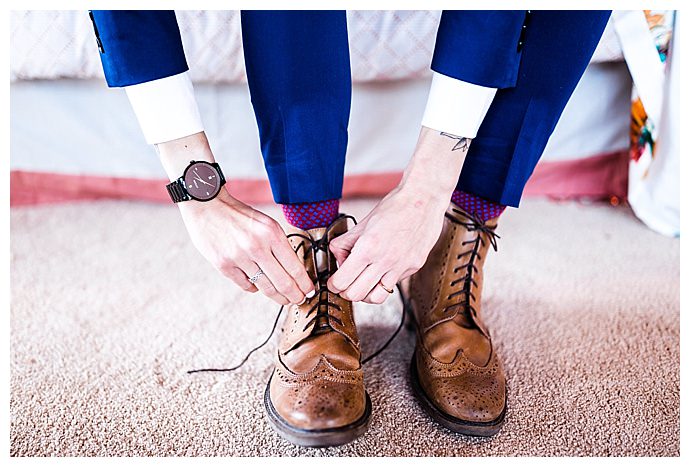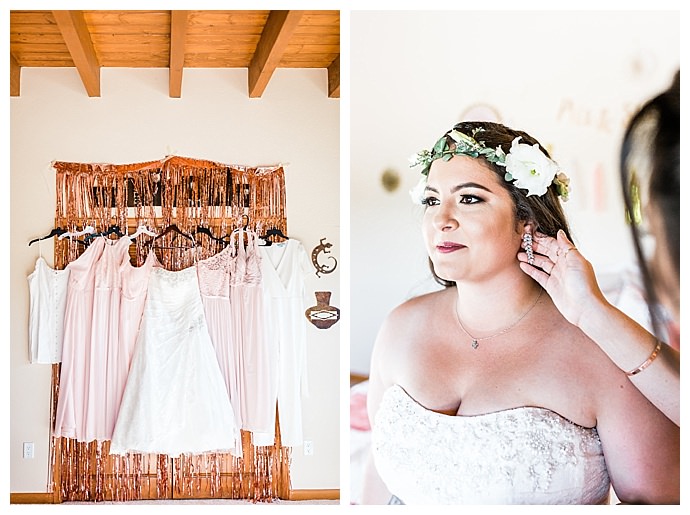 The Love Story
In 2014, Pili and Sienna spent six weeks in Arizona with Teach for America Corps where they taught summer school an hour outside of Phoenix. The two first bonded over long morning bus rides to campus and soon started finding excuses to see each other during the day. With one week left in the program before it was time to go back to their respective homes, Sienna took a chance and kissed Pili. "That's when I knew she was the one," Sienna says. "I remember how every part of me felt wrong saying goodbye to Pili that summer, and unfortunately fate wasn't in our favor that year."
With Pili in Hawaii and Sienna in New Mexico, separated by the ocean and a four-hour time difference, it was difficult to keep in touch. But when Pili was heading to LA for vacation, she couldn't pass up the opportunity to reach out to Sienna, and as luck would have it, Sienna was in LA for the summer staying with her sister. They reconnected over breakfast and a hike and quickly recognized that their connection was unique. "I always said if I ever got a second chance, I wouldn't let her slip away again," Sienna says. And only a few months later, Sienna flew to Hawaii to visit Pili for Thanksgiving and brought the ring that she had bought Jim-Halpert style, as she says, the first week they started dating. She proposed on an Oahu beach with a moonstone engagement ring as the sun was rising and asked Pili to be her wife for this life and the next.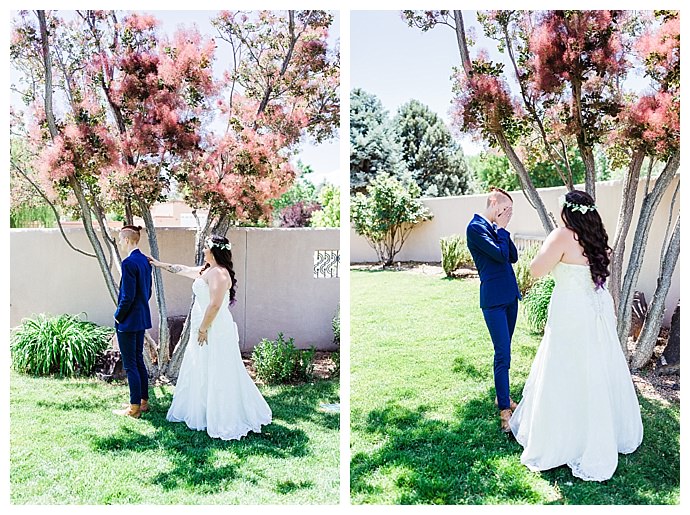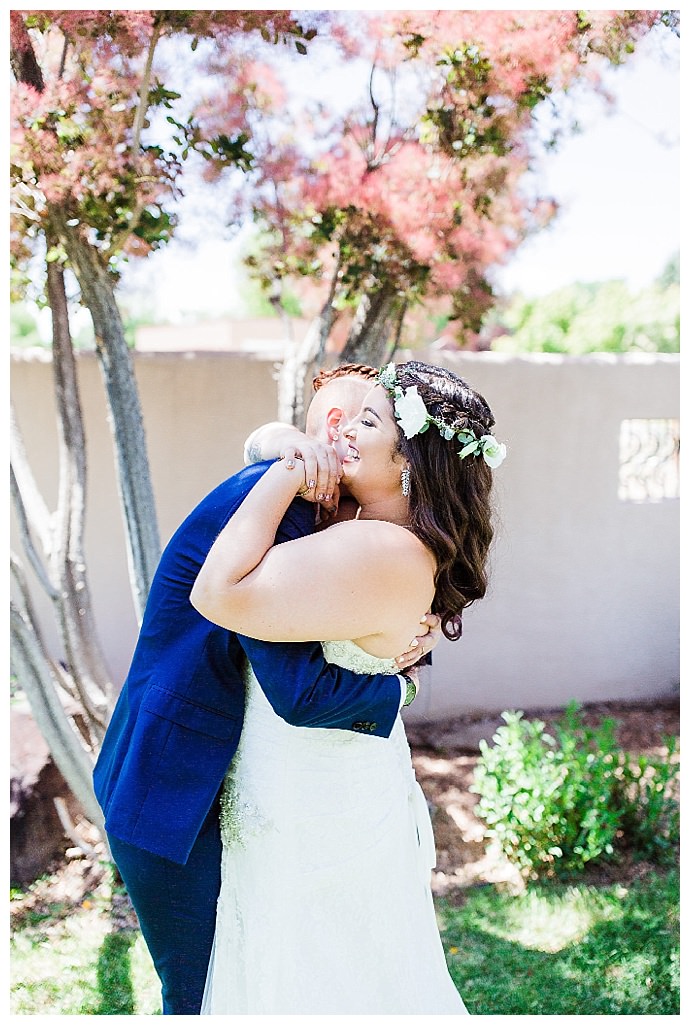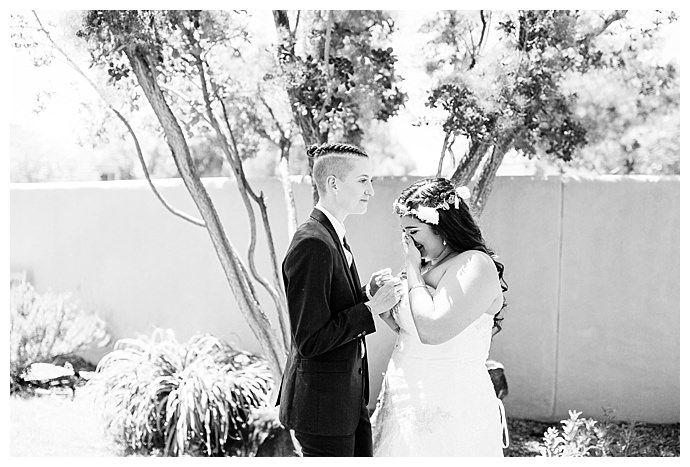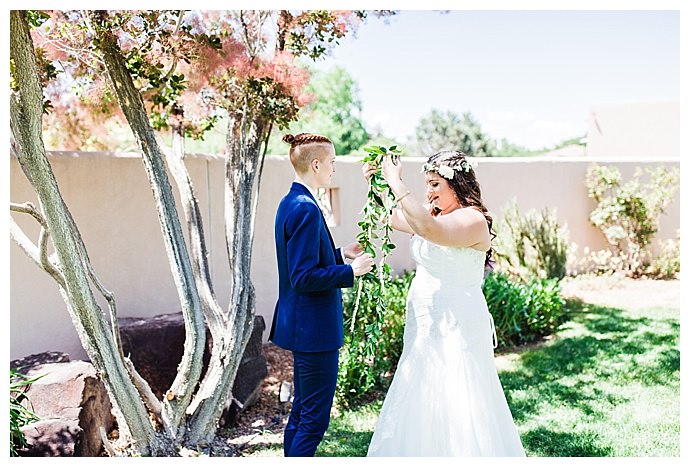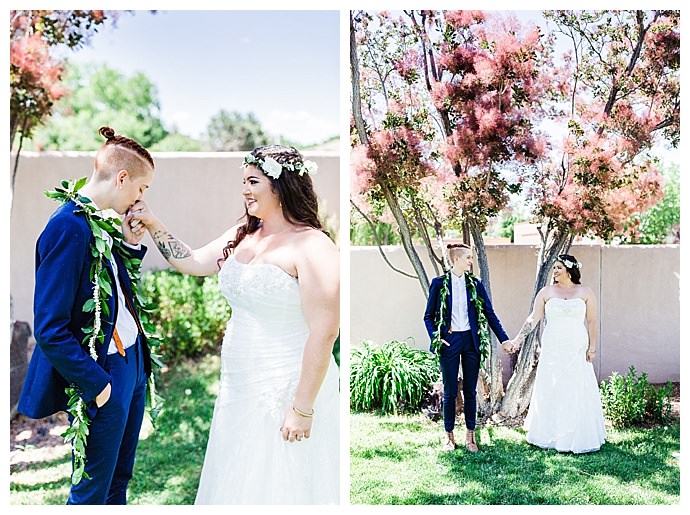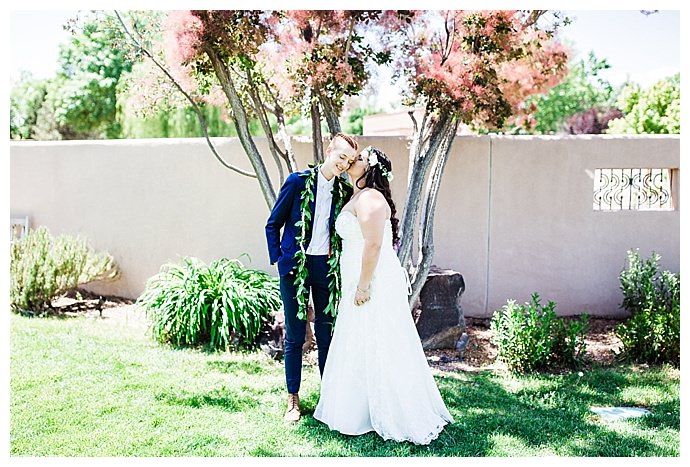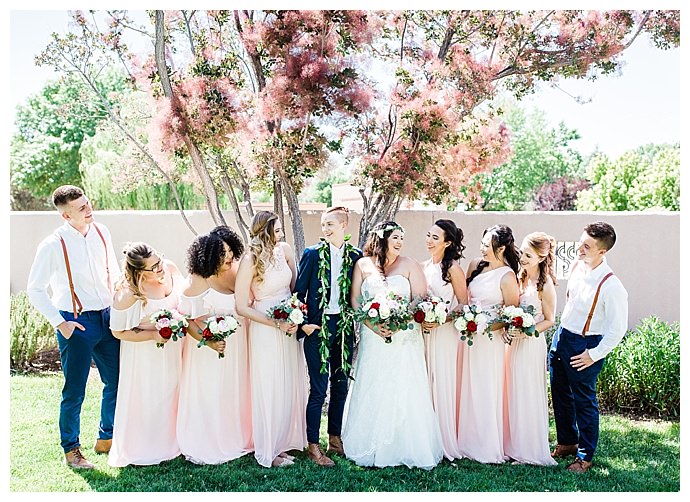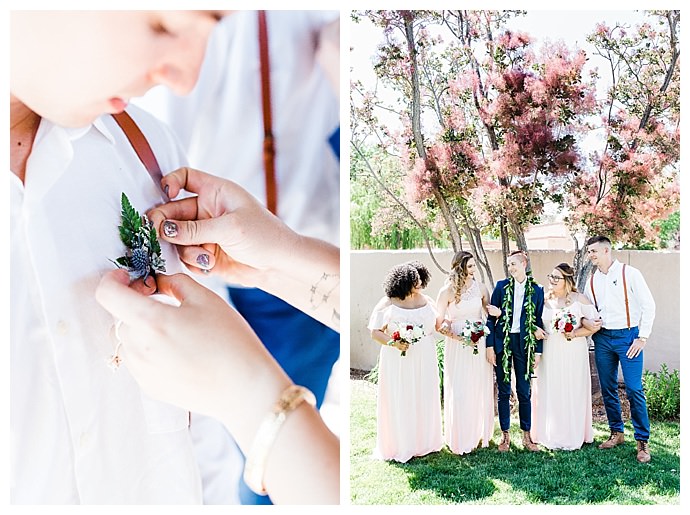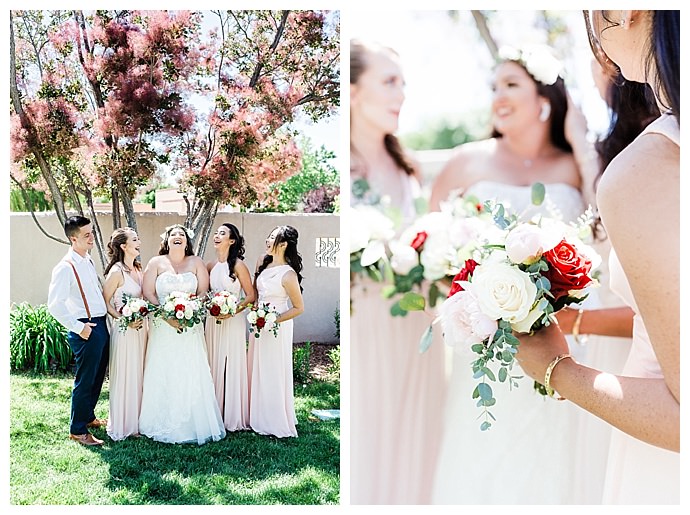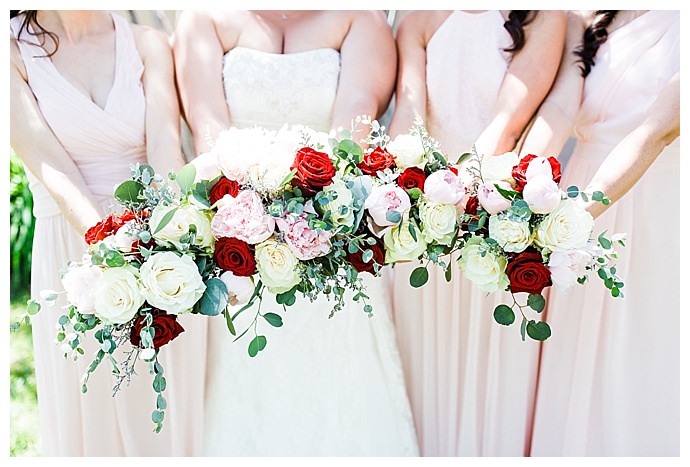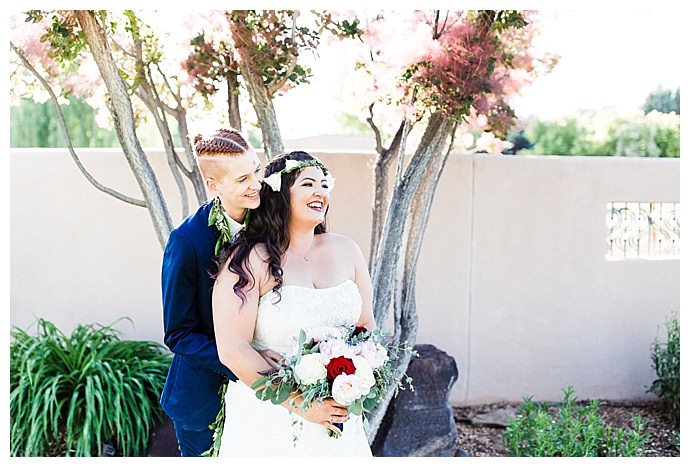 The Ceremony
Under the hot Albuquerque sun, Pili and Sienna were escorted down the aisle by their parents before they exchanged self-written vows that were written in a leather-bound journal given to them as a gift from their friend and officiant. "Our wedding ceremony was more spiritual than religious," Sienna says. "We really wanted to keep it intimate and true to our relationship."
One of the most meaningful moments of the ceremony for both brides was during a water blessing. "Growing up so close to the ocean, we always had a deep personal connection to water," Sienna says. "We wanted to incorporate an element that symbolized the joining of our family — what better way to do that than with the pouring of water from the oceans in which we were raised." When their families came into town for the wedding, Pili's family brought water from the Pacific Ocean and Sienna's family brought water from the Gulf of Mexico. "Together we joined our waters by pouring them into a tall, blue glass bottle in front of our family and friends," Sienna says. "We see it first thing every morning at home on our bedroom dresser."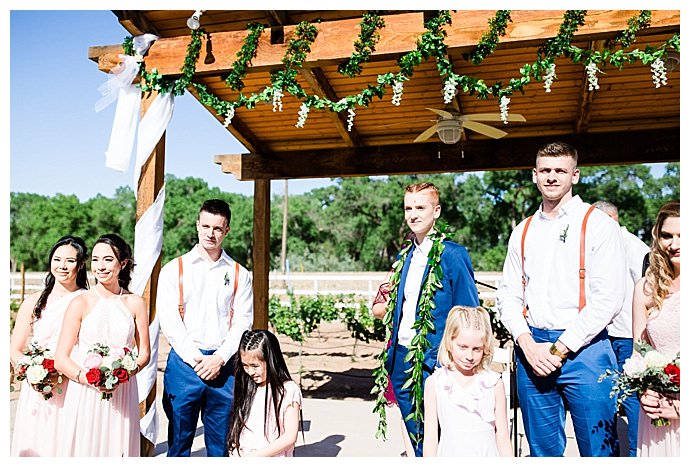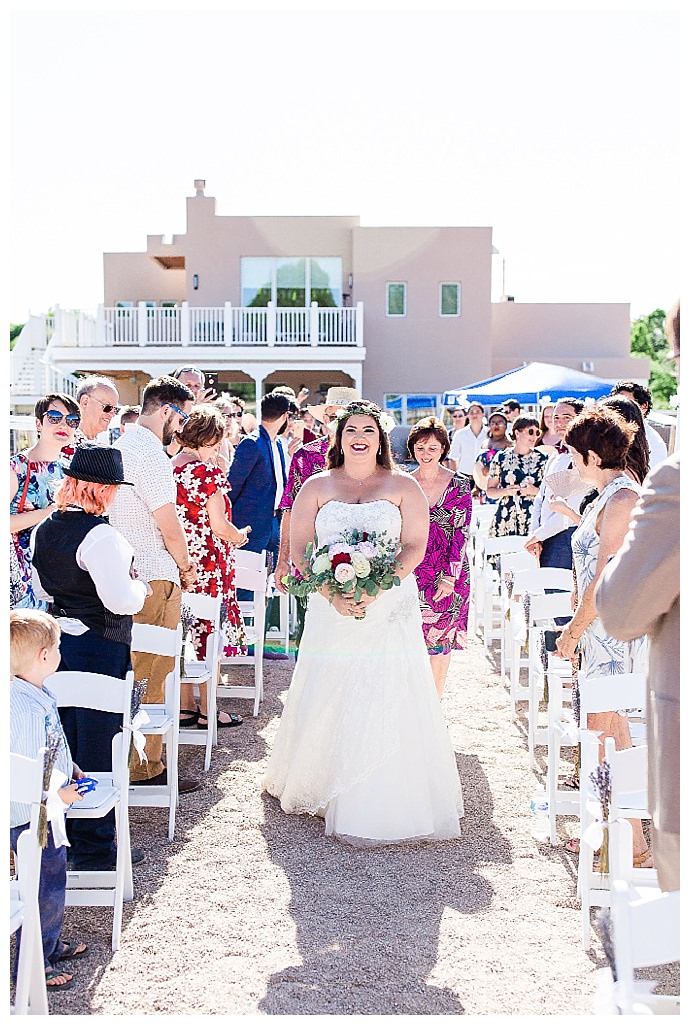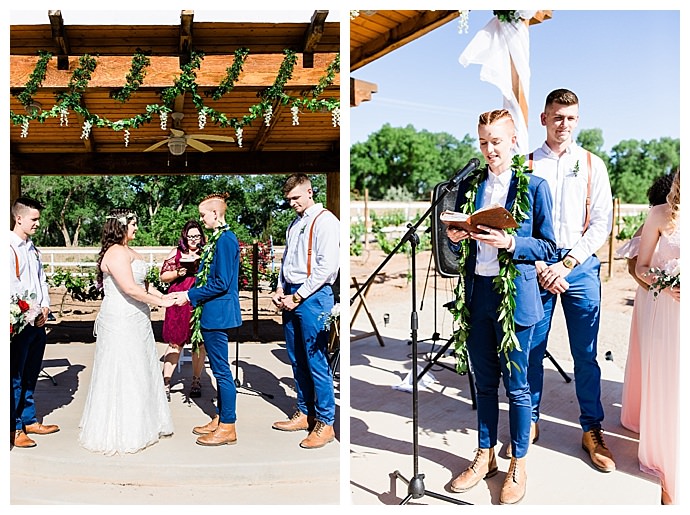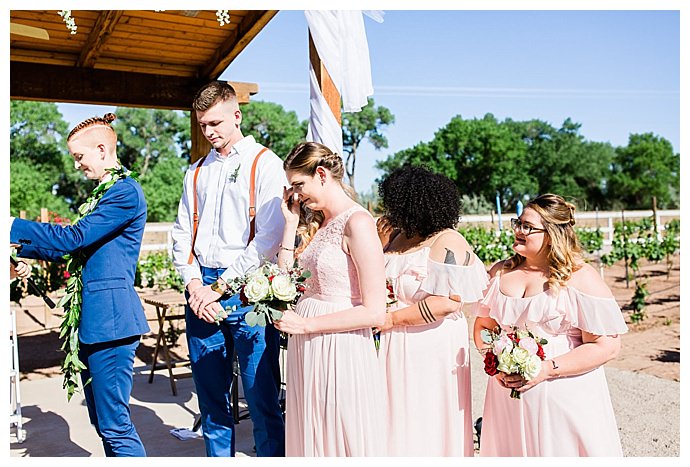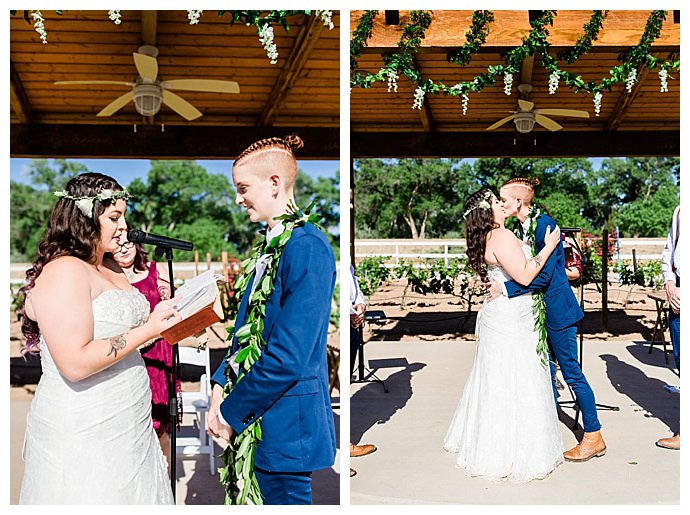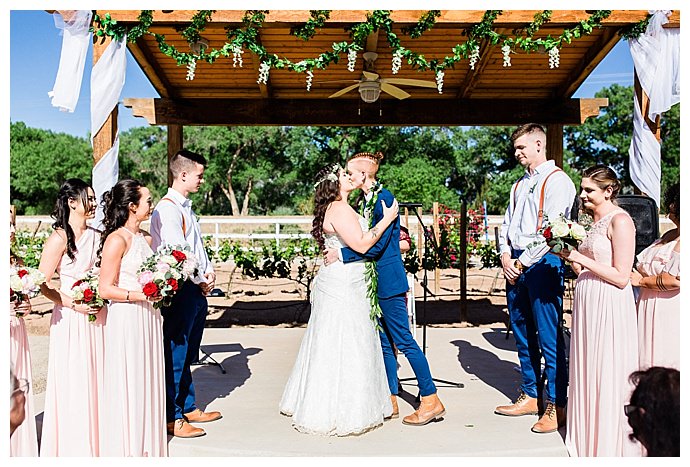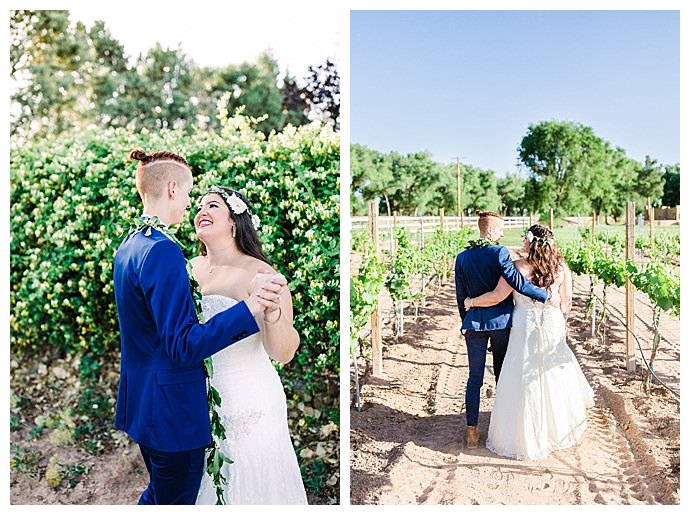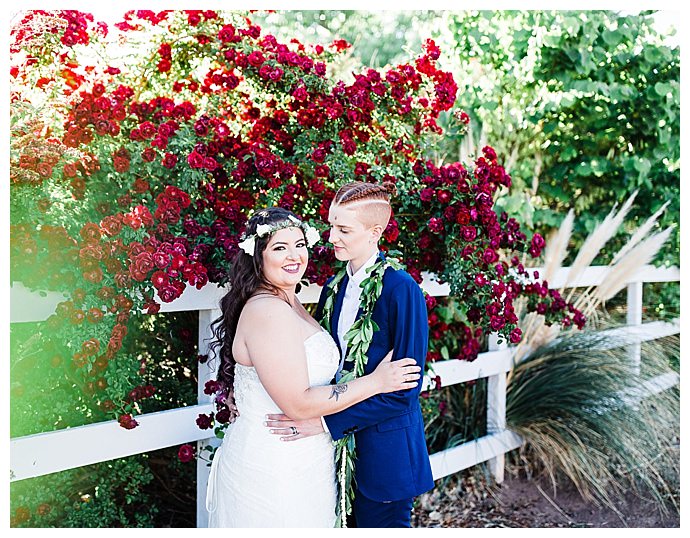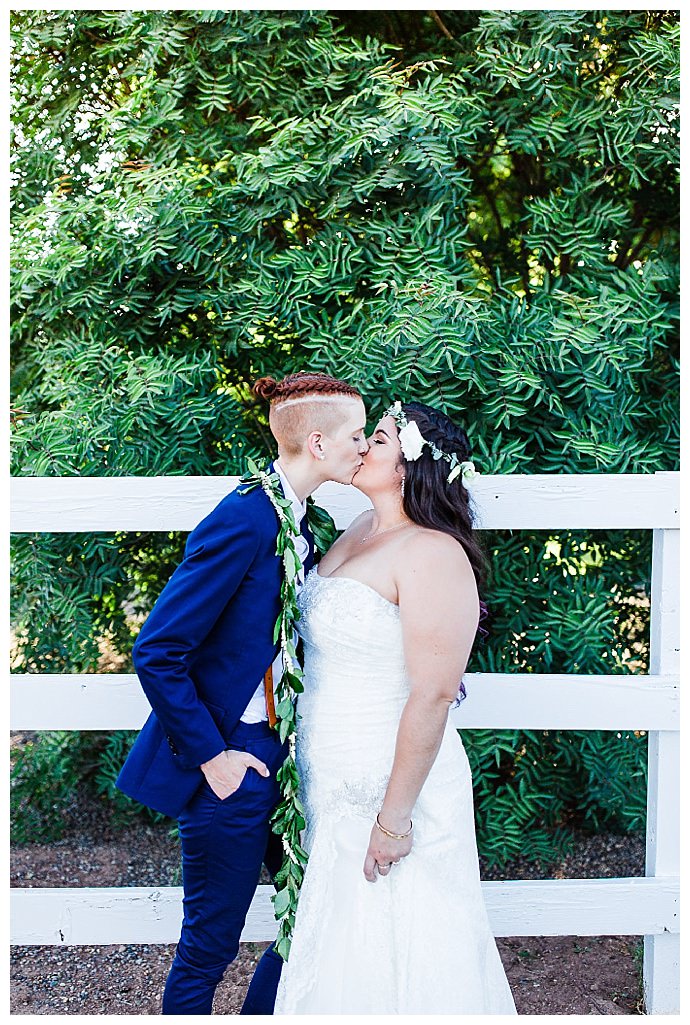 The Party
With the complete freedom to design a reception space that aligned with their vision, Pili and Sienna set up long farm tables on the lawn for guests and positioned the head table underneath an arbor crawling with vines. They strung Edison-style string lights across the yard and draped the tables in garlands of eucalyptus with tea lights sprinkled between place settings, and gold chargers and blush napkins added an elegant element to the design.
With such a large reception space, Pili and Sienna along with their families DIY'd lawn games for guests to play, such as life-size Jenga, cornhole, horseshoe and darts. And when it came time for dinner, they served up authentic New Mexican cuisine of green chile enchiladas with Spanish rice and beans. After dinner, guests hit the dance floor to a playlist the brides compiled themselves with the help of input from their attendees on the RSVP card. "From this, along with our own personal selection, our wedding playlist was born," Sienna says. The brides shared their first dance to Ella Fitzgerald's "Dream a Little Dream of Me." "As we danced, I sang the lyrics to Pili," Sienna says. "It is my favorite memory of our wedding night."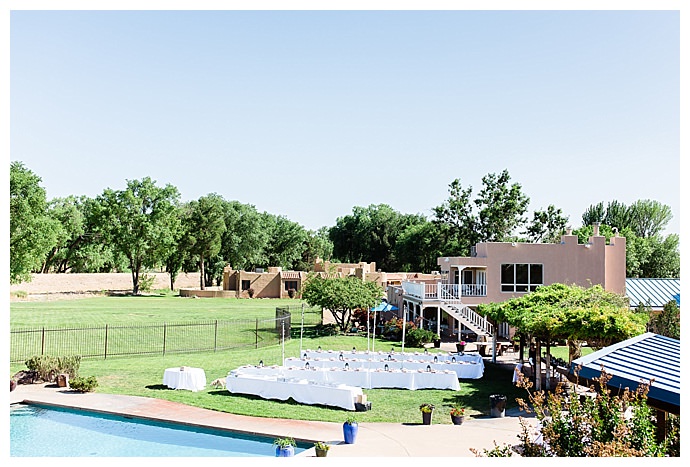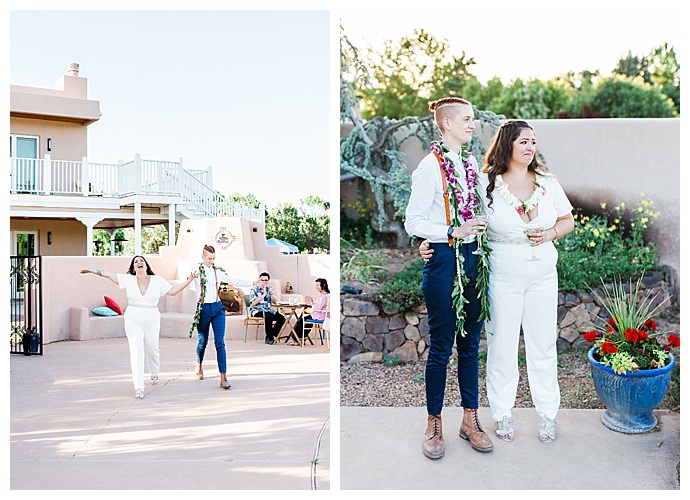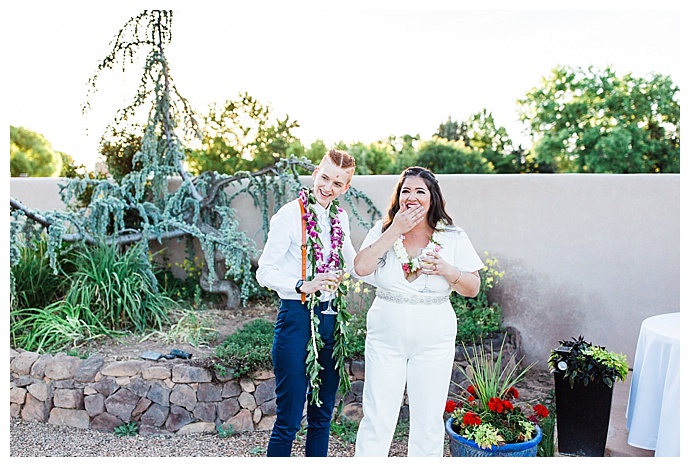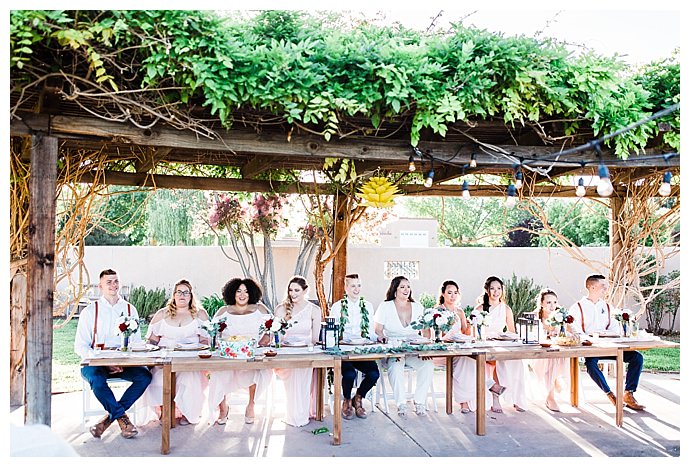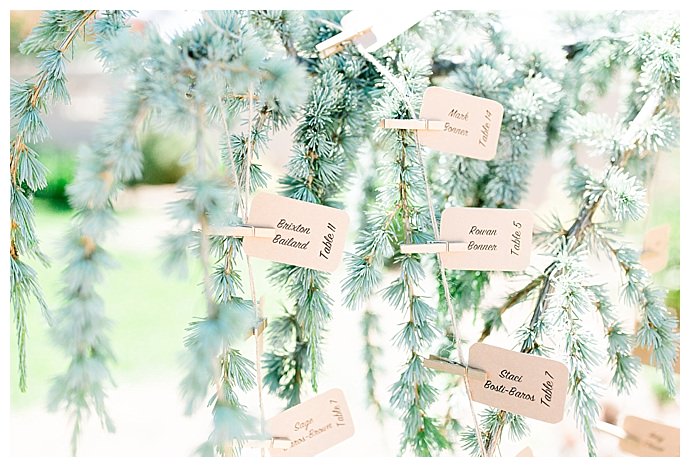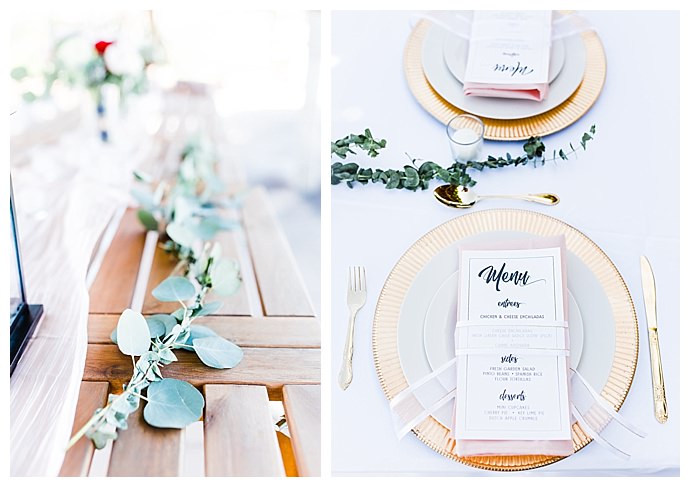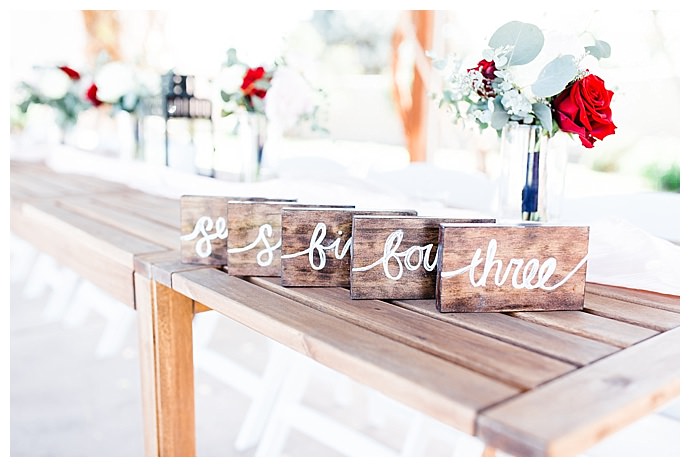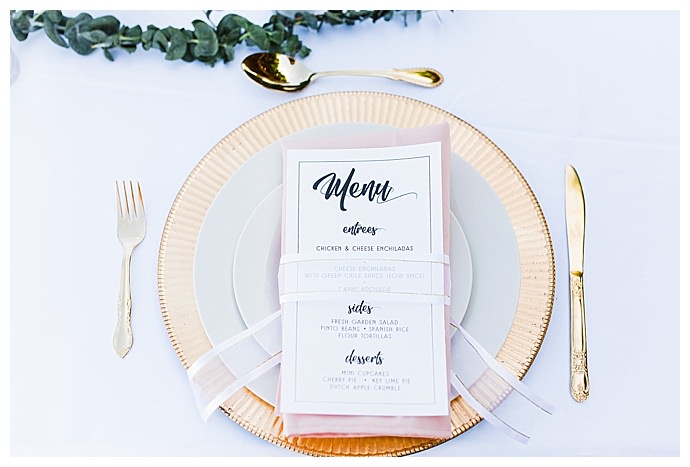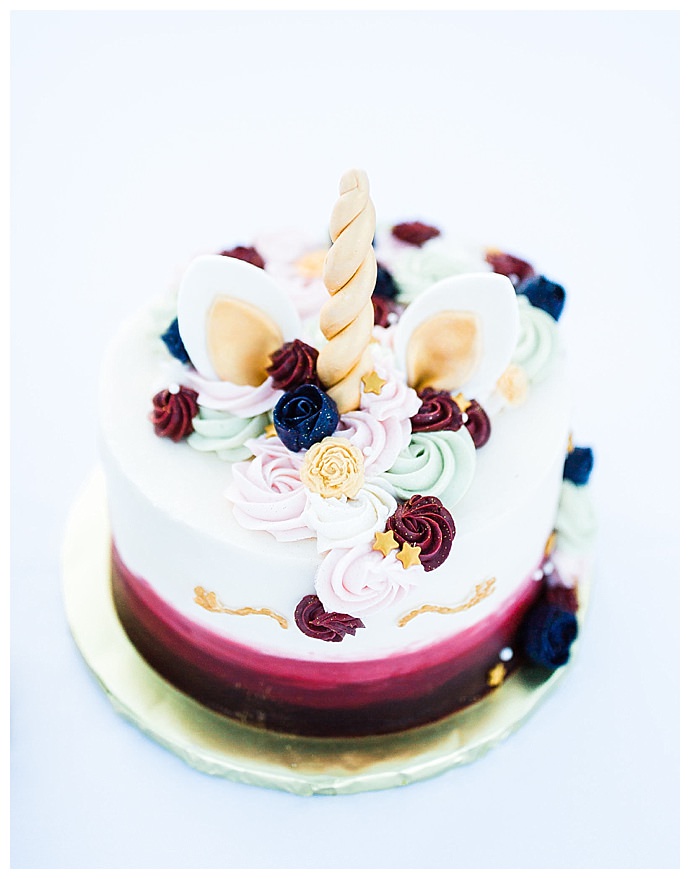 Memorable Moment
"It had to be during the late hours of our reception after the sun had gone down," Pili says. "Everyone was dancing and having a good time when all of a sudden the beat to 'Soulja Boy Tell 'Em' dropped. We whipped around to see Sienna's brother up on stage cranking it, drink in hand. Everyone lost it! We've never seen our friends break it down on the dance floor like the did in those next few minutes, dance battles included."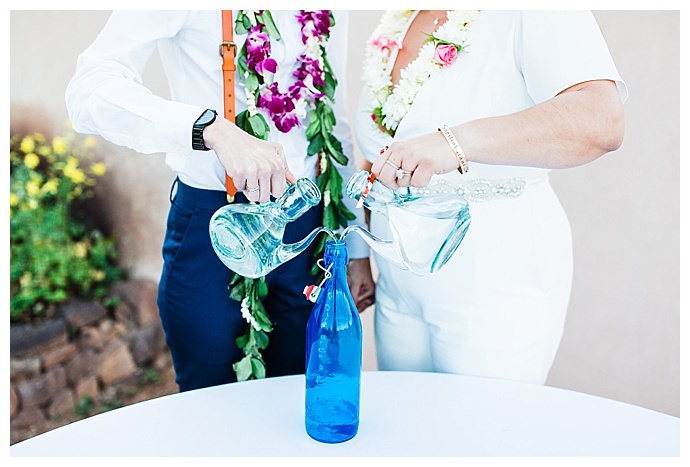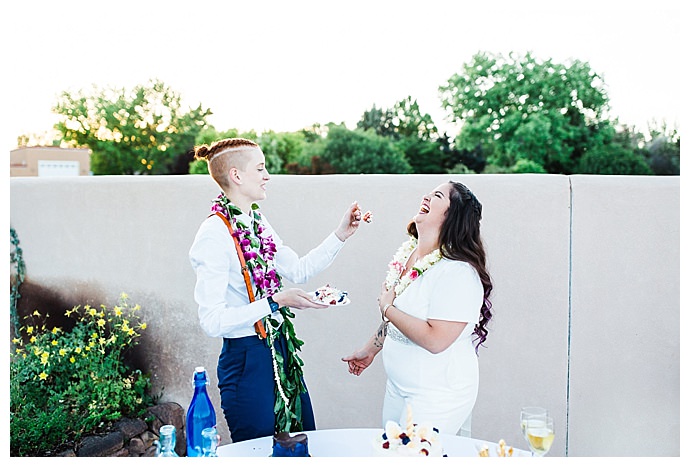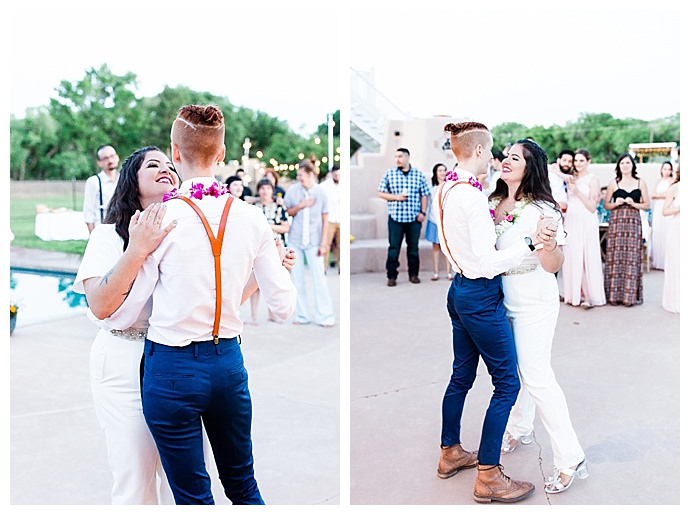 *Editor's Note: This post contains affiliate links. Each time you purchase an item via our affiliate links, Love Inc. is receiving a small percentage of the sale, thus you are helping our small, EQUALITY-MINDED™ business grow and allowing us to provide more content for YOU! Isn't that just fantastic?
Written by: