If you haven't noticed, the wedding industry is ripe with heteronormative terminology and traditions. Society has long been focused on a bride who is marrying a groom, and the verbiage reflects that. Yet, there are tuxes for women and flowers for men. It's not all one or the other. But it's been engrained into our brains for so long that you may not even realize you're using it. So I want to challenge you to start training your brain to use gender-neutral terms, and swap out these words for a more inclusive version during your wedding planning process: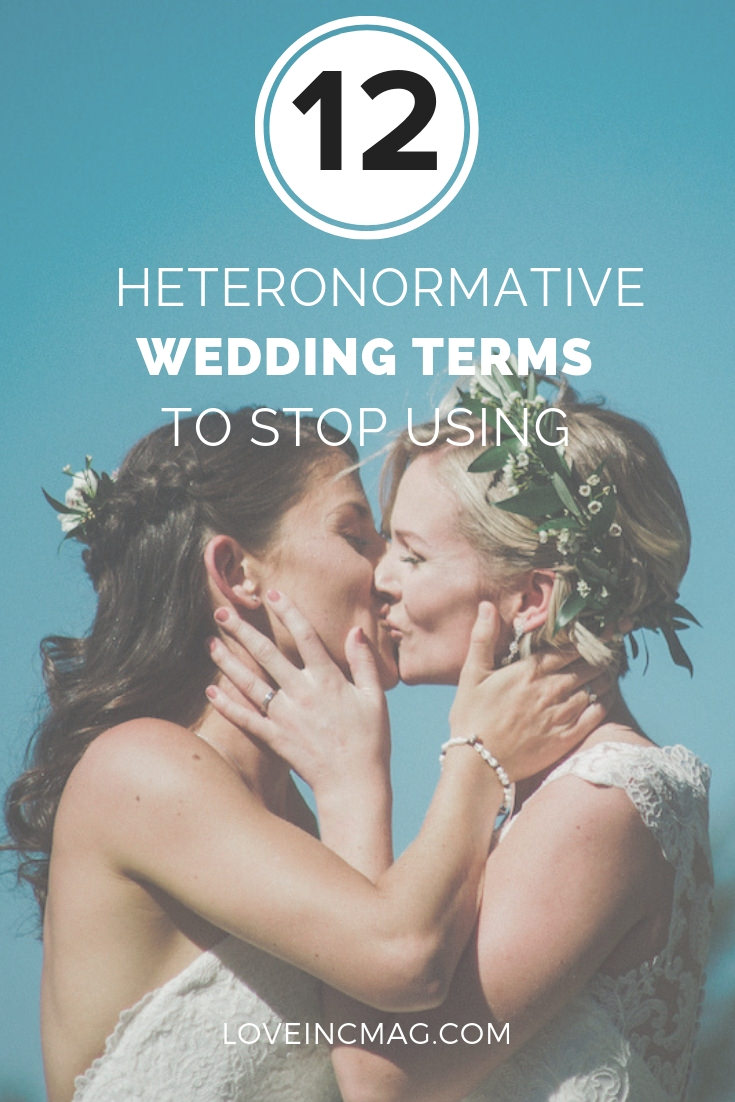 Fiancé/Fiancée: A lot of people think that "fiancé is gender-neutral, but let's tap back into our high school French class. When written out, one e is masculine and two is feminine. Modern Update: While you can certainly use whichever is applicable to your partner when talking about yourself, but when it comes to generally speaking, I like to write it out as fiancé/e so that it includes both the masculine and feminine versions. 
Bride/Groom: We're obviously not getting rid of these terms anytime soon, but if you're a wedding pro, it's so important to make sure to adapt your marketing language so that you're not talking to a bride, or a bride and groom. Sometimes there is no bride, sometimes there are two, sometimes neither person identifies as either a bride or a groom. Update your contact forms, your contracts, website copy, social media and all marketing materials. Modern Update: Use gender-neutral terms like spouse, partner, soonlyweds or nearlyweds
Bridal Show/Expo: Confession, I hate the average "bridal" show — there is usually so much heteronormativity in these things that it makes me rage. Luckily, there are some cool ones on the market, and they all have one thing in common: they're calling them wedding shows. Modern Update: Wedding Show or Wedding Exp
Father-Daughter Dance/Mother-Son Dance Tradition: We're seeing couples continue to incorporate these sweet dances into their reception, but they're no longer limiting themselves to gender or relationship. We've seen daughter-mother dances, father-son dances and even special dances with particularly close relatives such as grandparents and aunts/uncles. Modern Update: Simply call them Special Dances.
Bridal Suite: Many venues have a room for the wedding party to get ready in before they walk down the aisle, and many resorts offer special luxury accommodations for newlyweds, which are both often dubbed as the Bridal Suite (even if there are no brides). And it's super awkward when two grooms are doing a venue tour. Let's change that, k? Bonus: there's usually one large room and one smaller room for getting ready, traditionally with the larger room being for the bride because she has hair and makeup. If you're a venue and you really want to be equality-minded™, create two equally sized rooms with unisex designs. Modern Update: Prep Suite, Getting Ready Suite, Wedding Suite, Newlywed Suite, Honeymoon Suite  
Groom's Cake: The traditionally smaller, often less formal cake served is called the groom's cake. With more couples planning their wedding together, this tradition is becoming less necessary, though I'm certainly are all for the idea of more cake. Modern Update: No need to label, just have a second cake if your heart (and taste buds) desire!    
Bridemaid/Groomsman/Maid of Honor/Best Man: Long gone are the days of girls on one side, boys on the other. Today's couples, both LGBTQ+ and hetero, are having mixed genders stand by their side on their day. Don't feel limited by the binary titles, and allow yourself to pick verbiage that suits your style. Modern Update: Person of Honor, Attendant
Bridal Party: Just as the traditional titles for your VIPs are gender driven, so is the group name itself. We've seen couples use this name refresh as an opportunity to insert a splash of personality, with labels such as "squad" or "crew." Modern Update: Wedding Party, Wedding Squad
Bachelorette/Bachelor Party: Whether you're hitting the Las Vegas Strip or relaxing in wine country, most couples (and their friends) can agree that this prewedding party is a rite of passage. However, we're seeing more couples participate in coed events, sometimes even with each other. Modern Update: Drop the gender-specific suffix and just leave it as Bach Party.
Bridal Shower: Are you starting to see a "bridal" trend here? You can basically switch out "bridal" with "wedding" and make a term gender-neutral. The shower is another prewedding event that's slowly evolving to be more of an opportunity to celebrate the couple—no matter the genders—whether done for the couple together or separate showers for the individuals. Modern Update: Couple's Shower, Wedding Shower
Menswear: In the past, menswear was referred to suits and men's style in general. But, of course, not everyone who wears a suit identifies as male. Suit style has evolved tremendously in the last few years within the wedding space, and ranges across the spectrum of masculine to femme styles. Modern Update: Suit Style, Formalwear
Bridal Portraits: This Southern tradition is a portrait session with the photographer, typically done a few weeks before your wedding, in which the bride gets dolled up in full wedding hair/makeup/attire for a formal photo shoot that is then displayed at the wedding. Of course, today's version can be for either to-be-wed, and you can even do them together to save more time for cocktail hour on the day of. Modern Update: Formal Portraits, Pre-Wedding Portraits