Weddings are all about grand displays of celebration. And we're always keeping our eyes peeled for unique ways for soonlyweds to wow their guests that will ensure their day is one-of-a-kind. But when certain rituals are bad for the environment, such as a balloon release or confetti toss, that doesn't mean you have to eliminate the trend altogether. As more and more soonlyweds look to incorporate environmentally friendly elements into their ceremony and reception, there are now better options for everything from stationery (see Paperless Post!) and sustainable wedding venues to ceremony exit and send off ideas.
Balloons are the ultimate celebration tool, and they're often used for epic balloon releases after the ceremony or during a reception, but the latex, ribbons and plastic ties are also terrible for the environment — so much so that several states have laws against the release of balloons, especially multiple balloons, for ceremonial purposes. So today we're looking at five environmentally friendly balloon release alternatives so you can still have the awe-inspiring moment without the harm to the environment!
Ribbon Wands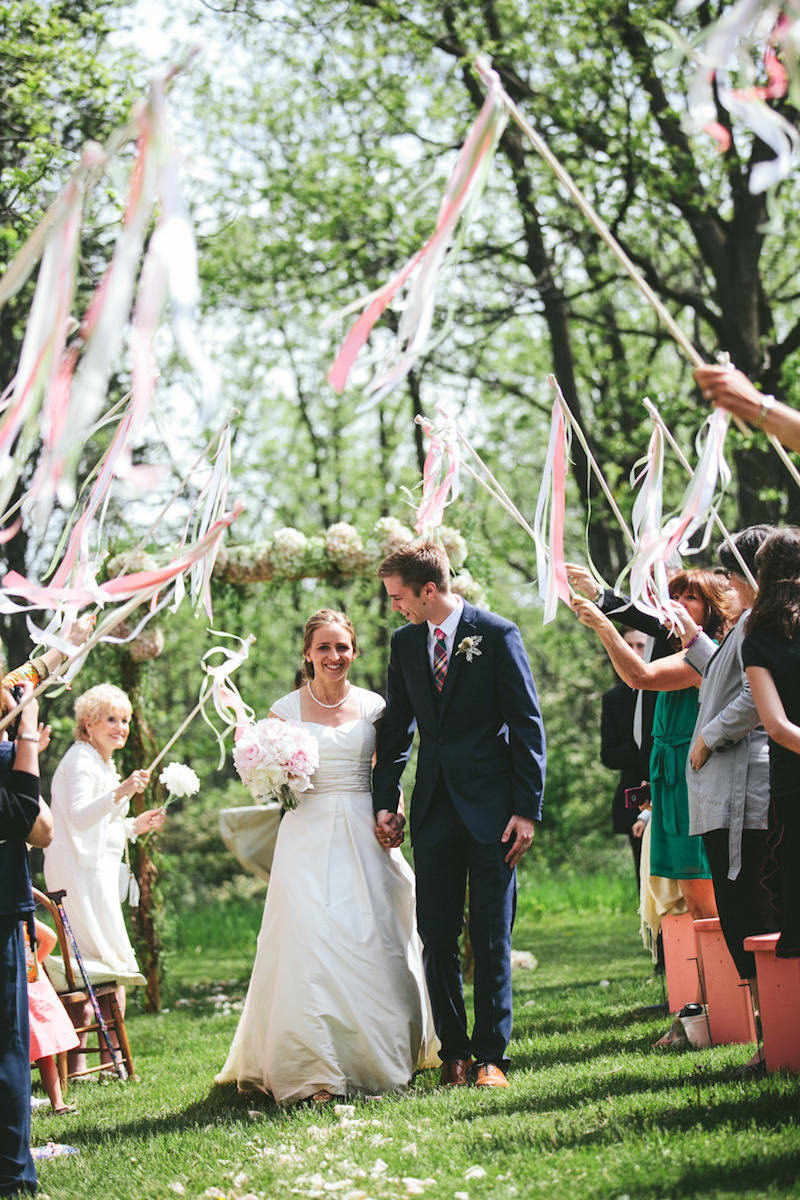 There's something whimsical and ceremonious about waving ribbons through the air, and we think they're the perfect alternative to balloons! Guests will love showering you in colorful ribbons as you recess back up the aisle, as you share your first dance or as you make a grand exit when the night comes to an end. If you're looking for something to DIY, these are super easy to make, or you could snag an assortment off Etsy that matches your color palette! | photo by Woodnote Photography | via Style Me Pretty
Smile Clouds
This has to be one of our favorite ideas yet. Using an environmentally friendly concoction of soap fluid, water and helium, the creators of Smile Clouds USA have found a way to send custom-shaped foamy bubble clouds through the air that can float for miles, and we can't think of a better time to use these one-of-a-kind clouds than at a reception! Looking for a unique way to display your wedding hashtag? Turn it into a cloud! Now that's something you won't find on Pinterest.
Noise Makers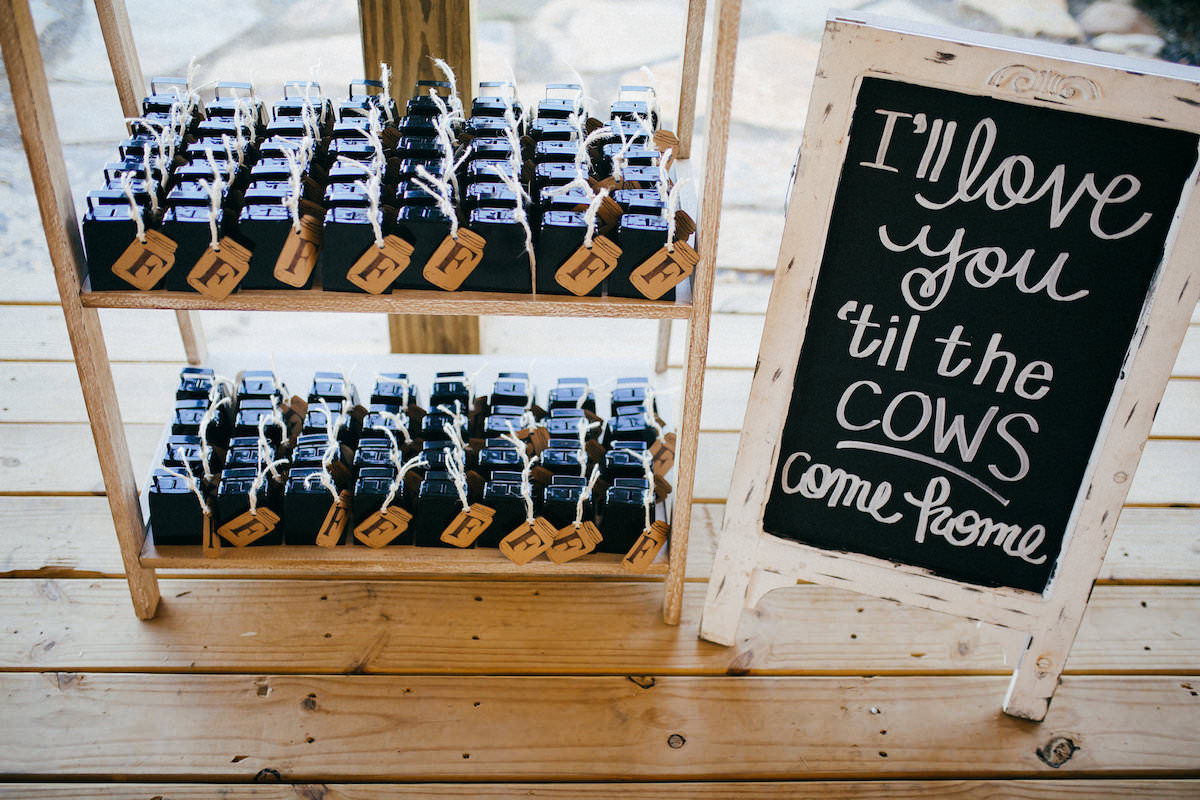 When it's time for the first kiss, arm your guests with something noisy and fun to accompany their cheers for an epic end to the ceremony! We love the idea of personalized kazoos, party horns or, in the case of this farm wedding, cow bells! | photo by Amber Lowe Photo | via The Bride Link
Biodegradable Lanterns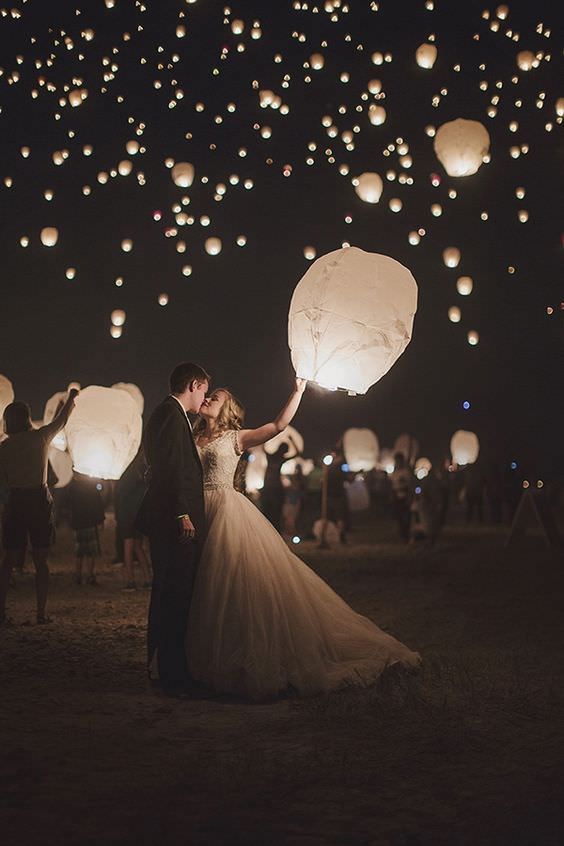 Create your own magical "Tangled" moment without causing any harm to the environment with sky lanterns that are biodegradable. There's nothing quite as romantic as ending the night under a dark sky illuminated with floating lights, and we know your guests will love participating in this unique send-off. This wire-free design is crafted out of bamboo and is 100 percent biodegradable, so all you have to do is make a wish and admire the view with your guests to cap off a great day! | photo by Beyond the Darkroom Photography | via Swooned Magazine
Bubbles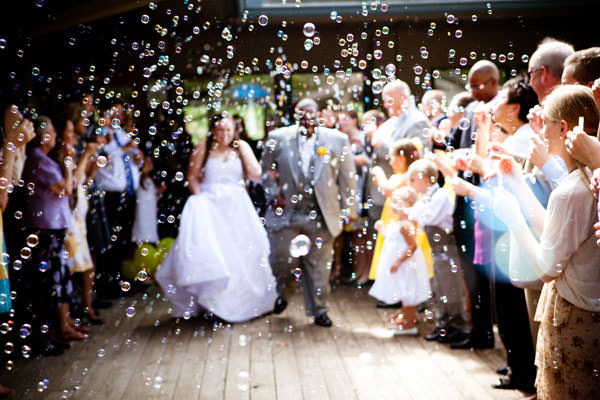 Who doesn't love playing with bubbles? Have your guests blow you bubble-filled kisses for a sweet ceremony exit or keep them on-hand for a magical moment during the reception. Bubbles will keep your younger guests entertained and also double as a great wedding favor! Check out some of our favorite wedding bubble options from Etsy! | via Bridal Guide
*Editor's Note: This post contains affiliate links. Each time you purchase an item via our affiliate links, Love Inc. is receiving a small percentage of the sale, thus you are helping our small, equality-minded business grow and allowing us to provide more content for YOU! Isn't that just fantastic?