Harry Potter holds a special place for many in the queer community (regardless of J.K. Rowling's hate). Celebrate your wedding with magical touches inspired by Harry Potter, infusing magic into your special day.
The Harry Potter universe has had a profound impact on the queer and trans community. The wizarding world is populated by characters who are often marginalized and misunderstood, who come to find acceptance, power, and joy. Trans, queer, and non-binary kids have seen themselves reflected in werewolves, wizards, half-giants, and other characters who battle forces steeped in prejudice, and along the way come to find belonging and love. Beyond book pages and movie theaters, the community of fans surrounding the series has offered true connection and safe spaces that exist independent of the author or Universal Studios.
To simply call J.K. Rowling's hateful anti-trans remarks merely "troubling," or "controversial" is dismissive of the very real harm she perpetuates. Love Inc. staunchly supports the trans community, and we vehemently condemn Rowling's comments and actions.
The betrayal and hurt caused by Rowling is deep and real. We respect and support the need for many to fully turn away from the Harry Potter franchise. We also understand that others may choose to reclaim the joy of the series from the hate of its creator.
This is your wedding. You deserve to honor it with personality, joy, and magic that reflects you, your love story, and your community. If incorporating inspiration from the wizarding world on your terms is important to you, we want to help.
Purchasing from local artists and makers, or crafting your own décor or special touches is a great way to celebrate without contributing to Rowling's bottom line. You don't even need to directly reference the series, there are so many simple touches that serve as small IYKYK elements.
Whether you want to go full Yule Ball, or simply conjure a few Flourish & Blotts, here are some of our favorite ways to infuse magic into your wedding and charm your guests.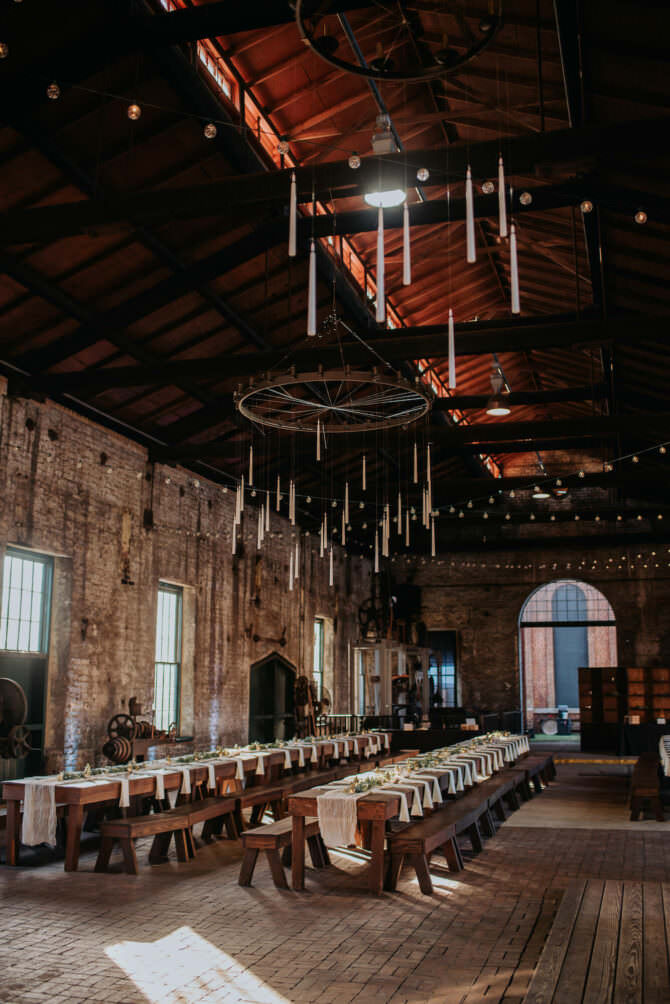 HOUSE TABLES: No need to assign Slytherins or Hufflepuffs (we love that idea, too!), but long tables, plus a head table for the wedding party, is a dramatic and beautiful seating style for your guests. Further enhance the Great Hall experience by serving a variety of food family style, use gold chargers under your dishes, and don't be shy about candelabras. | Photo by Colleen Elise Photography from Amy and Ashley's Railroad Museum
MAGICAL FLEURS: Flowers are mentioned frequently throughout the series, and feature prominently in the names of some of the best characters. When selecting your wedding flowers, consider some of the namesakes in the book—lupines, lilies, poppies. Or look up some of the best potions ingredients like asphodel, wormwood or monkshood.
MAGIC WORDS: The Harry Potter Books are full of options for readings, to weave into the ceremony, or print in programs. Some favorites include:
"You are protected, in short, by your ability to love."
Harry Potter and the Half Blood Prince
"It matters not what someone is born, but it's what they grow up to be."
Harry Potter and the Goblet of Fire
"There are some things you can't share without ending up liking each other."
Harry Potter and the Sorcerer's Stone
"To have been loved so deeply, even though the person we love is gone, will give us some protection forever."
Harry Potter and the Sorcerer's Stone
"Differences of habit and language are nothing at all if our aims are identical and our hearts are open."
Harry Potter and the Goblet of Fire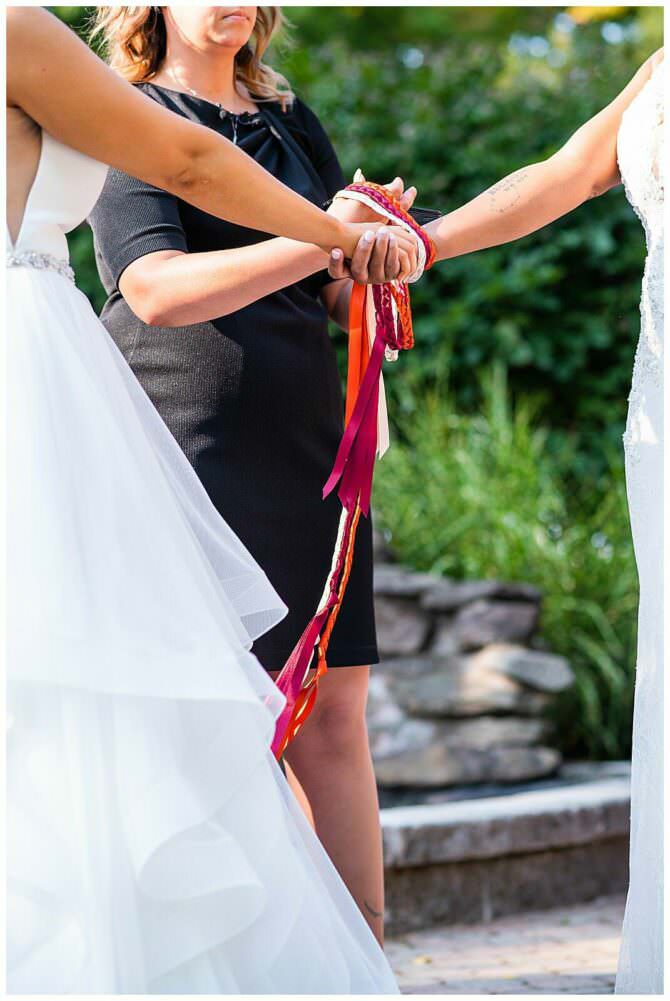 MAKING YOUR UNBREAKABLE VOW: Bill and Fleur's wedding may have been interrupted by some uninvited guests, but it gave us a glimpse into some lovely traditions for sharing vows.
The officiant can begin with "we are gathered here today to celebrate the union of two faithful souls." When you exchange your vows, hold hands and make three promises to each other. Ask the officiant to wrap them three times in a ribbon or long fabric, symbolizing the unbreakable vows you are making to each other. | Photo by Jodi Hutton from Melissa and Kimberly's Harry Potter Cleveland Wedding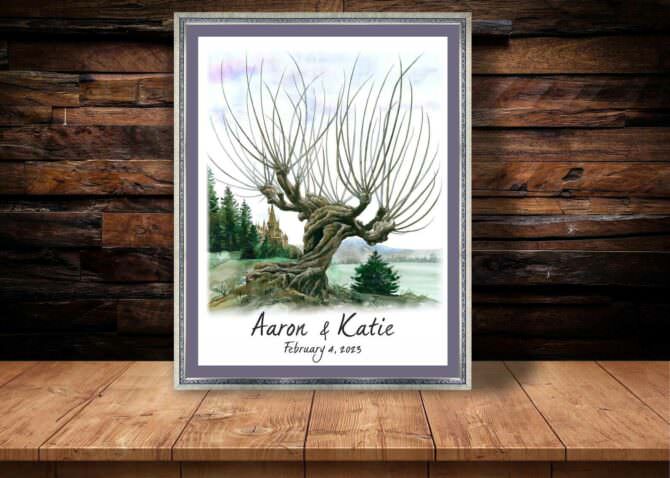 BEWITCHING GUESTBOOK: We love these guest books to hang on the walls of your own Burrow to remember all the muggles and magical folks in attendance. We also love the look of this Whomping Willow art for guests to sign.
OGDEN'S OLD FIREWHISKEY: Although Butterbeer is a staple at the Three Broomsticks, it may be a bit too sweet and too heavy for a signature drink at your wedding. Instead, try keeping some of Hagrid's favorite Odgen's Old Firewhiskey on hand at the bar. The internet is full of recipes, but we like this one from Follow the Butterflies. Don't forget the signature cocktail signage!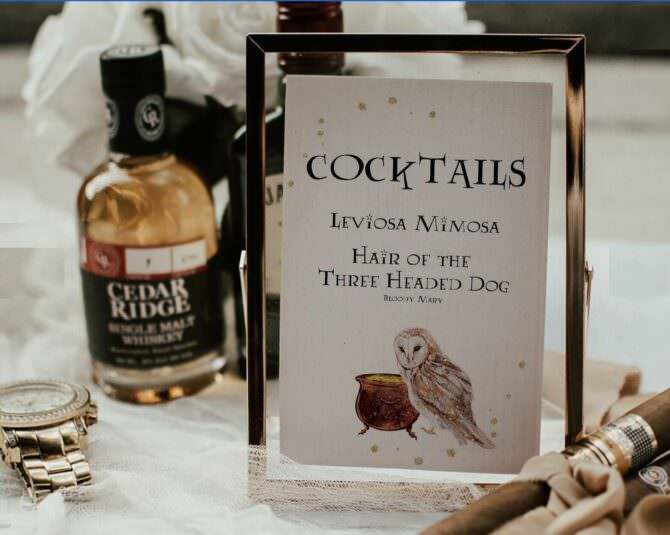 AMORTENTIA POTION: You don't need a N.E.W.T in Potions to cast a spell with Amortentia Potion, another delicious option for your signature drink. Recipes range from sweet, to sparkling, to smoking thanks to dry ice (be sure to get a professionals help if you go the dry ice route as it can be dangerous).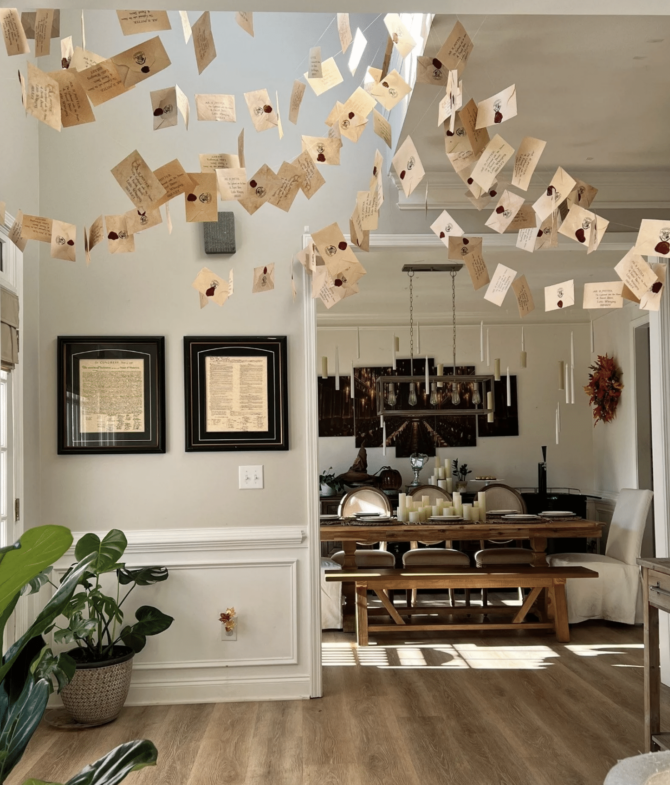 OWL POST: There's no doubt floating candles set a dramatic tone in any Great Hall, but there's something so lovely and fun about these floating letters. Hang them over the bar, create a beautiful archway for the ceremony, or use as a photo backdrop. Add your own love notes, or thank you notes for guests to create a personal touch.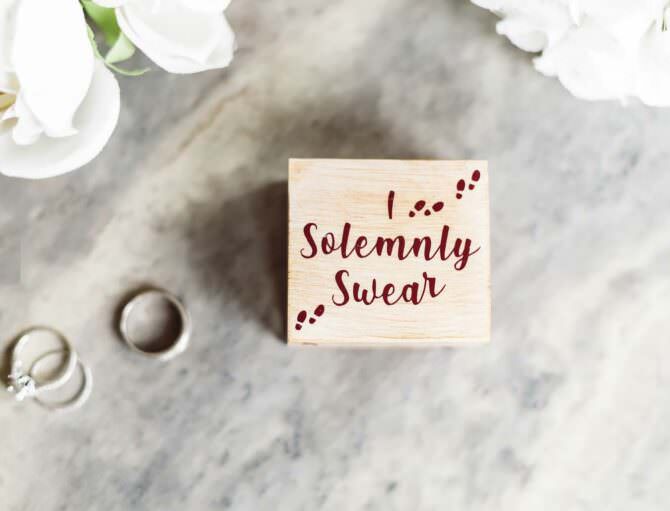 SOLEMNLY SWEAR: Let's face it, the Marauders had the best swag, including this fantastic keepsake box for your rings. We also love this golden snitch ring box.
SUN COLORS FOR LUCK: Luna Lovegood's entire vibe is perfection, especially when it comes to radical acceptance. In her honor, consider bright and lively hues for your color palette. When she attends a wedding she and her father dress in "sun colors for luck." Many Potter events feature dark colors to enhance mystery, but we like Luna's cheerful yellows, oranges, and pinks for a vibrant, happy event.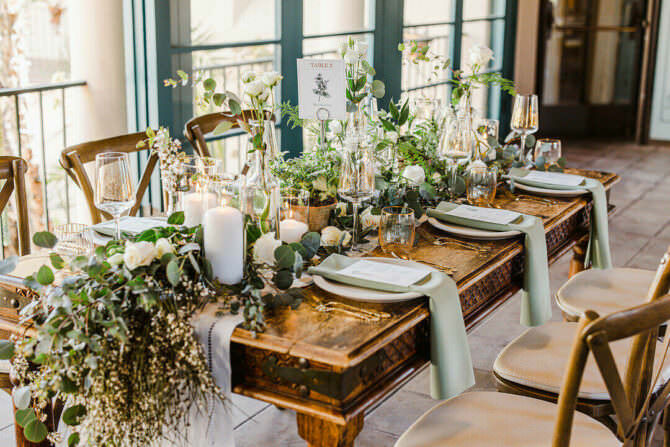 TEN POINTS FOR HUFFLEPUFF: Professor Sprout would definitely approve of the romantic, natural look of this Herbology-inspired table. The options are endless for using fresh herbs, vintage bottles, and other earthy touches. | Photo by Jenny Thai Photography spotted on San Diego Weddings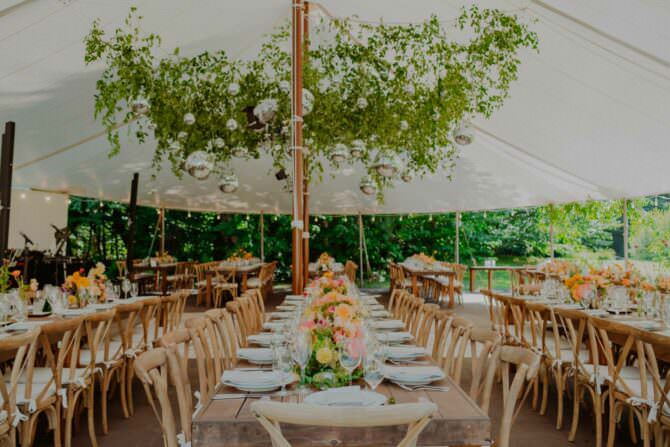 BILL AND FLEUR'S OUTDOOR DREAM: The sweeping drama of the Great Hall is always an impressive setting, but the romantic white tent Bill and Fleur chose at their Burrow wedding is bright and lovely. Use whites, and golds, as your base and accentuate with glittery flourishes. | Photo via Jove Meyer Events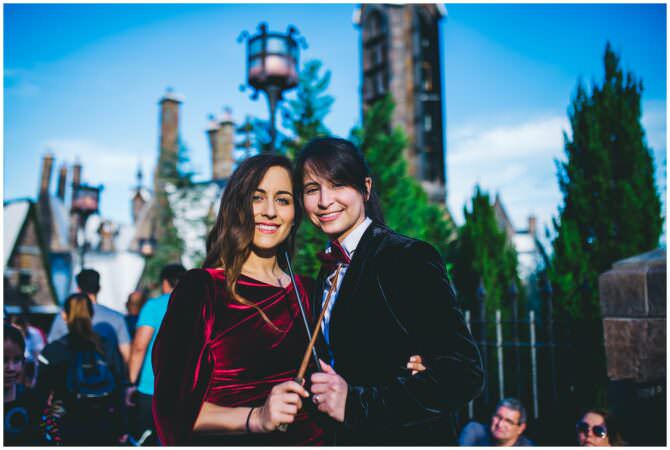 VENTURE INTO THE FORBIDDEN FOREST: Maybe Muggles can't see Hogwarts Castle, but you can still find plenty of locations for engagement and wedding photos inspired by the series. The Forbidden Forrest might be full of dangerous creatures, but you can evoke the excitement of an adventure with Hagrid by venturing out for some beautiful wedding or engagement photos! Local scenic railroads can serve as your Hogwarts Express and a beautiful backdrop. | Photo by Rudy & Marty Photography from Heather and Ellen's Wizarding World Engagement Session
ANYTHING OFF THE TROLLEY, DEARS?: Serve up sweet treats at the reception on a lovely trolley, like you'd find on the Hogwarts Express! Options for this are endless, from a retrofitted bar cart, to a full-scale Honeydukes dupe. Fill it up with Bertie Botts Every Flavor Beans, Fizzing Whizbees, and of course Dumbledore's favorite lemon drops. Or, get crafty and make your own Chocolate Frogs, or Golden Snitches.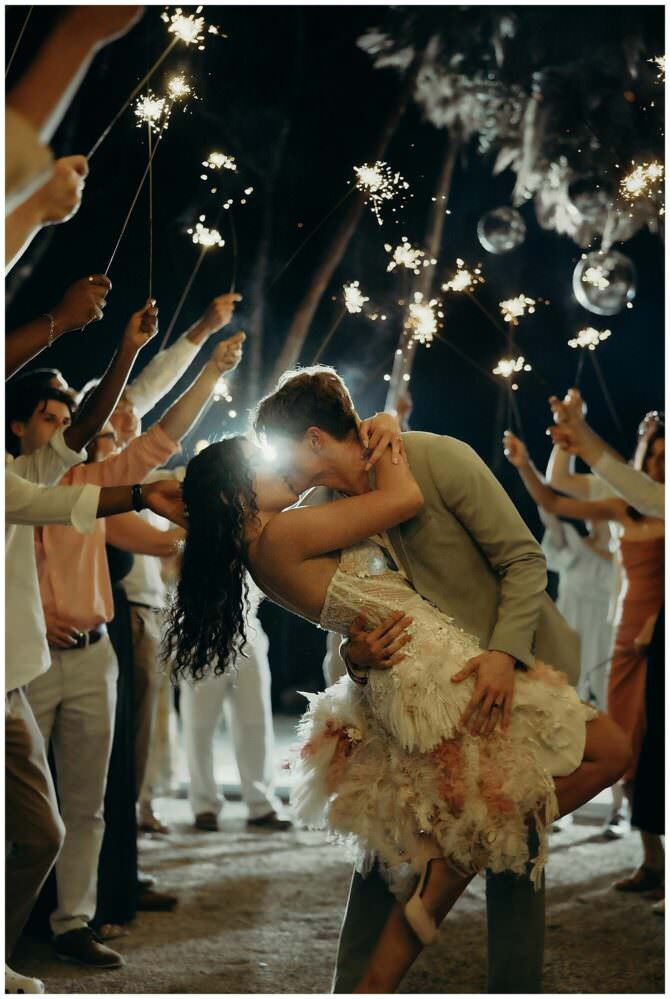 LUMOS!: Sparklers make for great fun as you exit the wedding to "step into the night an pursue that flighty temptress, adventure!" These Lumos matchbooks are an adorable extra for some added sparkle. | Photo by Andre Gouin Photography from Lewis and Andrea's Tulum Destination Wedding
MALFOY MANOR: Slytherin may not be the most beloved House in the series, but there's no doubt emerald and silver make a great color palette for wedding inspo Follow your ambition and plan a truly dramatic reception.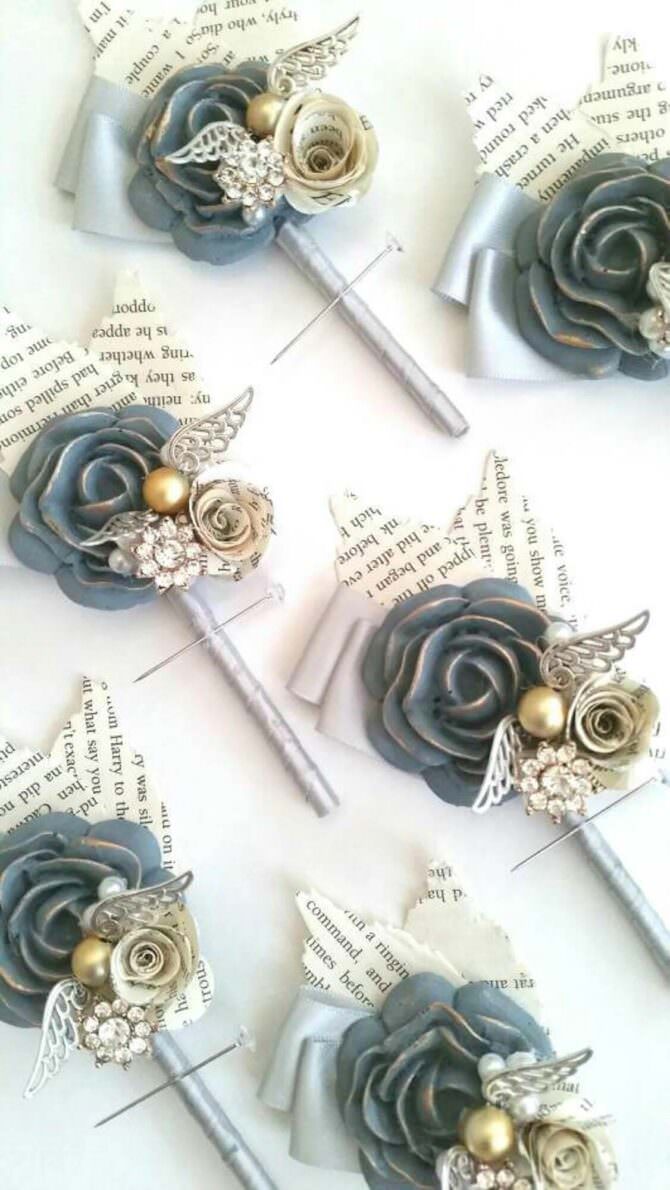 EVERLASTING FLORALS: Fresh flowers are stunning, but for some HP magic, we love the idea of paper art for some of your arrangements. These amazing boutonnieres are enough to make even Gilderoy Lockhart do a double take! Available for any House, they are great accessories as well as keepsakes. This Etsy shop also features romantic and beautiful bouquets made from book pages, buttons, pins, and more.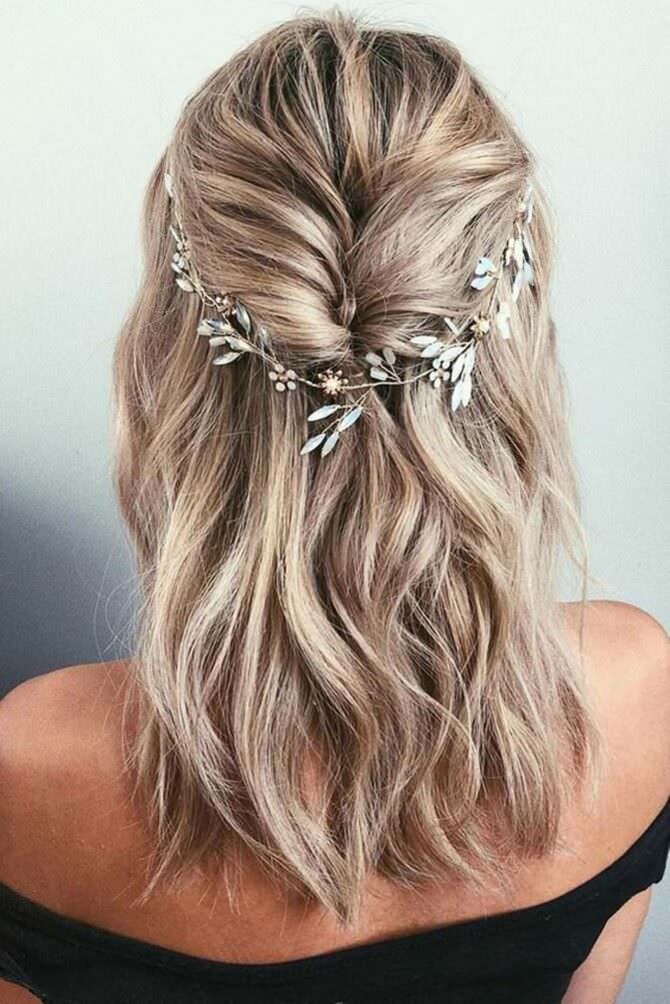 WIT BEYOND MEASURE: Let your something blue be inspired by the lost diadem of Ravenclaw with this lovely, simple blue opal head piece.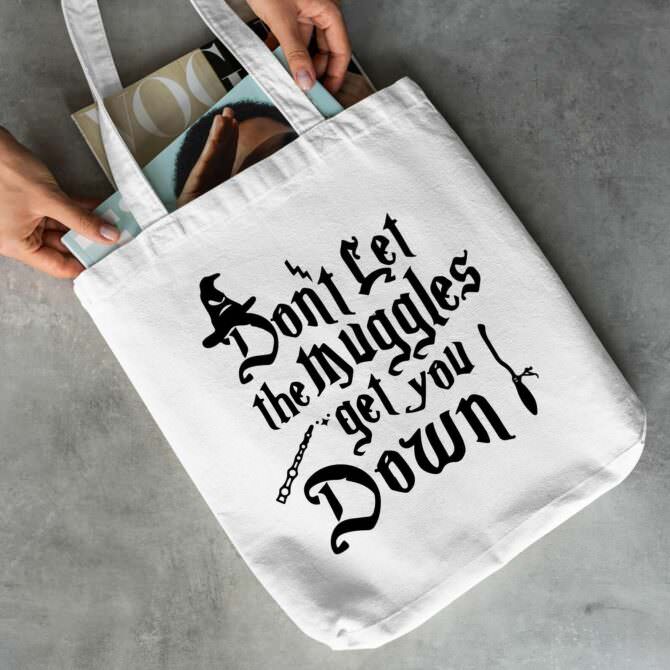 Don't Let the Muggles Get You Down: Great advice for us all, and this bag makes a great gift for your wedding party to keep track of all their things on the day of (no Remembrall required!) or even as a welcome bag for your guests.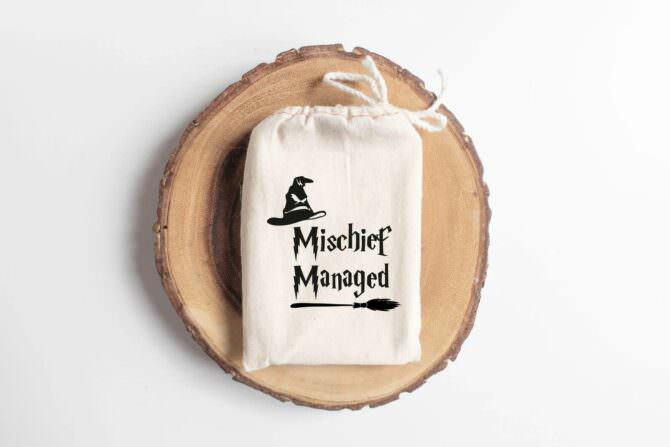 HAIR OF THE THREE-HEADED DOG: We love these cute bags for guest favors to make their morning after a little easier. Fill them with aspirin, Alka Seltzer tablets, gum, or anything to shake off the Dark Arts from the night before!
DUMBLEDORE'S ARMY, STILL RECRUITING: Who needs a wedding party when you have Dumbledore's Army? Potter-related jewelry adds a subtle sparkle to your head table. We like these bangles, cufflinks, tie clip, and minimalist earrings.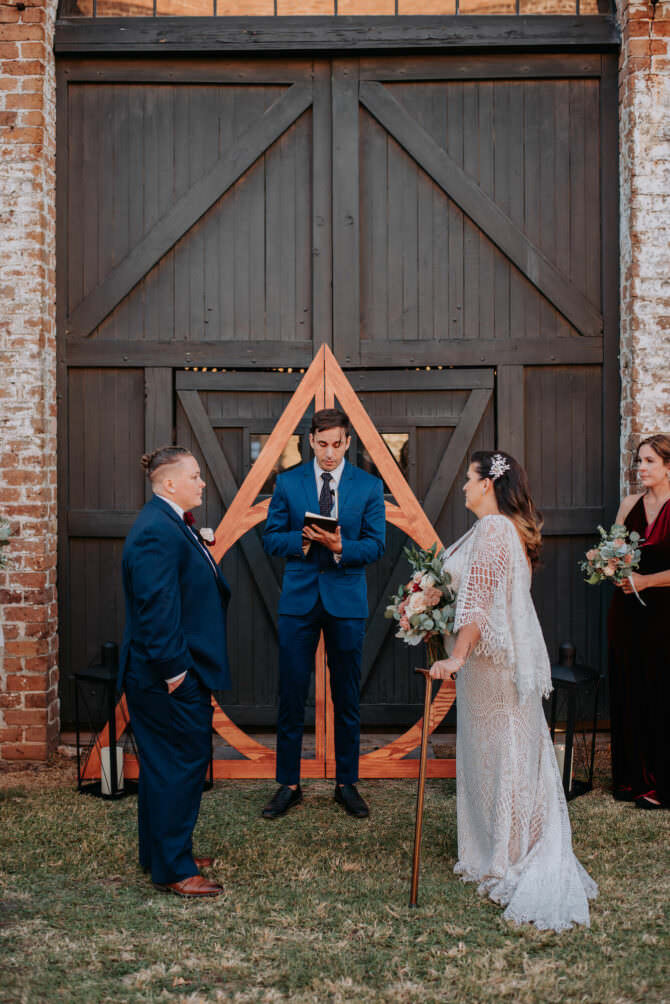 DEATHLY HALLOW WEDDING ARCH: The sign of the Hallows make for a lovely backdrop for your ceremony. The geometric symbol stands for searchers and believers and can make for a stunning geometric addition to your ceremony. Photo by Colleen Elise Photography from Amy and Ashley's Railroad Museum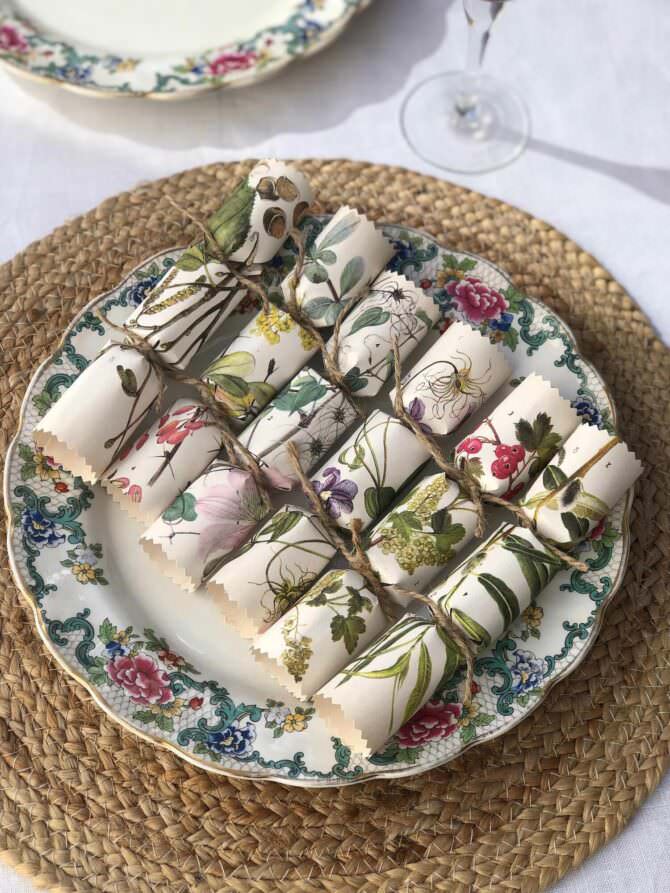 CELEBRATE WITH A BANG: Making traditional crackers are a great favor you can fill with a customized trinket for each guest! While yours may not hold a full set of wizard's chess or live mice, you can stuff them with small bottles of potion (booze), Bertie Botts Every Flavor Beans (any candy you like), or other small treasures. Make your own from scratch, or order custom crackers.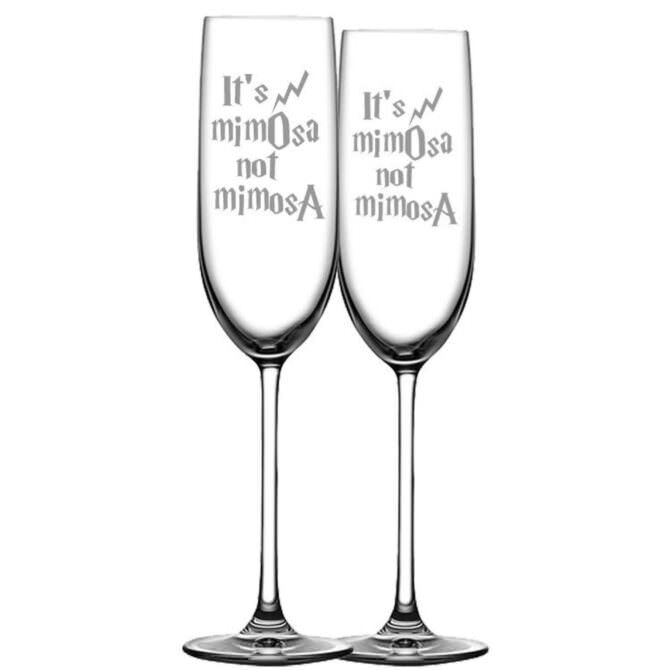 A TOAST TO HERMIONE: If you plan to drink mimosas while you get ready to walk down the aisle, be sure to get your pronunciation right! These toasting glasses are perfect to start your day off right! We also like these for the Quidditch couple!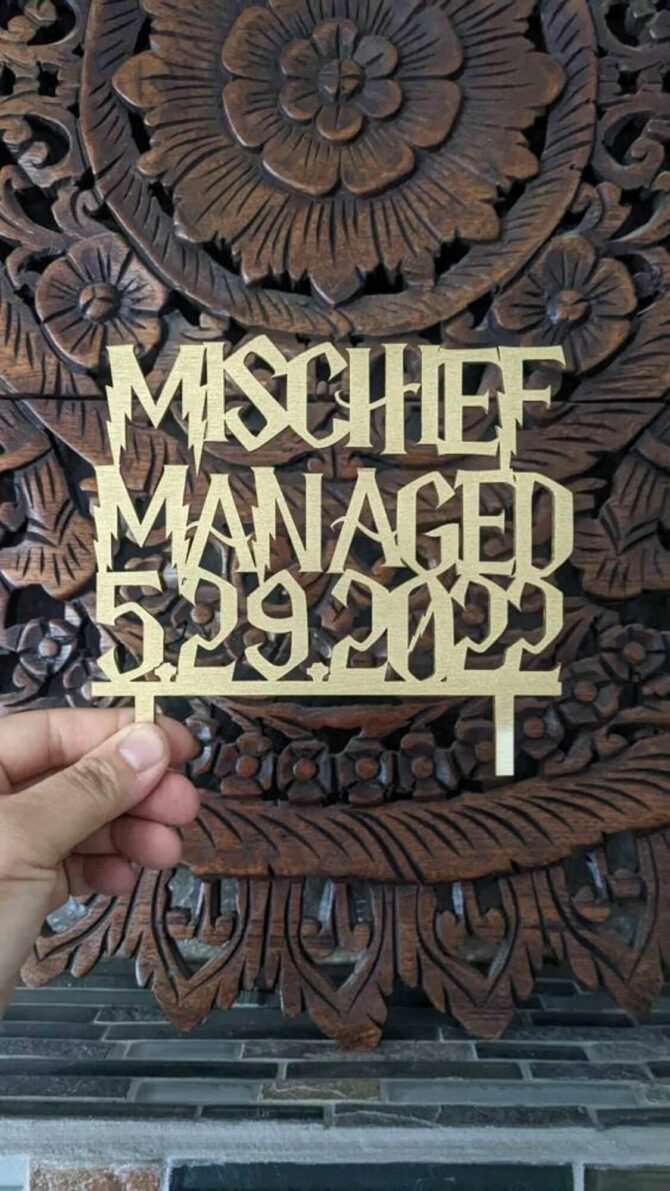 MISCHIEF MANAGED: There's no shortage of romantic, meaningful cake toppers, but this Mischief Managed option is absolutely one of the most fun. You can also go big with this Hogwarts-inspired topper. And while you're enjoying the cake, why not eat it with a hand-stamped set of spell-casting silverware?
WANT MORE? CHECK OUT MORE EVENTS WITH HARRY POTTER DETAILS
Amy and Ashley's Harry Potter-Themed Wedding at a Railroad Museum Transports Us to Hogwarts
Lauren and Nathan's Handmade Wedding with Native American Traditions and Harry Potter Details
Harry Potter Details Made Melissa and Kimberly's Free Wedding Even More Magical
Heather and Ellen's Magical Wizarding World of Harry Potter Engagement Shoot
Basil and Courtney's Harry Potter-Themed Engagement Shoot
Heather and Ellen Channeled A Disney Princess and Prince Charming for Their Wedding Day
Beatrix and Shana's Harry Potter Pregnancy Announcement Wins the Internet
Wesley's Colorful Harry Potter-Themed Birthday Party
Hayden and Andy's At-Home Newborn Session in a Harry Potter-Themed Nursery
Written by Erin Sernoffsky | Cover Photo by Rudy & Marty Photography from Heather and Ellen's Wizarding World Engagement Session