Discover unique ways to incorporate your Pride into your wedding fashion and accessories. From rainbow gemstones to personalized engravings and pronoun pins, celebrate Pride with style.
Happy Pride Month everyone! As we kick off a month of celebrating our community (even though we celebrate it year-round!), we're spotlighting special ways to incorporate pride into your wedding fashion. As well as splashes of each individual style, your wedding should be a reflection of your relationship. From your shared values to your individual interests, this is a day where you can let who you are shine through! 
If you and/or your partner is a member of the LGBTQ+ community, make your mark and show your pride with jewelry that expresses your love. (Or just buy some to show your Pride year-round!)
WITH GEMSTONES
While a singular rainbow gemstone doesn't exist (if only!), you can achieve a beautiful and unique look by incorporating small gems in the color of the rainbow or your chosen flag. Add them to either side of a central gem or diamond on your ring, or create an entire band out of small gems.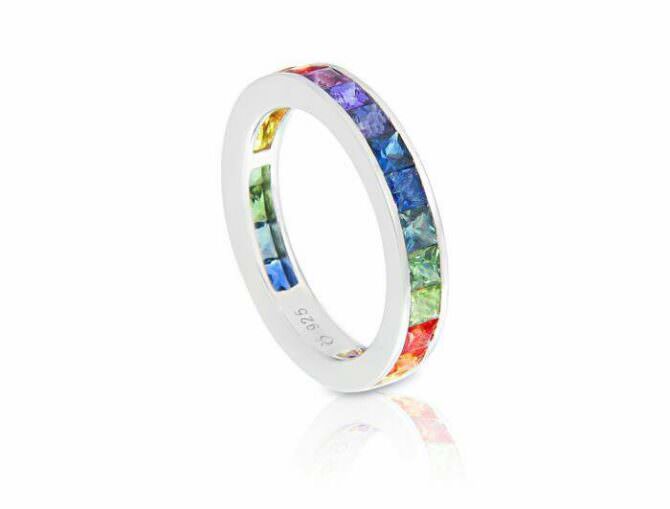 This beautiful ring from Equalli incorporates a set of gorgeous rainbow sapphires around a sterling silver band. New York Ring by Equalli, $800
This tie bar is a beautiful example of the rainbow flag incorporated into a piece of wedding jewelry. Crafted from brass and plated in silver, it's a subtle yet suave addition to your tie. Rainbow Tie Bar, Etsy, $15.97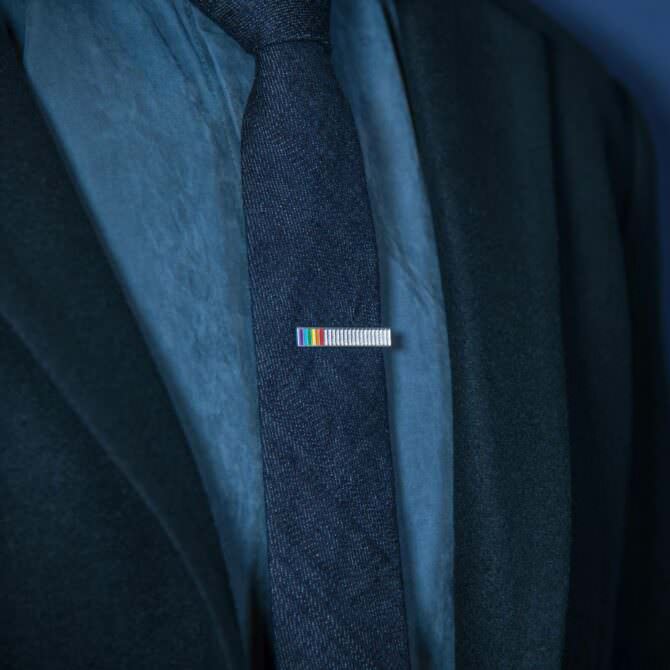 This tie bar is a beautiful example of the rainbow flag incorporated into a piece of wedding jewelry. Crafted from brass and plated in silver, it's a subtle yet suave addition to your tie. Rainbow Tie Bar from Etsy, $15.97
WITH SPECIAL ENGRAVINGS
Not everyone vibes with jewelry that's as much of a statement as colored gemstones. If you and your soon-to-be spouse are a little more low-key, you can still celebrate Pride via your accessories in other ways. We love the idea of choosing antique jewelry as a sustainable option with plenty of character, and making your pieces your own with a matching engraving.
Choose something that's close to both of your hearts, whether it be a Pride quote, a simple rainbow, or a personal saying that expresses your love for being part of the LGBTQ+ community. For a little dash of inspiration, we think engraving love is love onto a wedding day piece would be a beautiful idea.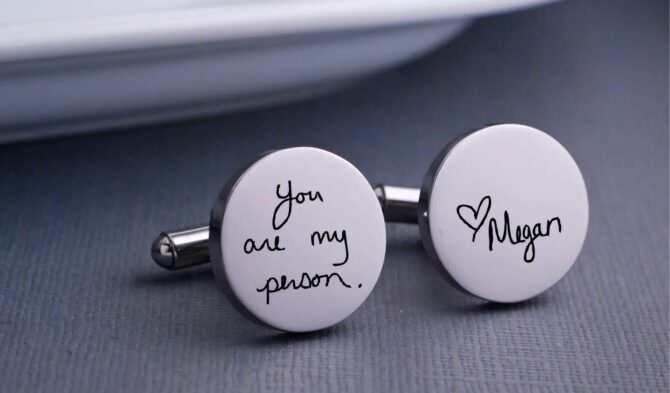 These gorgeous cufflinks made a personal piece, with the option to handwrite your engraving for a completely unique set. With a range of metal options, tailor your cufflinks to suit your style. Personalized Cufflinks from Etsy, $68+
WITH PRONOUNS
LGBTQ+ jewelry is finally getting the attention it deserves, and there's a growing number of his & his, hers & hers, and theirs & theirs pieces available. If you're a very romantic couple, you could each have your chosen pronoun on half of a heart and give your side to your partner. It's a beautiful LGBTQ+ wedding gift idea for your other half and one that can be worn for years to come.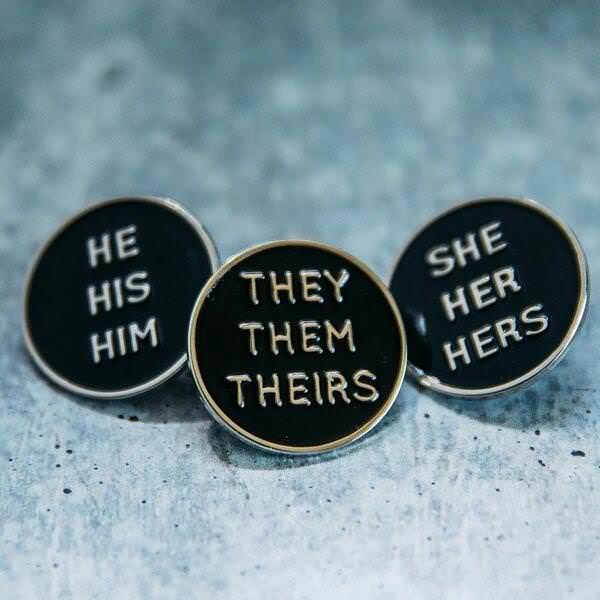 In a simple monochrome, these pronoun pins will suit any wedding look and won't take the attention away from your dapper suit or gorgeous dress. It's a subtle LGBTQ+ statement, but one that can be worn with plenty of pride. Pronoun Pins by Dash of Pride, $9.99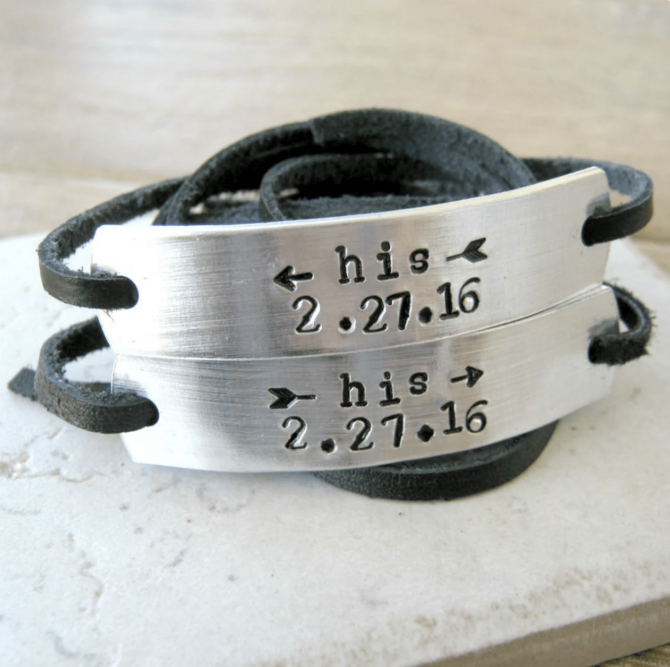 These his & his bracelets (hers & hers also available) have a relaxed, chilled-out vibe thanks to the leather wrap band but are still sophisticated enough to be worn with a suit. Personalize the metal bar with the date of your wedding day for an added sentimental touch. His & His Bracelets from Etsy, $28.78+
WITH LGBTQ+ FLAG BROOCHES AND PINS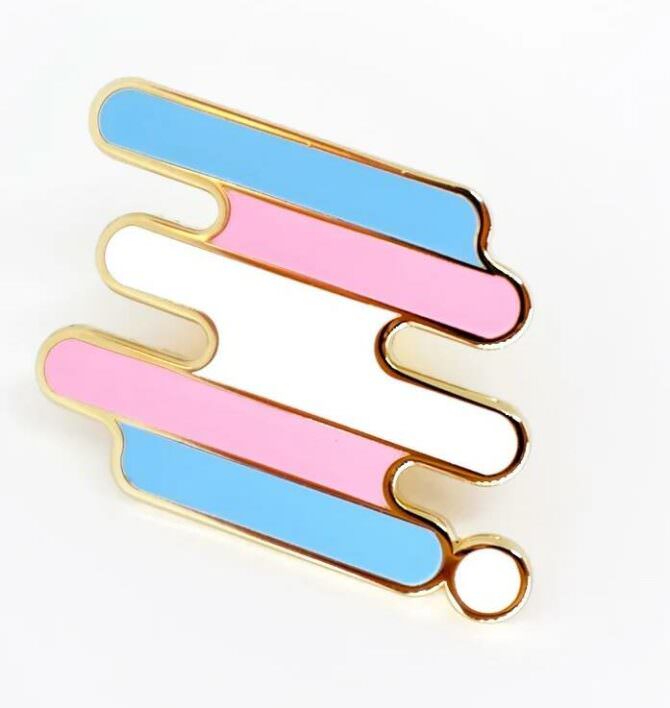 If you're not keen on the idea of incorporating your statement into your everyday jewelry (e.g. your wedding ring), opt for a flag pin. This is a fantastic way of still expressing your love for our community on your wedding day but without encroaching on your permanent pieces. Choose from the standard Pride rainbow or select one that is specific to how you identify. Pride Pins by Bianca Designs, $12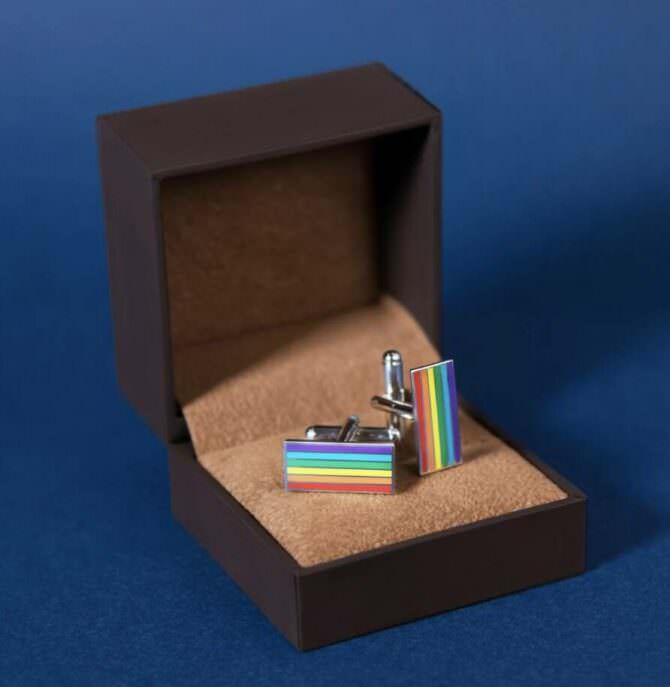 You can also translate this idea to cufflinks. Rainbow Cufflinks, $16.49.
WITH FLOWER CROWNS
Flower crowns may be more of an accessory than jewelry, but we couldn't not include this super cute idea. Again opting for your chosen flag, creating a crown that uses flowers in the same colors.
For example, the transgender flag flower crown could incorporate peonies, cornflowers, and white roses amongst weaving greenery. For an outdoor, boho-chic wedding, this is an LGBTQ+ must-have.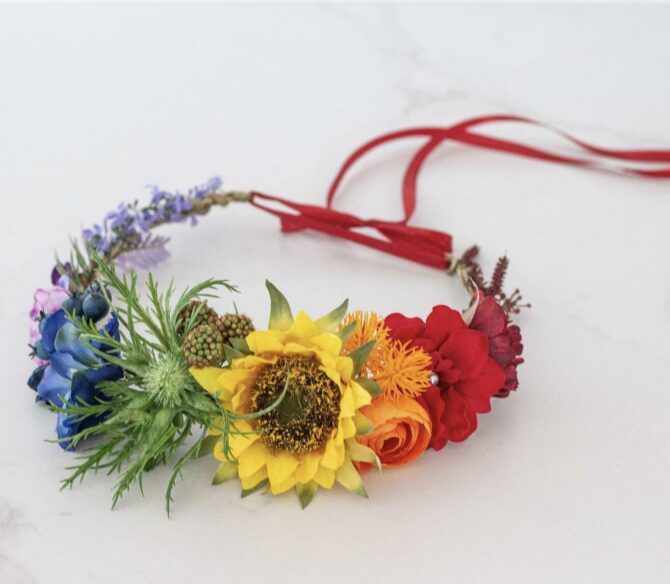 Make your own for a budget-friendly accessory or opt for a pre-made piece, like this incredible Pride Flower Halo which is ornately decorated with faux flowers in all the colors of the rainbow. Rainbow flower crown from Etsy, $48.09
Final Words
Celebrating who you are as a couple should be a part of every wedding. If you're in the LGBTQ+ community, we hope this article has helped inspire you to find a beautiful piece of jewelry that expresses your love. Whether you opt for a colorful statement piece or a subtle engraving, it's a wonderful way to show your Pride and encourage others to do the same. Love is love, after all!
Written by Jacob Lane | Cover Photo by Megan and Kenneth Photography from Marissa and Sofya's Brooklyn Wedding