Between all of the holidays, family time and special celebration, more than 50% of proposals happen between Thanksgiving and Valentine's Day, with Christmas Day being the most popular day to propose. So if you're one of the lucky ones who made the plunge — CONGRATS!
Whether the proposal was a grand gesture or a small and intimate moment, the next step is to celebrate the news with your loved ones. So before you start planning the guest list and sampling wedding cakes, take some time to enjoy this impressive milestone with fun apparel and accessories that share your newly engaged status.
Below, we've rounded up products you'll want to show off your engagement and celebrate the occasion.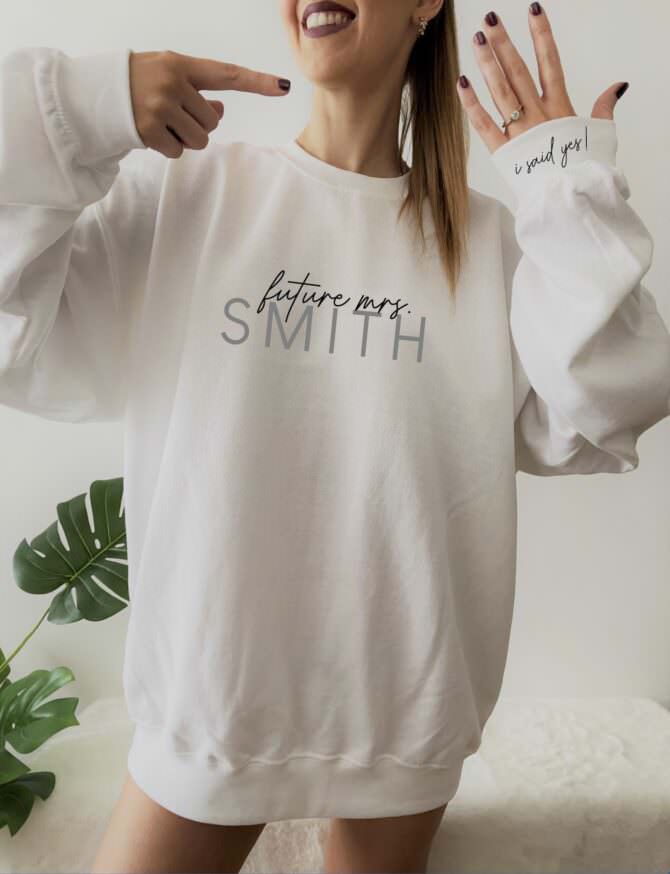 We're still in for a cold winter, so get cozy in this engagement-inspired sweatshirt. For those changing their surname, you can personalize it to have your new last name on the garment. But the cutest part of this sweatshirt has to be the "I said yes!" detail on the sleeve. Custom Future Mrs. Sweatshirt by Up2ournecksinfabric, starting at $39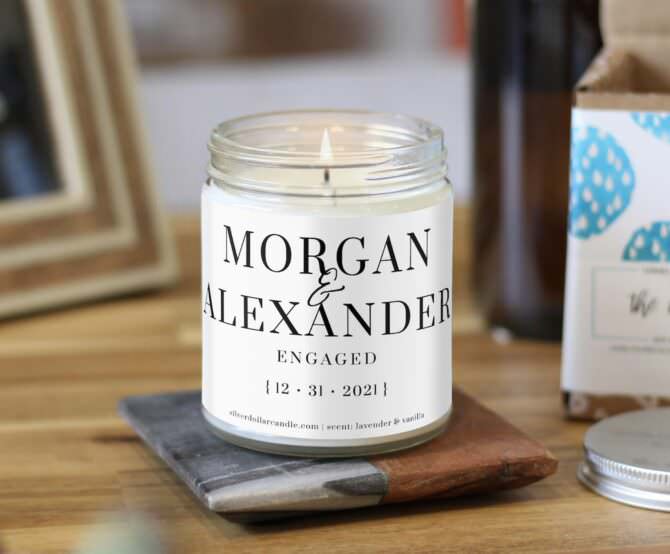 Light this candle and remember the day you became engaged to your partner. Customized with both your names and the day of the proposal, this candle is one-of-a-kind. There are several scents to choose from, so you may even find one that smells like the location where you or your partner got down on one knee. Engagement Candle Gift by SilverDollarCandleCo, starting at $22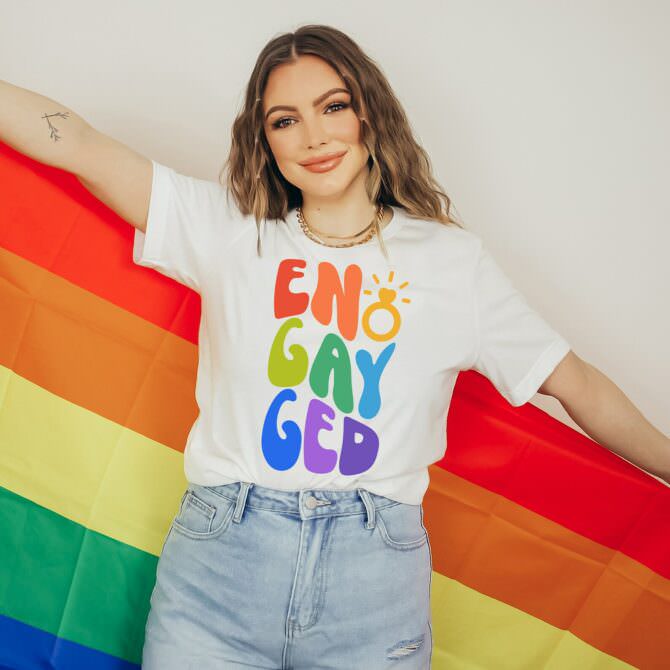 Colorful and funky, share the big news with pride by wearing this rainbow-colored tee. The retro-style letters and color palette give this shirt fun and laid-back vibes. You'll want to wear this option on repeat. EnGAYged Shirt by ShopxMood, starting at $31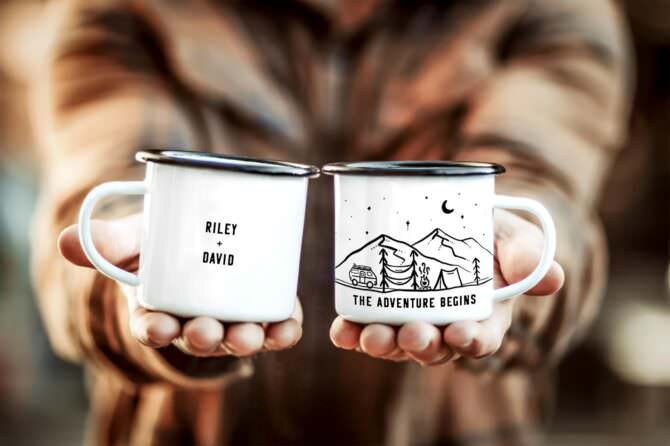 Do you and your partner have a shared love of coffee? Or maybe you met at a coffee shop for your very first date. Either way, this matching pair of custom camping mugs are super adorable for any hot beverage drinker. Customizable Engagement Mug by KamprCo, starting at $24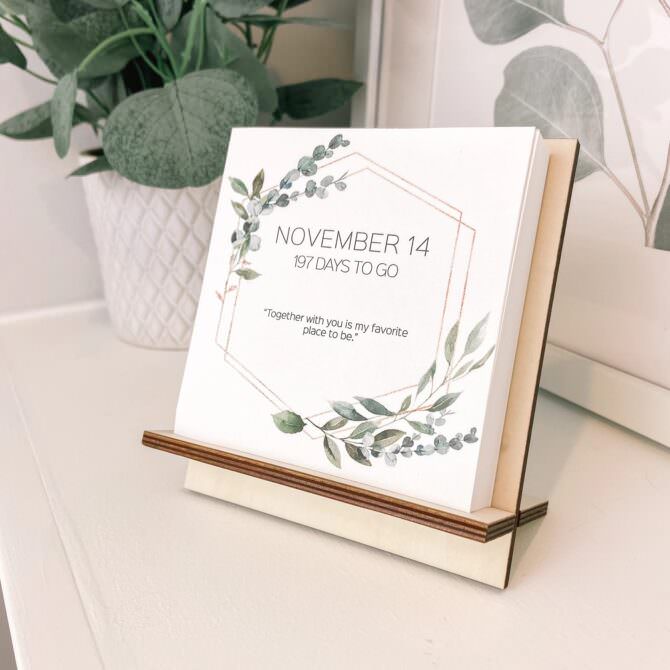 We're just kicked off a new year, so you'll need an updated calendar for 2023. Why not make it work double duty as a countdown to your wedding day, too? All you need is your wedding date so you can plug it in upon purchase for the correct countdown days. Wedding Countdown Calendar by Waypost Paper, starting at $38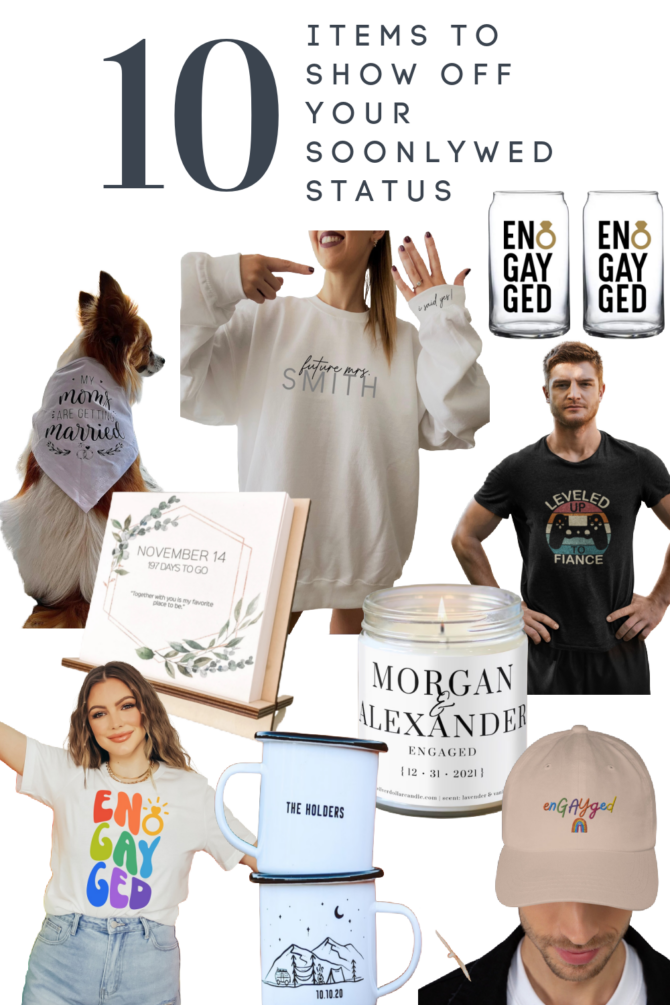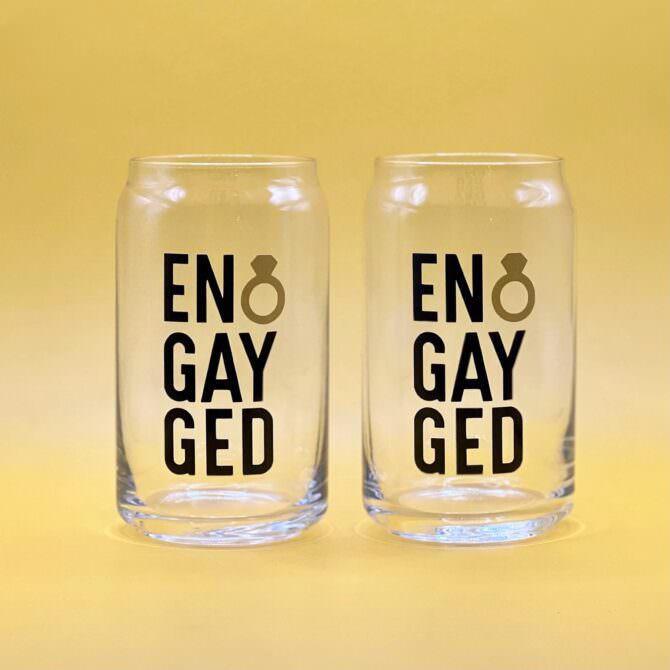 Pop open a cold one with friends and pour your brew into this celebratory glass. These matching glasses are a great way to surprise your friends with the news while having them over for drinks. But sipping out of these sweet matching vessels with your partner on a cozy night in is also a great way to use them. Engayged Beer Glasses by FringeFavors, $16.99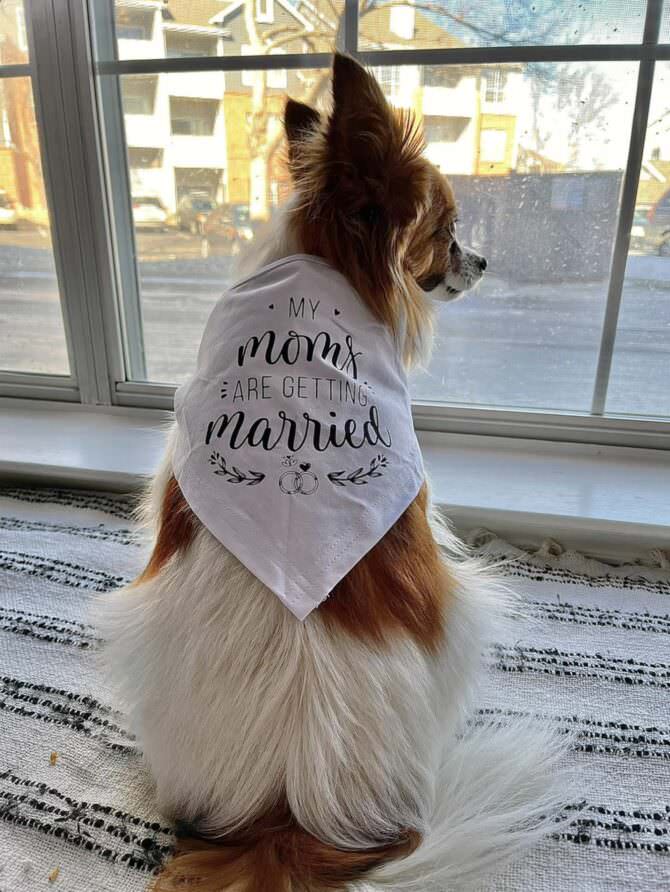 Are you and your partner already pet parents? Let your fur baby share the news with this super cute bandana that says My Dads Are Getting Married. It comes in a variety of colors to match your or your pet's style. Pet Engagement Bandana by TheStudioJoy, starting at $16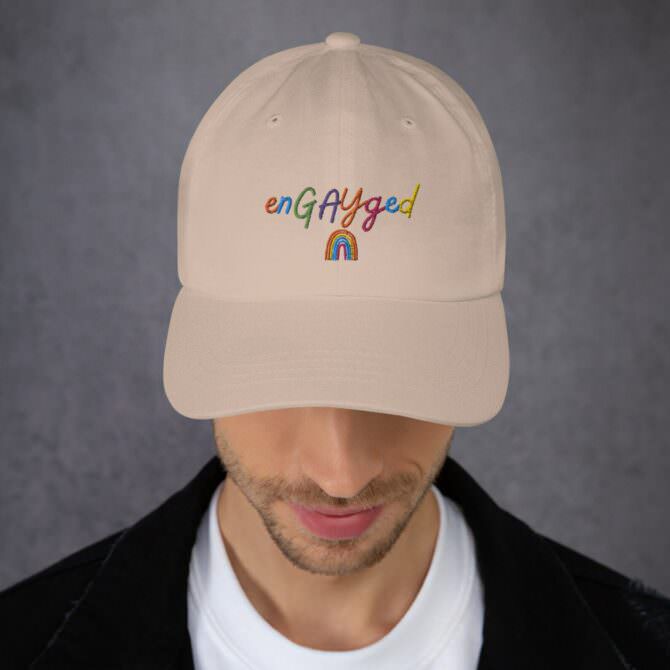 We are obsessed with this fun and fashionable hat with "EnGAYged" embroidered across the front in rainbow letters. Offered in seven cap colors, you're sure to find one that suits your style best. The only problem is that you'll want to keep wearing this hat after your wedding day. Engayged Baseball Hat by LindemannDesigns, $27.50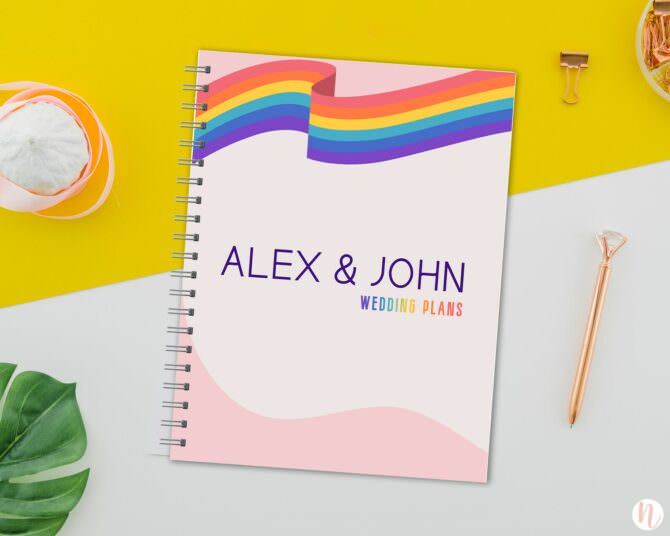 Show off your engagement a bit more subtly with this wedding planner. It's customized with your and your significant other's name for a one-of-a-kind notebook. Encased in a beautiful rainbow cover, you'll be able to keep all your wedding notes handy. Personalized Wedding Planner by Notable Memories, starting at $38.50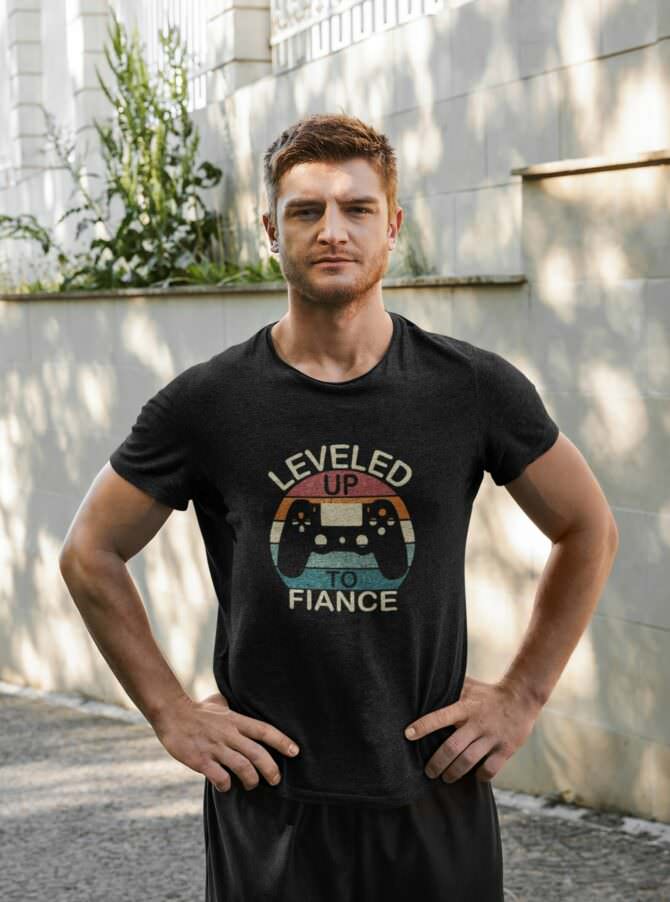 Even if you're not a gamer, this vintage-inspired tee that says Leveled up to Fiance is delightful. Sold in over 15 colors, you can get shades from deep teal to muted gray. Everyone will be sure to notice this amusing tee. Leveled up to Fiance T-Shirt by TeeCreationsZone, starting at $16.49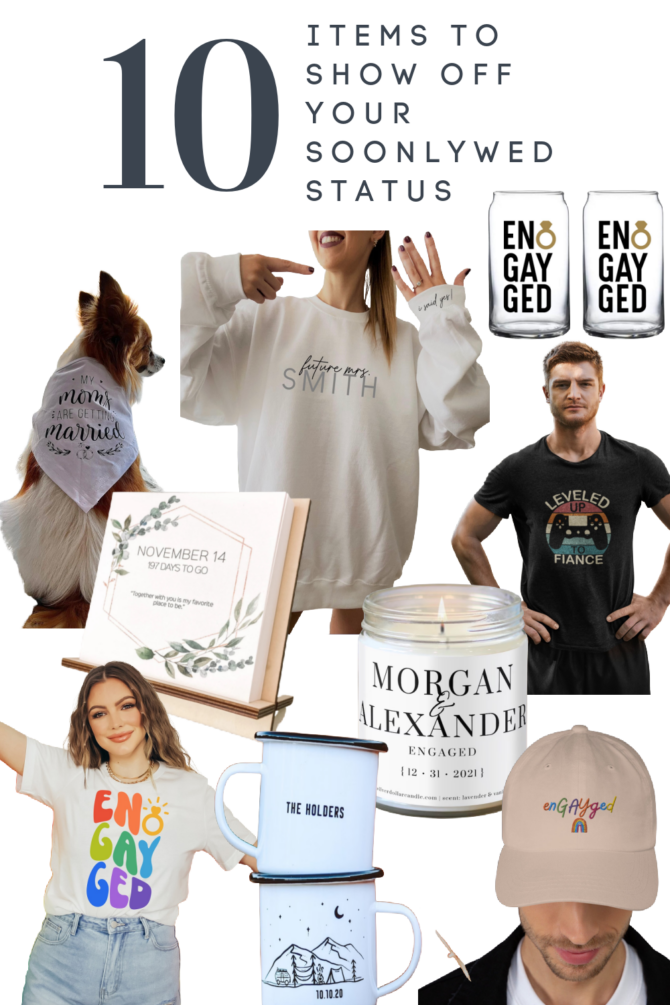 Written by Rebecca Rovenstine | Cover photo from Michael and Todd's Oregon Coast engagement session by TM Inspired