Choosing the entertainer for your wedding reception can be a huge make or break decision when it comes to how your reception is going to go. You want to choose a professional who will set the mood you and your partner want, whether it be an all-night dance party, a low-key affair or somewhere in-between. But hiring wedding entertainment, whether it be a DJ, band or other musical talent, requires research and interviewing just like any other vendors involved in your wedding day.
When speaking with bands or DJs as you make your choice, have this list of questions handy when you meet or chat with your potential entertainer(s) to help give you a full picture.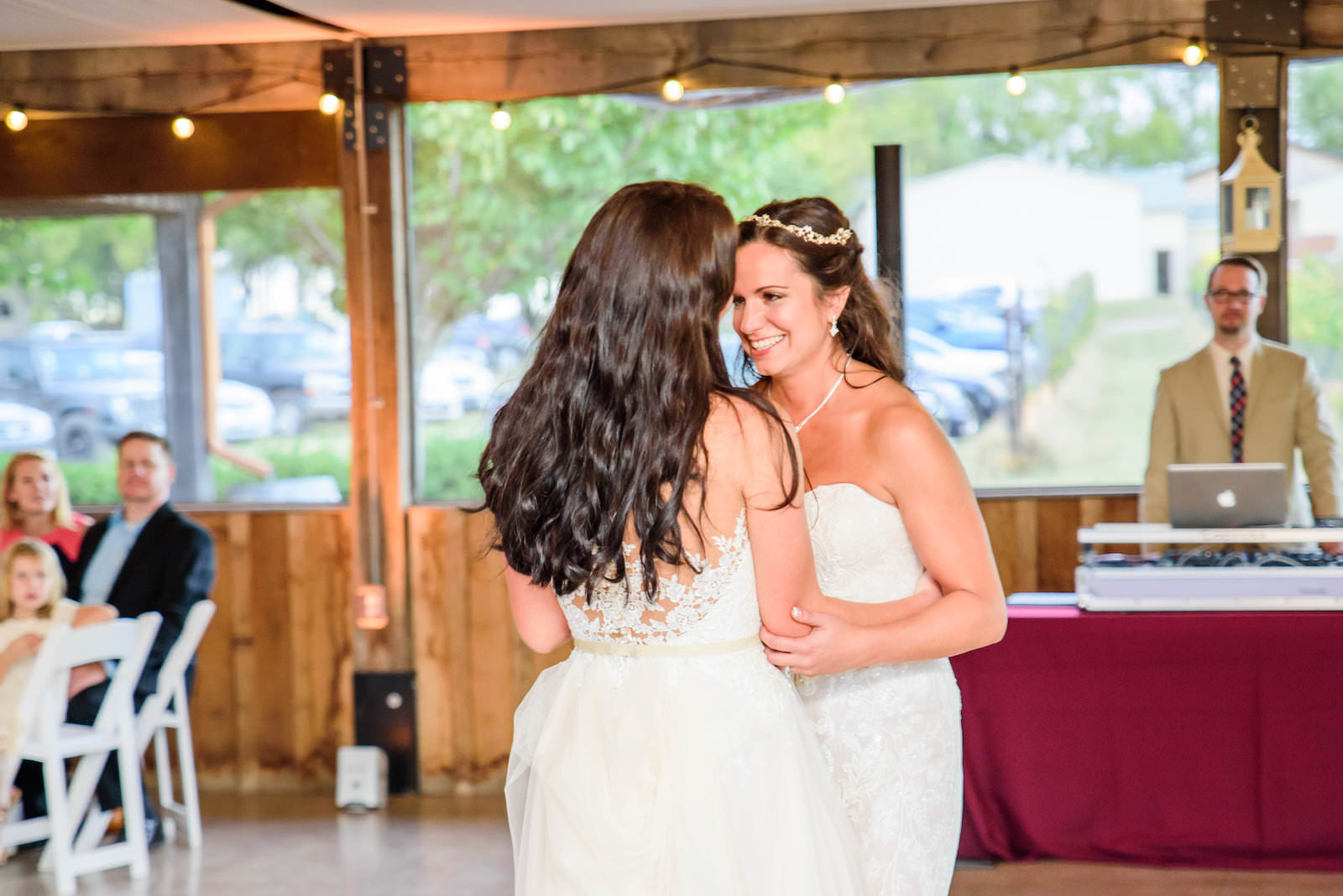 Before anything else you'll want to ask yourself the most important question. Do I want to hire a band or a DJ?
There is absolutely no right or wrong answer to this question. It's a matter of personal preference. "This is the age-old question about what type of entertainment to have at your wedding," explains Jonathan Wiegratz, Owner and Managing Director of Boston Common Entertainment Band + DJ Combos. "A DJ's strength lies in the fact that they have a nearly unlimited play-list. A DJ is only limited by the amount of songs on their hard drive and skill at seamlessly beat-matching song mixes together. Where a DJ can certainly bring it to the party, having a band brings a different element all its own. The aesthetic appeal of a band, combined with the stylistic flare they put on a song, can take a party to a whole different level. However, why not have both?"
If the idea of having one of each sounds appealing, look into companies who offer Band and DJ packages that give you the best of both worlds at your wedding.
Once you've decided on the entertainment you're looking for, you'll be ready to start doing your research. Choosing your wedding DJ or band is more than just liking their music. The questions you ask your potential vendors will help make an informed decision on which wedding professional will give you an unforgettable day.
Here are the most important questions you'll want to answers to when hiring your wedding band or DJ, as suggested by wedding entertainers.
How many weddings have you done?
Overall performance experience is crucial, but experience performing at a wedding is even more critical. "There's a HUGE difference in the industry between a DJ who plays solely at clubs and festivals and us 'Mobile DJs' who are skilled in a wider range of events," shares DJ CoolHand of Remixologists. "I can't stress enough that a DJ's customer service, communication and likeability will determine the success of your love party, even if your friend's friend who's a DJ has played at a festival of 10,000 people!" Look for a professional who knows not only how to appeal to a crowd, but who will be able to appeal to your guests. Performing at Coachella is different than getting your elderly relatives out on the dance floor.
Have you played at my venue before?
This is by no means a dealbreaker, but it is helpful to know if they are familiar with set-up at your venue. If not, ask if they are willing to visit along with you and/or your wedding planner? "Your DJ should be as familiar as possible with your venue before the big day," recommends DJ Emma, full-time wedding and events DJ. "They should be familiar with the layout, acoustics, location of the dance floor and the power source before the day. Have they spoken to the coordinator of the venue about any unforeseen circumstances that might come up or have changed since they last visited? Look for someone who provides a personalised and unique service that's specific to your venue, even if they've worked 100 other weddings before yours!" Also ask if they've worked with your wedding planner previously. Again, not make or break, but you want to make sure that whether they have or not, that they're onboard for working with your planner or day-of coordinator to make sure everyone is on the same schedule with entrances, dances, meal times, etc. The more communication the better.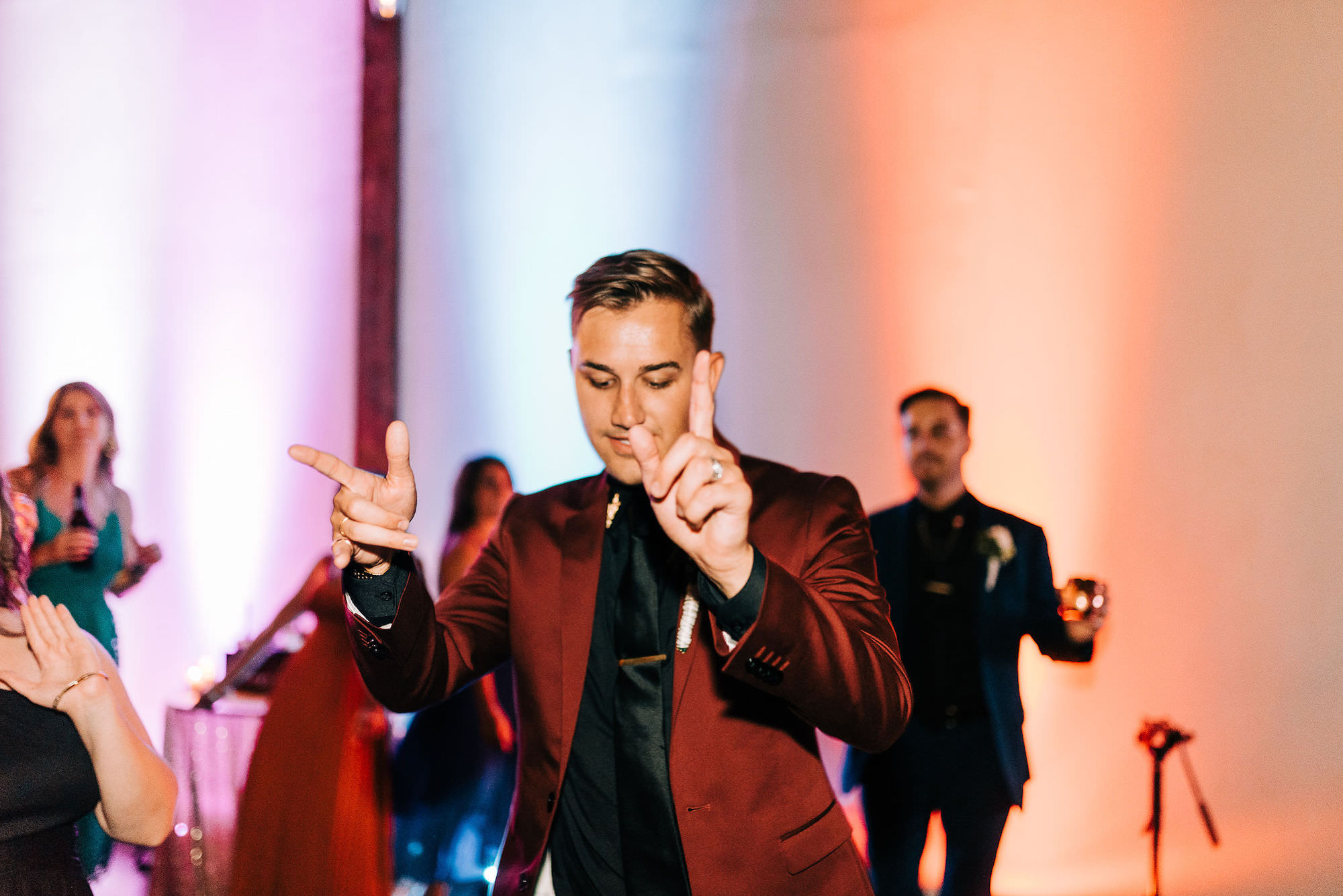 Can I see you perform?
At a minimum, you will want to watch live performances (preferably from weddings and where you can see guests' reactions). An entertainer can be having the time of their life, but seeing how guests react to their performance is what it's all about. Be sure to request videos that align with your wedding. For example, if you are having a Jewish wedding, you'll want to see that the have experience performing a Jewish wedding.
Videos from real weddings are helpful, but seeing the performer(s) in action will certainly help you make the best decision. You may find your potential bands or DJs performing at local clubs here and there or at wedding showcases in your area. Take advantage of seeing them live if possible, it makes the perfect date night and you'll be able to check some wedding planning off your list.
Can I see your reviews?
More than likely, your vendors will have reviews they are already proudly sharing whether on their own website or on a third-party site such as The Knot or Yelp. If you can't find reviews anywhere, it may be a red flag, but you'll definitely want to ask if they have them available somewhere for you to review. If they do provide you with reviews, follow up and ask them why they haven't displayed them publicly. If they can't, revert back to the previous question of how many weddings they have done. Entertainers who haven't done many will understandably not have many reviews, something that will leave you asking if you are interested in someone starting out or not. If they have done several weddings and have no positive reviews to show for it, use caution.
How much of the night does your package cover?
Know what you're paying for and have your entertainer spell out everything that's included from set-up to MC services to break times to performance times. "Many bands will only quote a-la-carte for the four-hour reception, where cocktail is an upcharge," Wiegratz says. "Additionally, if you're having an 'extended' reception of six hours, that oftentimes is considered overtime."
How do you define a "successful" wedding?
Think about what your goals are for your wedding. In addition to you, your partner and all your guests having fun, what else are you hoping to get our of your day? Do you want friends to meet one another, are you focused on family reconnecting? Is having everyone out on the dance floor the entire time your primary focus? Get some ideas of "success" for you and see if they align with what your entertainers say. If you want time for guests to mingle with light music but your band or DJ feels most successful when everyone is spending time tearing up the floor as music blares from the speakers, you may want to discuss each party's definition of "success" to see if you are on the same page.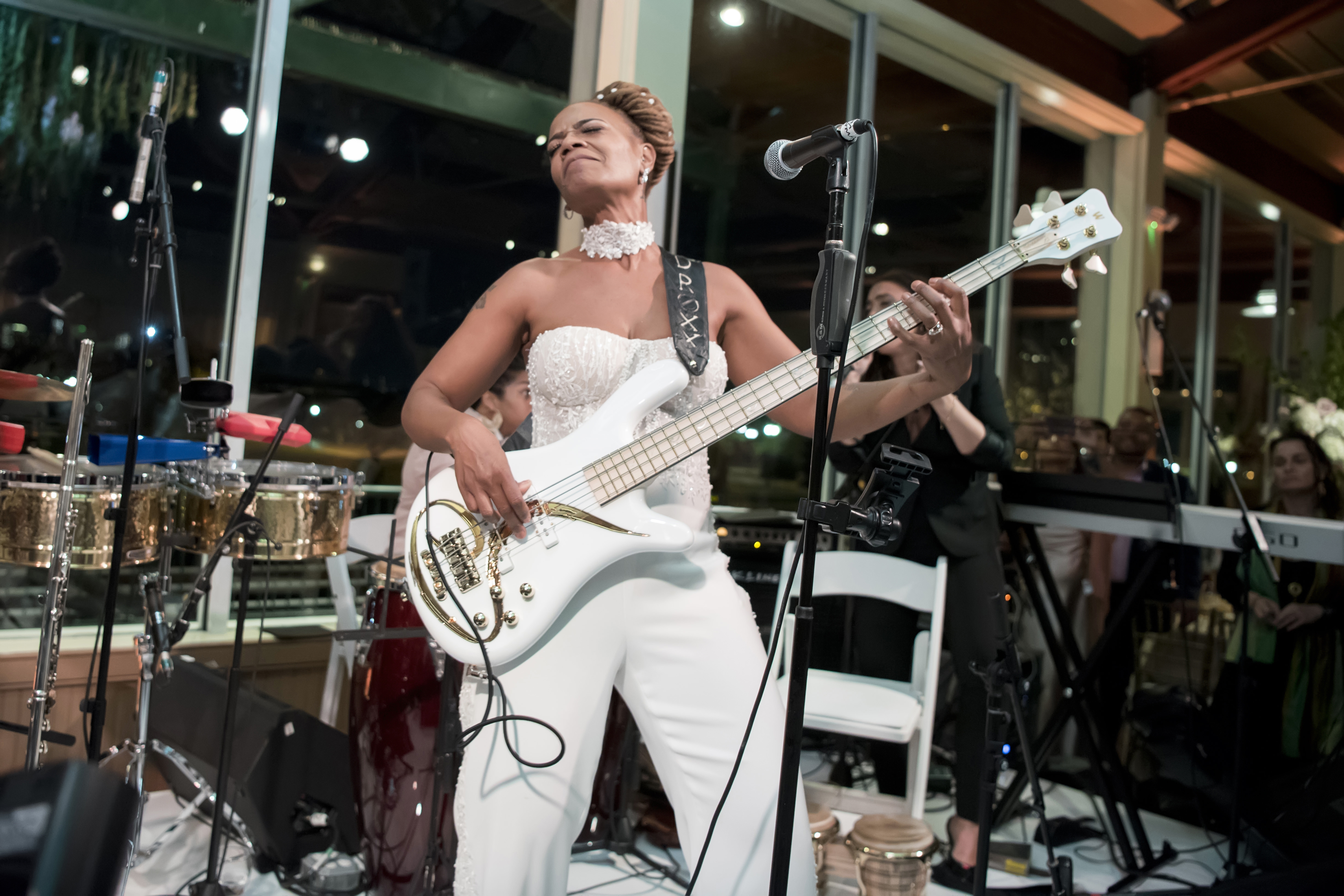 What's the most challenging wedding you've ever worked?
It's important to know what your vendors will do in a time of high stress or unexpected challenge. "With this question, you want to see how they handled adversity," explains DJ Brian B, NYC-based destination event DJ. "Are they blaming others for the challenges? Are they taking any responsibility? Do they figure out a way through the challenge? What was their process?" You also want to hear how they speak about their clients. If your future band or DJ starts telling you horror stories and speaks negatively about their previous clients, you want to avoid someone who lacks professionalism.
Can you guarantee the dance floor won't get empty?
Regardless of whether you have a band or a DJ, this is a big fear for many couples. No one wants their party to be a dud and no one wants to pay an entertainer to underdeliver. While your band or DJ can certainly help with this, you as a newlywed can easily grab your partner or a friend/family member and hit the floor. If the lovebirds are dancing there's a good chance your guests will get up to join. Line dances people are typically familiar with such as the Cupid Shuffle also tend to get guests on the floor (though be sure to tell your entertainers your favorite songs so they know which ones to play in case of struggling dance moments). "Alternatively, if you know ahead of time that your guests aren't big dancers or a packed dance floor isn't a concern of yours, let your DJ know so they can design the music to suit," recommends DJ Emma. "It's totally fine if you'd prefer to catch up with old friends rather than be dragged off to do the Macarena at your wedding!"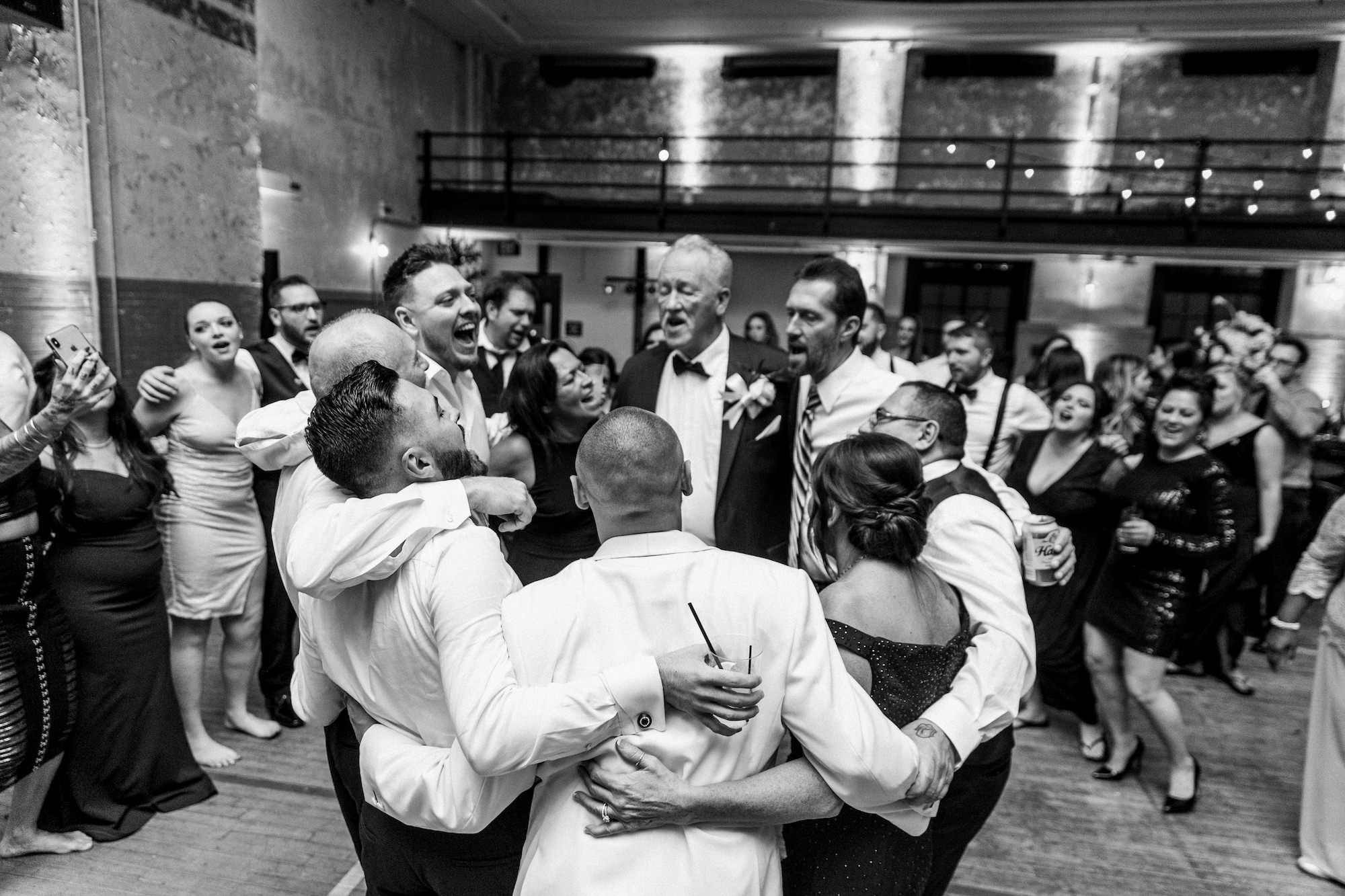 What happens if you have to cancel or you aren't able to make it for an unforeseeable circumstance?
Emergencies happen, people get sick and, especially in the wake of COVID-19, having back-up wedding plans is important. Make sure you have a solid alternative plan detailed in your contract. For example, are they part of an agency that can send a last-minute replacement? Do they have understudy band members who can jump in at a moment's notice? Lay out solutions so that your entertainer is unable to bow out without a replacement.
What is your band/DJ type?
Wedding entertainers often run in a few categories when it comes to their company structure. There are independent artists who are owned by a single entity DJ or band member and work with you directly on booking and wedding set-up. Or, your entertainer could be part of a booking agency which manages a variety of entertainers and will help you find the which band or DJ is a good fit for your wedding and available on your day out of their catalog of entertainers. Additionally, there are staffing agencies which book multiple entertainers on the same day using the same name, but swap out different band members or DJs depending on availability. There isn't a specific type you should aim to work with, it's just important to know for booking and contract purposes who you will be communicating with and who will be performing at your wedding.
What's your ideal client?
Just as you have entertainers you favor over others, performers have niches they prefer to work. A DJ may prefer smaller, more intimate weddings and not see themselves as the ideal DJ for your 300-person wedding. A band may be well-versed in jazz music and not see your Top 40 playlist as their ideal wedding. You want to make sure your styles mesh. "Not all DJs are the same," reminds DJ CoolHand. "There are also two main types of DJs, DJs that focus on the entertainer role, relying on MC skills and interactive games to involve the party, and DJs that are more subtle in their approach by sticking to the music and letting it create the vibe. Be sure that you listen to their sample mixes, ask them about how they see incorporating your requests into their style, and how they fill a dance floor, so you can find out if he or she is the right DJ for you."
How can I support you to make my wedding a success?
Yes, your band or DJ is the professional, but there are things you can do to set your wedding entertainer up for success.
Provide audio clips for name pronunciations. No one wants to hear their name pronounced wrong or, worse, forgotten completely. That includes everyone from you and your spouse to your parents to your wedding party, and any other guests or vendors you plan to shout out.
Share playlist recommendations. No, that doesn't mean do the DJ's job for them. If that was the case you could put on a Spotify playlist and call it a day. What it does mean is making sure they have all the songs you want to hear ready to go, especially if your first dance, parent/child dance or other special song is not one commonly in a band or DJ's repertoire. This also means creating your Do Not Play list. Everyone has that one song that can't stand (or several) so work with your partner to create a list of songs or artists you don't want to hear and those you do. Also be sure to create a list of the highlight songs – first dance, parent dances, walk-in music, etc.
Keep open communication between your wedding/day-of coordinator and your entertainer. Everyone needs to be on the same page when it comes to schedule from first dance to cake-cutting or garter toss to last dance and everything else in between. Your MC can't announce what's happening if they don't know it's happening.
Communicate inclusive language they need to use. If you have nonbinary guests, you want to make sure your entertainer doesn't use terminology such as "ladies and gentlemen." Or if you prefer to be announced as "partners for life" instead of gendered terms such as "husband and wife."
Coordinate your vendors. "If we plan together and synchronize with all vendors, we can avoid potential speed bumps in the evening," advises Wiegratz. And as a way to support your wedding vendors, putting them in contact with each other will allow them to tag each other on social media.
Discuss your dress code. If your entertainers typically wear suits to perform but you're having a barefoot beach wedding and want to keep things super casual, make sure to communicate this. No one wants to be under- or over-dressed.
Is there anything else I should be asking?
In addition to these questions, be sure to ask specific questions if anything stands out to you from their website, social media or reviews if you want more details or clarification. The more research you do, the happier you'll be with your decision. "If entertainment is high on your priority list — and it should be for as much as 90 percent of the event time typically has some type of entertainment — be sure to really ask the tough questions and don't make your decision based primarily on price," as DJ Brian B. "The good ones are worth their price."
To find bands, DJs and other Equality-Minded® wedding pros head to the Love Inc. Vendor Guide!
Written by Emily Rochotte
Photo Credits: Head image by Wedding Artists Co. for the 2019 Knot Gala; Photo 1 by Ben and Sophia Photography from Kristina and Devin's wedding; Photo 2 by Danielle Cram Photography for Sam and Tyler's wedding; Photo 3 by Studio A Images for Yani and Divinity's wedding; Photo 4 by Wild Native Photo for Nicholas and James's wedding