Throughout the five and a half years that Kristina and Devin have been together, they've shared many memories at Old House Vineyards in Culpeper, Virginia. So when they were looking for a venue for their big day, the breathtaking landscape on 75 acres of quiet land immediately came to mind. 
With their friends and family gathered to help celebrate their love, Kristina and Devin had an unforgettable day that was beautifully captured by Ben and Sophia Photography. From the rustic decor and gorgeous florals to the way the brides look into each other's eyes, the beginning of their journey to happily ever after was nothing short of stunning.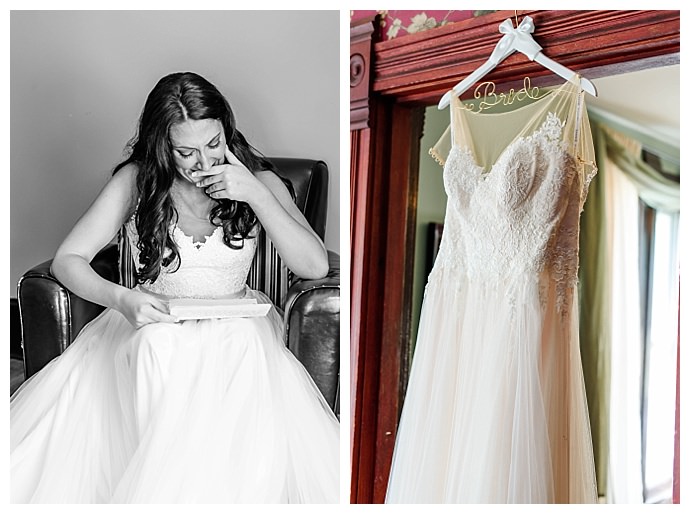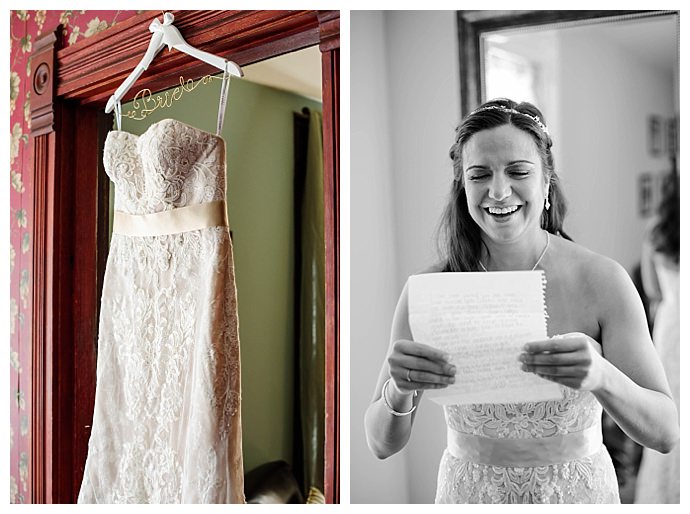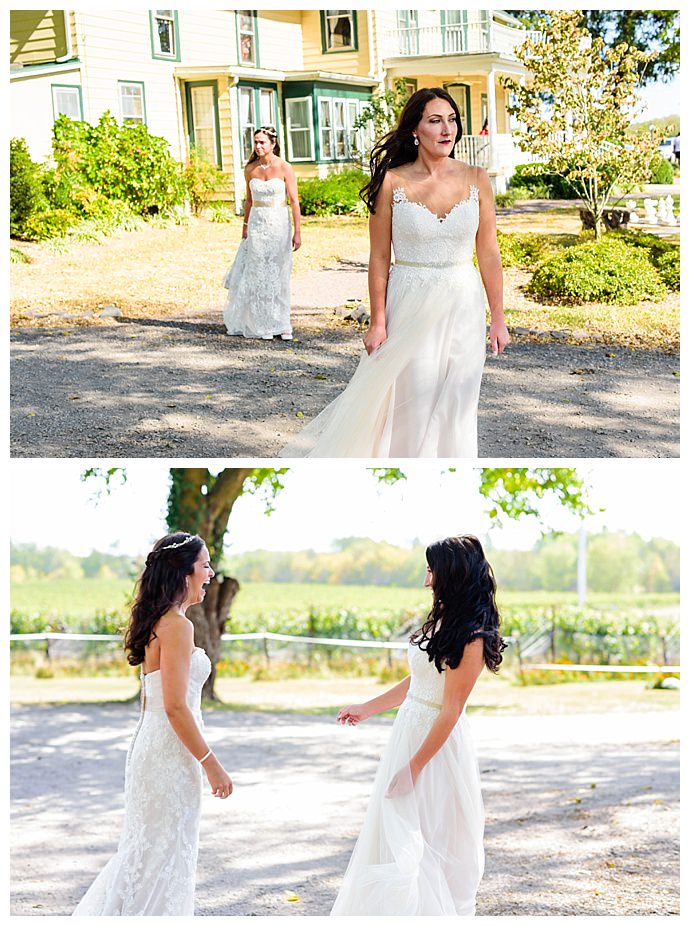 The Love Story
Kristina and Devin were both working at a gym in Fredericksburg, Virginia, when they first met. They bonded over workouts and quickly formed a friendship before they started dating. Four years later, they were celebrating their anniversary in D.C., and they both secretly decided it would be the perfect time to propose. "After arriving at our hotel, we went back and forth for several minutes trying to decide who would carry the purse for our dinner date at the Georgetown Waterfront," the brides say. "Little did we know that during the car ride up to D.C. each of us had slipped an engagement ring inside the purse without the other knowing."
They enjoyed a delicious dinner along the waterfront before Kristina beat Devin to the punch and popped the question. And after Devin said yes, it was her turn, and she surprised Kristina with a ring, too. "We couldn't believe that we had both popped the question on the same day without the other having any idea," they say. "It was an unforgettable and amazing evening that neither of us will never forget.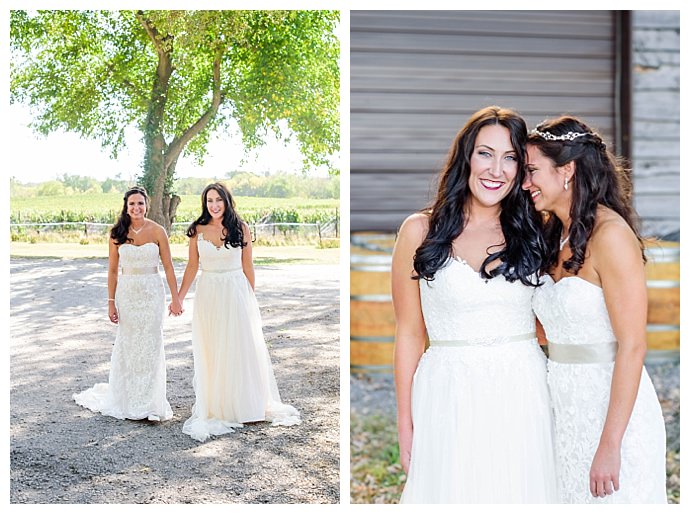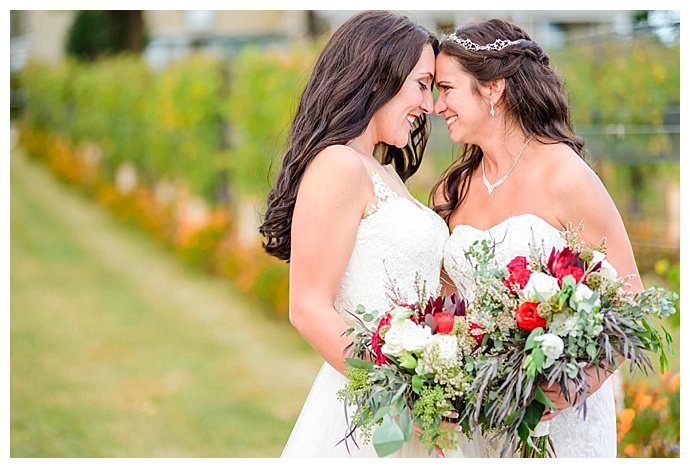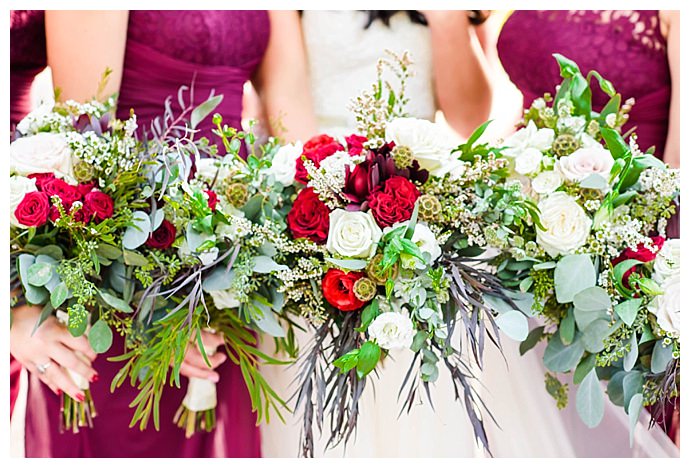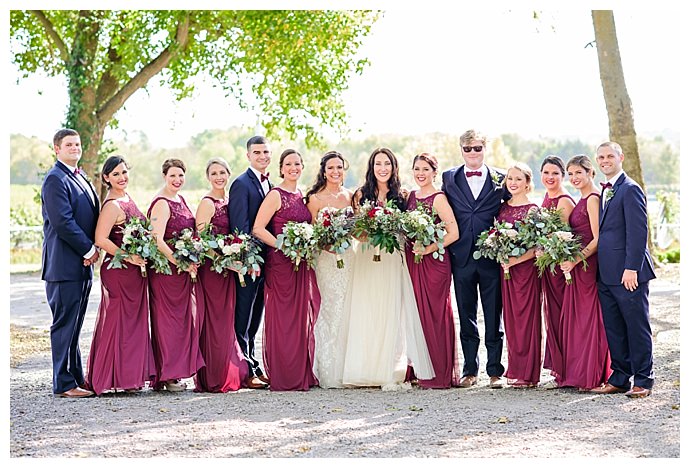 The Ceremony
The first time Kristina and Devin laid eyes on Old House Vineyards in Virginia, they fell in love. It became a special place where they loved to spend time together basking in the beautiful scenery and enjoying each other's company, and they knew it was the perfect place for them to spend their wedding day with their family and friends.
Before the ceremony, it was important to both Kristina and Devin to spend some time with their fathers, but they wanted to walk down the aisle together. So with their dads at their sides, they each walked down a different row of the vineyard before meeting at the end of the aisle to finish the walk side by side. The ceremony was officiated by their close friend, Sarah, and with the lake behind them, the brides exchanged vows they had written themselves before finally being pronounced wife and wife!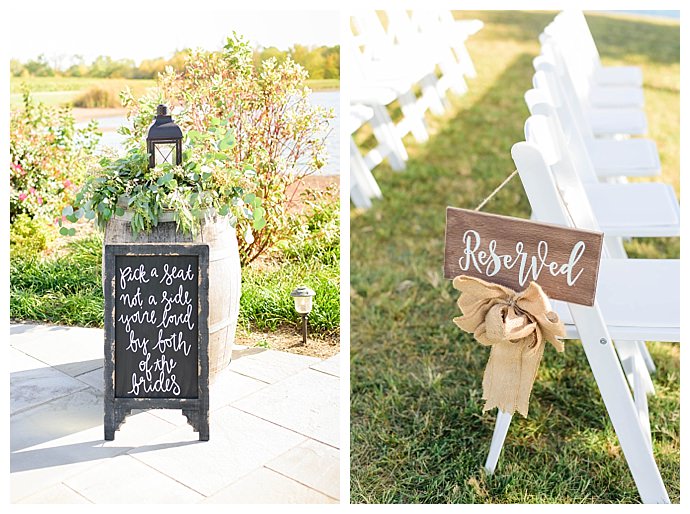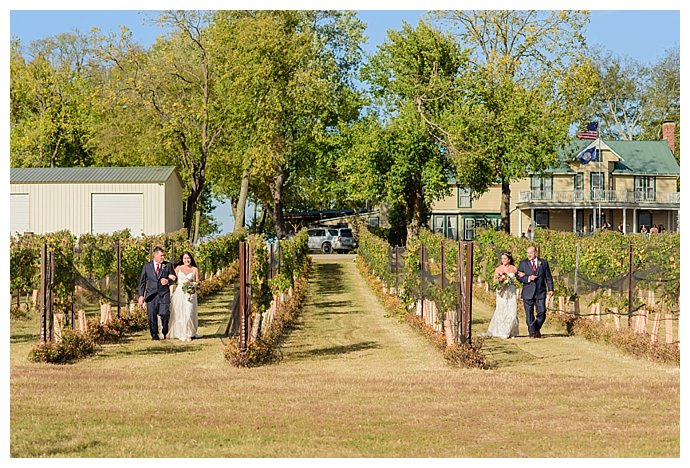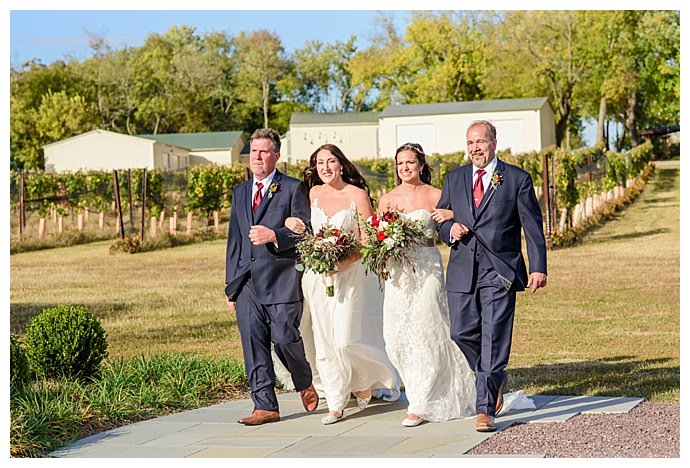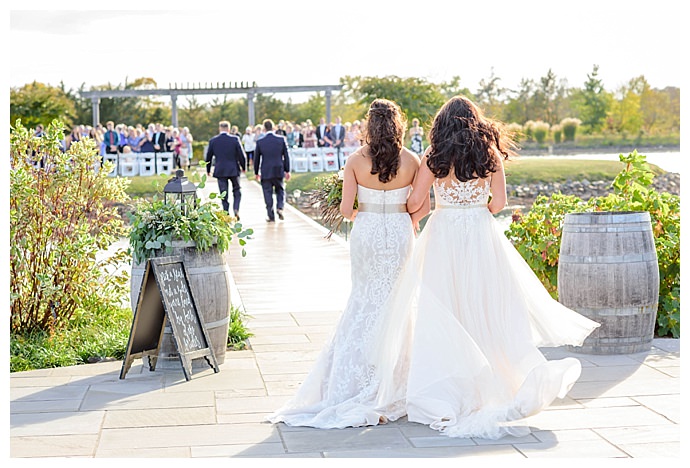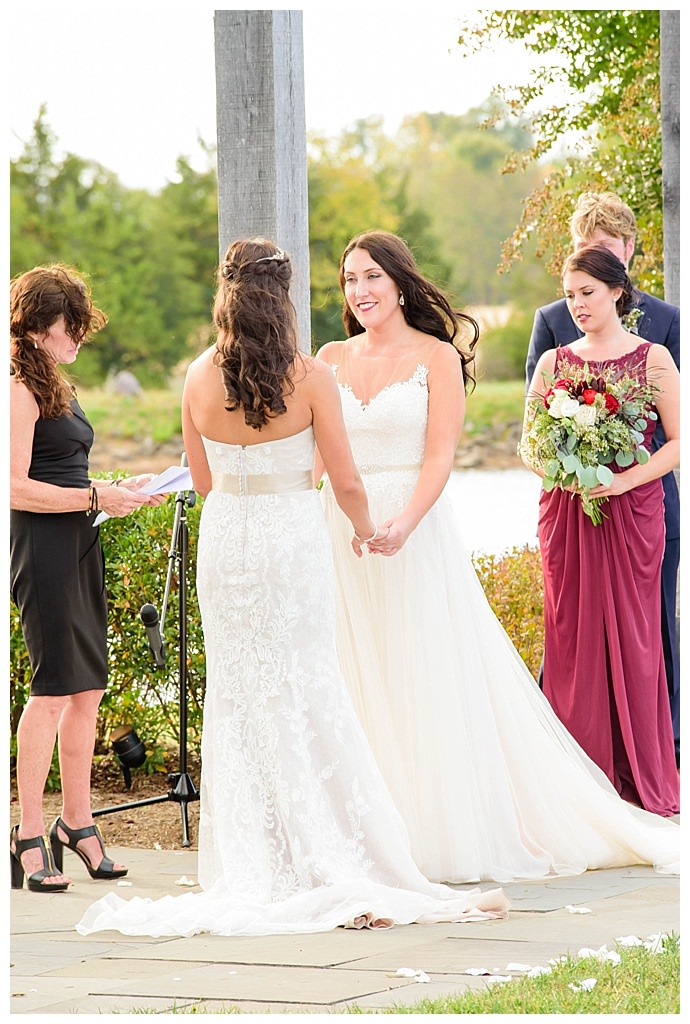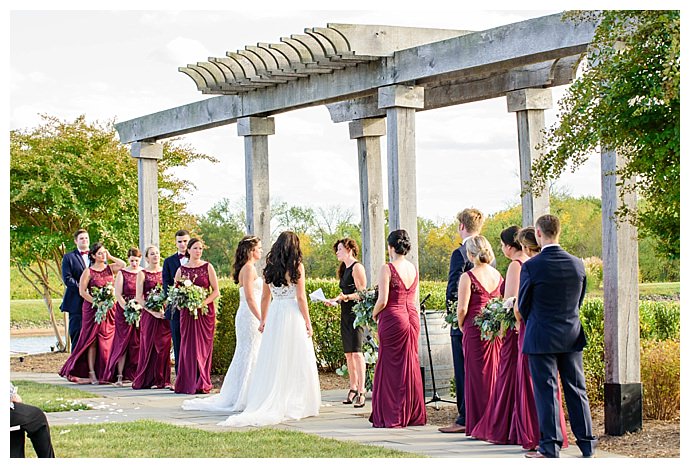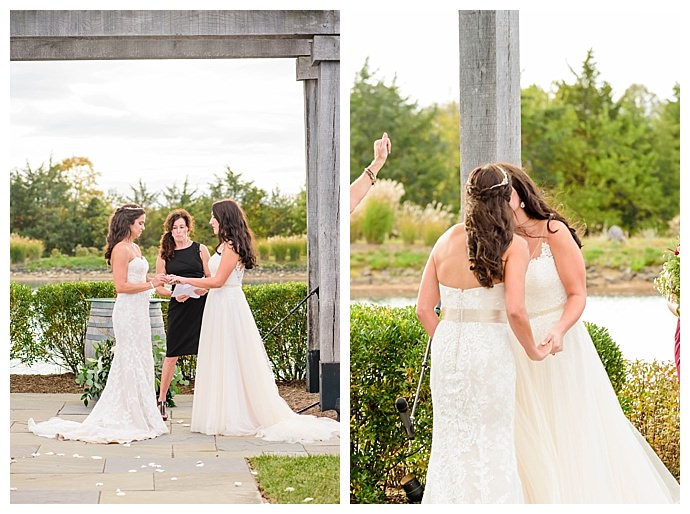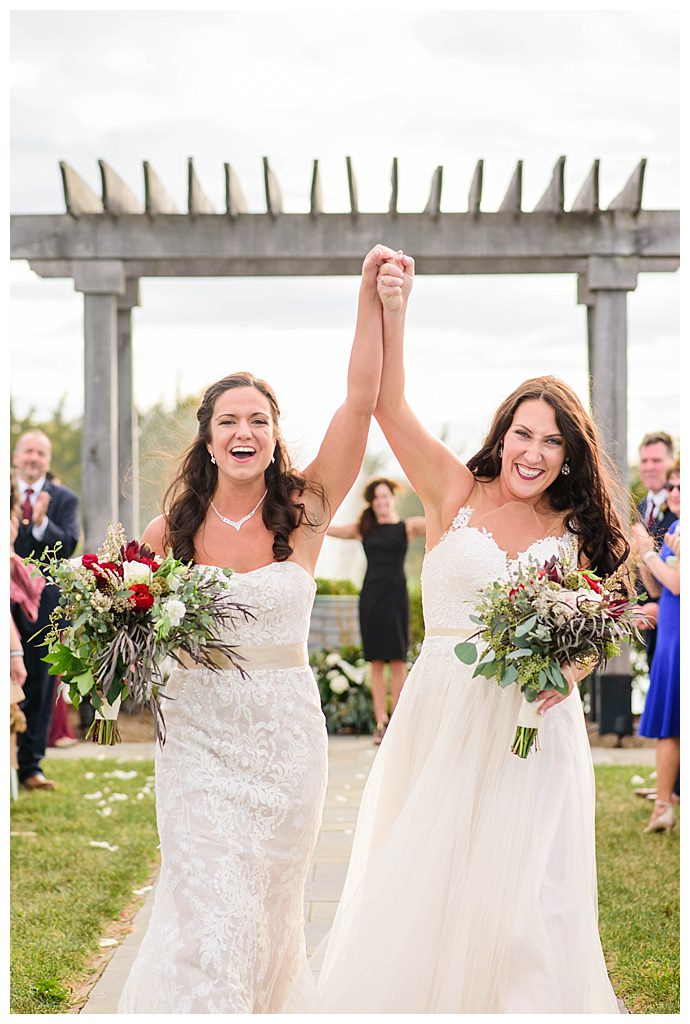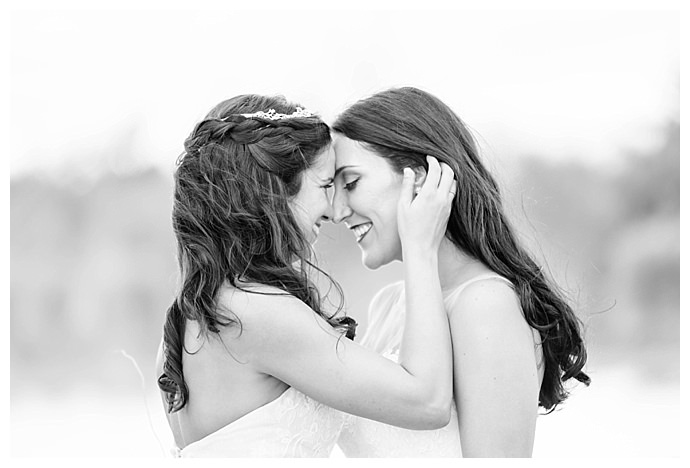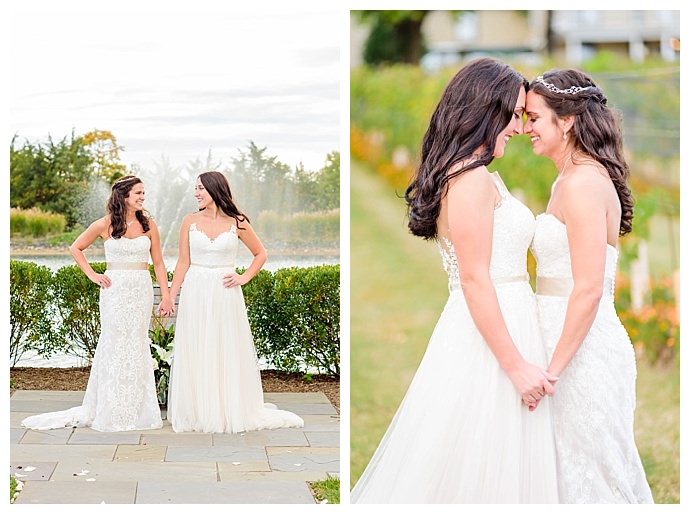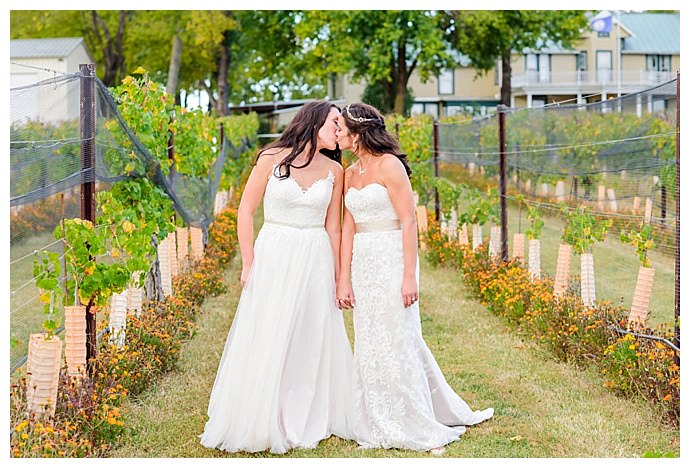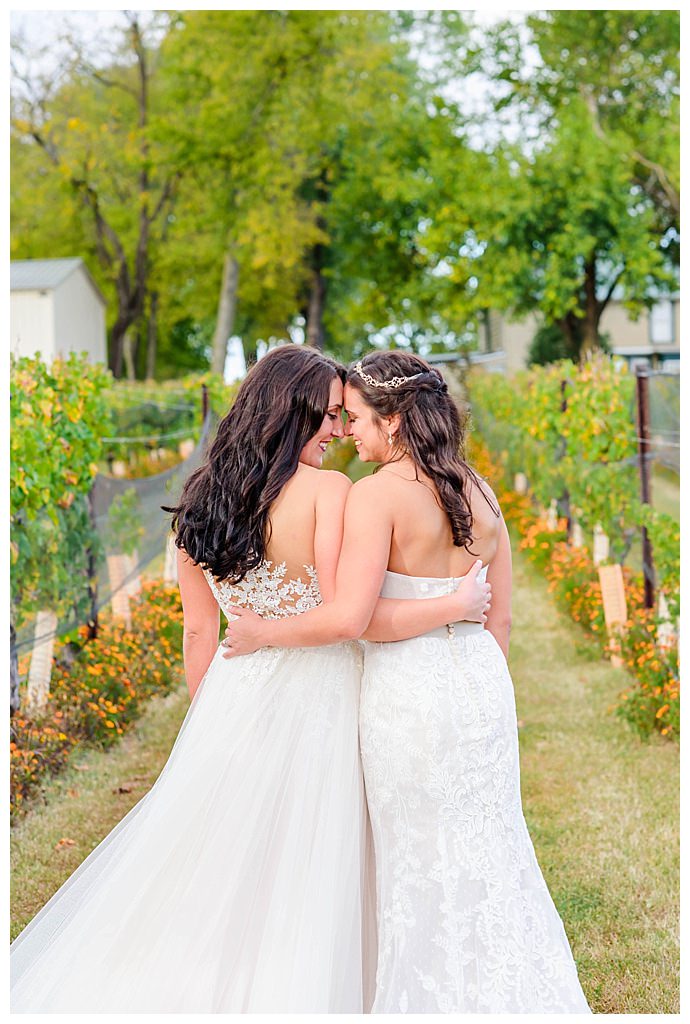 The Party
Kristina and Devin chose a gold and burgundy color palette, which was the perfect fit for their venue, and they decorated the tables with lush florals and rustic accents to complete the gorgeous design. After the brides enjoyed cocktail hour with their guests, a delicious buffet-style dinner was served. And before they cut into their incredible four-tiered wedding cake that Kristina's dad made, the newlyweds shared their first dance to James Morrison's "I Won't Let You Go."
The DJ spun a mix of '80s throwbacks and current chart-topping hits that had everyone on the dance floor donning light-up glasses and glow sticks, and Kristina and her dad surprised the whole crowd by breaking out into a choreographed dance to Donna Summers' "Last Dance." As the night came to a close, Kristina and Devin had a sparkler send-off and sent their guests home with individually packaged s'mores as a treat to thank them for helping to celebrate their special day.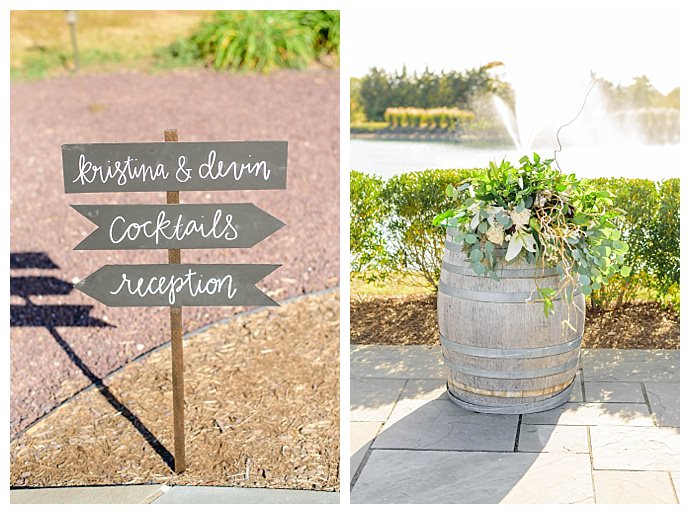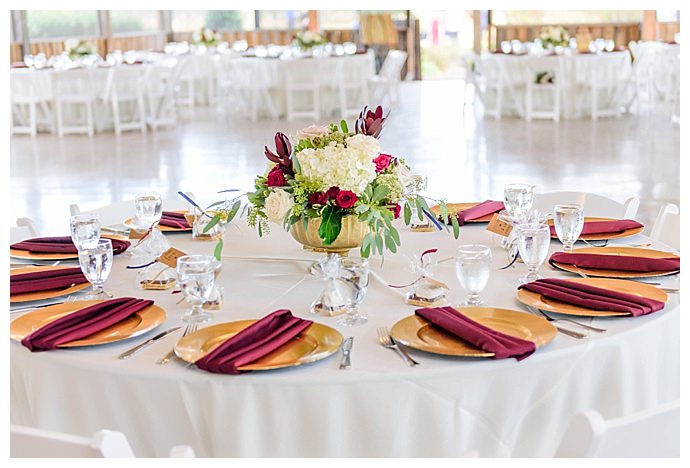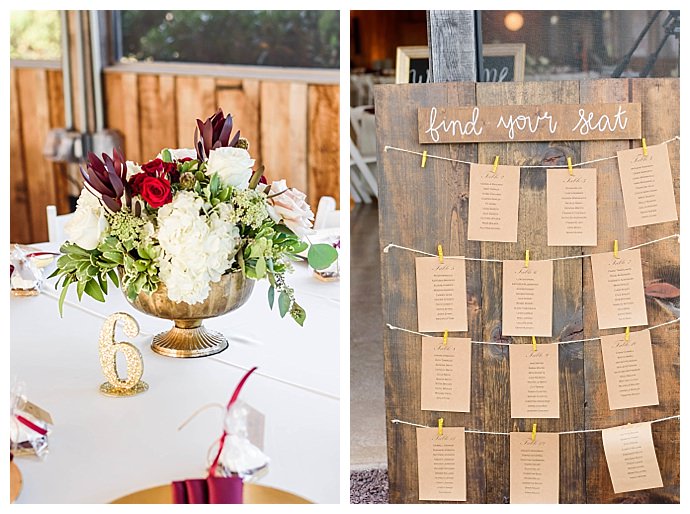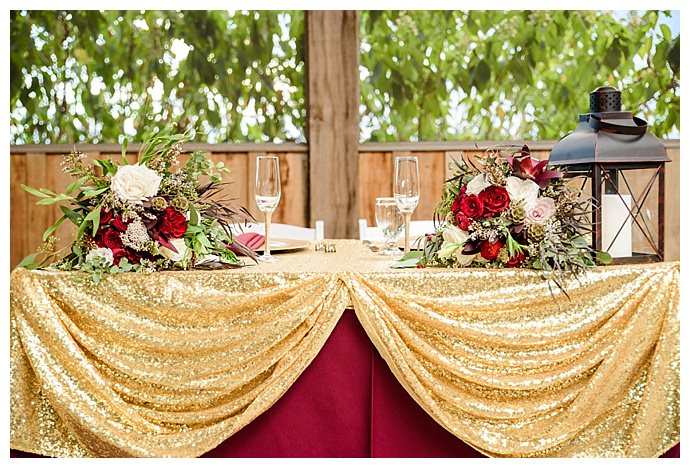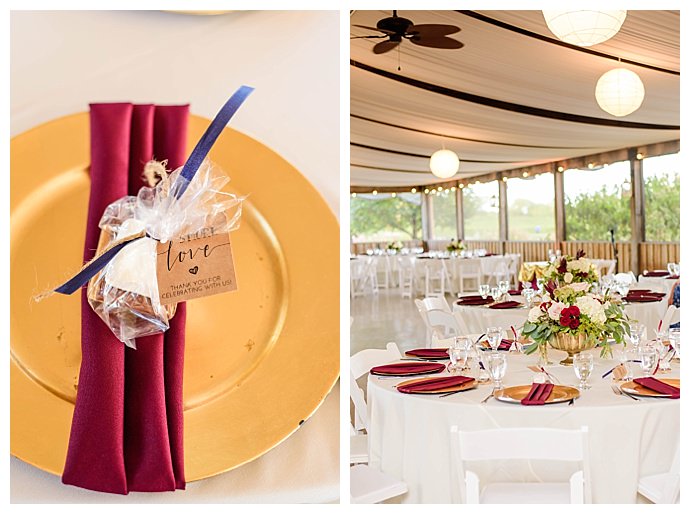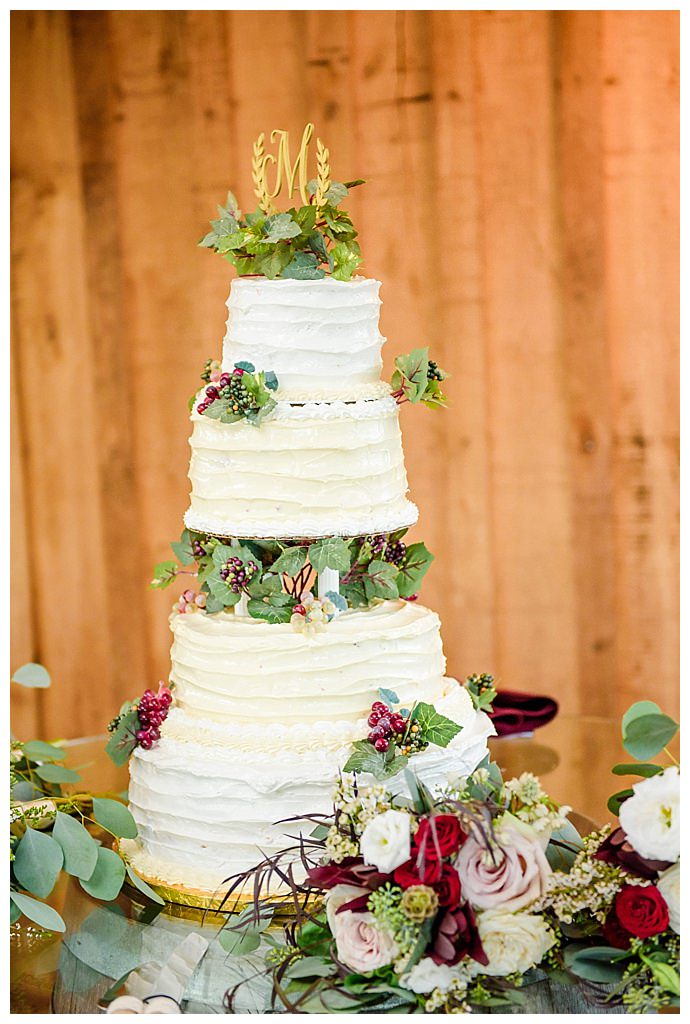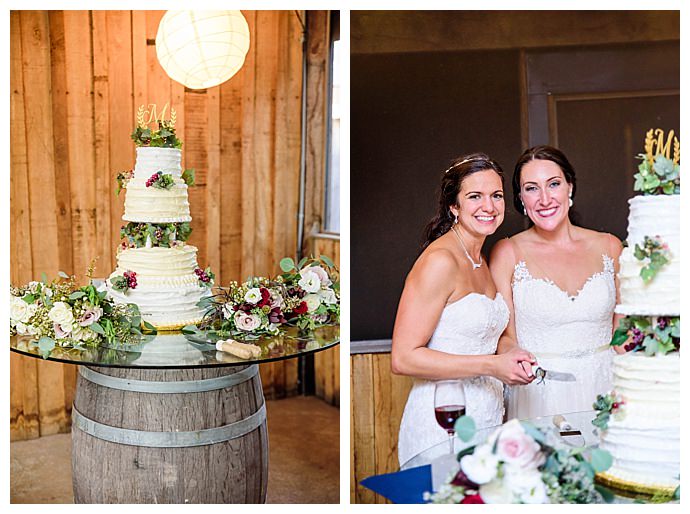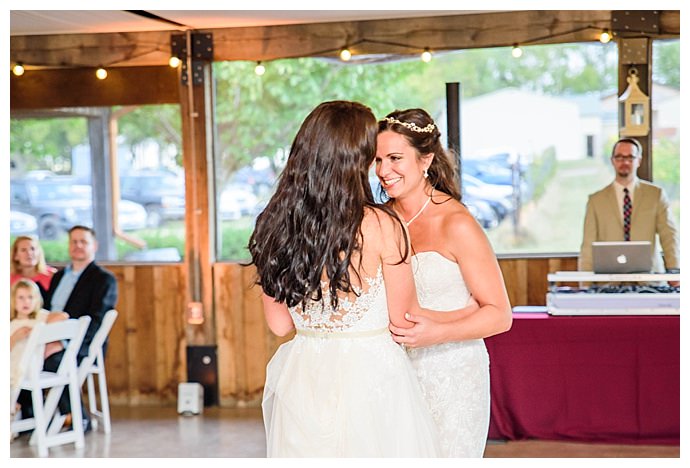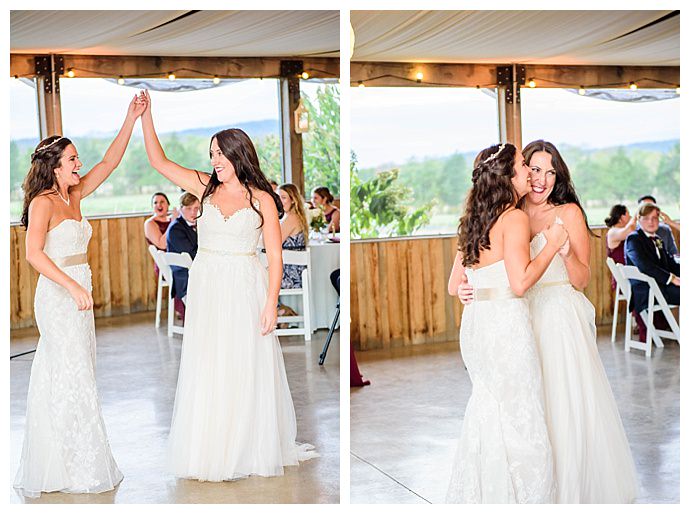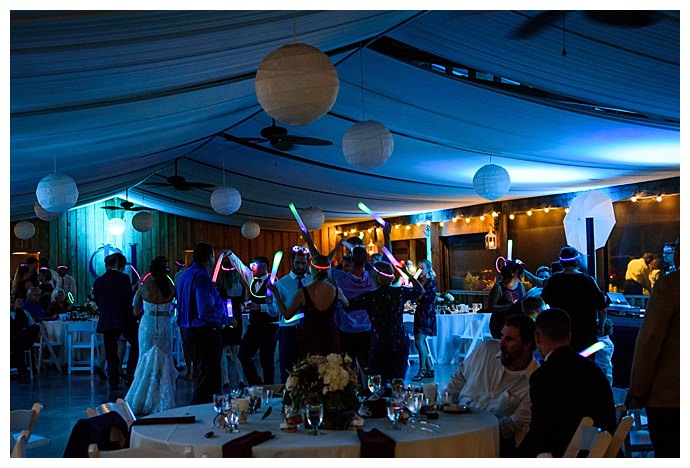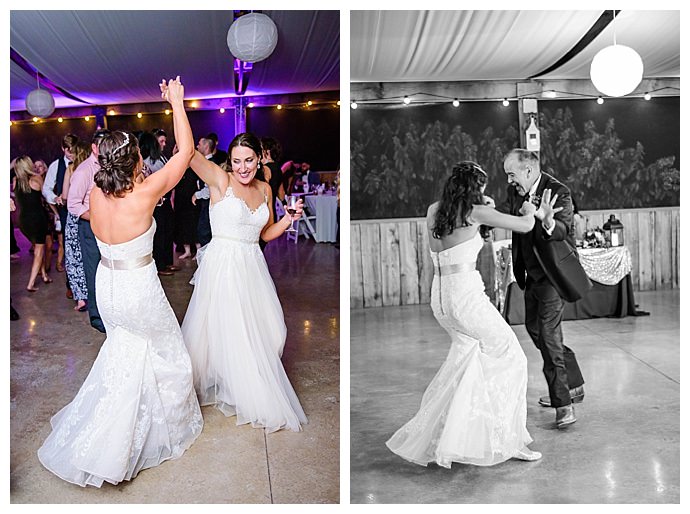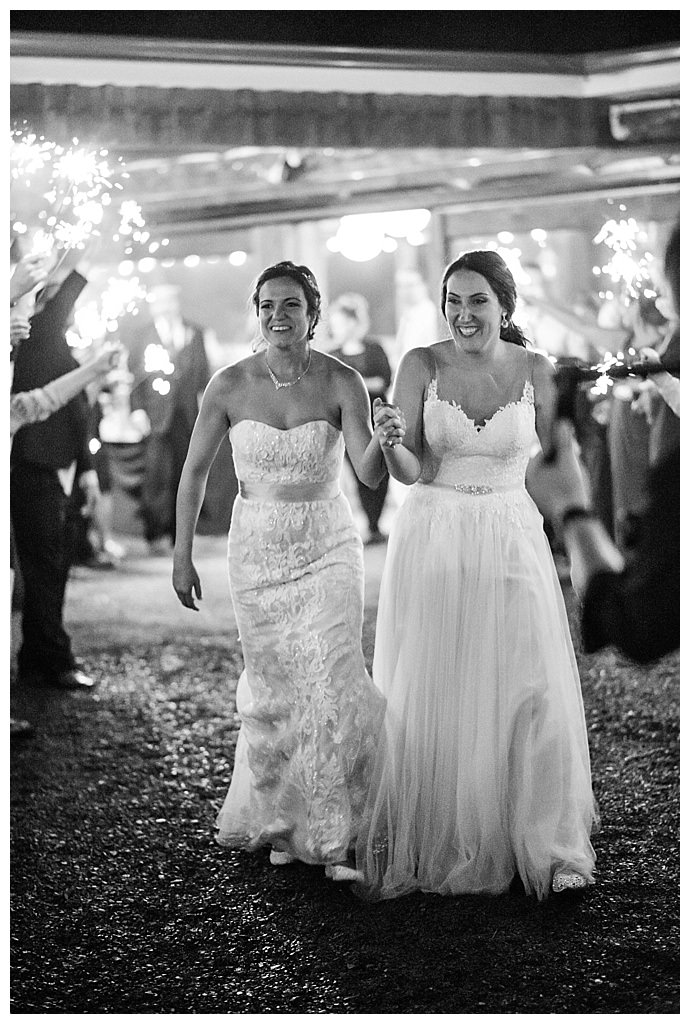 *Editor's Note: This post contains affiliate links. Each time you purchase an item via our affiliate links, Love Inc. is receiving a small percentage of the sale, thus you are helping our small, equality-minded business grow and allowing us to provide more content for YOU! Isn't that just fantastic?
Written By: