You guys, we are so lucky to live in a modern world that gives us technology to help us stay organized through the wedding planning process. Can you imagine having to use an old-school pen and paper to do things, like, your wedding guest list? And perhaps my favorite, favorite wedding planning app and platform to keep you organized is Joy.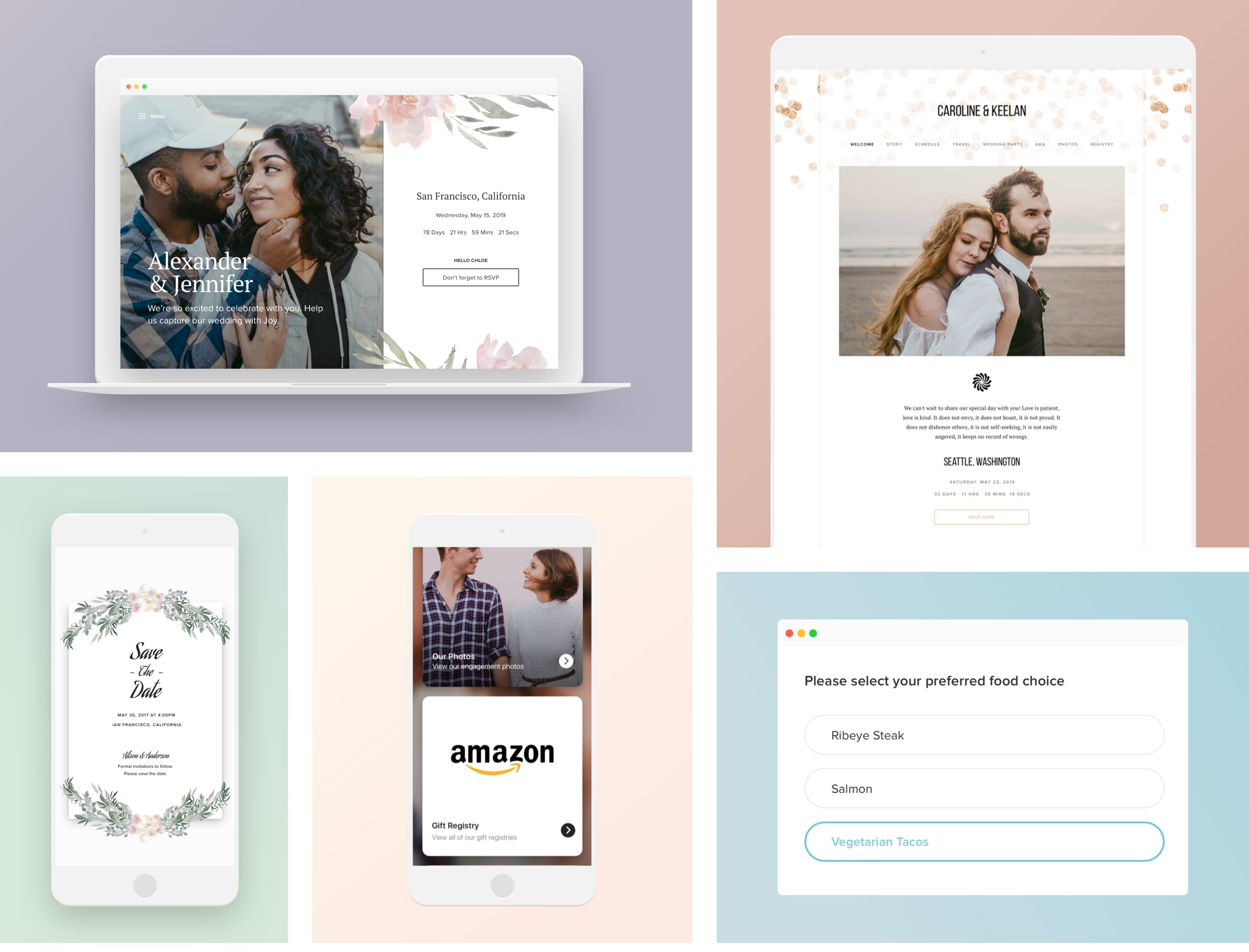 First off, it's FREE, so save your $$ for the open bar. And it is literally a one-stop shop for all of your planning needs, starting with beautiful wedding website templates, guest list management, invitation sending, RSVP tracking, wedding registry links, guest communication, and more. There's just so much to love about this platform, let's break it down a bit more.
The Wedding Website
Your wedding website is going to be your guests' go-to source for quickly finding out information about your wedding weekend, and it's the place you communicate things such as wedding hashtags, kids or no kids, and your wedding registry links. What I love about the templates that Joy offers is that they have hundreds of beautifully designed options that are all very user-friendly, easily walking you through all of the information you need to input, such as wedding party introductions, links to your wedding registry, your love story, and more.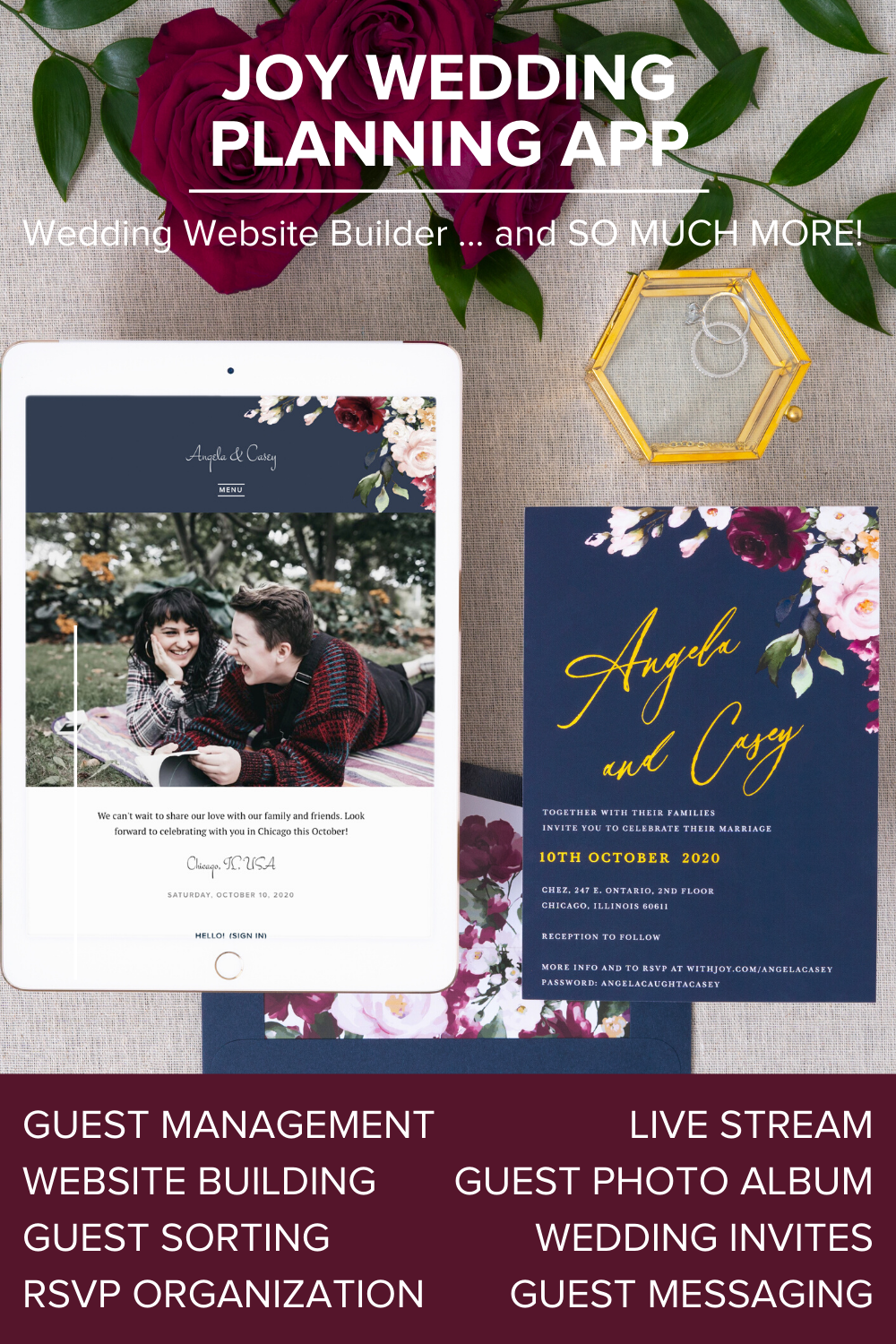 Save-the-Dates and Wedding Invitations
Joy was definitely made for the modern-day couple, and they truly understand how important it is to us that the details of our wedding day are cohesive. So for each wedding website design, they have save-the-dates and invitations that match it to keep all guest communication on-brand. You can either have them printed, or send them electronically.
Guest Management and Communication
This is where Joy really wows — they take guest list management to a whole new level. Not only are your guests able to RSVP directly through your wedding website, but you can individually assign and limit plus-ones (trust me, you'll quickly realize how great of a perk this is!). You can also ask your own RSVP questions such as meal preferences, song requests and mailing addresses (super helpful for when sending out thank-you cards post-wedding!).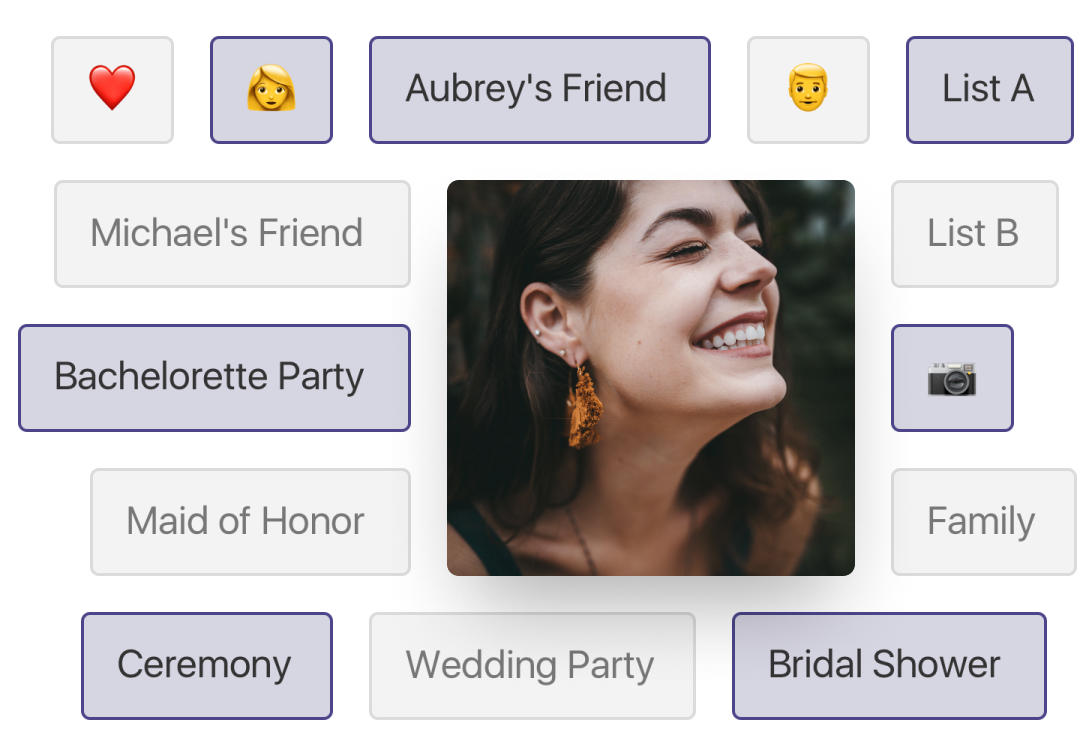 You can also assign guests into groups, and create individual timelines for them. For example, you can send rehearsal dinner details to only the select few you're inviting to the rehearsal dinner, or send shuttle bus details to members of your wedding party.
Post-Wedding Perks
One of the things I loved most about my wedding is going through all of my guests' photos. But with people sharing more on InstaStories (and said photos are disappearing after 24-hours), you may miss them. Which is why I love the idea of encouraging guests to drop their photos in Joy's shared album, right from the app, so that you can go back and look at all those hilarious dance floor antics at your leisure.
Wedding Live Stream
If you choose to have some or all of your guests join your wedding virtually, you can live stream your wedding through your Joy wedding website. Simply let your guests know the date and time to visit your wedding website and they are all set. No meeting software login required and it's so easy even Grandma can figure it out! Whether you're adjusting because of COVID-19, or you have guests who are simply unable to attend, this allows for all of your loved ones to experience your ceremony.
Now, how to get started?
Head to withjoy.com to get started, and download their app.
Editor's Note: In light of the recent COVID-19 pandemic, Joy has put together an amazing resource for their couples to help them navigate this difficult time during their wedding planning process. Everything from email templates, 'Change the Date' E-Cards, and website announcement banners to inform guests of cancellations, to live stream capabilities, vendor communications, answers to frequently asked questions and customer support to help guide you. Head to their coronavirus resource page for more info.