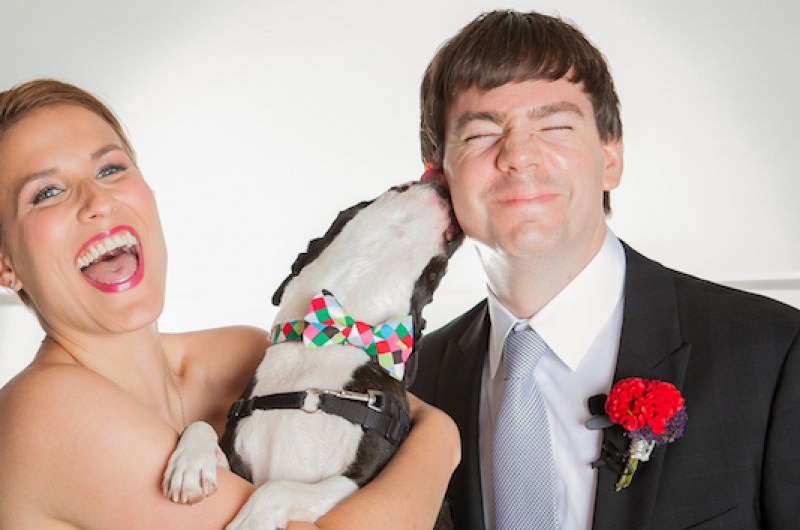 5 Expert Tips for Including Your Pup in Your Wedding
They're called man's best friend for a reason. So when the guest list is being finalized and all your friends and family are invited, why shouldn't your favorite furry friend be at your wedding, too? These days, more dogs than ever are taking a trot down the aisle — some clad in a fancy tuxedo, others tasked with carrying the rings — and as someone who thinks of her dog as family, it's no surprise that couples want their dog there for one of the most important moments in their lives. It might feel as simple as throwing a leash on your pup before your flower girl walks them down the aisle, but just as with most small details when it comes to wedding planning, including your dog in the ceremony will require some thinking ahead. In honor of National Dog Day, here are five tips to keep in mind when including your dog in your nuptials.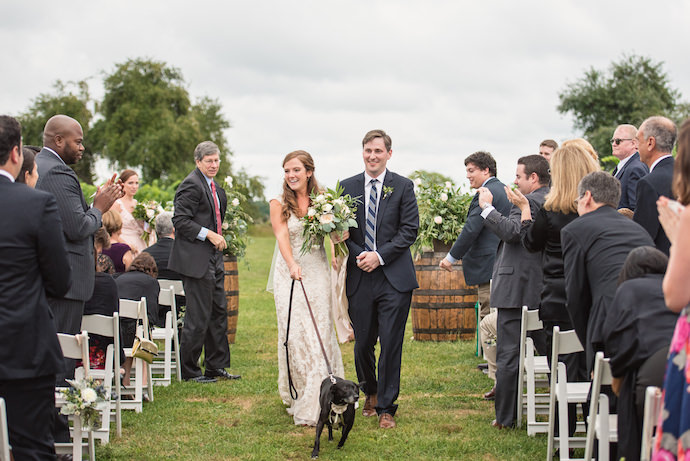 Tell Everyone
Okay, maybe not everyone, but you're going to want to inform more people than you might think you need to. First thing's first, check with your venue. Even if you're getting married outside and it seems like a no-brainer, double check to make sure dogs are allowed. Then, tell your wedding party. Although you probably already know if one of your best buds has an allergy, let them know of your plan anyway. If there are any issues, you can situate your pup in a place that works best for everyone. The best rule of thumb is to avoid surprise by notifying everyone beforehand, so also be sure to consult your officiant. There would be nothing worse than an officiant bowing out at the last minute because of your dog.
Delegate Dog Duties
There are a million things to think about on your wedding day, and whether or not your dog needs to go out should not be one of them. Erika Flugge of Erika Flugge Photography suggests asking a non-wedding party friend or family member to be on dog duty. Consult with your dog deputy beforehand to arrange things like food, water and transportation. "I once had a couple bring their dogs at the beginning so they could be part of the ceremony and then someone took them home afterward," Erika says. Even if your dog is well-trained and low maintenance, it won't hurt to have someone there for either a reassuring pat on the head or to simply help your dog feel at ease during a chaotic time.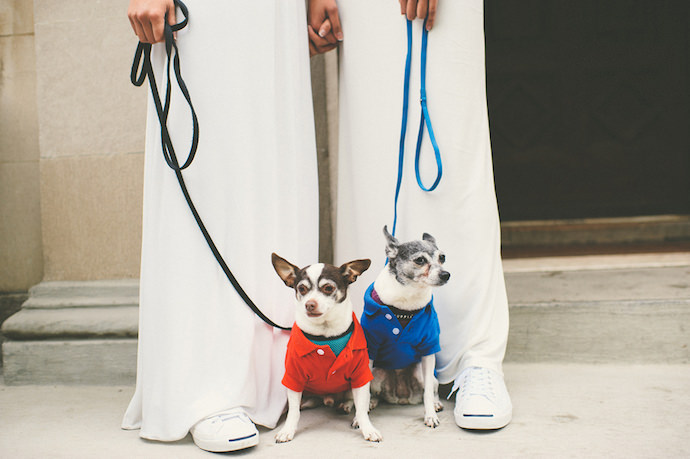 Determine Your Dog's Responsibilities
There are so many fun ways to include your dog in your big day. You can incorporate them in the ceremony, let them sit with the other guests to watch or have them on-site just for pictures. Whichever you choose, consider your dog's temperament and personality. Leah Weinberg, owner of Color Pop Events, had her Boston Terrier, Spike, serve as the ring bearer for her wedding. As a wedding planner, Leah has seen her share of mishaps with dogs at weddings, so the decision to have her maid of honor walk Spike was carefully thought out. "Make sure the person tasked with walking the dog down the aisle is up for the challenge," she says. "Having a 4-year-old flower girl walk a chocolate lab down the aisle might not be the best combination."
If your dog is calm and happy to sit in one spot for an extended time, then they might be a great addition to your ceremony. However, if your dog gets bored quickly or will require a lot of attention, you might want to reconsider. A wedding is a unique setting that might make even a low-maintenance dog anxious, so before the big day, think about finding ways to get your dog acquainted with what they might experience during the ceremony. And don't forget to rehearse! 
Be Realistic
I love the idea of watching my sweet dog walk down the aisle before me with her tail wagging excitedly, or the idea of her sitting at my feet with her tongue out, watching as me and my betrothed say our vows. But, unfortunately, that's not even a remotely realistic picture. Knowing my pup, she'd bark her way down the aisle, thrusting her feet forward in retaliation of walking into a sea of strangers. The decorations would overwhelm her, and because she's a beagle, she'd spend the entire ceremony fighting for my attention with spurts of impatient whines and apathetic howls. I love my dog more than anything, but she should not be anywhere near my wedding! If there's even a possibility that your dog is going to cause a small amount of stress on your big day, don't feel bad about leaving them at home. They'll be there excitedly awaiting to greet you as a newlywed couple with lots of slobbery kisses.
Get Creative
If you have any reservations about having your dog at the wedding, that doesn't mean they can't be included in another way. We love seeing engagement photos with fur babies — they often provide some of the most heartwarming and candid pictures. And dogs make for the best wingmen if you're looking for a fun way to propose. You can also pay homage to your dog through personalized details in the decor of your wedding. Our founder used gold cat figurines as escort card holders as a nod to their beloved cat, Scout. So even if they can't be next to you, there's no reason your fur baby can't be a part of your big day.

Credits: Photo 1 by Ardent Story from Leah and Marc's Color Pop Wedding; Photo 2 by Lacey Gabrielle Photography from Erin and Scott's Vineyard Wedding; Photo 3 by Calvina Photography from Serena and Melissa's NYC Subway-Inspired Wedding; Photo 4 by Logan Walker Photography from Paul and Ray's Bright Red Beach Wedding