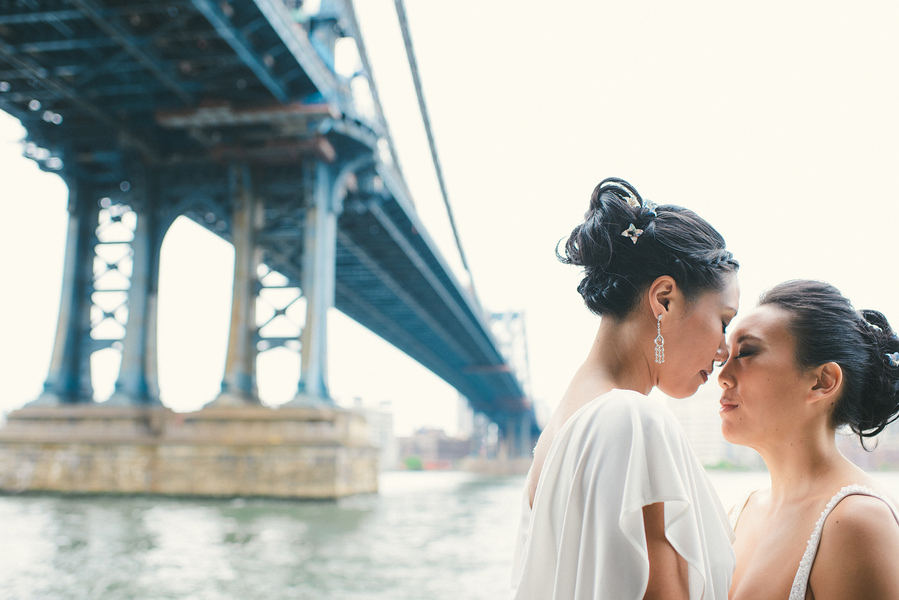 It was important for Serena and Melissa to celebrate their beloved city, infusing their day with subway-inspired elements and taking photos at the foot of the iconic bridges, captured by Calvina Photography. The result was a love letter to New York and to each other.
The Love Story
Serena and Melissa met and started building their lives together in New York City and it quickly became the place that they felt deeply connected to as a couple, rooted by  a community that was supportive of their lives and their love.
The Inspiration
The brides found inspiration in their daily commute: invitations designed with subway mosaics in mind, subway maps were turned into bridal bouquets and favors mimicked platform signage.
The Venue
When a 10 percent chance of rain turned into a downpour, the brides unexpectedly had to move their celebration indoors. Luckily their venue, the landmark Brooklyn Society for Ethical Culture, was as stately inside as its outdoor gardens they had planned to wed in. "We first saw BSEC a year prior when we were passing by after playing basketball in our gay basketball league. It happened to be a gorgeous spring day and BSEC was holding an event in their outdoor space. Serena made a mental note of the venue even though we hadn't even moved in together yet," explains Melissa. "When searching different venues in the city that would be affordable for our budget, we remembered BSEC and it was a perfect fit."
The two-story mansion, built in 1900, oozes with old New York charm, and the couple let the historic interior speak for itself, adding minimum decor to the space.
The Ceremony
As both brides grew up in religious homes, it was important that they had a faith-based ceremony. They were wed by Pastor Vicki Flippin of the United Methodist Church of the Village in Manhattan."She's a passionate advocate and church leader for marriage equality and full inclusion of LGBT persons in the United Methodist Church," says Serena. "She married us despite the UMC's laws forbidding its pastors from marrying same-sex couples."
Serena and Melissa were heavily involved in the ceremony planning, mixing traditional and nontraditional practices to reflect their beliefs as a couple comprised of two strong and independent individuals. They each individually walked — nay, danced — themselves down the aisle and met at the altar along with their closest family members. "The idea was that these very special people oversaw us in our lives and would bless us as we began our marriage and would continue to oversee us thereafter," explain the brides. Melissa's mother and brother — and dog, Zoe! — were her overseers. Unfortunately, Serena's parents are not supportive of her sexual orientation; however her uncle and aunt, who have always played a significant role in her life, stepped up to the plate and took the title. (As did her pup, Sebastian.)
They asked Pastor Vicki to read a passage on love, loyalty and devotion from the scripture of Ruth and Naomi. "Pastor Vicki gave a killer word about the scripture, noting the historical and social context of Ruth and Naomi — that they relationship would be regarded as a modern-day lesbian couple. She blew everyone's minds!" exclaims Melissa.
The Party
Using (free!) New York City subway maps, which had the perfect pastel palette, Serena created approximately 150 hand-folded flowers for the table arrangements, bouquets, boutonnieres, hair ornaments and corsages. In lieu of a cake, the lovebirds served mango sticky rice, a Thai dessert. That was a huge hit with our guests," adds Melissa.
The open bar (which actually began pre-ceremony!) ensured drinks flowed and DJ SheRock, a prominent spin master in the lesbian party scene, kept guests grooving. The brides switched things up a bit for their first dance. Swaying to Whitney Houston's epic "I Wanna Dance with Somebody" for only a few lines, the newlyweds then encouraged all of their guests to join them on the dance floor. "It was a blast and got everyone dancing," exclaims Serena.
As the fun-filled evening came to a close, guests were sent home with a small token of love showcasing the couple's affinity for New York: homemade cookies designed as New York City subway platform signs. "We bought small soy sauce plates in our Chinatown neighborhood and put two cookies on each plate," says Melissa. "Serena made all of the cookies from scratch using her signature coconut/corn flakes/chocolate chip, so-tasty-it-hurts recipe."
Their by-hand-from-the-heart celebration was deeply personal in the absolute best of ways. "It was powerful to share our love, devotion and commitment to one another in front of our most beloved friends and family," says Serena. "It was incredibly private, intimate and spiritual while at the same time, a moment of public declaration."
Team of Talents
Photography: Calvina Photography
Venue: Brooklyn Society of Ethical Culture
Catering: On Occasion
DJ: DJ SheRock
Beauty: Mess Look
Officiant: Rev. Vicki Flippin
Editor's Note: The feature was originally published in Love Inc.'s V3 issue. 
By Brittny Drye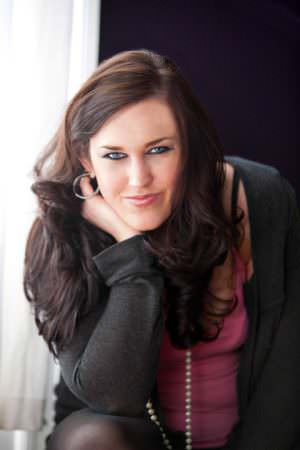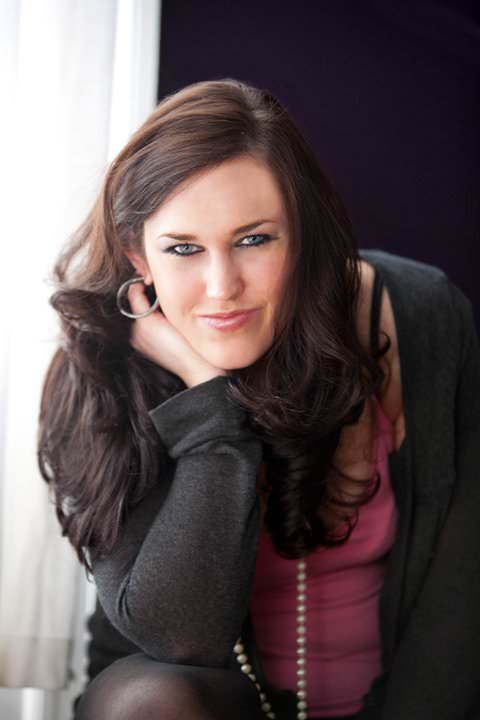 Brittny Drye is the founder and editor-in-chief of Love Inc. magazine. A fierce cheerleader for marriage equality, she launched loveincmag.com in 2013 as a way to to celebrate both straight and same-sex love, equally. She lives in New York City with her husband and their cat, Scout.