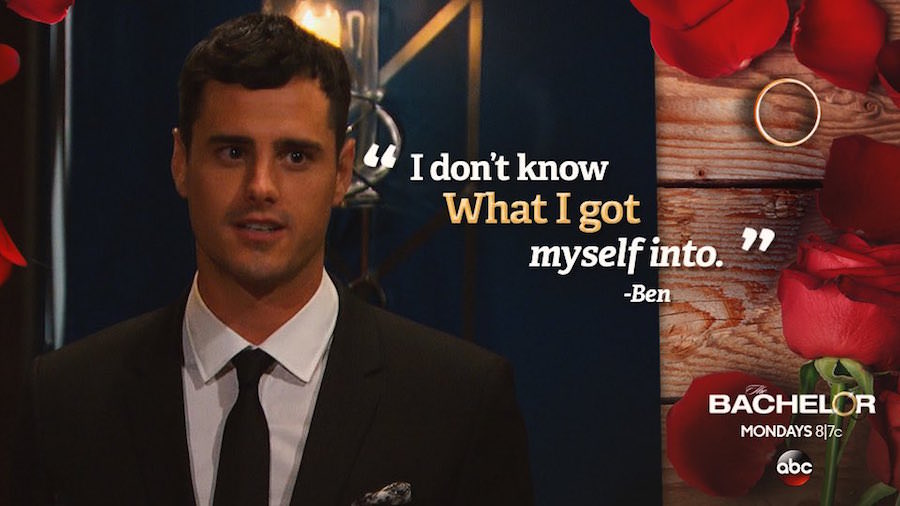 It's January, and you know what that means … I am so thrilled to be here with you for round three of recaps for the most perfect trainwreck on national television, The Bachelor! Can you believe we're at season 20? Can you believe that Ben is the Bachelor? I barely can. Although I have to admit that I'm super mad at myself for not auditioning this year because I have loved Ben Higgins since the moment I laid on eyes on him during Kaitlyn's season of The Bachelorette. This season is going to be good, you guys. There's lots of drama ready for us (and I'm avoiding spoilers because I am once again admin of my league — this season's name? H to the Iggins, It's The Bachelor, Get Ya Damn Hands Up.) and we've got a lot to discuss, so let's jump right in, shall we?
We begin the episode with Ben at home in Indiana, the classic corn-fed Bachelor. Why are all the Bachelors from the Midwest? Do I need to go to the middle of nowhere to find a man to date, let alone marry??? Is this turning into a post about my own dating insecurities? I digress. I can't deal with his whole hometown hero thing (and by can't deal, I mean that I love it more than anything). He even says he's afraid of being unlovable. I love a good amount of vulnerability, especially since our last Bachelor had the emotional depth of a kiddie pool. Ben's mom literally cries when she talks about him possibly finding a wife and it's like, hello, either way he's going to make bank. Do you know how much these people get paid to be the center of this show? It's a lot of money. And the competitors don't get paid — this is something I'd like to bring up to the Better Business Bureau one day. I also really want Ben's lakefront property, so I officially 1000 percent regret not applying to this season.
Alright, so we pan over to three prior Bachelors visiting Ben to give him advice on this season. One of them is Chris Soules. May I ask why we asked Chris, whose recent engagement got broken off and whose biggest accomplishment since his season is to be on Dancing With the Stars, to give Ben advice on how to find a wife? Listening to Chris is the equivalent of watching paint dry. I can't do it, so I didn't pay attention. #SorryNotSorry. Right off the bat he tells Ben to make out with everyone, lest we forget he was the kissing bandit of Season 19! Also …. did anyone else forget that Becca was a virgin? Just me? OK.
After what seems like forever, we finally get to the main event, which was a hot mess, to say the absolute least. We have a real motley crew of weirdos this year and I'm super excited to discuss each and every one of them:
Lauren B.: Looks like an IRL Barbie … and is very squeaky.
Caila: LEFT HER BOYFRIEND FOR BEN SO LET'S SEE HOW THAT GOES, SHALL WE?
Jubilee: Could this chick be any cooler? Honestly, having a war vet featured is sick. Except for the fact that I kept thinking about Serial.
Mandi: WHY ARE THESE BAGPIPES ON FIRE? Oh, Portland, that makes sense. By the way, Mandi is 1000 percent the Ashley S. of this season, except she is trying entirely too hard. But I'm ok with it, because all I ever care about is Ashley S. She also might be a psychopathic dentist, which is what my nightmares are made of. I love Mandi.
Emily & Haley: They're twins. I have nothing else to say. It's basically like if The Shining went on Tinder.
Amanda: Amanda has KIDS! I love when contestants have kids. She also trained them to say that Prince Charming's name is Ben, so like, what else is the point of having kids?
Tiara: Tiara is a chicken enthusiast. My editor loves that Tiara is a chicken enthusiast. [Editor's Note: THEY'RE ADORABLE AND I LOVE HER.] I personally think it's really gross that she kisses her chickens and I'm pretty sure she probably has bird flu.
Samantha: Has a sob story, her dad died from ALS and now she wants to live a more fulfilling life. At least she isn't Kelsey.
After what feels like forever, we finally get to the limo intros (which is my #1 favorite part of the entire season so I don't even know why I watch past the first episode, to be completely honest). We're giving the flight attendant two major thumbs down for her joke about ~ taking off on this journey ~ and two even bigger thumbs down to Caila for jumping into Ben's arms when he 100 percent wasn't ready to catch her. Jennifer seems kind of boring and forgot to say her name (which will unfortunately be a common theme throughout the night, I'm sorry to say).
Miss Jami shows up and she's from Canada … and she knows Kaitlyn. She makes a really awkward penis joke which no one appreciates and then kind of slowly fades into the background. Bye. We find out that Samantha (in case you didn't remember, she is living life to the fullest now) passed her bar exam, and wants to know if Ben wears "boxers or legal briefs." Sad to report that he picked "legal briefs." Minus a few points in my book, Ben.
Jubilee has the sickest body possible, which I am pretty sure can only come from being in the Army, and Amanda's got some crazy vocal fry which I did not note earlier. Then a girl named Lace shows up. Lace is Public Enemy #1. She is bad. We don't like her. Also, how is your name Lace? Lauren R., a math teacher from Texas who you would think would be boring but ends up A) admitting to Ben that she has stalked him on social media for two months and B) refuses to tell him her name the entire time she is speaking with him. I was shocked, to be honest.
But we are nowhere near the weirdest competitors we'll encounter tonight. Next up is Shushanna, who speaks Russian — and only Russian — to Ben when she meets him. I honestly can't figure out if she speaks English or not and I'm very interested to see how this one plays out. We've got Leah up next who makes it a point to show that she is super into sports! She's a girl but she loves football! She can throw a football in a dress! Go Leah! Actually, I hope you get voted off immediately. I'd also like to know what possessed Jojo to rock a latex unicorn head as she stepped out of the limo. I've seen a lot of weird things in my day, but never anything like that.  Everyone else is pretty unremarkable except for Mandi, the crazy dentist, who shows up channeling Lana Del Rey circa Born to Die in a skintight white dress, wavy bronde hair and … a giant rose atop her head. I literally could not love this girl more if I tried. Meagan shows up with a mini horse, Breanne acts like a mom hitting on her teenage son's friend, Unemployed Rachel shows up on a hoverboard and Lace continues to be The Worst Person Ever. Another contestant brought Ben a wedding invitation for March 24, 2016 (AKA the season finale). These girls are crazy.
When Ben comes out to officially kick off the season, Mandi swoops in without a second's pause to sink her claws into him right away. She quite literally gives him a dentist checkup at the mansion. I don't know about you, but I F-ing hate the dentist, so having this done to me while I'm on a reality show looking for love would really spin me out in all the wrong directions. Olivia is a beautiful robot (thank you Diablo Cody for the most perfect phrasing in the world) and Caila tries to chat up Ben by using the most romantic connection that they both sell software. Vomit in my mouth. Who let you on this show? Jojo plays heads up with Ben to have him guess where she's from and what she does, which is kind of cute but also kind of weird, so, like, whatever.
Surprise guests arrive … Bachelor alumni Becca and Amber! And let me tell you, when Becca walks into the room, everyone's face quite literally drops. It's so obvious that it's devastating and also fantastic. Lace, who had been the neediest person in the house, amps it up even more by throwing a fit that Ben wasn't speaking to her. After seeing that she threw a fit, Ben, like a normal human, asked to take her aside and calm her down. And she talked about it nonstop afterwards. Miss lady was very, very drunk and very, very awful. I really don't like Lace at all.
Olivia gets the first impression rose, which is unexpected. My roommate who has never seen the Bachelor before called it the minute Ben met her. I have to say, about an hour and a half into the episode, I got kind of bored with the whole situation because I always forget that during the first episode, the girls are especially whiny and clingy. Luckily enough, it was finally time for the rose ceremony …
ELIMINATED: Lauren R., Izzy, Laura, Jessica, Breanne, Tiara, Meagan.
So… I guess Ben doesn't really have a thing for animals considering he cast out the "chicken enthusiast" and the girl with the mini horse. Although Lace got a rose, she is still pulling Ben aside to whine about the fact that he isn't paying her enough attention so this is going to be an interesting season for however long she's on it. All in all, I think this is going to be a promising season: black eyes! Panic attacks! Twins turning their backs on each other! Chris Harrison talking to a horse! It's going to be good and I can't wait to go on this roller coaster with all of you. See you next week!
Thoughts & Feelings
Poll, who's better: Ashley or Mandi? (It's Ashley. You don't even need to answer.)
My friend Kate called 1-800-Rose-Talk during Bachelor Live and accidentally dialed a sex hotline so be careful what you dial if you ever want to try and talk to Chris Harrison.
Does anyone else think the twins thing is just, like, really, really weird? I'm not ok with it.
Do you care at all about Chris Soules' well-being?
Texts From My Editor
"I snuggled with the resident chicken at my wedding venue — he was very friendly." – Brittny and Tiara would get along famously.
"Poor Ben — he's getting a f-ing circus." TRUE!
"*looks up what gerontologist means*" Didn't we all?
Photo via ABC
By Meghan Kennedy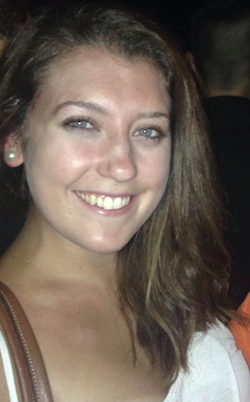 Meghan is a recent graduate of SUNY Geneseo with a degree in Personal and Professional Communication. You can find her at the nearest Chipotle tweeting about Drake, her sorority little and Project Runway.