The story that led to Bri and Lindsey's engagement started with a fateful 24 hours in June 2018. Bri signed up for dating app HER because, as she put it, being a 29-year old single mom of a toddler makes it difficult to go out and meet people.
Swiping right, Bri matched with Lindsey, "a blonde-haired, green-eyed single mom of twins with the most beautiful smile [Bri had] ever seen – and someone who desperately HATES mayonnaise (according to her profile) – had no intentions of getting married, having more kids, or casually hooking up."
Lindsey signed up begrudgingly after a few glasses of wine thanks to the coaxing of her neighbor. A single mom of twins, Lindsey was not into dating apps and swiped for a couple days before she came across Bri, who she found the most enchanting woman she had ever seen. So enchanting in fact, that Lindsey was convinced she was being catfished.
"She had the kindest, most beautiful brown eyes and I could see her loving heart through all her photos," remembers Lindsey. "Plus she was wearing the sexiest Open Road Stetson hat I'd ever seen. I knew I had to bring my A-game with this one. So I swiped right, after calling my neighbor to confirm the correct direction of swiping, and sent Bri a witty message that I hoped would LAND. And land…it…did. I was 100% myself and figured I had nothing to lose. We started our text conversation at 6am the morning of my birthday. And by 6pm that evening, I was picking her up for our first date."
That first date at an outdoor concert is the one both Bri and Lindsey attribute to being the night they fell in love, despite how cliché they find it to be.
"There was this moment in the middle of our conversation where Lindsey looked at me and said, 'I see you, I honor you, and you are worthy,'" shares Bri. "That statement shook me. It was bold of her to say something like that on a first date. But I knew without a doubt she meant it. I had never had anyone ever say something like that to me. It's as if everything in me recognized her as my home. A safe place for me to land. I felt seen and fully accepted. You know how vulnerable it makes you feel to have someone fully SEE you?! I knew she was going to my once in a lifetime kind of love."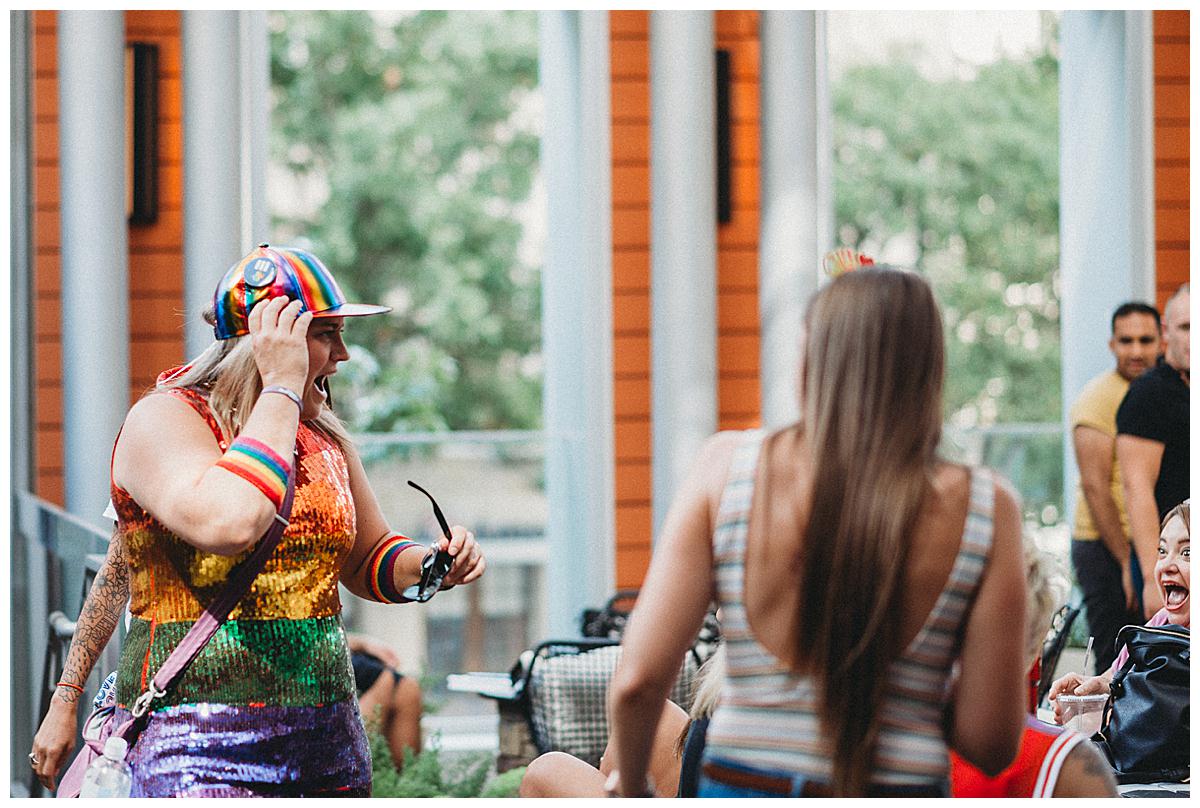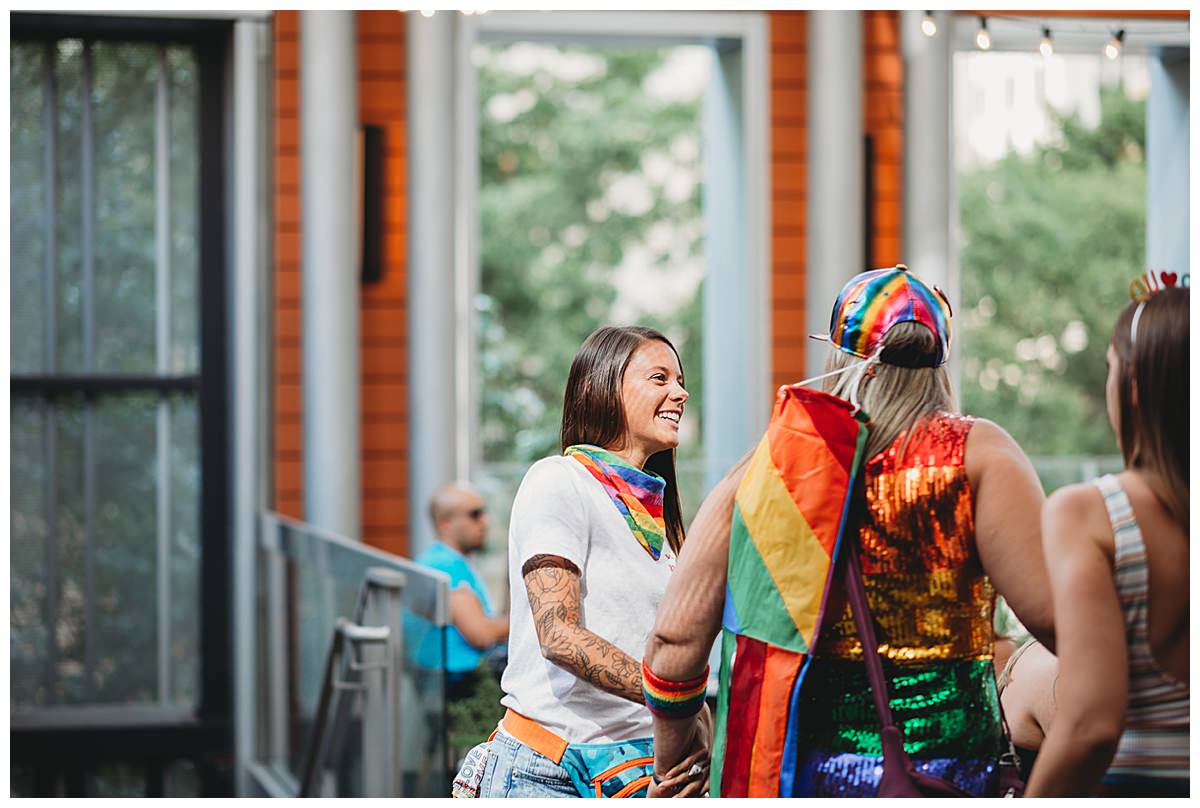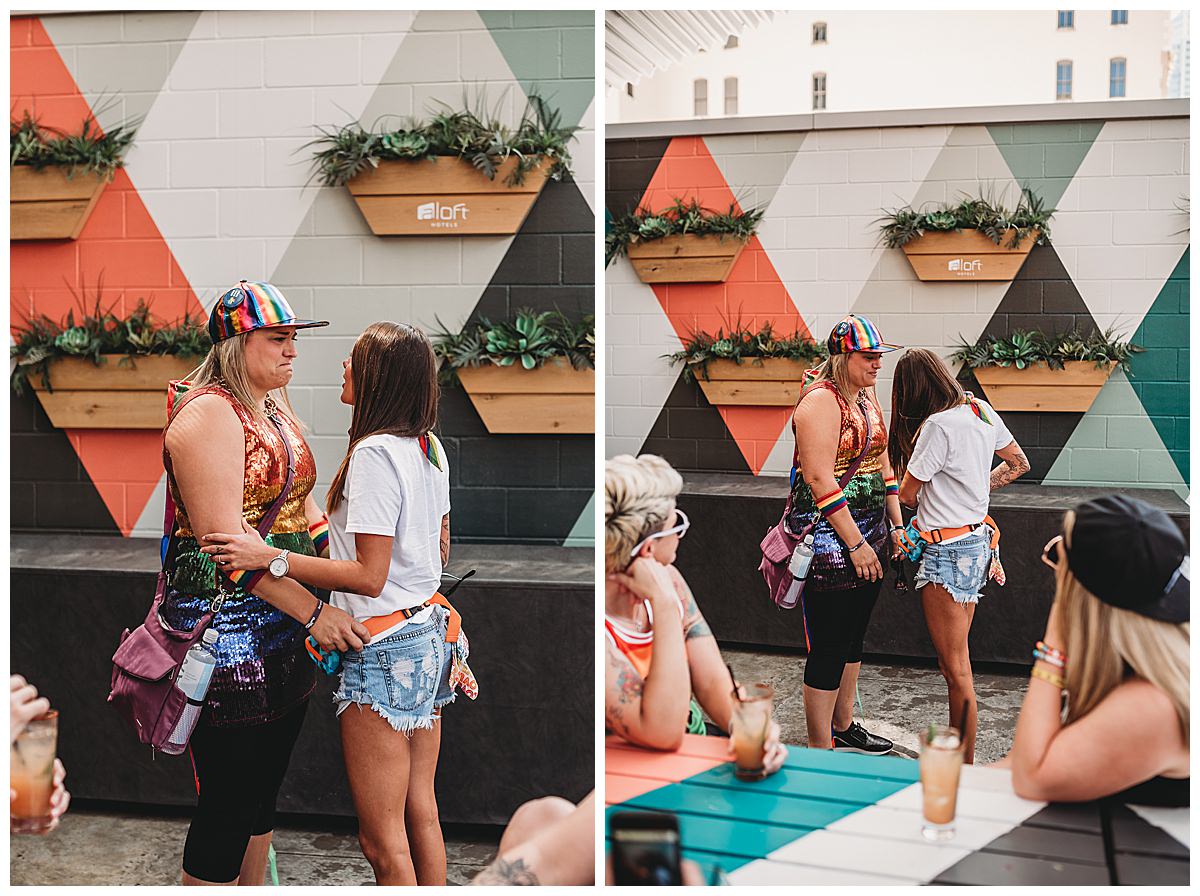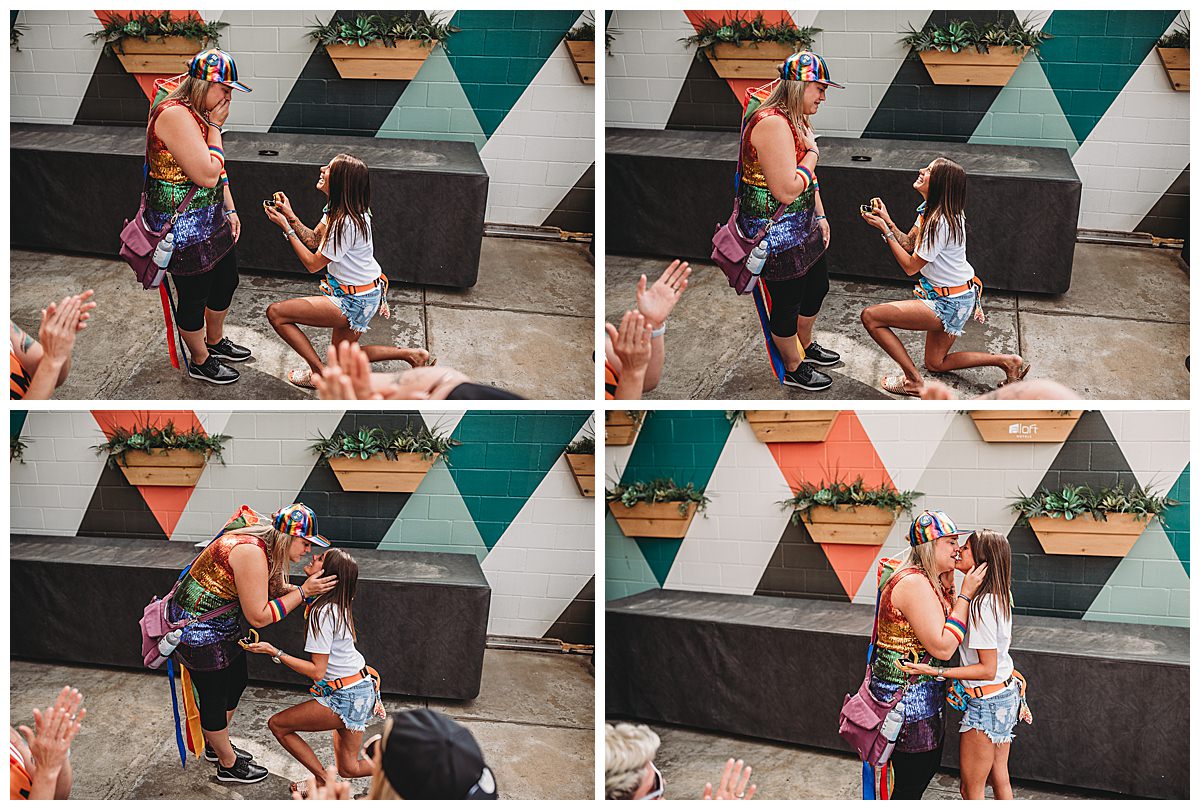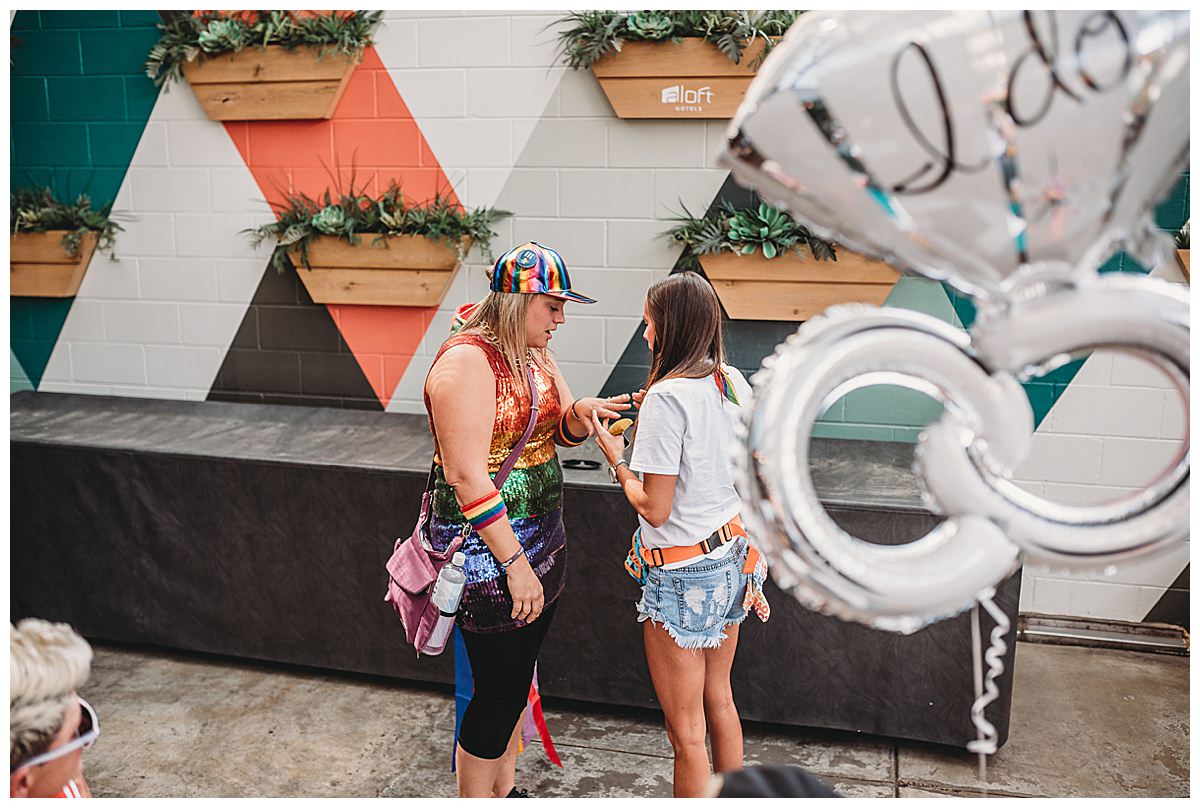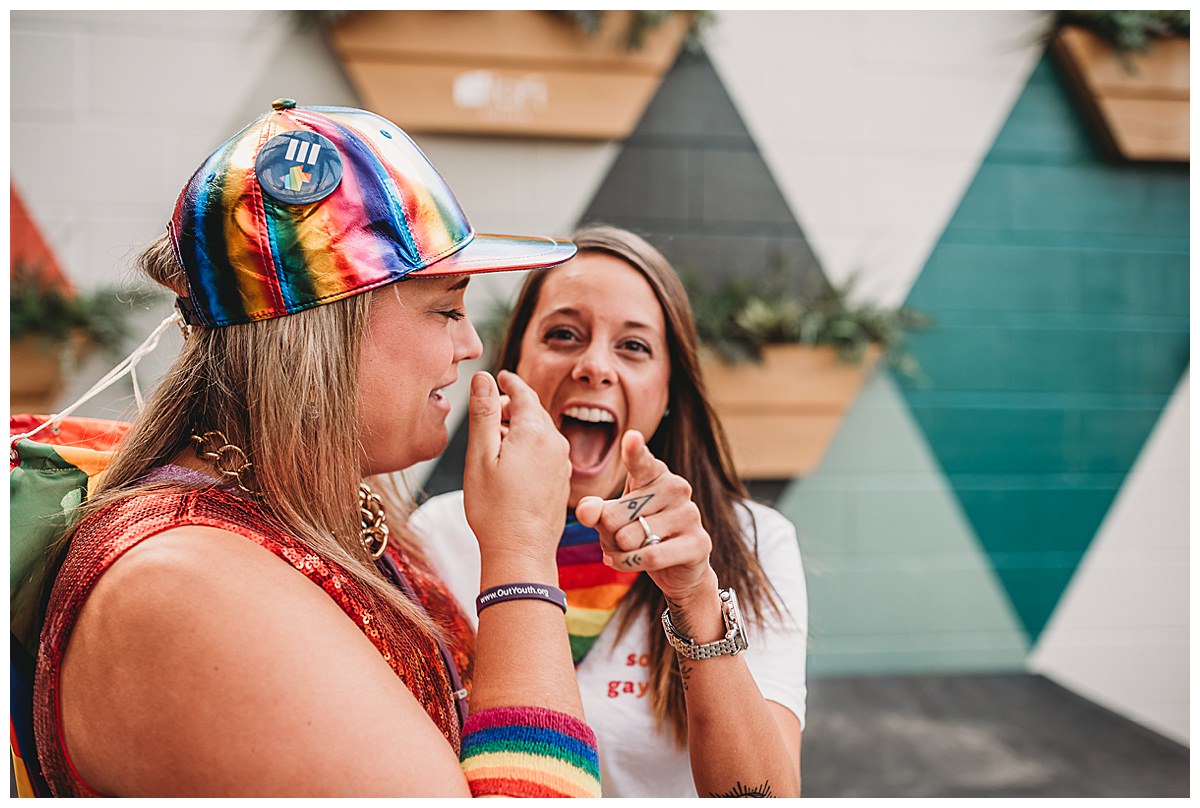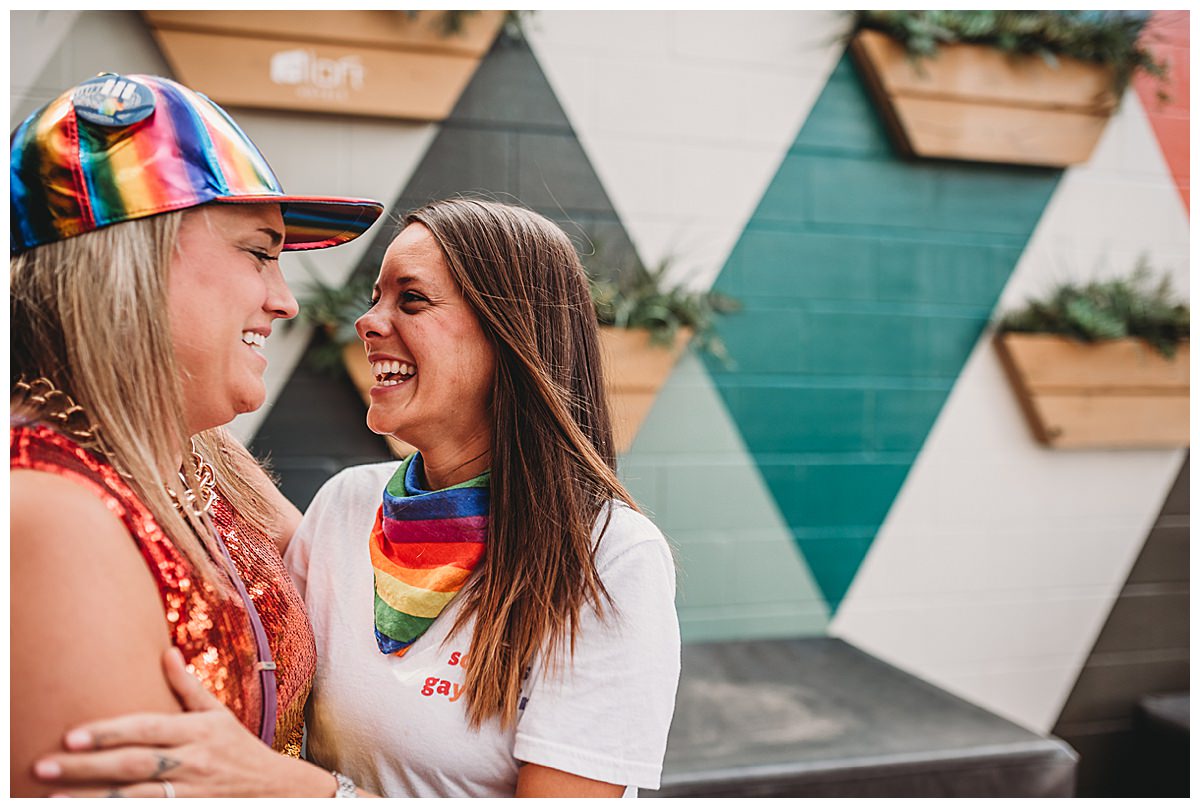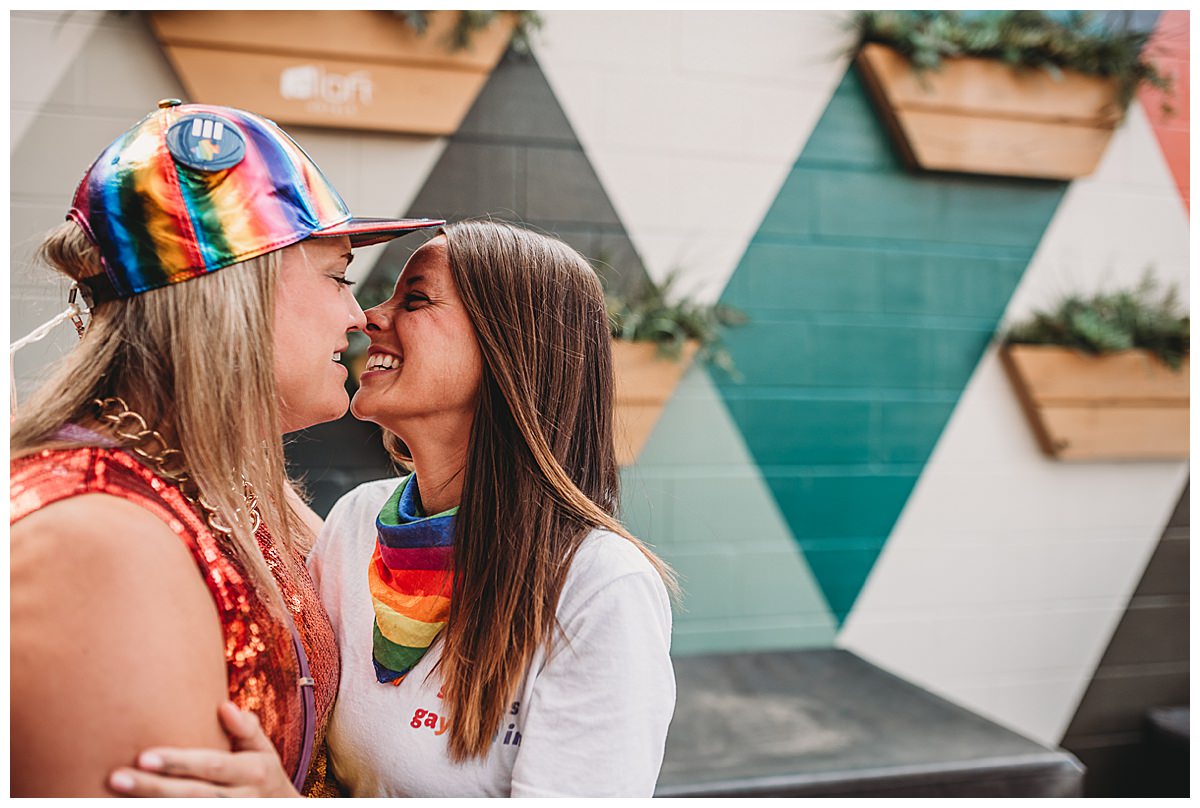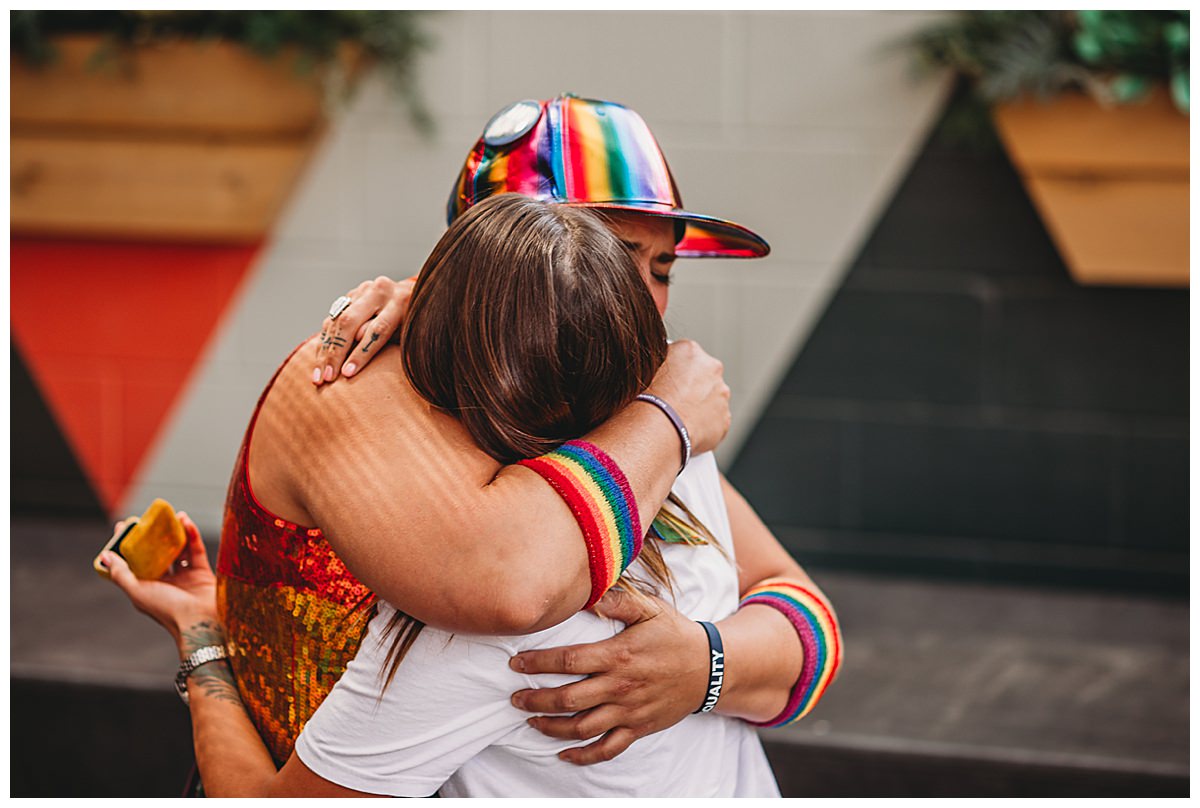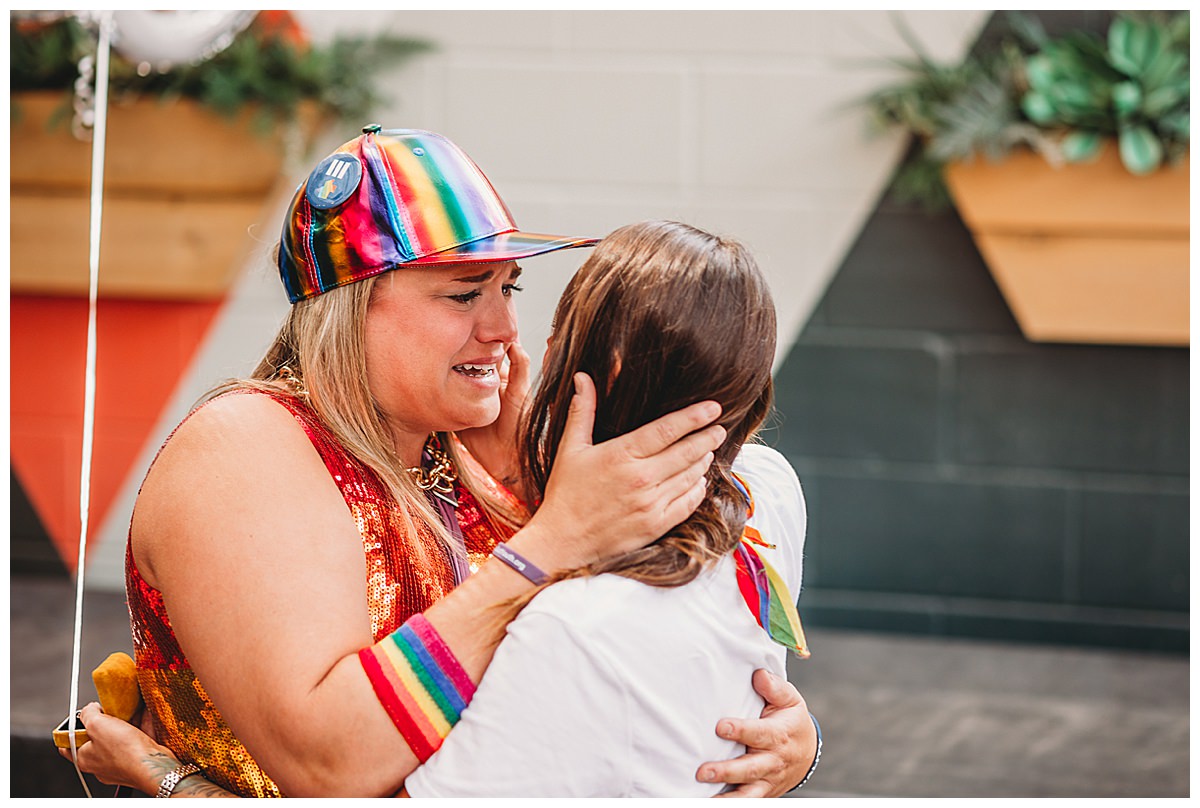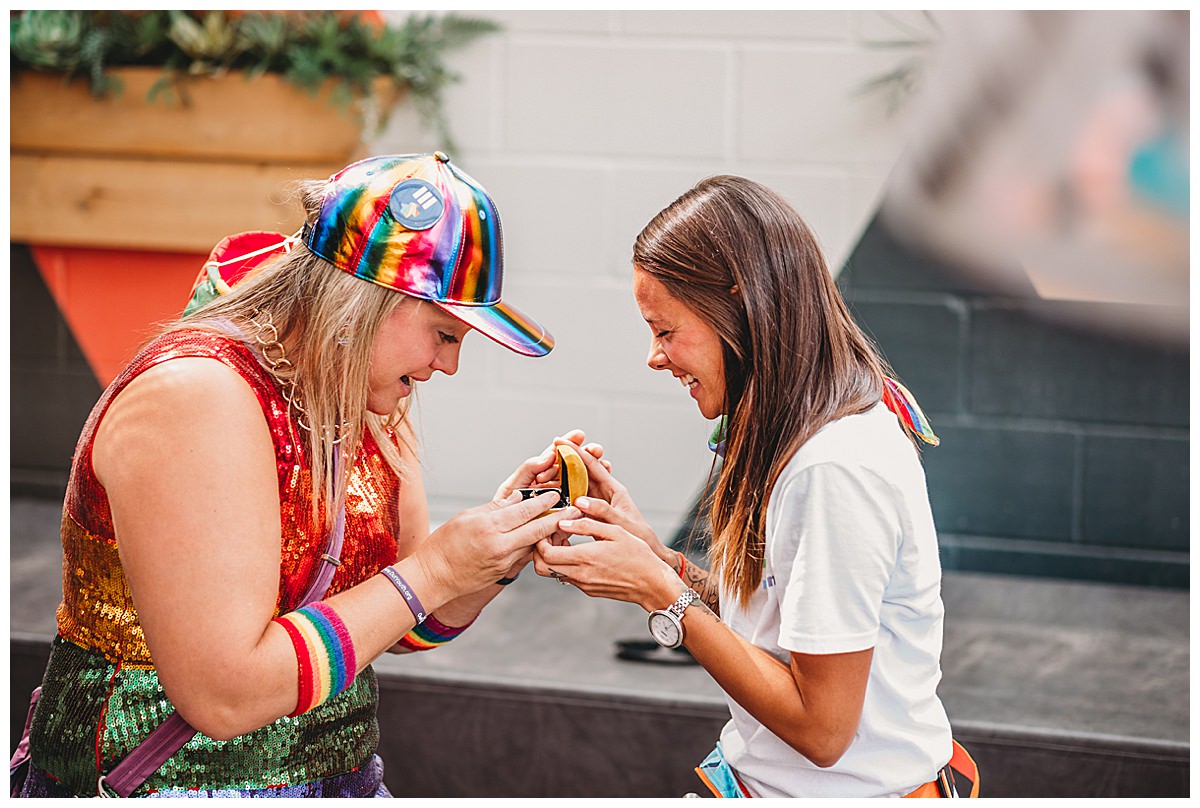 A year later, Bri was the first to propose with the perfect surprise at Austin Pride in August 2019. Months of planning and scheming went into Bri's proposal vision, only for Lindsey to unknowingly affect the plan, all because of her outfit choice.
"If you knew Lindsey, you'd know that being proposed to at the 2019 Austin Pride Parade would be the most appropriate engagement ever," shares Bri. "I knew Lindsey had no idea of said proposal because as we were getting ready to head out to Pride, she came out from our bedroom wearing a full sequins rainbow dress with the most obnoxious metallic rainbow hat, rainbow sweatbands and a damn rainbow WINDSOCK attached to the back of her hat. Little did she know that this would be the outfit that would be in all our on-the-spot surprise engagement photos. Forever. I attempted to sneak in an extra change of clothes in our bag for her, knowing that I had special 'enGAYgement' shirts made for us to wear and I didn't want her to look like a clown. Lindsey found the clothes, proceeded to remove them from the bag, declining any rationale for ever needing to change that night. So I gave up and away we went for a night out celebrating our LGBTQ+ community."
Surprising Lindsey is a challenge but Bri pulled off the proposal at a rooftop bar in downtown Austin. Lindsey knew they were meeting a few friends, but what she didn't know was that Bri had brought all their friends, family and coworkers to witness Bri get down on one knee to pop the question to Lindsey (who was still wearing her windsock).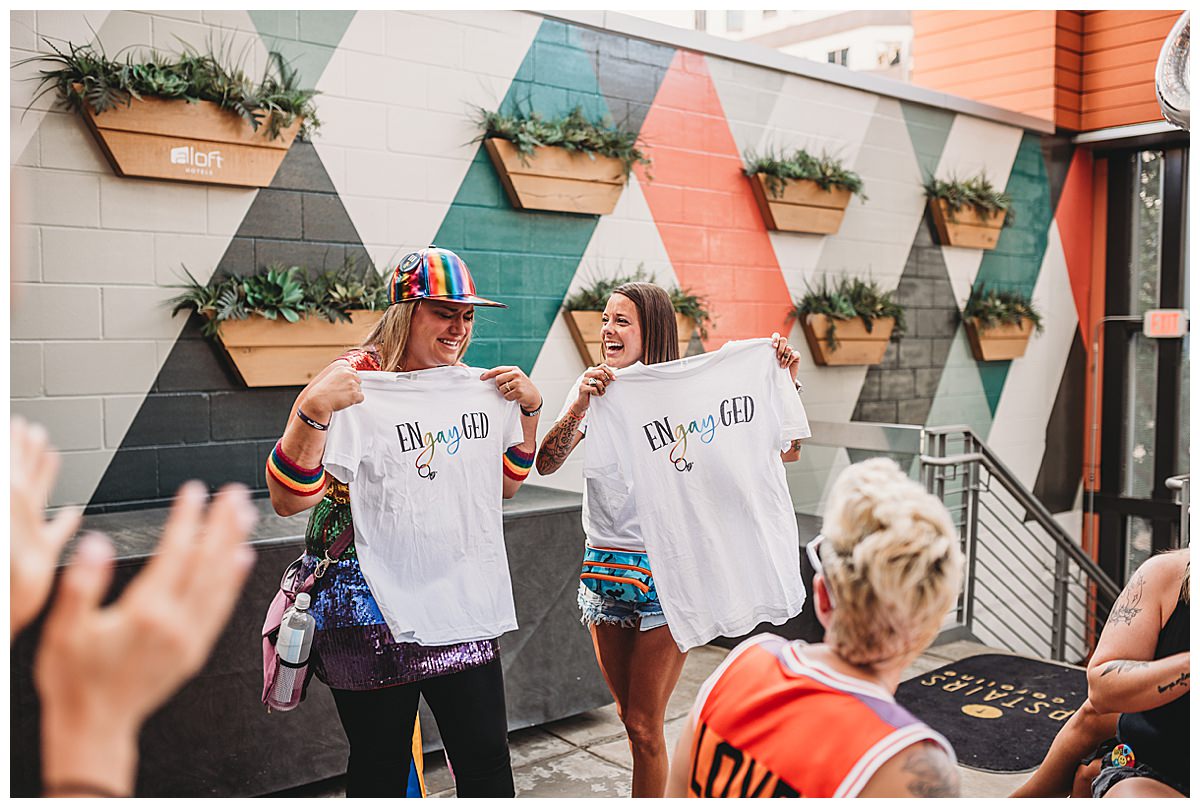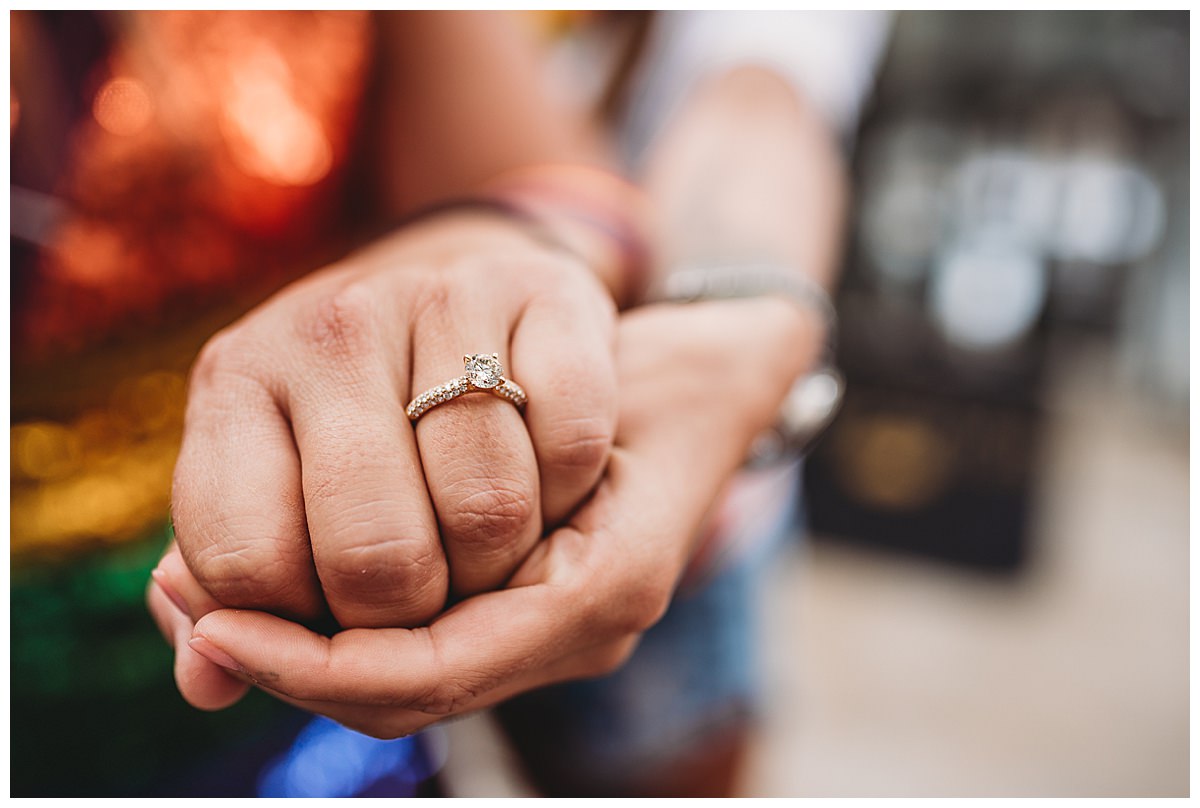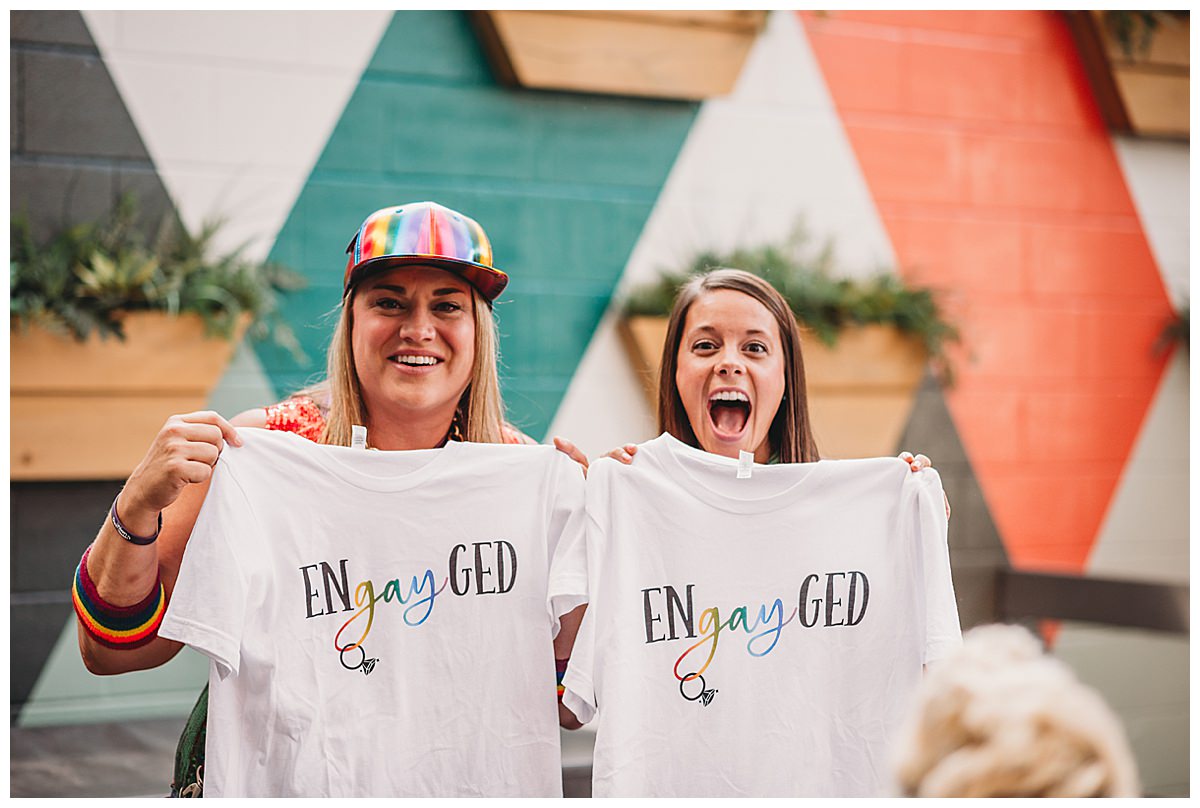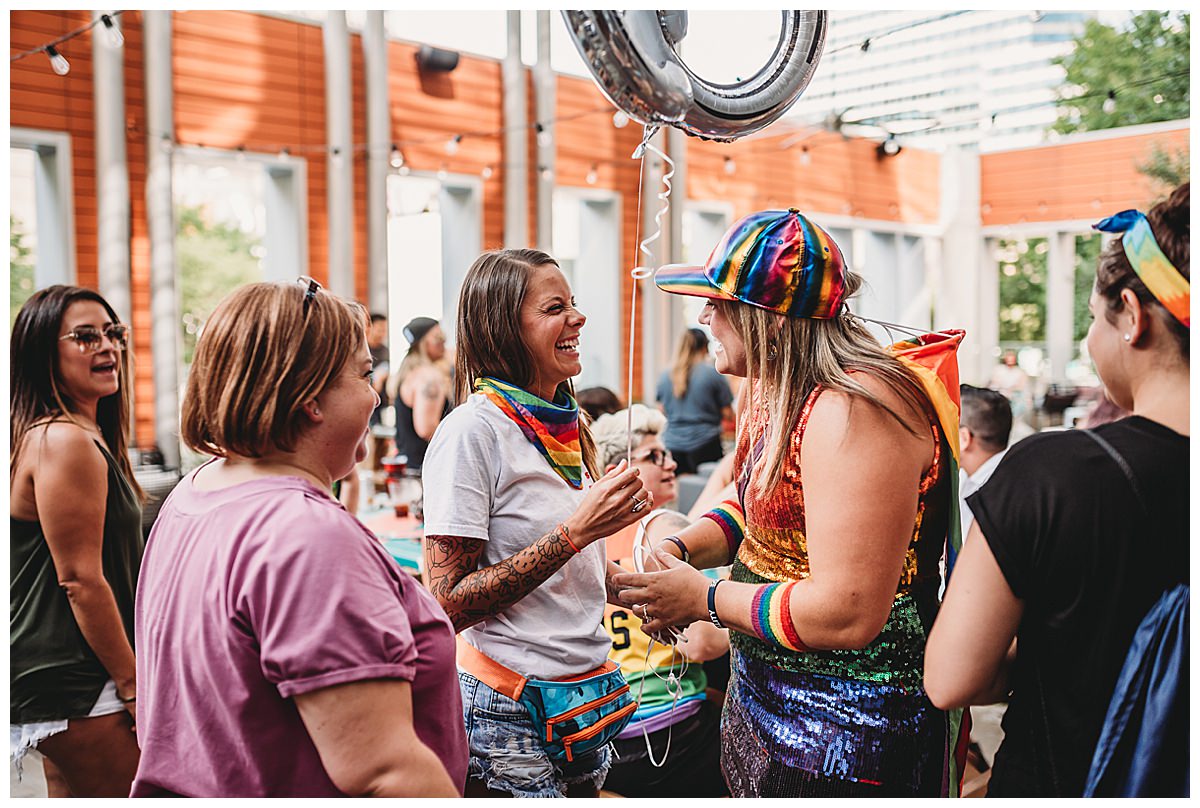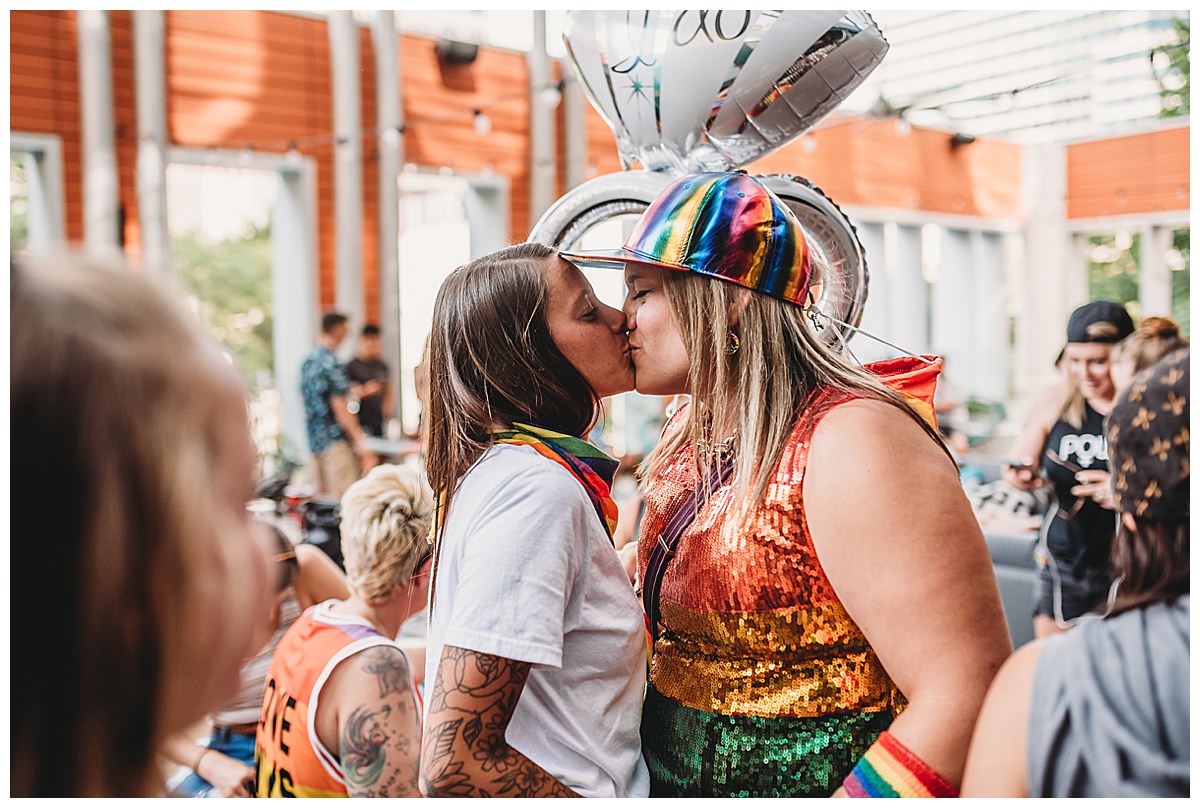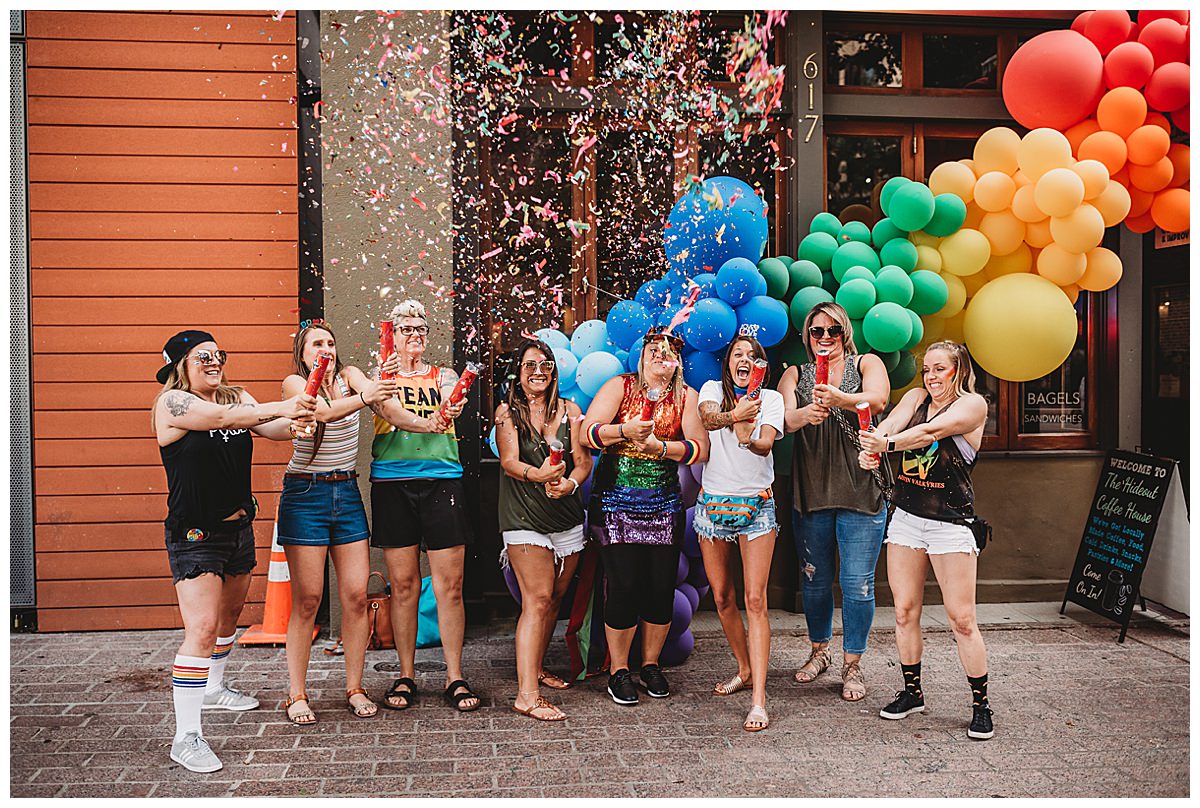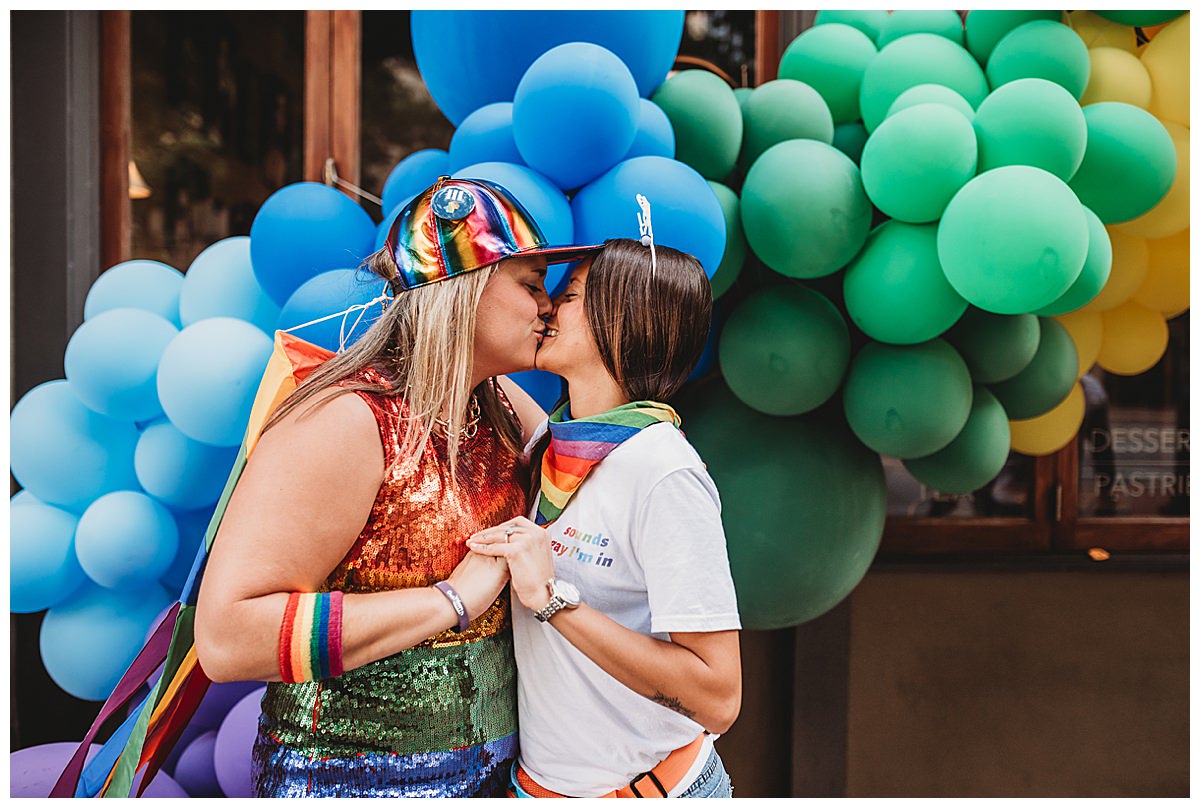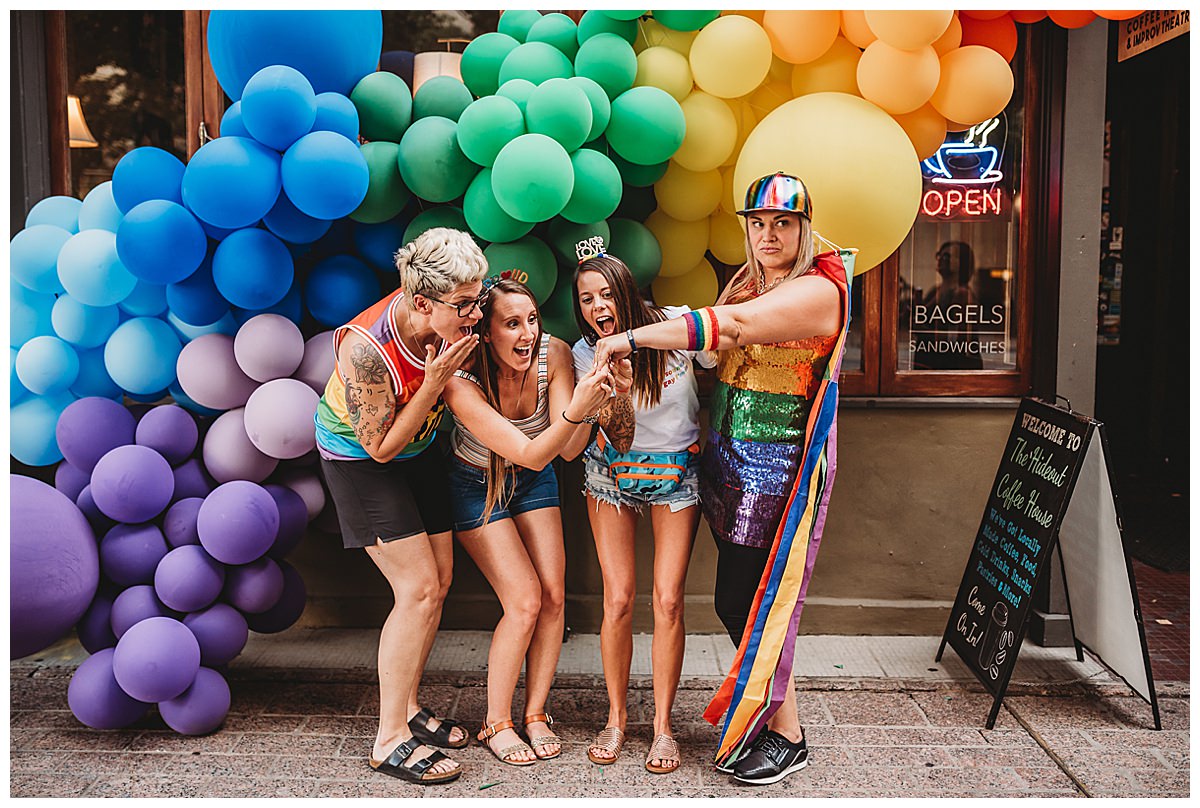 That October, Lindsey proposed to Bri with the help of a TV news crew and a plan that was put together on-the-spot after the original plan came to a complete halt due to the weather. Early in their relationship Bri shared that she had a bucket list dream of riding in a hot air balloon at the International Balloon Fiesta in Albuquerque, New Mexico. Combining that idea with Bri's love of sunrises, Lindsey planned to pull off the perfect sunrise proposal on a hot air balloon. Lindsey worked with a travel agent friend and a hot air balloon company to coordinate a master plan surprise, complete with a fake story about winning a sunrise balloon ride at the Balloon Fiesta. Lindsey even went as far as to have a friend who is a voice actor record a voicemail announcing that they had been chosen as the winners. It was a fool-proof plan, or so Lindsey thought.
The morning of the ride, despite many strange looks from employees as Bri announced to everyone about the contest they had won, the surprise was ready to be pulled off. That was until the FAA had to ground and cancel all flights due to heavy fog, a first in the almost 50-year history of the International Balloon Fiesta. Lindsey was not going to let that stop her though and she jumped into action. As the couple had waited for word on if their balloon would be able to take off that day, Lindsey spotted a local news crew. They came over to interview Bri and Lindsey and while they filmed Bri, Lindsey pretended to show photos of their children to the reporter. Little did Bri know Lindsey was really giving the reporter a note she had quickly typed saying that if the FAA grounded all flights they would get out of the basket and she would propose right on the spot.
When the call was made, Lindsey handed a note to Bri for her to read, got down on one knee and asked Bri to marry her. The camera for KOAT Action News captured the proposal and people surrounded Bri and Lindsey, cheering for them. It was the moment after the proposal that Lindsey cites as the most memorable part.
"A woman approached us with tears streaming down her face and shared with us that her young daughter was so moved by what she had just witnessed and wanted to give us both a hug," Lindsey recounts. "As Bri and I re-directed our focus to this little girl who was timidly hiding behind her mom, I realized she reminded me a lot of myself when I was her age. We immediately walked up to her and gave her the biggest hug, a hug I wish I would've had at that age at a time when I needed it the most. If our dream proposal was grounded just so that little girl could witness the beautiful love of two women getting engaged, while being cheered on by hundreds of approving bystanders, then it was all worth it."
On top of two incredible proposals, the story of Bri and Lindsey's engagement rings is one to marvel at. Lindsey proposed to Bri with a diamond her jeweler had found at jewelry show in New Mexico, giving it special significance that it came from the same place where Lindsey proposed. Bri proposed using a ring that had significant value for Lindsey. In 2009 Lindsey had just lot her career in the Christian music industry after coming out and she prayed for a sign that God loved her. The next day, a stranger from Kentucky gave Lindsey a two-carat diamond ring at the airport (yes, really) which was the sign Lindsey needed. Lindsey gifted that special ring to Bri, who in turn used the stone to create an engagement ring and surrounded it 50 tiny diamonds on the band to give Lindsey extra sparkle.
Written by Emily Rochotte