If you've ever daydreamed about the day the love of your life got down on one knee to ask you to spend forever together, it'd probably go something like this. Brittany pulled off a grand surprise proposal for Lauren with the help of Lauren's closest family and friends. And their best friend and fabulous photographer, Rae Marshall Photography, caught the whole thing from behind the lens, documenting the tear-jerking moment when Lauren realized what was unfolding in front of her on what was supposed to be a relaxing evening on the beach. Instead, it ended with a ring.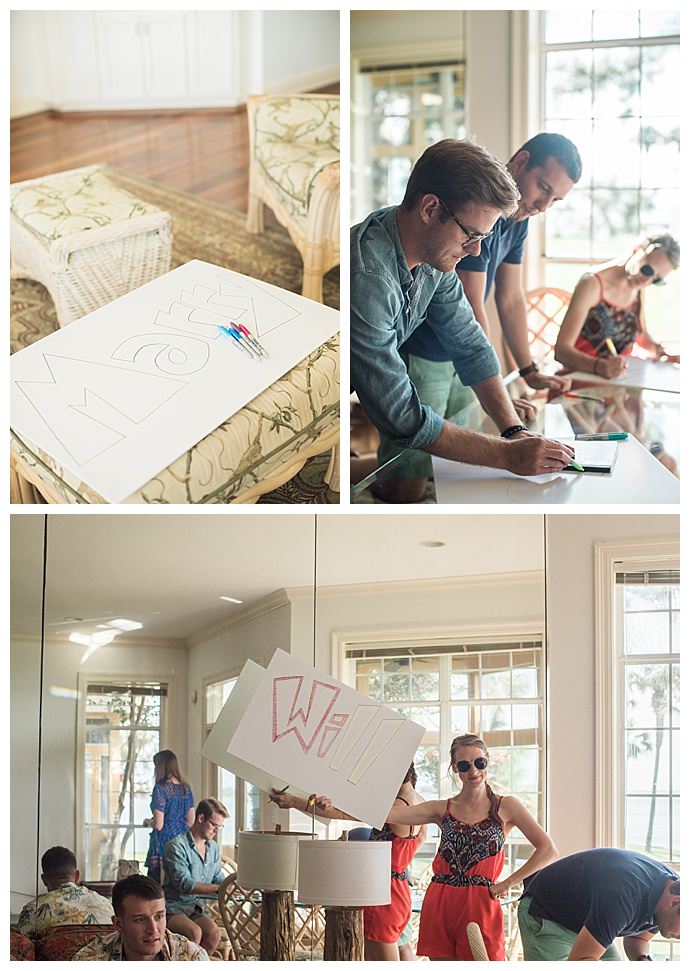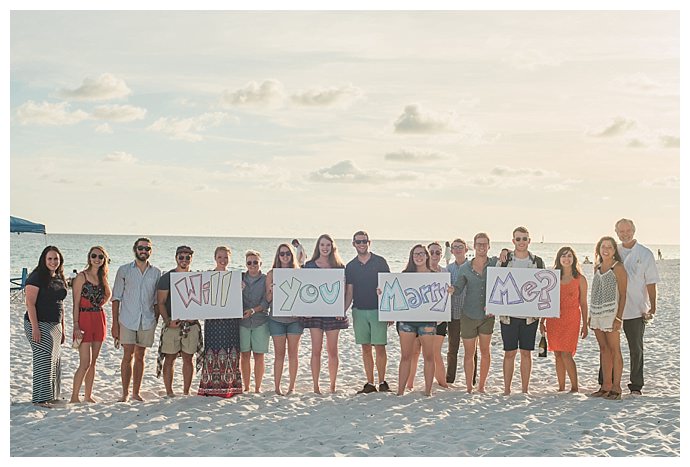 The Love Story
Lauren and Brittany's love story is a testament to the wonder of online dating. Although they only lived a mile apart from each other, it's possible their paths never would have crossed if it weren't for OkCupid. After a few email exchanges, Lauren and Brittany met for the first time at Joe's on Juniper, a popular gay restaurant in midtown Atlanta. "We had a date on a Saturday morning, and Lauren was more than a little bit nervous," Brittany says. "We drank mimosas and went for a walk in Piedmont Park; we kissed in a hot asphalt parking lot. It was pretty great."
In no time at all, Lauren and Brittany both knew they had found something special in each other. "Before we even met in person, I was half convinced she was my dream girl," Lauren says. After three weeks of dating, Lauren invited Brittany to her brother's first music gig, a quick three-hour drive away. Before the gig, they stopped by Lauren's mother's house where Brittany was introduced to the whole family. "Watching Lauren's family interact for the first time upon meeting them and being the recipient of such love and warmth without doing anything to earn it made my heart feel incredibly full and happy," Brittany says. That night, as they were relaxing, Brittany looked at Lauren and realized she had found the girl of her dreams. "She was my best friend; my windows down, stereo blaring, singing at the top of our lungs; silly; spontaneous; funny; happy sunshine girl," Brittany says. "She was everything I ever wanted and more."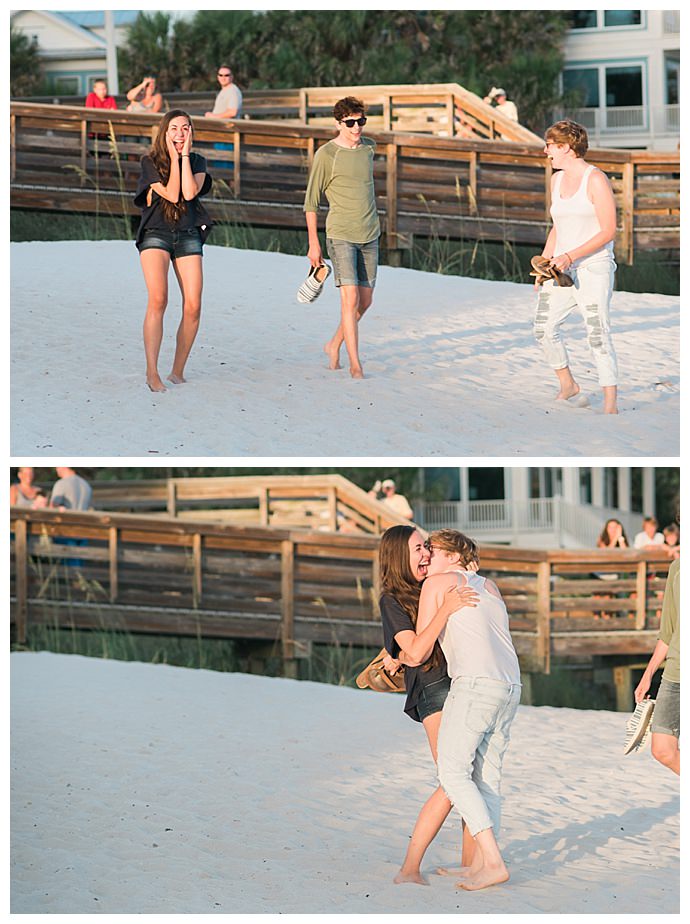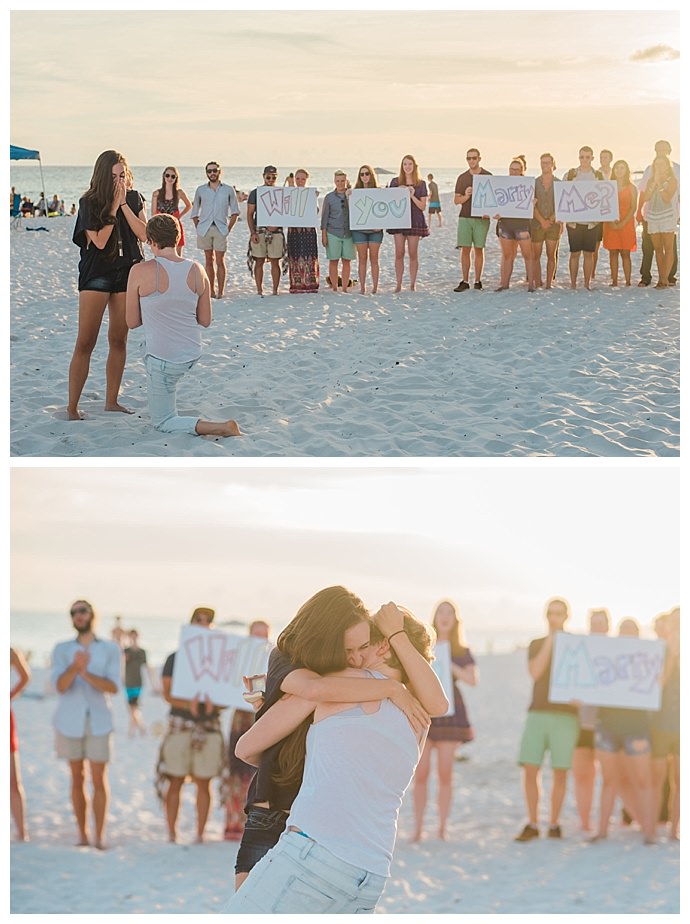 The Proposal
"I knew Lauren wanted something big, something that would knock the socks off any ordinary proposal," Brittany says. "So I combined her two big loves: road trips to the beach with the community of her friends and family." Brittany quickly got to work planning a grand surprise for her bride-to-be. "Stress-inducing item no. 1 was trying to find a single weekend that worked for 25 people," she says. "Stress-inducing item no. 2 was trying to find a house large enough to fit 25 people during peak beach season that also wasn't outrageously expensive." It was a tall order, but Brittany managed to nail it down perfectly. A few days before the proposal, a few of Lauren's friends arrived early to help make the signs — four white posters with those four life-changing words scribbled in brightly colored marker.
"Brittany had a great cover," Lauren says. "We were supposed to go to the beach with my best friend, Shane, for his birthday. Poor Brit had to deal with Shane and I singing Disney songs while she worried about whether or not we would get there on time. She also had to deal with me telling her to lighten up because we were on vacation." Meanwhile, Brittany was feeling frantic about the time, trying to ensure everything went off without a hitch, but Lauren, completely unaware of what the rest of the day would hold, wanted to stop for tacos. Brittany calculated they had plenty of time for tacos if they got them to go, and after a quick time-killing stop at the gas station, they finally arrived at the beach.
"We walked off the pier onto the beach, and for a second, I didn't see anyone," Lauren says. "I was in my own little world. Brittany had to point out the group of people with signs, and I still thought, huh, someone's getting engaged?" Suddenly, Lauren locked eyes on a couple friends from college. Then she saw her friends from grad school and high school. And then there was her family. "I think I went into complete shock," she says. "Nobody prepares you for the fact that you are about to have so much attention and so much excitement and so much joy and such a huge shift in identity all at once. Brit was on one knee, and I don't even remember what she said. I just remember hugging her and everyone cheering, and I looked at all of my people and didn't know who to run up to first."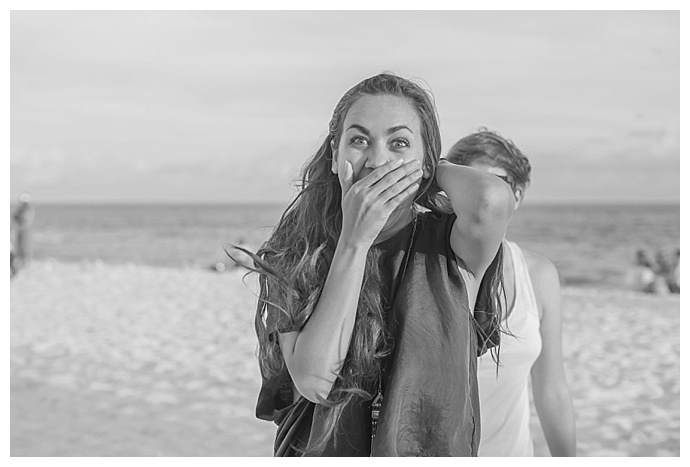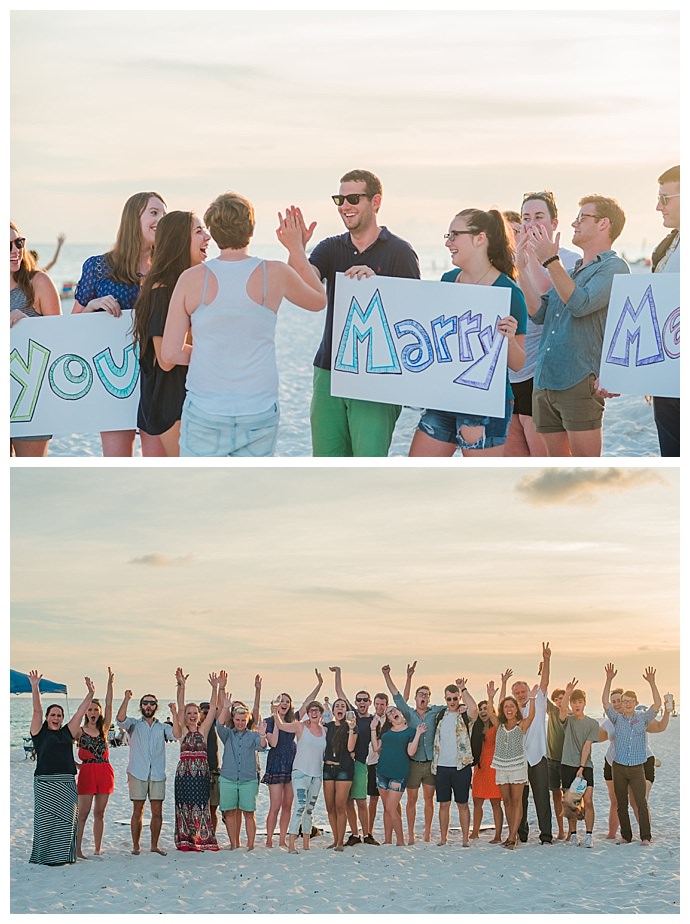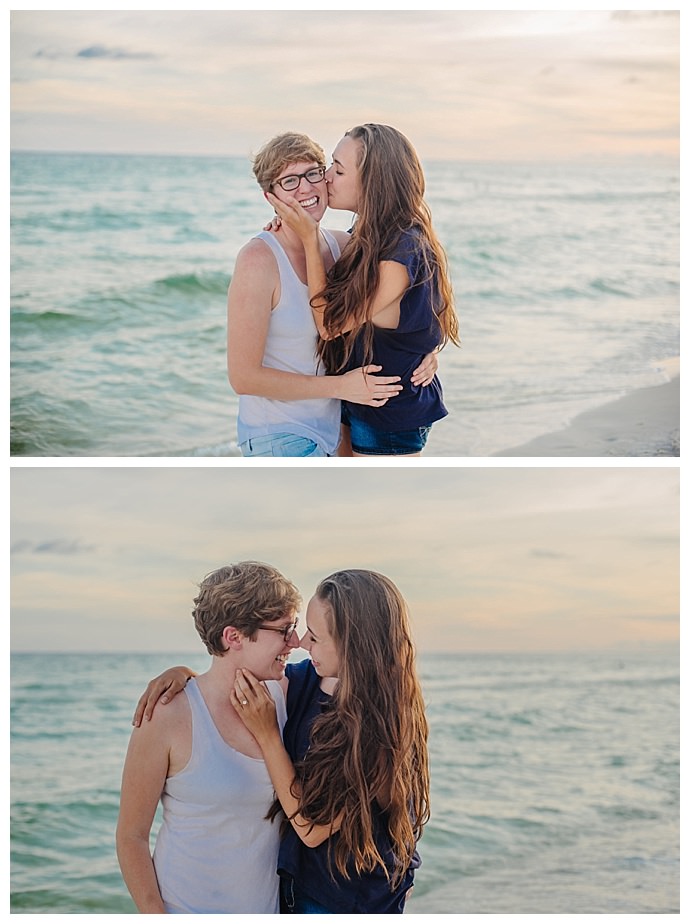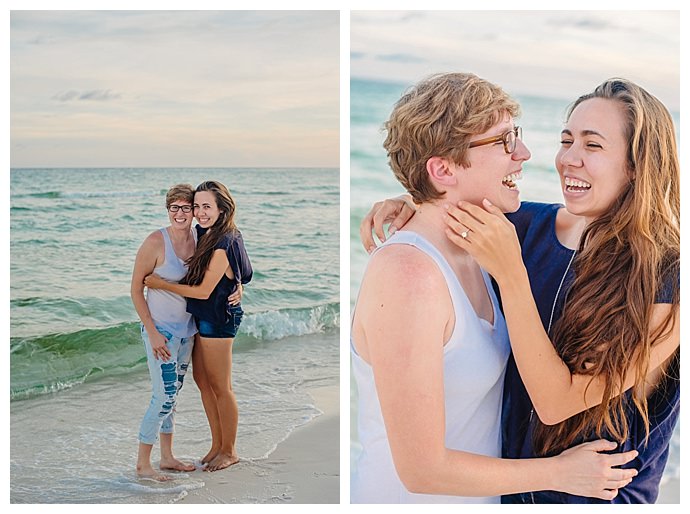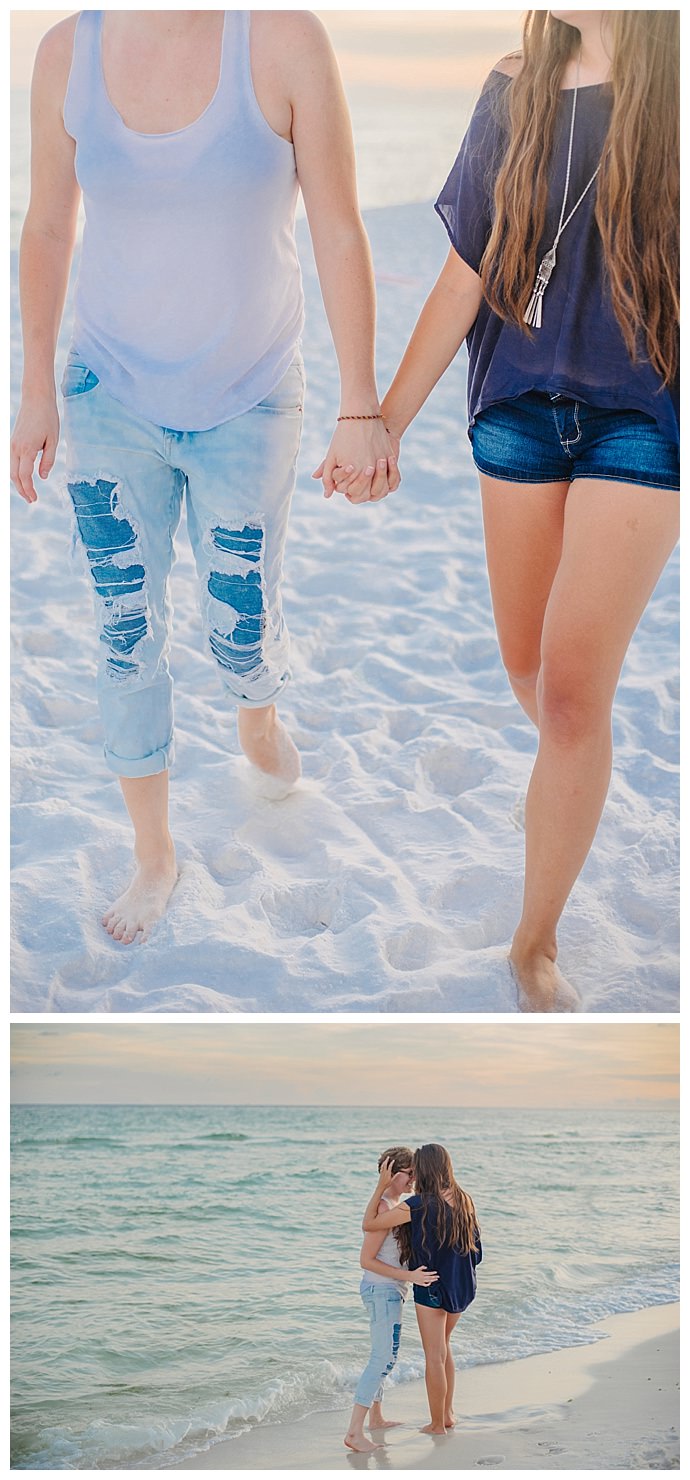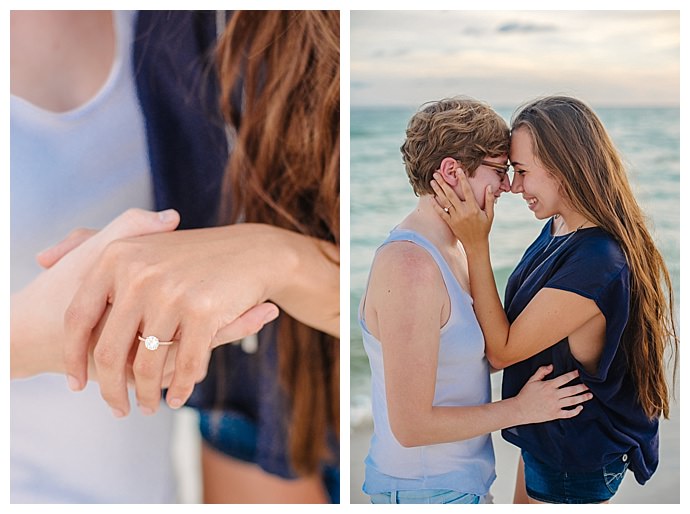 Memorable Moment
"There's a picture of my brother hugging Brittany, and as he was hugging her, I heard him call her sister and welcome her into our family," Lauren says. "I grew up in a conservative small city. I have close friends, friends who were present at our engagement, who have families who have made them feel unlovable because they are gay. Part of the way some conservative people hurt the LGBT community is by perpetuating the myth that being part of our community means that you will never get to have a proposal like I had, that you will never have that kind of support. My biological family and my friend-family conspired to show the world that that isn't true. I will never forget the feeling of gratitude when I realized that my people were so willing to demonstrate that another way is possible. They are joyful because we are joyful."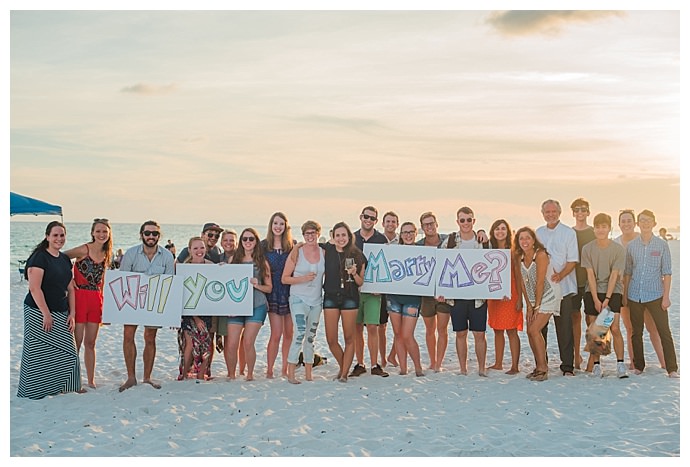 The Wedding Date
"Fall of 2017. That is if we can ever stop making out and start planning."