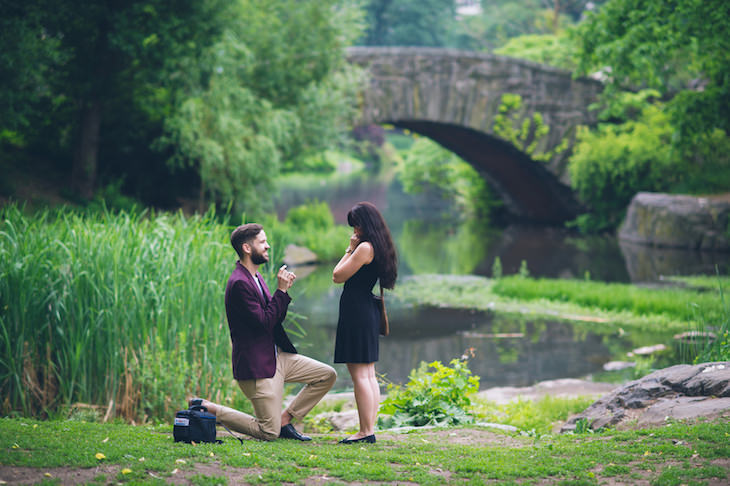 I always love seeing proposal features because you can see the excitement unfold, almost as if it's in slow motion. Sascha Reinking Photography captured the special moment between Manuel and Jessica, a German couple who was on vacation in New York City.
After an epic proposal at Gapstow Bridge in Central Park, they did an impromptu engagement session to capture that newly engaged glow. 
The Love Story
Manuel met Jessica at a party that he was DJing. "She was standing in front of the crowd the whole night. I couldn't get my eyes off of her," he says. "After the party we spoke to each other." The couple dated for nearly three years before Manuel popped the question. "There are so many little things that make me feel that she is the right one," he adds.
The Proposal
When Manuel and Jessica booked their New York City trip a year prior, Manuel knew that was the week that he wanted to pop the question. After deciding on the iconic park as the backdrop, he contacted Sascha who helped guide him on details to make the experience special. "Sascha was unbelievable, he told me where we could eat, drink and organized the whole thing with me."
After plotting for a year, the day had come. "We walked to Central Park to go to the Natural History Museum. When we were at Gapstow Bridge I saw Sascha standing in front of us … that was the moment," explains Manuel. "From that moment on, I was in a trance. I stuttered through my sentences and fell on my knee. She said "YES!" and we fell into our arms."
"I thought 'Oh my god! He really did it!'" laughs Jessica. "I couldn't believe it because he always told me that he didn't want to get married so quickly. I forgot everything around us and I am the happiest woman in the world!"
Wedding Date: July 2016