By Brittny Drye | Photography by Mekina Saylor Weddings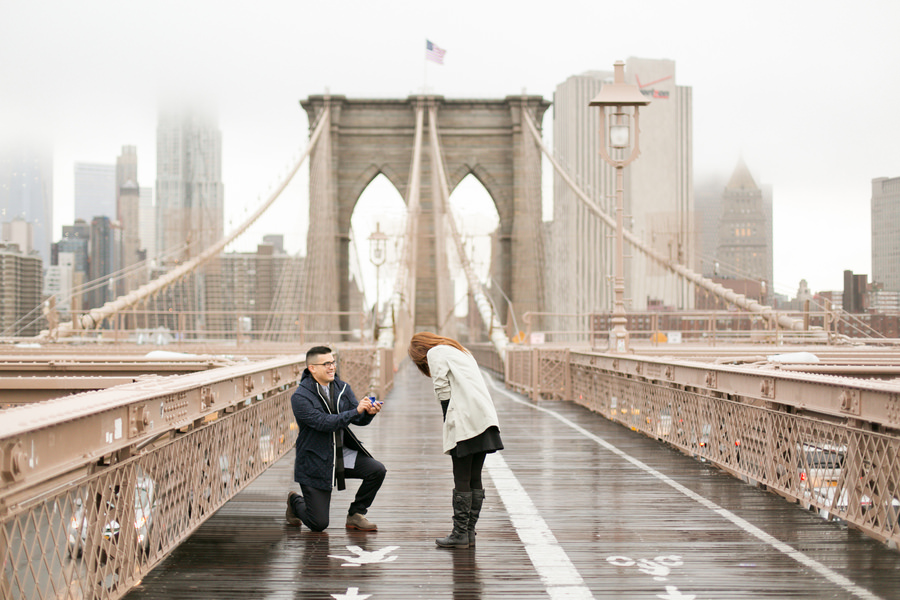 If you've ever walked the Brooklyn Bridge, you've certainly noticed the thousands of padlocks attached to the iconic structure. For years, couples have placed their symbolic declaration of love for the world to see, and on November 24, 2014, Andrew and Jina added their love story, along with one very important question …
From Andrew: A few months before our trip to New York City, I contacted Mekina Saylor to shoot a secret proposal and she was more than happy to work with me. We worked out all the details and few days prior to our arrival; I sent Mekina a letter I wrote for my girlfriend to act as the location marker.
It was a cloudy morning with a very light sprinkle. Luckily, we both love the rain so it was a perfect day for us. The hard part about this was trying to sneak text Mekina [the photographer] to update her about our location. Thankfully my girlfriend loves to take photos so she was always preoccupied with that. Mekina told me that further down the bridge there will be a blue glove tied to a bench with my letter in it. As we walk further into the bridge and with each passing bench I could feel the anxiety building. After what seemed like an hour we reached the bench. Tied to the bench is the blue glove and within it holds the start of a new beginning.
I said "Hey babe, look at that glove, wonder why it is tied there, go pick it up!" She stopped, turned, and looked at me like I lost it. She said with absolute authority, "What? I don't think so." I tried to get her to pick up but once she says no it's usually a no, no matter what I try. So I picked it up, opened it and let her see the words JandA. (JandA is our couple designation and it stands for Jina and Andrew.) At this point she was completely baffled. She reached in and grabbed the letter and said "What the, how did you … how did this get here …?" She opened the letter and started to read:
"As I write this letter, instead of being nervous of what the future may hold, I find myself at peace and excited. You're the single greatest thing that has ever happened to me. Over the years I have learned the true meaning of 'meant to be.' It's being able to go through everything that is meant to tear a couple apart and come out even stronger then before. I want the rest of my life to start as soon as possible. I have never made such a confident decision, so without further ado …"
As she was reading this, I quickly took out the ring, waited for her to finish, then got on my knee and asked her to marry me. She said Yes. 
Andrew pulled out a stunning and timeless Tacori ring, featuring a single round cut solitaire and a diamond-encrusted band. He also presented a padlock, which they promptly added to the bridge. "The most memorable part was when we locked our love with the lock he customized for us," adds Jina. "I thought that was really creative and sweet and made the proposal complete."