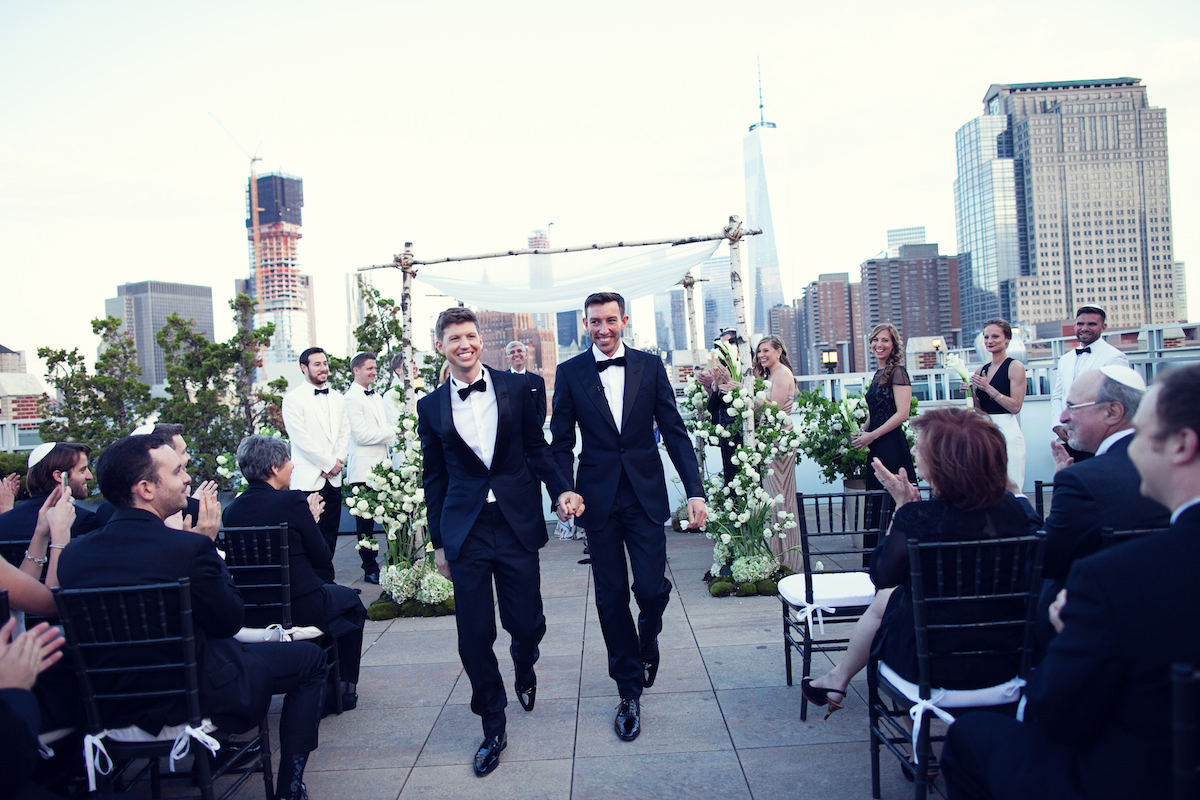 There's only one thing that Andrew and Chris love as much as they love each other: New York. And as they vowed to cherish each other for the rest of their lives, they wanted their city to be a prevalent piece of their ceremony. At Tribeca Rooftop, One World Trade towered into the sky as a light breeze blew the chuppah, revealing the majestic skyline behind them. Jami Saunders Photography was there to capture the magic and bright smiles of Andrew, Chris and their loved ones on their special day.
The Love Story
If there's one place you never expect to find your soulmate, it's at your friend's little sister's birthday bash. But that's where Andrew found Chris, who was a lifeguard at the pool party 14 years ago. Andrew and Chris quickly became close friends, and right before Andrew was about to leave for college, Chris realized how much he was going to miss him. As they watched a movie together on the couch, Chris took a leap of faith and kissed Andrew. Ever since then, the two have been inseparable, moving in together six years after they first met. Knowing how much Chris loved the East Village neighborhood in New York, Andrew scoured apartments for the two of them. Finally, 350 square feet on Avenue C became not only their home, but also where they would build their lives together.  
The Proposal
Ten years after Chris and Andrew first kissed, Andrew decided to propose. At The Standard Hotel, Andrew filled a suite with roses, candles and pictures of the two of them and the years they've spent together. A black car surprised Chris and took him to his favorite restaurant, Babbo, where Andrew was waiting for him with delicious pasta and wine. Knowing what the rest of the night had in store, Andrew could hardly eat his food and instead filled up on wine. After the meal, they arrived back at The Standard where Andrew gave Chris the key to the room. He opened the door to find hundreds of pictures intertwined with roses and candles and gasped as Andrew got down on one knee. "I don't know much, but I know two things for sure," Andrew started. "I love you, and I want to spend the rest of my life with you. Will you marry me?" Chris responded with a resounding "Of course!"
The Ceremony
The traditional Jewish ceremony began with a ketubah signing with immediate family and our closest friends," Chris says. "The 6-foot ketubah was a gift from Andrew's sister custom made in Tel Aviv, Israel."
To make things even more special, Andrew's childhood rabbi, Helene Ferris, officiated the ceremony. "After circling one another seven times, we joined Rabbi Ferris under the chuppah, surrounded by our family and wedding party," Chris says. "We each recited our own vows and exchanged rings, and Andrew received his grandfather's gold wedding ring, which he wore for over 50 years of marriage." After Rabbi Ferris declared them husband and husband, Chris and Andrew kissed and then turned around to a roaring cheer from their friends and family as they walked back down the aisle and into their new life, hand-in-hand.
The Party
Grooms Andrew and Chris sure know how to throw a party; their celebration was one for the books. As a burning orange sunset filled the sky over the Hudson River, guests sipped on cocktails and enjoyed sushi, oysters, king crab legs and hors d'oeuvres of grilled lamb chops, foie gras toasts, and caviar with chilled vodka shots. "Our decor was inspired by an elegant New York City dinner party," Andrew says. "The reception room was adorned with over 800 candles, illuminating long rows of dining tables set against a backdrop of the New York skyline. Tall vases filled with branches of blooming spirea gave the room an enchanted feeling, while long rows of gold mirrors and pillar candles made the room appear to be sparkling all evening."
After a decadent meal, guests flooded the dance floor as the band played Chris and Andrew's favorites well into the night. "At midnight, an electric violinist appeared on the balcony over the dance floor and performed a solo performance of Tiesto's 'Adagio for Strings,' Andrew says. "Finally, to close the evening, Chris' college roommate, Jake, formerly DJ Sly, took over the turntables and spun a set of vocal trance. When guests weren't on the dance floor, they could either be found with Patron shots at the bar, or in the photo booth, snapping black-and-white polaroids."
When the evening seemed to come to a close, everyone was surprised by Milk Truck outside the venue, serving up their signature grilled cheeses and mouth-watering snacks for guests to refuel after a night of fun and dancing. These two truly thought of everything!
Memorable Moment
"Our most memorable moment was the vow ceremony. Declaring our love, and eternal promises to one another in front of our family, our friends and our city was a truly remarkable experience. We not only reflected on our 12 years together, which led to this moment, but also committed to continue growing and deepening our love for the rest of our lives. Furthermore, knowing that just five years prior we would have not have been permitted to be married in the state of New York made this moment even more profound and meaningful."
Team of Talents
Venue: Tribeca Rooftop
Photography: Jami Saunders Photography
Videography: Love In Progress Video Production
Officiant: Rabbi Helene Ferris
Event Planning and Floral Design: Michael Day Studio
Catering and Cake Design: Tribeca Rooftop
Wedding Suits: Tom Ford
Band: Michael Hart Band, Hank Lane Music
Invitations: The Write Occassion
Lighting: Power Posse Productions
Hair: Serge Normant at John Freida
By Danielle Renton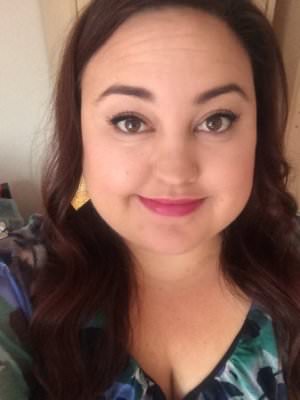 Danielle is a University of Missouri graduate who recently moved to New York, fulfilling a lifelong dream of hers. New York is her first love; writing and editing are her second. When she's not plugged in, Danielle spends her free time exploring the city and finding inspiration in its energy. Aside from her passion for love, she's a grammar nerd, coffee lover and music enthusiast!