By Meghan Kennedy | Photography by CMMS Studio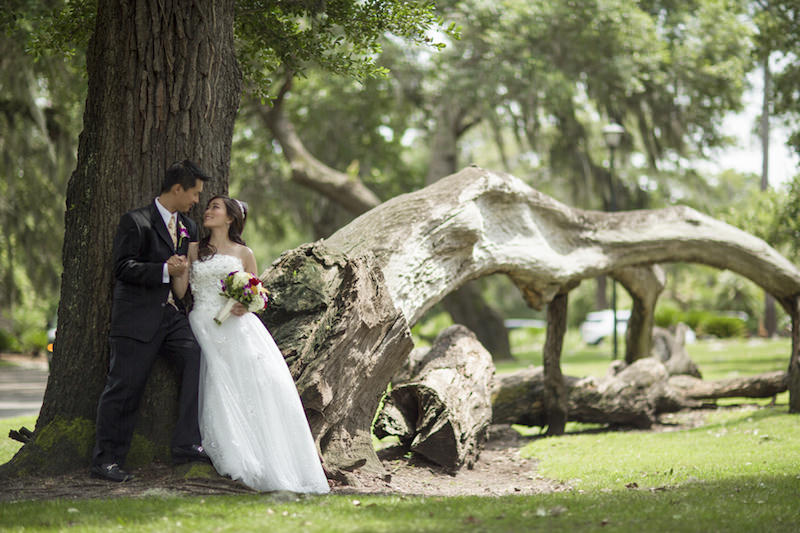 It's unlikely that on your first trip across the world, you'll return home having met the person you're sure you're going to spend your life with, yet that's exactly what happened with Binbin and Peter. A chance encounter at a midsummer party led to these virtual strangers falling in love long distance and eventually getting married just a few years later. Their traditional Chinese wedding, shot by CMMS Studio and set at a Myrtle Beach, S.C., beach resort paint a gorgeous picture of their two worlds coming together.
The Love Story
It was ironic that Binbin, originally from China, would meet the love of her life on America's Independence Day, but it was love at first sight under a sky filled with fireworks. On a visit from China, she met Peter, who lived in the United States, at a party she was attending to celebrate the Fourth. Binbin was on her first trip from China with the intent to soak up a different culture, and as the happy couple says, "what she found was a life partner with whom to share the world."
Peter was playing piano when he saw Binbin across the room, and as soon as he could, went to talk to her despite the self-proclaimed butterflies in his stomach. They friended each other on Facebook, and continued their romance after Binbin returned to China. Even though they were working, in school, and lived 7,000 miles away from each other, they were married four years (nearly to the day!) after they first met.
The Ceremony
The couple first met on the beach and wanted to incorporate that into their wedding; Myrtle Beach was the perfect destination for the Charlotte-based couple. Their ceremony, held outdoors, helped to incorporate the nostalgic feel of their first meeting into their special day. A simple ceremony, with rings and vows exchanged in front of the ocean, was integrated with important elements of the couple's Chinese heritage.
The Fashion
The wedding colors, purple and gold, were threaded throughout the ceremony and, of course, the fashion. The groom, decked out in a dark suit with a gold paisley vest and matching tie, fit the color scheme beautifully. The bride, a vision in a white, wore a strapless ball gown with a matching headpiece. The wedding party all wore lavender to complement the groom's outfit and the floral design.
The Inspiration
Binbin and Peter's fusion of Chinese and Western traditions shone in their reception décor. Their flowers, based on their purple and gold palette, accented a mix of seashells from the beach and Chinese decorations featuring the characters for good fortune and happiness. What was most important to the couple, however, was to keep the decorations minimalistic in order to let the resort's beauty show through.
The Party
Keeping with the theme of unification of two cultures, the newlyweds served both Western and Chinese-influenced fare at the reception. Their cocktail hour featured light appetizers and cheese and fruit hors d'oeuvres, while their main course allowed guests to choose from a seafood station, a carving station and traditional Chinese cooking brought in from their family and friends.
Luckily for the couple, they didn't have to choose between a band or a DJ — their entertainment did both! They were able to feature a live singer for slower songs and a DJ set to keep the party going.
When it came time for dessert, Binbin and Peter cut into a three-tiered chocolate cake with strawberry and cream filling, decorated with cherry blossoms and a tiger and bunny perched atop the tallest tier. Their favors, straight from China, had candies and little souvenirs from the couple's travels for each guest.
Wedding date: July 5, 2014
Vendors
Venue: Litchfield Beach and Golf Resort
Photographer: CMMS Studio
Wedding planner: Missy Dawsey
Cake Designer: Croissants Bakery
Catering: Sandra Mazingo
, Delectable Occasions
DJ/Band: Claudette and Larry Tanelli

Hair: Salon & Spa 18
Makeup: Makeup Artistry on Location