Sarah Rachel Photography captured Lauren and Joanna's beautiful engagement pictures in the park on a fall day after not one, but two exciting, emotional proposals. This glowing couple shares so much love and joy, and after Joanna proposed to Lauren, Lauren wanted to return the favor. "I'm so happy even though I proposed first, she also let me experience it from the other side," Joanna says.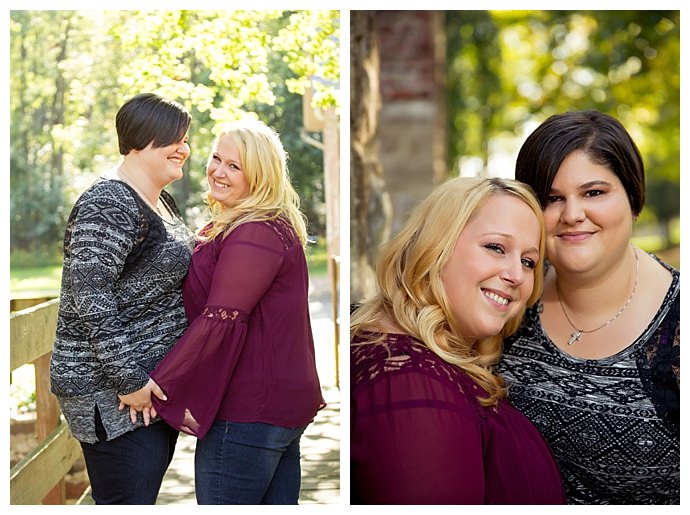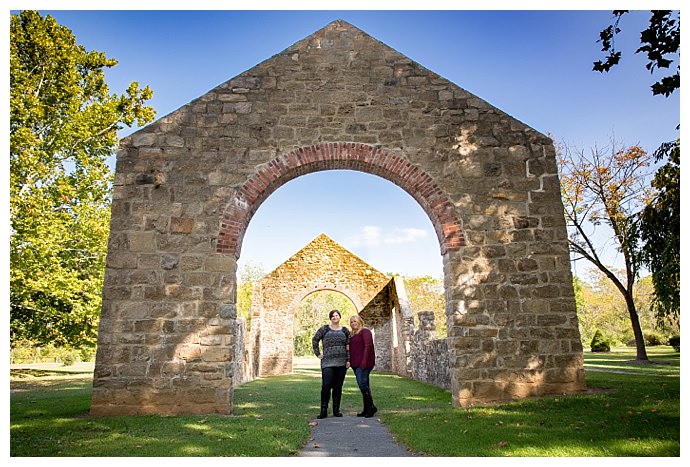 Joanna's Proposal
After Lauren and Joanna booked a vacation to the Dominican Republic, Joanna realized that the beautiful beach of Punta Cana was the perfect place to propose. Before they jetted off, Joanna met with their travel agent and secretly arranged all the details to make it a moment they would remember forever. "Our second day on vacation, I told Lauren to get dressed up nice because I had a special dinner planned," Joanna says. "On our way to dinner, we actually met with a photographer. I told her that this was the real surprise: a photoshoot on the beach." But Joanna had more up her sleeve. With their toes in the sand, they took some pictures on the beach hand-in-hand, until the photographer finally led them to a gazebo, glowing underneath a bright full moon. As the photographer continued snapping away, Joanna broke away from their pose and got down on one knee to ask Lauren to spend the rest of their lives together.
"I figured out why Joanna was shaking when we were taking some of the pictures," Lauren says. "And I realized she pulled off the perfect proposal. The full moon on the beach, it was the perfect spot." That evening, the newly engaged couple enjoyed a private dinner on the beach, and when they returned to their room, Joanna had one more surprise for Lauren. "I pulled out an iPad and played her a video I had been working on for months with all of our family and friends congratulating us on our engagement," Joanna says. It was the perfect end to a perfect day in paradise.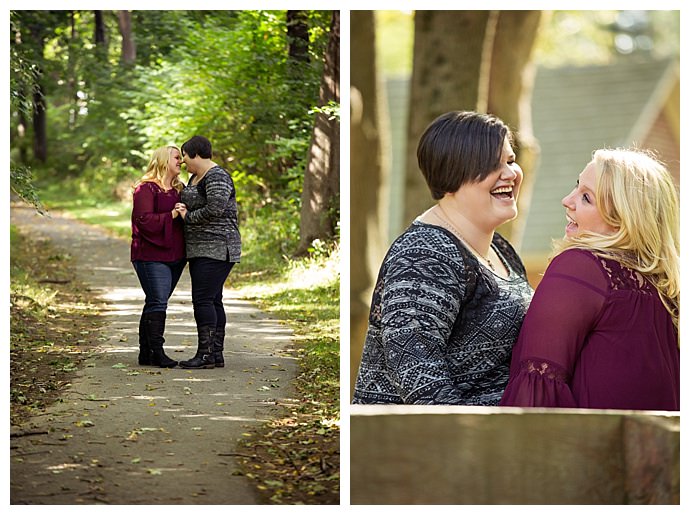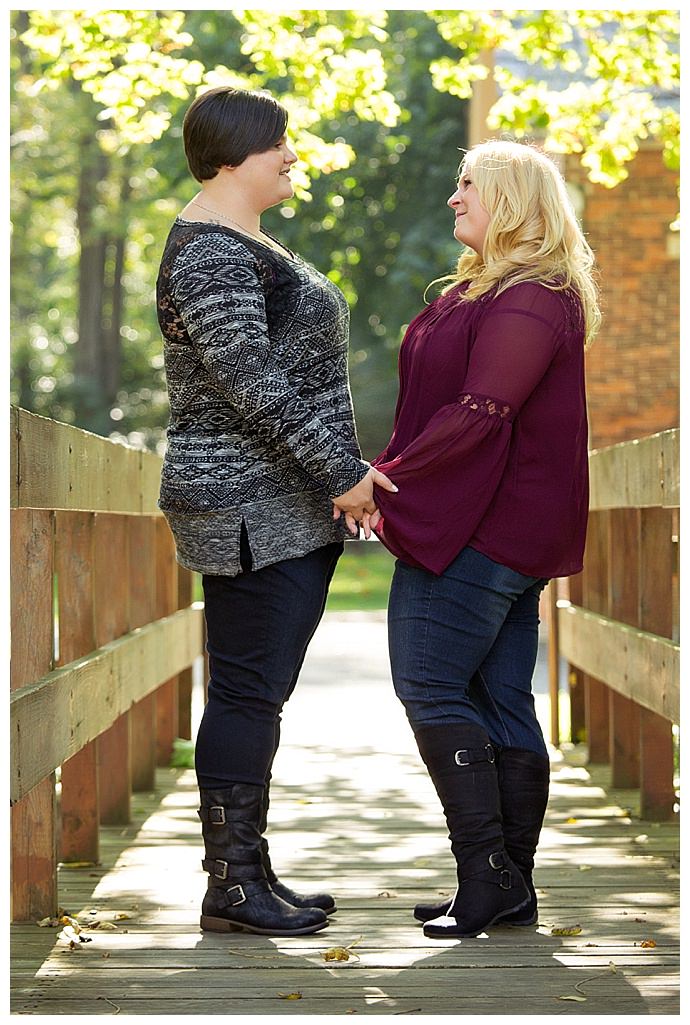 Lauren's Proposal
After Joanna proposed, Lauren knew she wanted to surprise her bride-to-be with a proposal of her own. On a routine evening, Joanna was on her way home from work expecting to meet Lauren before heading to the gym together. "Joanna and I are both adventurous and love to play games, so I thought a scavenger hunt would be the perfect way to surprise her," Lauren says. When Joanna arrived home, a card was waiting for her. "The card had a rhyming riddle in it that told her to get dressed up nice and to meet me at the first place we ever ate dinner together," Lauren says. But that was only stop number one. Over the course of the evening, Joanna made four stops, traveling down memory lane, which included visiting the locations of their first dinner, their first date and the first place they met.
"The final stop was my favorite," Lauren says. "Joanna went in and had expected to ask for her next card, but instead, there was a bouquet of flowers and note that said to find me on the dance floor, the exact spot we met. When Joanna opened the door, I had our song playing , a dozen balloons behind me and I got down on one knee and proposed."
Joanna says it was the best proposal ever. "Lauren just knows me so well; I couldn't have asked for a better way," she says. "I just thought it was so amazing that she was standing in the same exact spot we met, giving me my ring."
The Rings
Joanna had Lauren's ring custom-made by a jeweler she knows. "She had mentioned that she liked the idea of something blue, so on each side of the band underneath the main stone there is a small sapphire," Joanna says. "Over Lauren's ring is a split shank with a round center stone and halo."
Lauren knew how much Joanna loved getting Lauren's ring custom-made, so she decided to go to the exact same jeweler to find the perfect ring for her bride. "Joanna's ring has channel princess cut stones on each side of a princess cut center stone, with hand engraved details around the sides of the band," she says. "I also added the sapphire underneath so our rings could match in someway."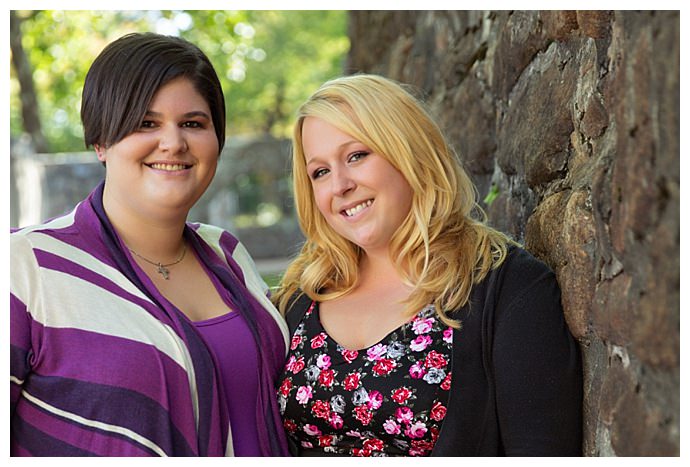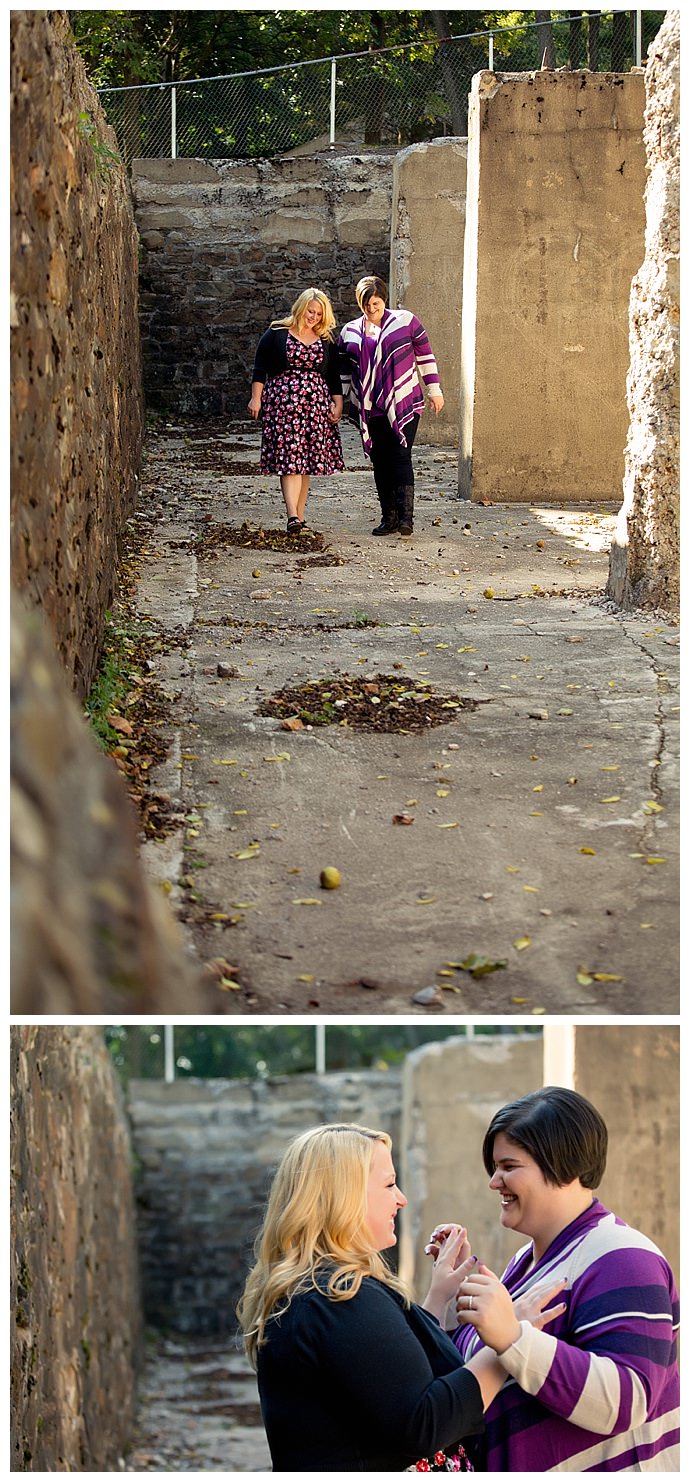 The Wedding Date: November 5, 2016