Choosing a wedding venue is at the top of every newly engaged couple's wedding planning to-do list and too often, the default idea is to choose an event hall or private party room depending on the size of your wedding. But one size does not fit all and what might be the perfect venue for another couple you might not be the perfect venue for you.
Spice up your wedding day by choosing a nontraditional venue that offers a unique experience for you and your guest whether it be incredible photo opportunities, special housing arrangements for your guests or an experience unlike any other.
Especially for couples who are having to reschedule their weddings due to COVID-19, thinking outside-the-box for the wedding venue will give you much more date flexibility.
If spending your entire wedding day at a nontraditional venue seems like a big commitment, consider splitting your day, for example have your ceremony at the zoo, take your photos surrounded by animals, then head home for a backyard reception or have a church ceremony and then host your reception on the roof of your favorite restaurant.
"We had the best of both worlds and had our ceremony in a church but then had our cocktail hour and reception at the aquarium," recalls bride Jessie Logeman who tied the knot at the New England Aquarium. "I loved this because it gave us a little mix of traditional and quirky, and it kept our guests entertained."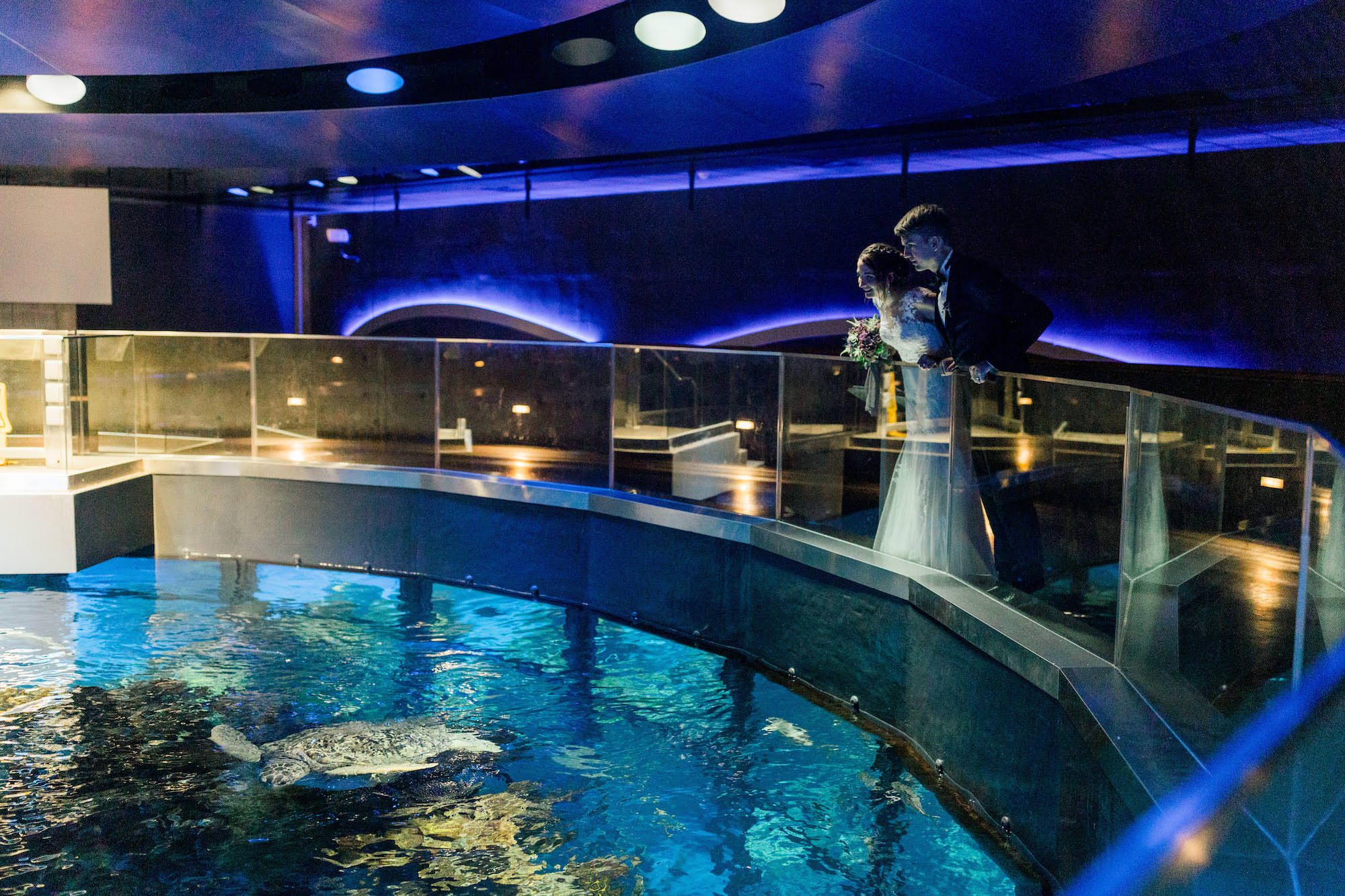 Having your wedding at a unique location or tourist attraction not only makes for incredible memories, it gives your guests a once in a lifetime opportunity they will talk about for years to come.
No matter what type of venue you are considering or what size it is, do your research and always get permission. Different venues, whether they regularly host events or you are asking them to host a wedding for the first time, require different permits and have varying regulations. Never assume that renting a space means you can have a wedding, bring in vendors or invite as many people as you want.
Think outside the box and consider one of these nontraditional ideas for your ceremony, reception, weekend wedding celebration or all of the above.
Airbnb and Rental Properties
Google searches for Airbnb weddings are on the rise, and for good reason. Rental spaces open up an incredible amount of wedding locations from deep in the woods to high above your favorite city.
"We've found that today people prefer a unique, tailored wedding experience instead of defaulting to the traditional hotel ballroom," share Dan Gutman and Chris Polizois, co-founders of City Escapes. "Vacation rentals can provide a way for couples and their families to do this affordably, without having a $10K room rental and allowing them to spend more on the food and overall experience."
Airbnb weddings provide great flexibility when planning your elopement. Keep it as a hideaway for you and your partner or stay alongside your guests. "A vacation rental wedding allows [couples] to extend the experience over a weekend, offering a rehearsal dinner, afterparty and brunch all in one place," suggest Gutman and Polizois. "Wedding parties and families can also stay on-site."
Be sure to follow the guidelines put in place by your rental host, communicate your wedding plans with them and remember that your rental has neighbors so be kind and courteous during your stay.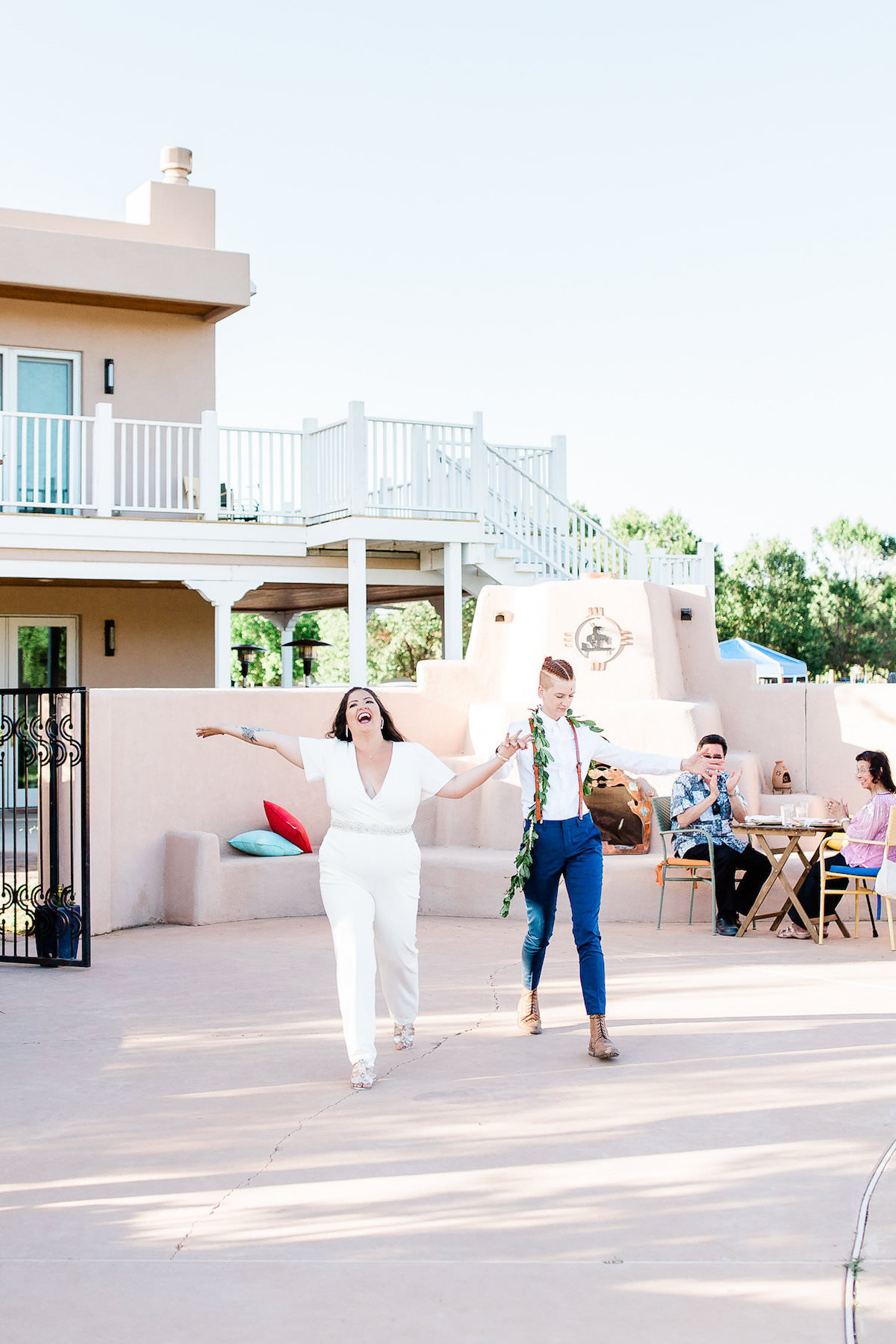 Rooftops
When you love someone so much you just want to shout it from the rooftops, why not do just that? Host your wedding celebration at your favorite rooftop bar, on top of your own apartment building or at any space with a view. Make sure that the area is secured with railings or low walls to keep you and your guests safe throughout the evening.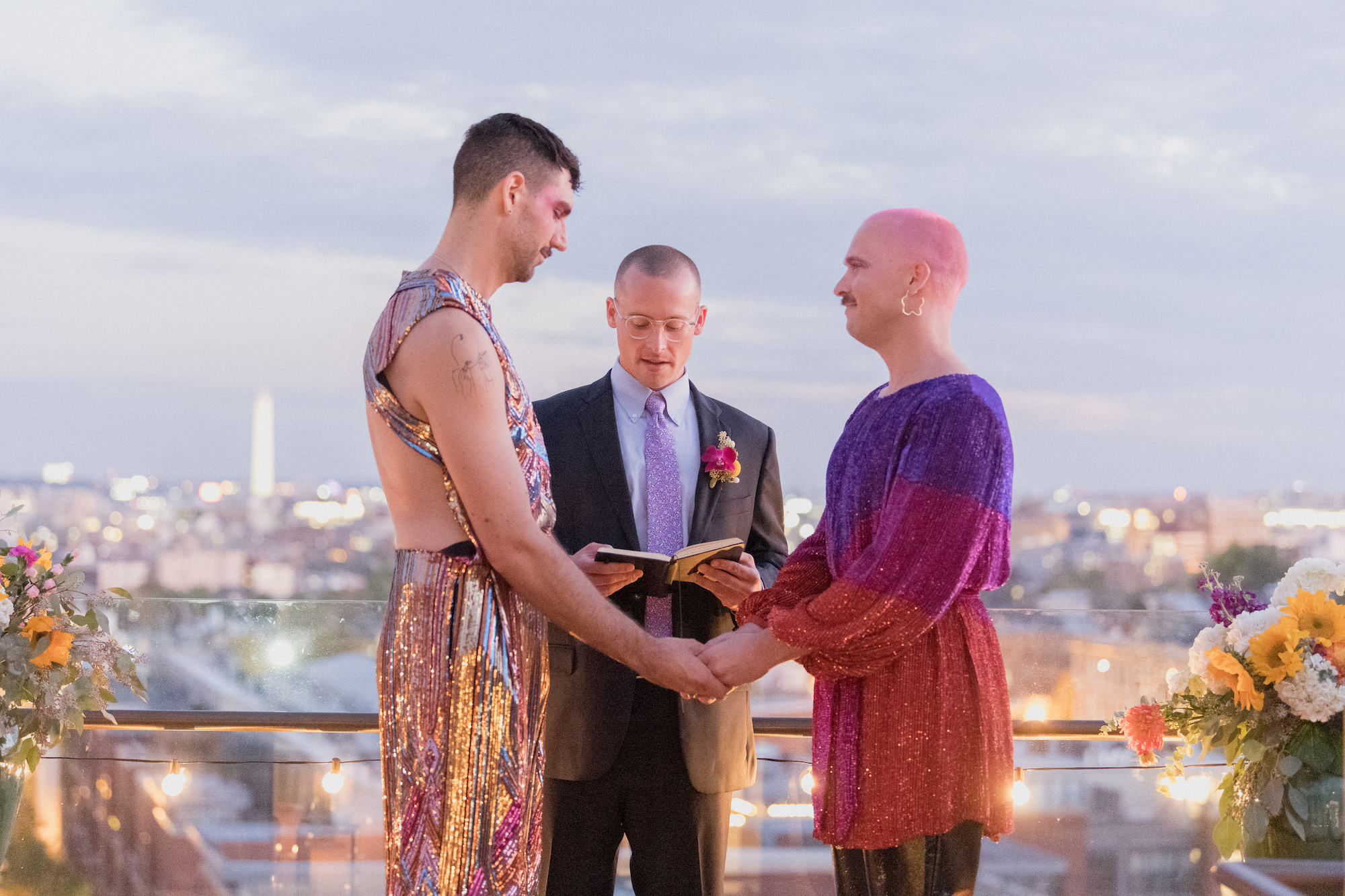 Camps
Revert to your childhood summer camp days by hosting a giant camp experience for you and your guests. Go canoeing, do a ropes course, have your reception in the rec hall, there are so many possibilities and camps may look forward to filling dates during their off-season when campers aren't around.
Zoos
You may not be able to bring your favorite animals to your wedding, but you can bring your wedding to the animals. Having your wedding at the zoo takes the day to a whole new level. Imagine taking pictures with giraffes or your guests getting to touch snakes and walk through the zoo to see adorable baby animals during cocktail hour.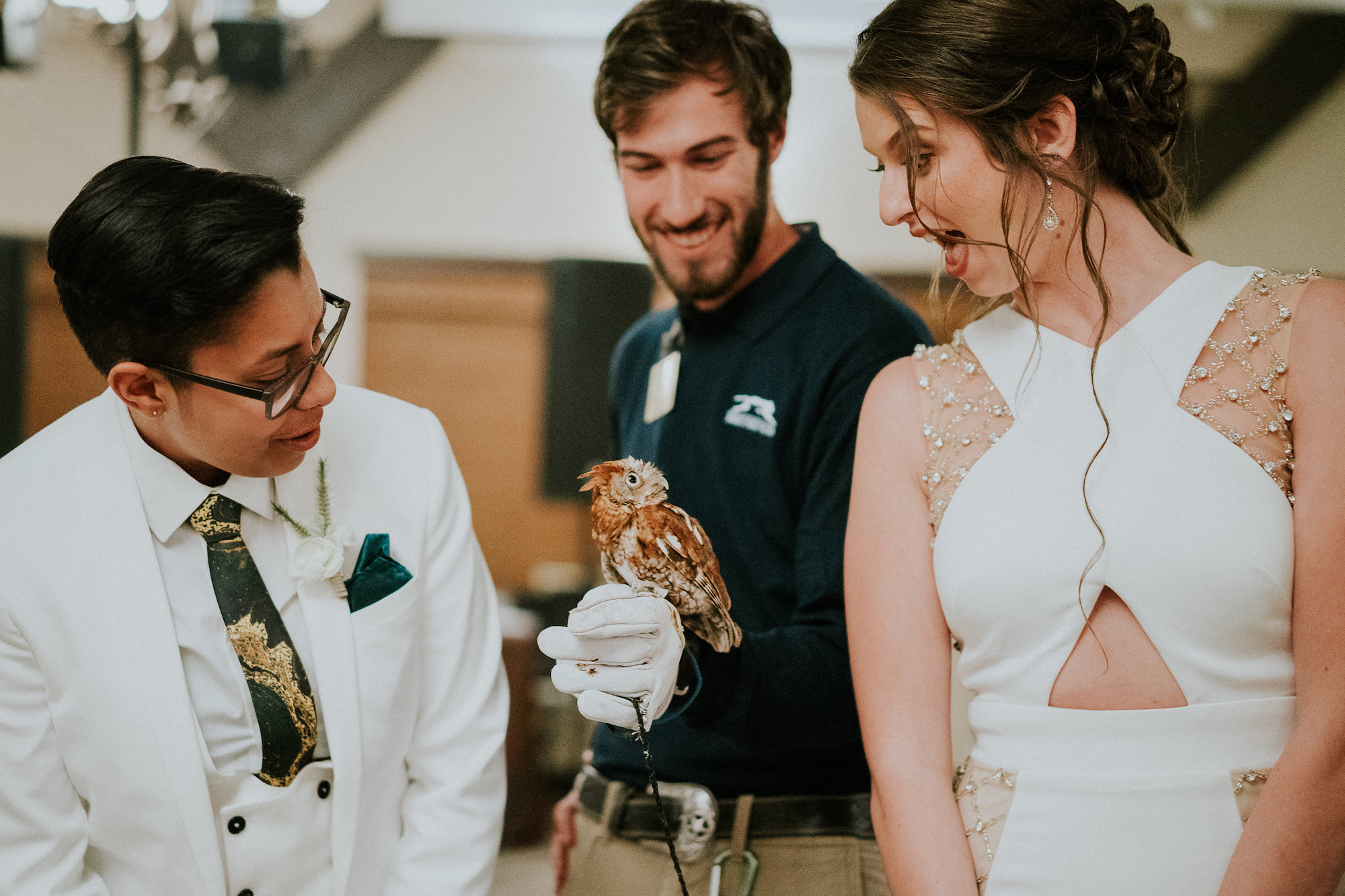 Aquariums
Take your wedding under the sea with a celebration at the aquarium. Aquariums not only offer breathtaking scenes for your wedding photos but allow your guests to take in the wonder of the ocean. "We didn't set out to have such a unique venue," shares Logeman. "However, when we heard the New England Aquarium was an option for our wedding, we had to check it out. We aren't from Boston originally and knew that many of our wedding guests would be flying into town. If our guests were committing to travel, we wanted to give them an experience that was unique to Boston and have a blast while doing so." Having your wedding at a unique location creates an experience your guests will never forget and can be especially entertaining for small children.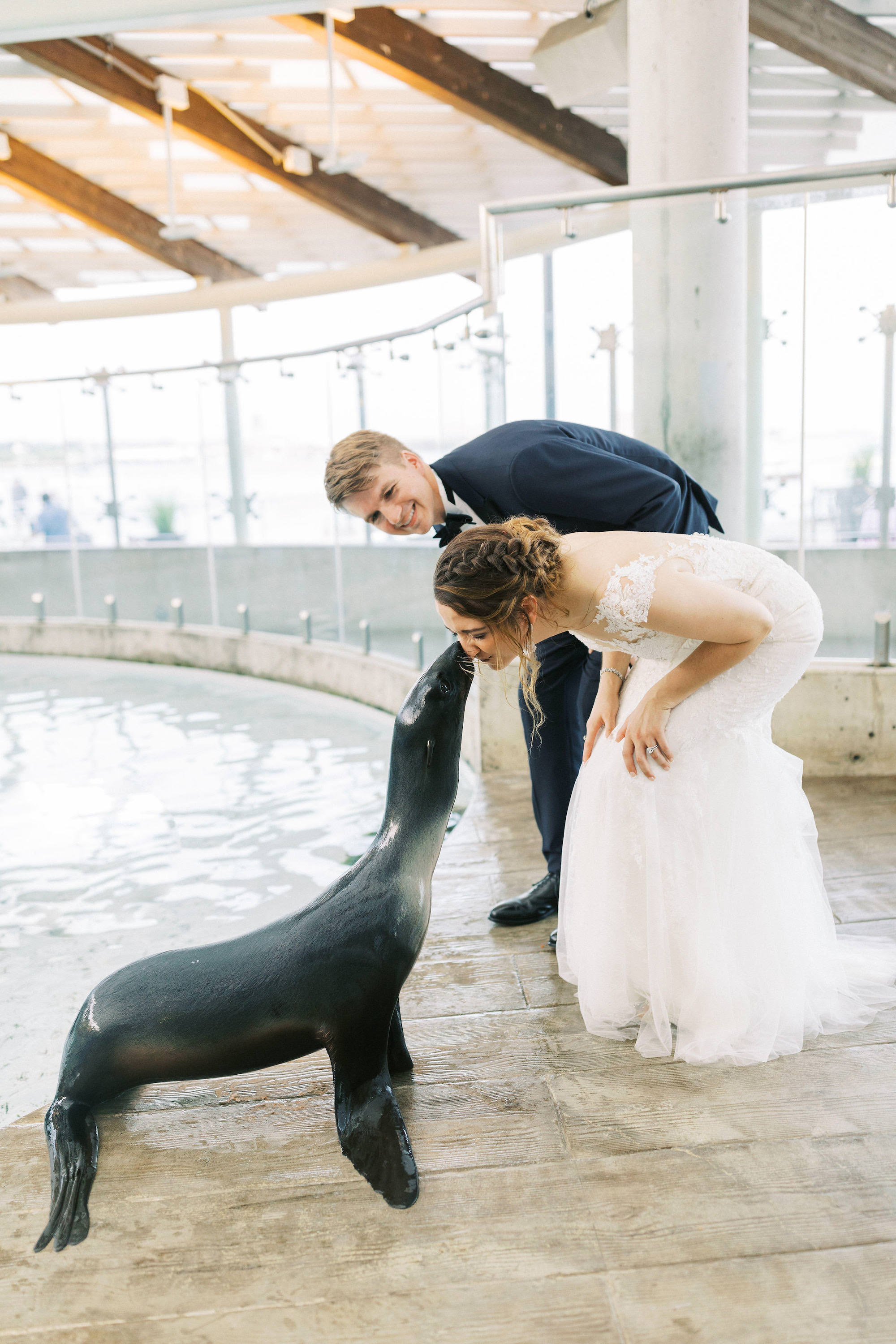 Park Pavilions
Does your local park have a pavilion, awning or other area where groups can gather? Consider holding your wedding surrounded by nature. Contact your local parks department for reservation and permit information regarding events. You certainly would not want you and your guests to arrive only to find the space being used for another party. Be sure to be good citizens of the earth and leave the park cleaner than you found it when the day's celebrations are over.
Botanical Gardens
Many gardens offer the best of both the indoor and outdoor world with gorgeous plants at every turn and indoor venues for large parties. Botanical gardens are a great option for photos, even if just you and your wedding party want to take your portraits there and have your wedding elsewhere.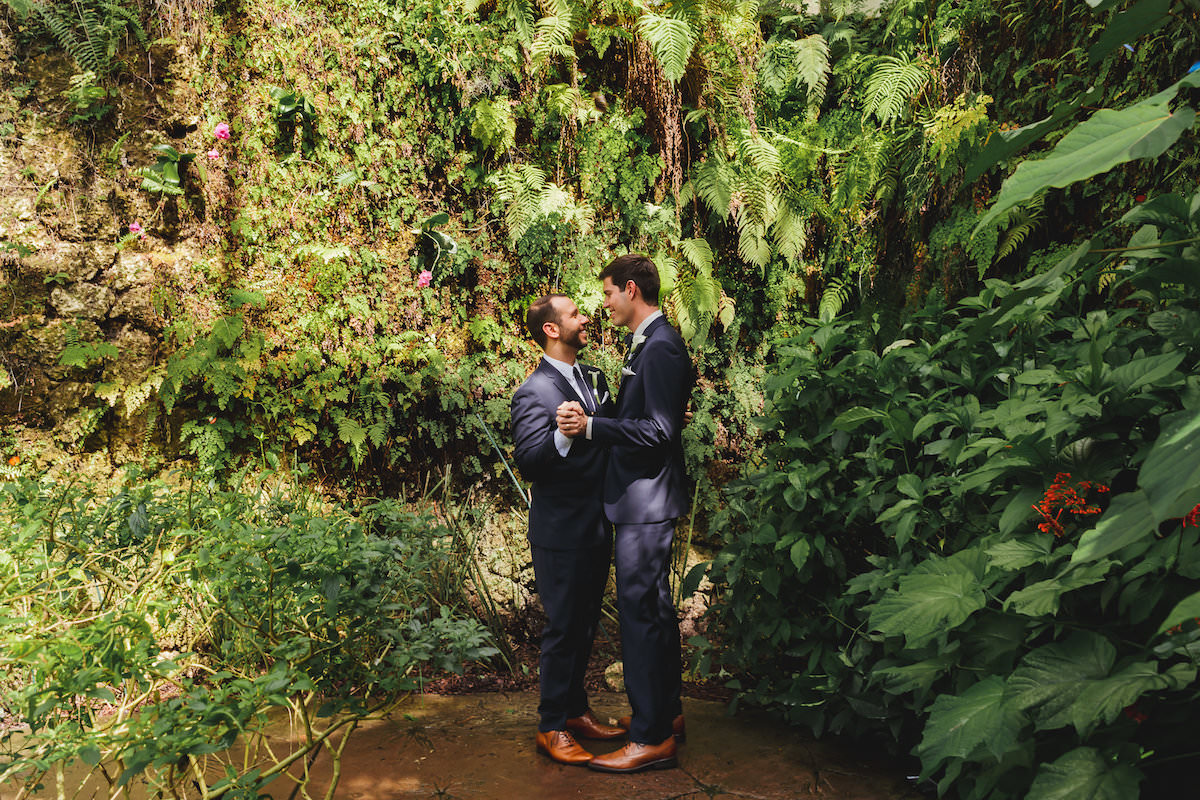 Museums
Museums offer a wedding with a built-in theme and the opportunity to share your passions with friends and family. Contemporary art, antique sculpture, music, history, the list goes on. "I think a non-traditional venue offers a way for the couple to really be unique and tell their story!" explains bride Morgan Kniesche who married Tyler Walter at the Gibbes Museum of Art in Charleston, South Carolina. "For us, the Gibbes offered a rare opportunity to combine something we love with the people that we love, other traditional venues just couldn't match that."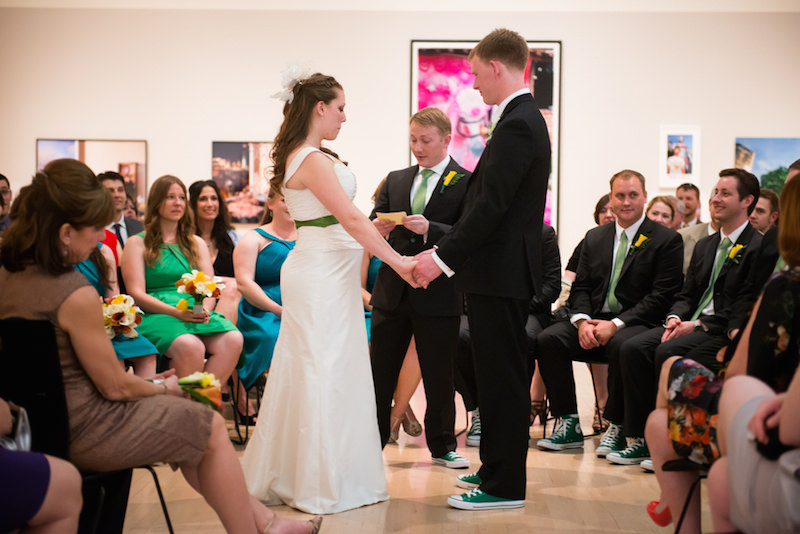 Theaters
Theaters make great venues for weddings with large guest counts, especially those with stadium seating and stages that allow all guests to have a good view of the ceremony. Movie theaters also provide comfortable seating and may even let you show a special video tribute to your partner on the big screen. Oftentimes theaters are handicap accessible, making them a great venue to consider if your guests have wheelchairs or walkers. Plus, you may even get to see your name in lights on the marquee.
Floral Fields
Flower farms have no shortage of beautiful scenery and create majestic views for guests to enjoy as they celebrate your vow exchange. Open fields are accommodating for large guest counts and fields filled with flowers set picturesque scenes for intimate elopements.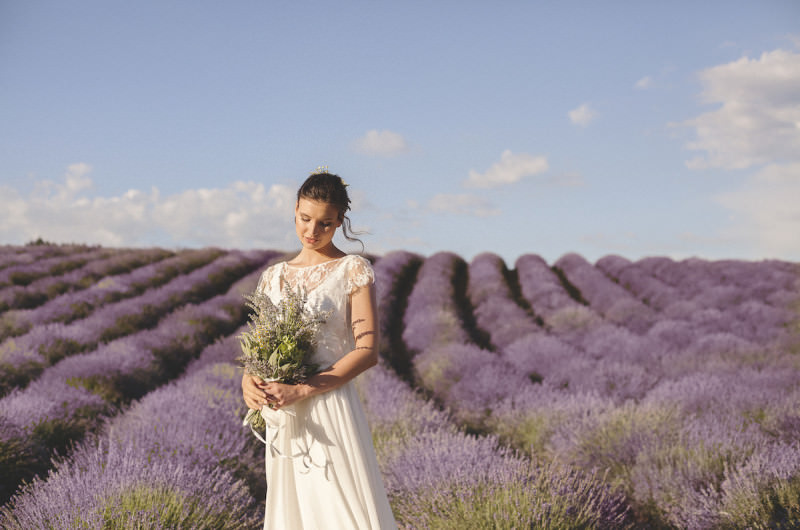 Outdoor Art Exhibits
Outdoor art exhibits provide the beauty of a museum combined with an outdoor atmosphere. Murals, sculptures and other art pieces set the scene for a ceremony and provide opportunity for creative wedding photos inspired by the art.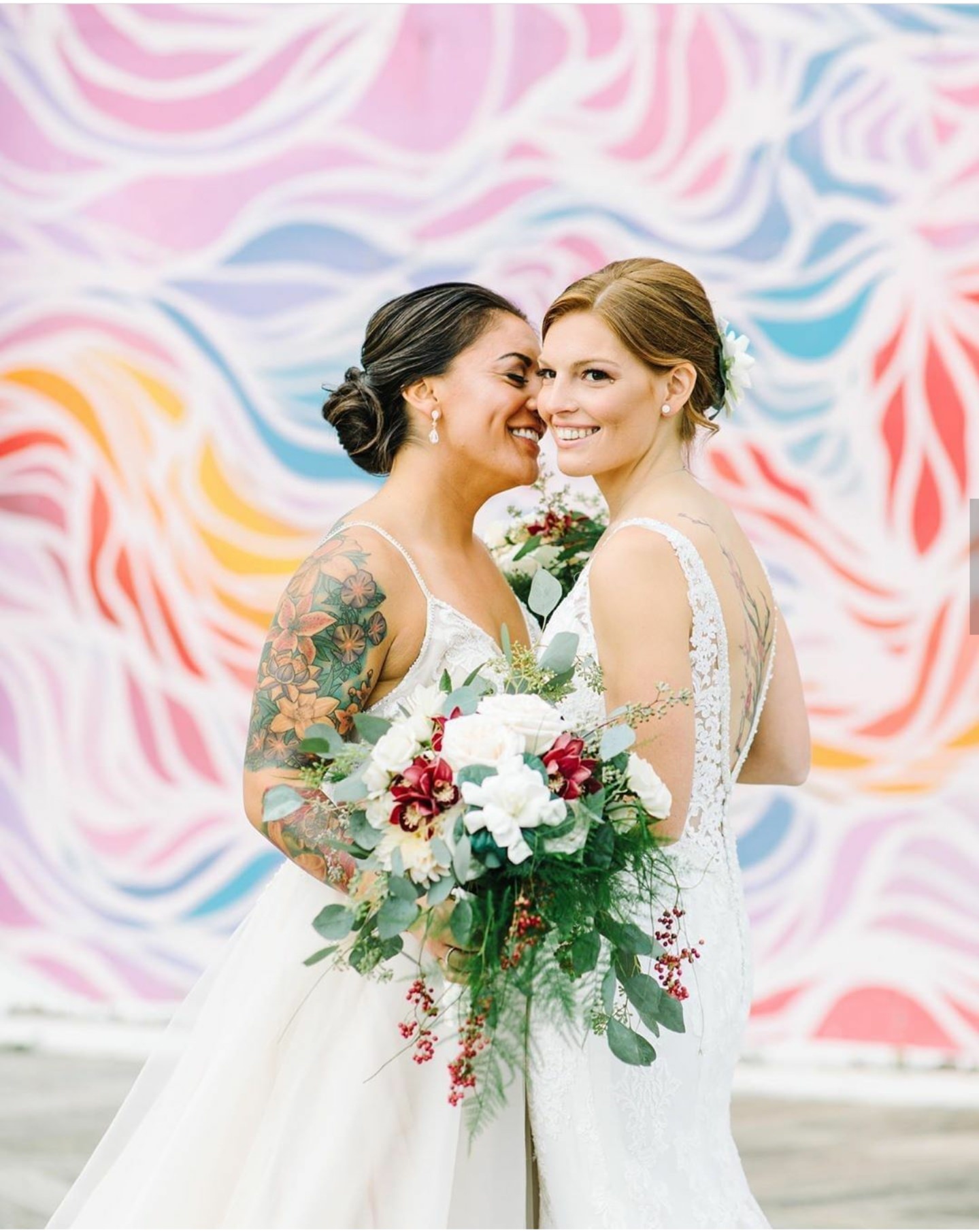 Planetariums
Get married beneath the stars without needing to start your ceremony late at night. With a planetarium wedding you get clear skies no matter what the weather is outside, and you can take your wedding photos under the biggest moon you've ever seen! Better yet, all the ceremony seating is already built in and your planetarium may have a hall or meeting space where you can host your reception afterwards.
What's your favorite wedding venue? Tell us in the comments below where you plan to tie the knot.
Written by Emily Rochotte
Photo credits: Header photo: Lydia McCaulley Photography; Photo 1: EsraYPhotography ; Photo 2: Chrisi K Photography from Phili and Sienna's Albuquerque Airbnb Wedding; Photo 3: Chris Ferenzi Photography for Joe and Will's Washington D.C. Rooftop Wedding; Photo 4: Alexandria Salmieri for Kaylee and Maya's DIY Wedding at the Zoo; Photo 5: EsraYPhotography; Photo 6: Cortiella Photography from Steven and Timothy's Botanical Garden Wedding; Photo 7: Chloe Jackman from Lauren and Brett's Museum of Modern Art Wedding; Photo 8: Tenuta Tamburnin for Brunch Wedding Inspiration Among Italy's Lavender Fields; Photo 9: Peaberry Photo