The support of our loved ones, especially on our wedding day, is something we cherish and hold close to our hearts — priceless and powerful, words of love and encouragement are something every couple wants on their special day, so why not get a little more creative with your guestbook? We have gathered up eight incredibly unique ways your guests can give you their blessing, and you won't be disappointed. Mark my words!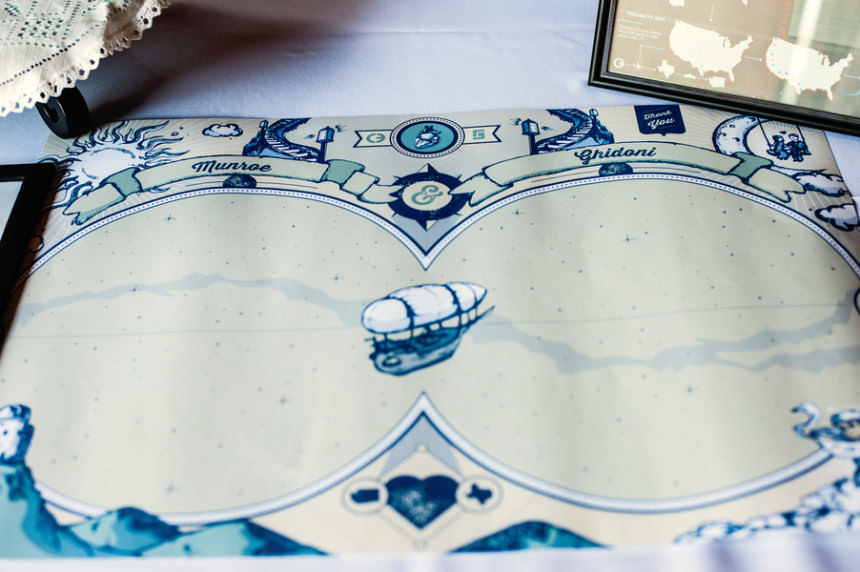 Hand-drawn Illustrations
For one couple, this map of the heavens (on which guests got to draw their own constellations) will always be a wedding day memory that burns bright, outshining the rest of the stars. Work with your stationer (or if you or your partner are graphic designers, create your own!) for a custom illustration that symbolizes your interests. Photo from Chris and Rachel's Star-Themed Wedding, photography by Suzanne Rothmeyer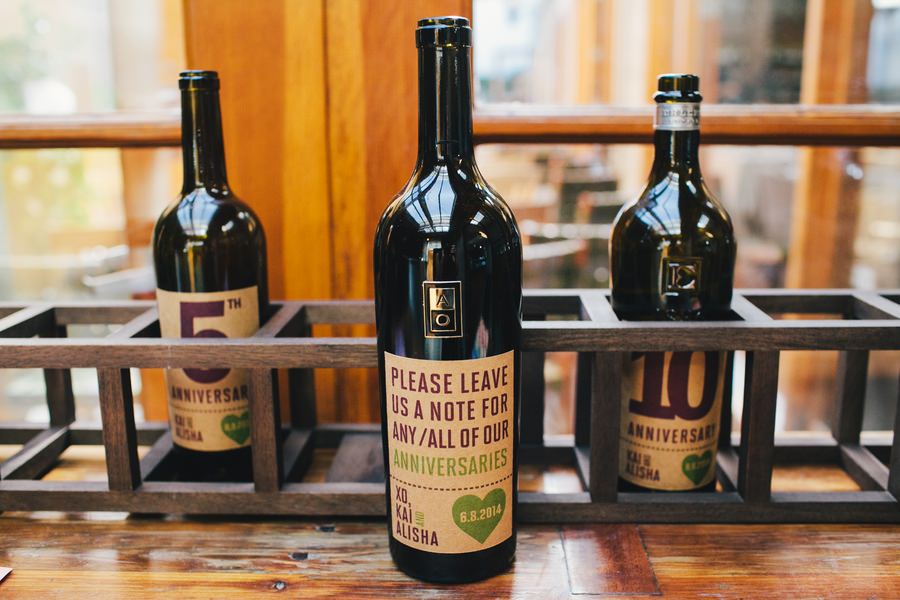 Message in a (Wine) Bottle
You will be together forever, so what's the rush to read everything at once? Create these wine bottle time capsules for your guests to leave you messages you can crack open on your one year anniversary, two year, five year, 20 year… Photo from Kai and Alisha's Foreign Cinema San Francisco Wedding, photography by Jerry Yoon Photographers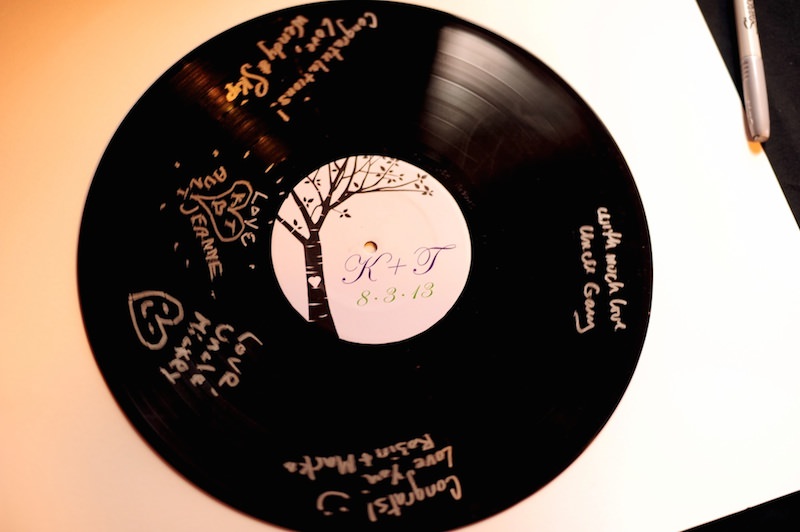 For the Music Lovers
Are you both musically inclined? Have guests sign your favorite record or instrument. How romantic would it be sitting around your fireplace serenading each other with something signed by all of your wedding guests? Photo from Kaitlyn and Taryn's Music-Themed Wedding, photography by Justine Johnson Photography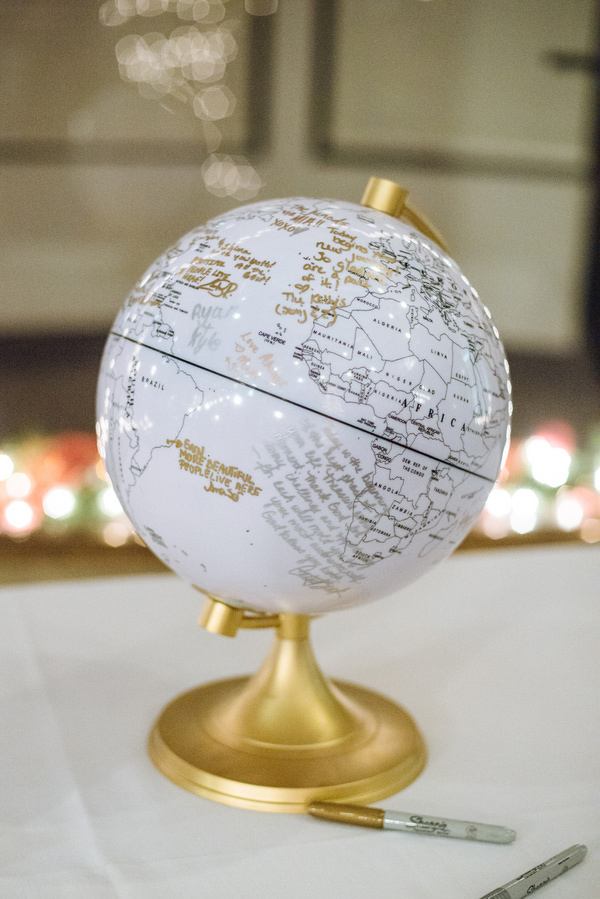 For the Globe Trotting Couple
If you and your true love are avid travelers, have your guests leave messages of love (and suggestions for vacation destinations) on a globe! Then, if you can challenge yourselves to visit them all, your life together will be one adventure after another. Photography by Suzuran Photography via Ruffled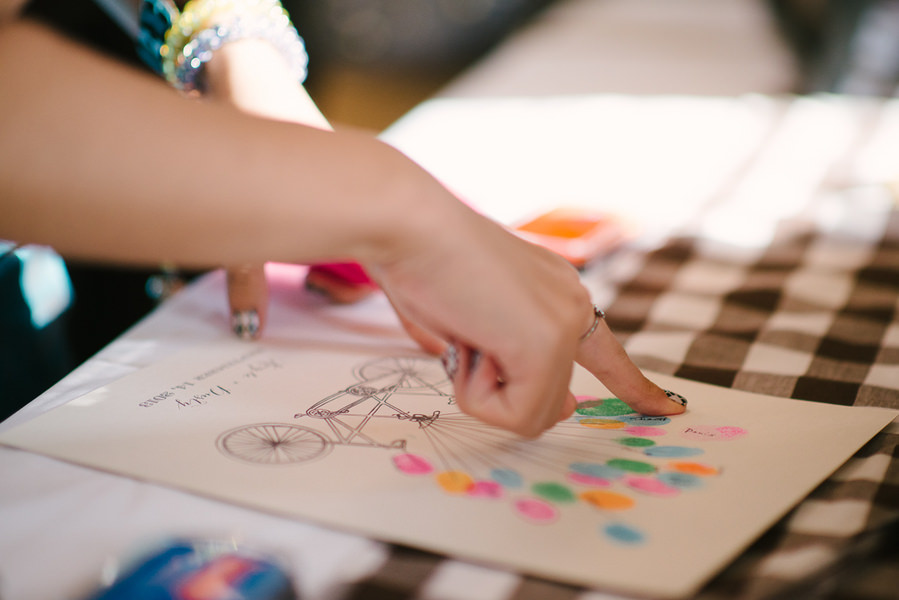 Fingerprints
Your guests can leave their marks on your wedding day in so many ways … and it doesn't just have to be through words. Nothing is more unique than fingerprints, because hey, no one's are the same! Turn your guests' fingerprints into a picture of balloons, flowers, etc. … anything you can hang on the wall in your new home that speaks to you as a couple! Photo from Kayle and Dusty's Homemade Canadian Wedding, photography by Milton Photography
Game Night
Bring out your competitive sides by having your guests sign the pieces of your favorite board game! Not only are games a great activity for a rainy day, but you'll have a blast reminiscing while you kick your lover's butt in Jenga. Photo from Shannon and Shelby's Southern Afternoon Wedding, photography by HMK Photography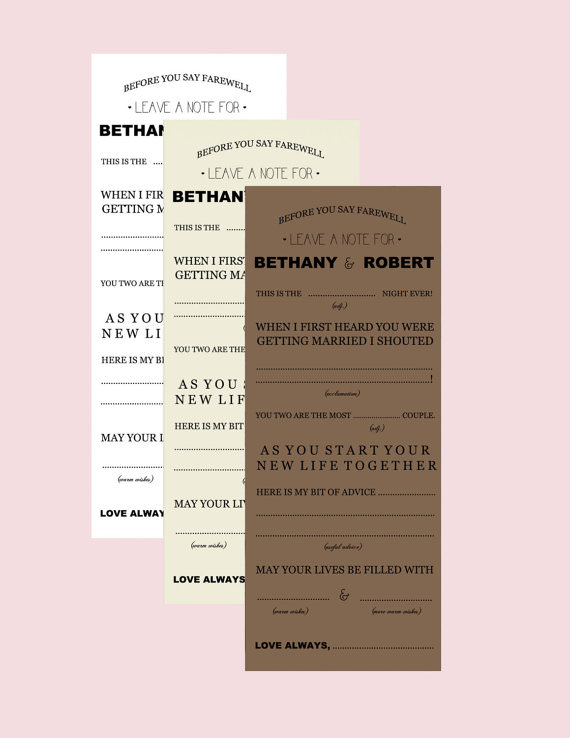 Mad Libs
Am I the only one who still laughs hysterically when I do these and read them aloud? This gives your guests the freedom to fill in the blanks of your future … and they can be as mushy (or as raunchy) as they want! Available by Fox and the Gown Etsy for .95 cents each
Benchmark
Have guests sign well wishes on a bench and place at the end of your bed, in your garden or on your patio for a daily reminder of your special day. Photo Lauren Brooks Photography via Kiss My Tulle
By Shannen Hofheimer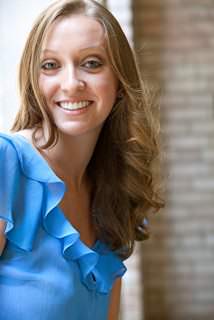 With a degree in Vocal Performance from The Hartt School of Music, Shannen is always seeking to infuse her greatest passions together: music, theatre, love, food and writing. She has always been intrigued by human interaction and what ignites that initial, very special spark between two people. Coffee is just as vital to her as water, and her closet is saturated with leopard print clothing and accessories.