By Brittny Drye | Photography by Justine Johnson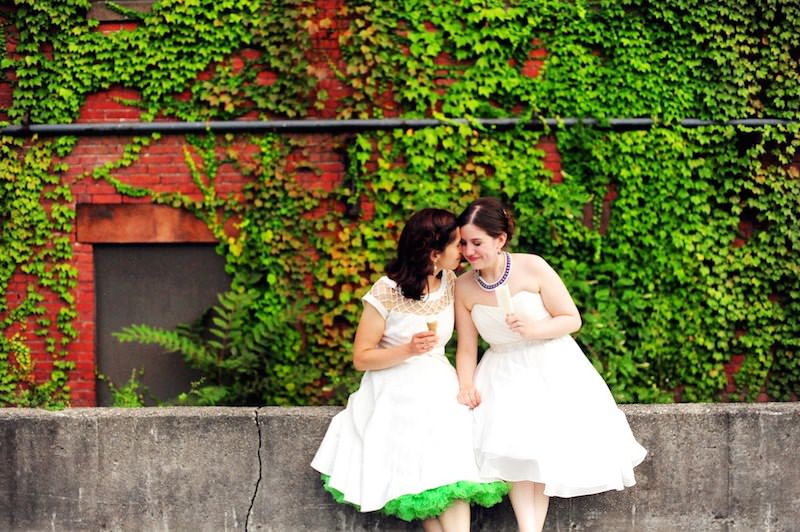 Bonded by a mutual love of music, Kaitlin and Taryn didn't let a two-and-a-half-hour distance get in the way of their budding relationship, which grew stronger over Friday nights in the kitchen and movie marathons.
As their affection amplified, so did their visits which went from just weekends to include mid-week date night rendezvous in towns halfway between their homes. "I knew that I was in love with her when, despite the fact that it was nearly midnight and I had an hour drive ahead of me, leaving was incredibly hard to do," says Kaitlin. 
The Engagement
Knowing that summer suited these two music teachers best, the decision to marry and when was made without fuss. "So, do you think that it will work next summer?" Taryn asked, proposing marriage after ordering an entree at a restaurant, followed by a casual, "Yes, I think it will" from Kaitlin.
"That was our proposal!" laughs Taryn. "Although it's far from traditional, it was exactly us."
That reassurance officially sent them into wedding planning mode, filled with DIY projects to create a day that was a true representation of their love.
The Venue
"Because Girl Scout camp was a huge part of my childhood, it was important to me to have a ceremony outdoors," says Kaitlin, who was drawn to Stanley Park in Westfield, Mass., as a ceremony site for its multiple backdrops and on-site rain location, "… just in case." As a nod to their love of cooking and food, they chose to get married in the old-fashioned English herb garden.
For the reception, they decided on Mill 1 at Open Square, a converted paper mill that blends modern elegance with historic charm.
The Inspiration
The couple infused their passions — music, cooking and running — and a vibrant purple, lime green and black palette to create the day's decor.
The Ceremony
"Kaitlin and I are both relaxed and silly people, and neither of us is religious," says Taryn. "We knew that we didn't want a very serious ceremony, but we also wanted everyone to recognize it as a real wedding. And that our parents' friends saw it as a wedding … not a 'wedding' due to it being same-sex."
To create that perfect balance of playful and sincere, they enlisted Kaitlin's Uncle Gary to perform the ceremony. "It was partially because we wanted to bring Kaitlin's dad, who had passed away eight years earlier, into the day and because Uncle Gary is an outspoken, very liberal, awesome individual."
The introduction included jabs at the Supreme Court and New Jersey Gov. Chris Christie and a good-natured rant about equal marriage rights.
The Fashion
Not expecting to fall in love with a dress, Taryn came across a pinup-style design by Bettie Paige clothing, featuring a fishnet-styled top and lime green crinoline, and was hooked. Meanwhile, Kaitlin also had a happy happenstance at David's Bridal, where all of the elements she had envisioned came together in one beautiful chiffon gown — that was on clearance. "I went with Taryn, my mom and my sister to see what type of style might look best, never expecting to buy a dress that day. It had all of the elements that I had liked from the other dresses I had tried on, and it was a fantastic deal, to boot!"
The Party
Musical elements were sprinkled throughout their DIY-driven decor, from a vinyl-accented card box, centerpieces made out of handpicked tunage, a guitar case to display the cookie favors and sheet music for their bouquets. A jazz trio set the mood during cocktail hour which featured a meatless menu that extended into dinner. "Food is very important to us. Kaitlin and I are both vegetarians but we know that a lot of people are wary of vegetarian food, so we wanted a buffet so people could try what they wanted to and have more of what they liked."
The tables were numbered with Taryn's race bibs, held up with CD cases from the couple's favorite musicians from the past and present. "We had fun pairing races and CDs with the people who would be sitting at each table," explains Kaitlin.
Later in the evening, guests were treated to sweets, served up from an ice cream truck. "The truck was there for an hour and we expected folks would trickle through the hour. We went outside first, and when we turned around with our ice cream, everyone was in line behind us!" laughs Kaitlin. "It was a beautiful summer evening, the venue happened to have tables and chairs outside by the river, and my cousins took the opportunity to hand out glow necklaces they had brought for everyone. It was a complete surprise and absolutely perfect. There' something about being outside with an ice cream and a glow stick that just feels like childhood."
Vendors:
Photography: Justine Johnson Photography
Ceremony Venue: Stanley Park
Reception Venue: Mill 1 at Open Square
Floral Design: Durocher Florist
Catering: Portabella Fine Foods
Music: DJ Shenn
Attire: Kaitlin, David's Bridal; Taryn, Bettie Paige Clothing
Makeup/Hair: Liz Washer
**This real wedding originally appeared in Love Inc.'s V1 Issue**